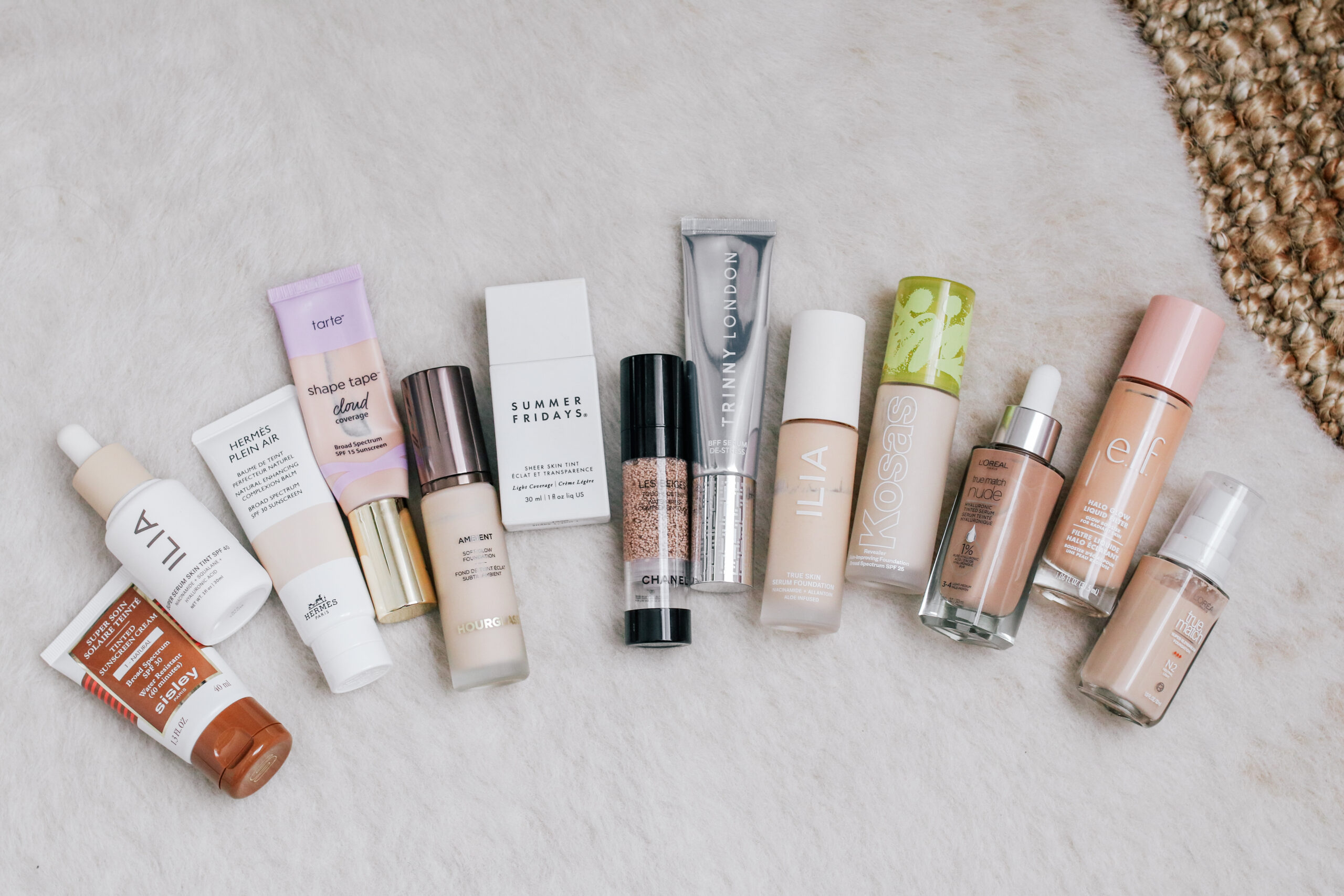 It's summer and sweltering. I am literally melting the minute I step outside. The humidity, the sun, the heat – it all feels so intense. And makeup is so hard to wear when it gets like this, especially foundation. Though I may skip other steps in my makeup routine, foundation is one of the products that I will always wear. Yes, even in the summer. Foundation is literally the "foundation" of my look. Foundation helps to even out the skin tone, create a smooth canvas for the rest of my makeup, give my skin a bit of life/glow/radiance, cover any blemishes and in some cases help protect from the sun.
But when the humidity is at 100% and the heat is oppressive, it can be a huge deterrent to wearing foundation. Many times foundations can pull apart, get patchy and literally feel like it's sliding off your face. But the key is finding formulas that are comfortable and make you feel like you're not even wearing anything. I have found quite a few foundations that I love wearing in the summer and am sharing a round-up of the best lightweight foundations that can withstand the rising temperatures, humidity and heat waves.
13 Best Lightweight Foundations For Summer
Best Lightweight Foundations with SPF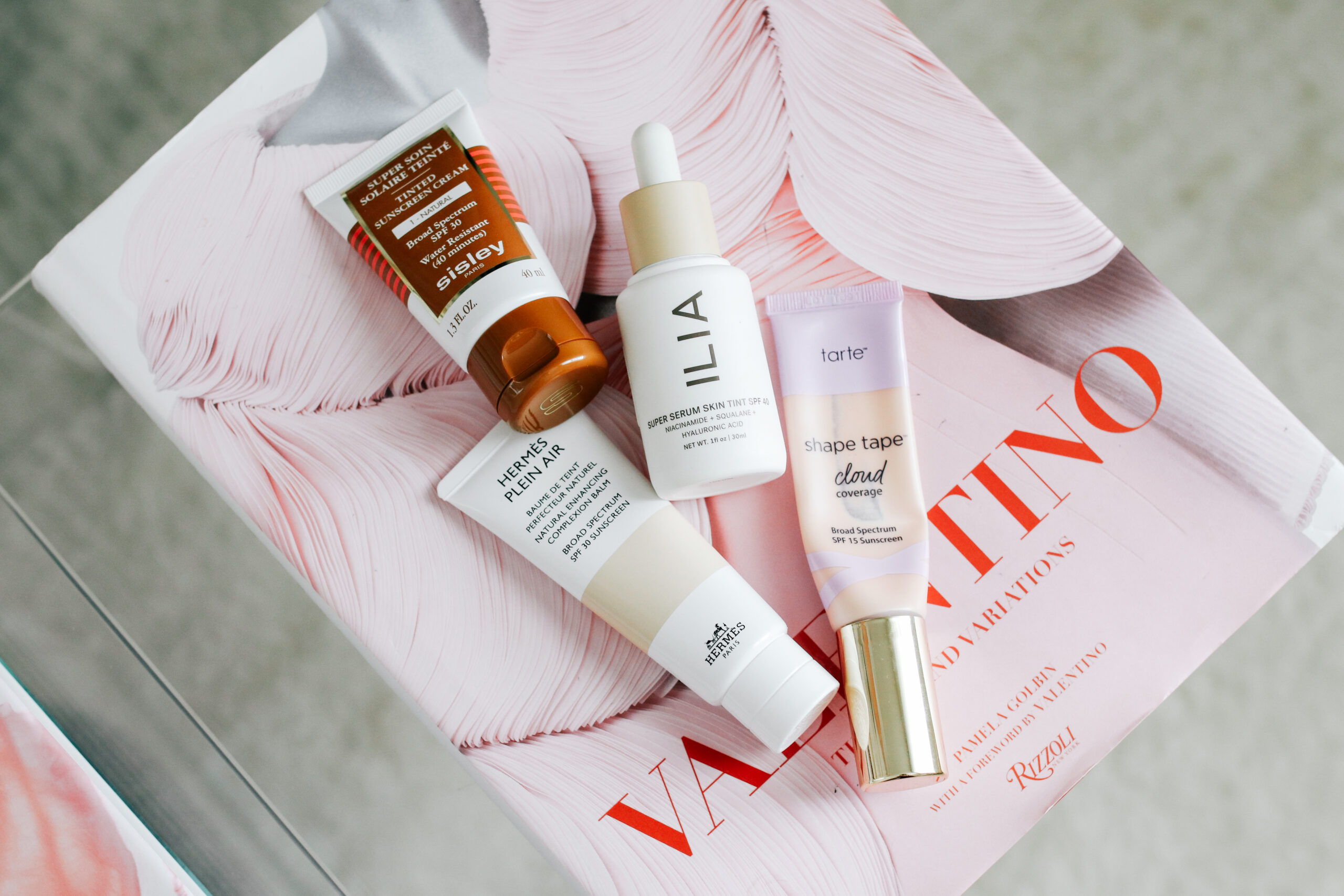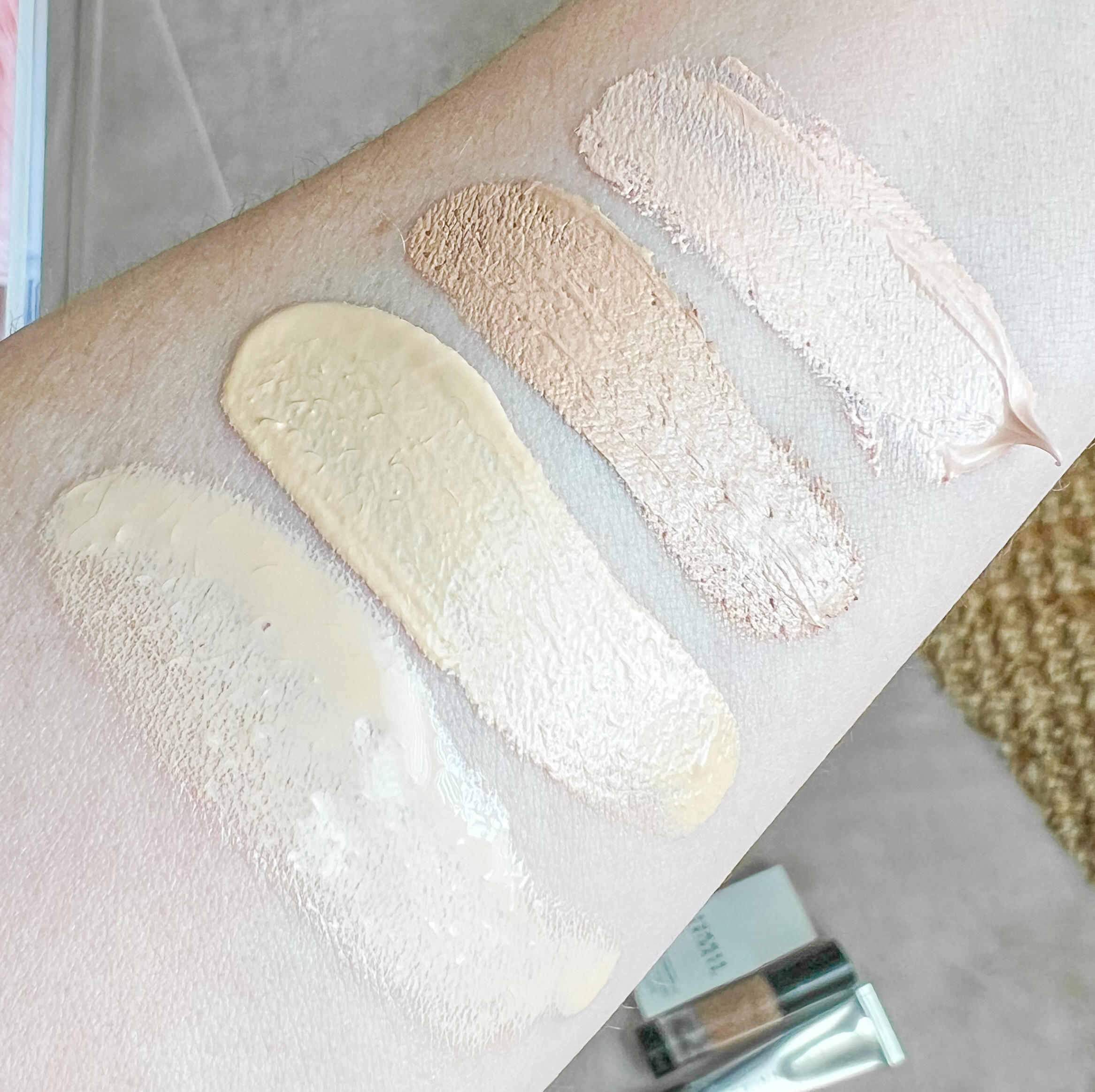 Swatches from left to right: Ilia Super Serum Skin Tint in ST2 Tulum, Hermes Complexion Balm in 20 Sable, Sisley Tinted Sunscreen in 1 and Tarte Shape Tape Cloud Coverage in 12N Fair Neutral
Wearing SPF in the summer is a non-negotiable for me (well frankly wearing it all year round is a must have). And having a foundation that contains SPF is even better. Depending on the SPF number, you still may need to wear a separate sunscreen underneath. If you plan to be at the beach/pool/park then it's always best to start with a sunscreen of at least SPF 50 under your foundation. And then apply your lightweight foundation with SPF over top. If you plan to be inside most of the day and your foundation has an SPF of 30 or higher, then you could possibly skip the sunscreen underneath. But I would rather be overprotected than underprotected. #teamnosundamage
At first, this skin tint seems like it wouldn't be much of anything on the skin and add sunscreen without much coverage. But once it's applied all over and sets, it does an AMAZING job at evening out the skin tone, covering blemishes and hiding any discoloration. The best part of this oil free tint is that is had a ton of amazing skincare benefits that really help the skin. Squalane, Niacinamide and Hyaluronic Acid are all in this skin tint and help to improve elasticity, soften lines, plump and boost skin's moisture levels. Initially the finish is very dewy. But it does set to a more natural finish. Though if you have exceptionally oily skin, it may be a tad too glowy for your skin. I've been wearing it for 2+ years and constantly repurchase. It makes my skin look healthy, fresh and is incredibly long wearing.
Hermes Beauty has been hit or miss with me. Some things have been ok and other things like this Complexion Balm have been AMAZING!!!! This is a mineral-only sunscreen that helps to provide weightless sheer coverage that can be built up slightly. The texture is light and has an almost whipped-like feel, applies evenly, looks undetectable on the skin and covers everything that I need it to. The finish is natural, fresh without being too shiny and great for all skin types. You can apply it with your fingers. But I prefer using a damp sponge to add a bit more moisture to the application. It's super pricey but I will for sure be repurchasing.
A long time favorite of mine and one that is a go to every summer. Though the name states that it is a tinted sunscreen, this gives coverage closer to a typical foundation than a tint. Personally I love that and often have used this as a summer foundation when I'm going out to dinner or to an event. The only downside is the shade range is VERY limited and the shade that I wear works when I am self tanning. It's a touch dark for me in the winter. But works perfectly when I am using self tanner regularly. The finish is velvety and smooth, giving an almost blurred/filtered look to the skin.
I call this my fluffy cloud foundation. LOL It does have SPF 15 but it's honestly not enough to do much so I always layer a sunscreen underneath. The name of this foundation is spot on because it feels like a cloud on the skin. Not heavy, lightweight and as if there is nothing there. The finish is slightly matte to more natural and I love wearing this on very hot and humid days. You will still get adequate coverage if you need it and it can be built up slightly if you apply more in certain areas.
Best Lightweight Foundations With Good Coverage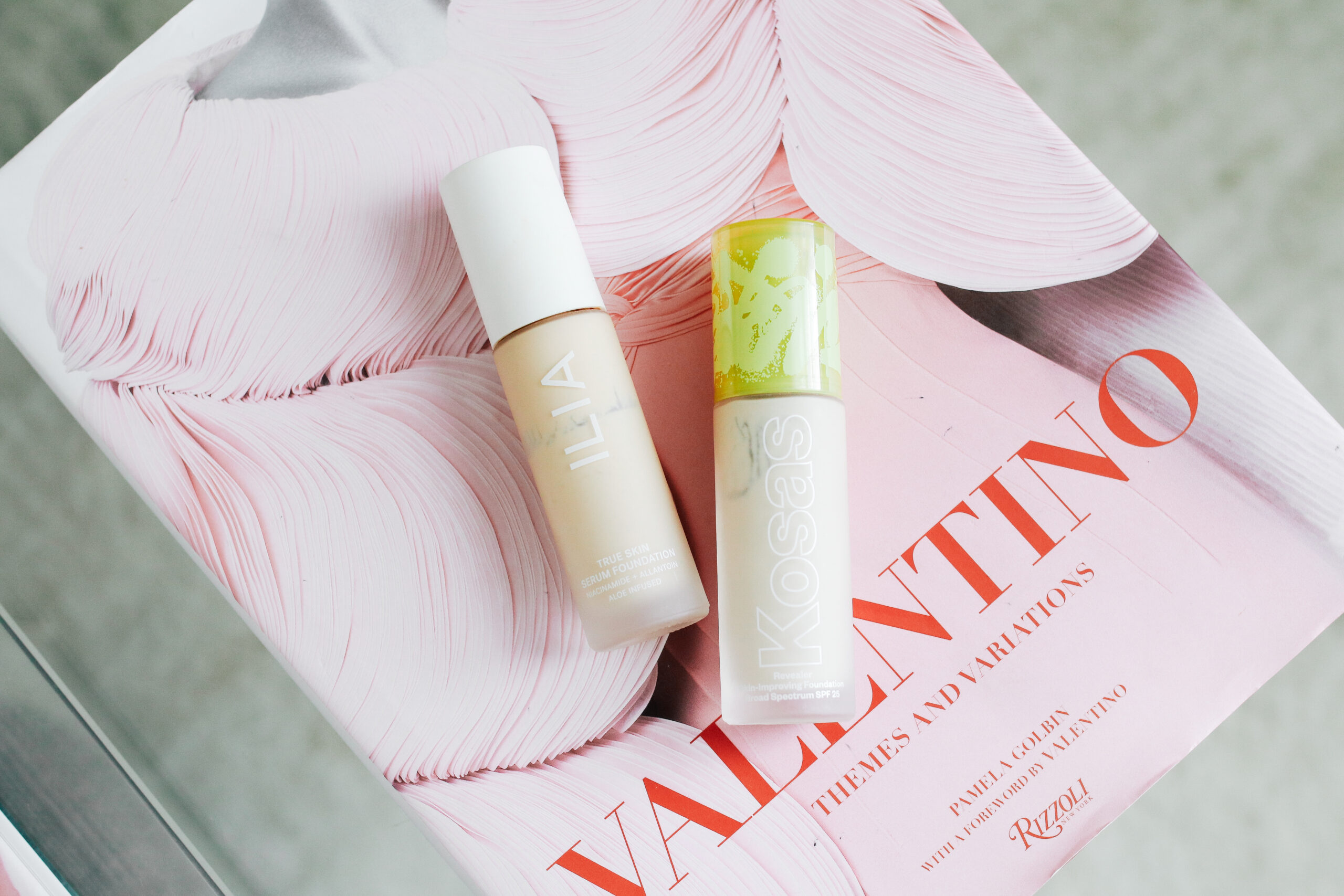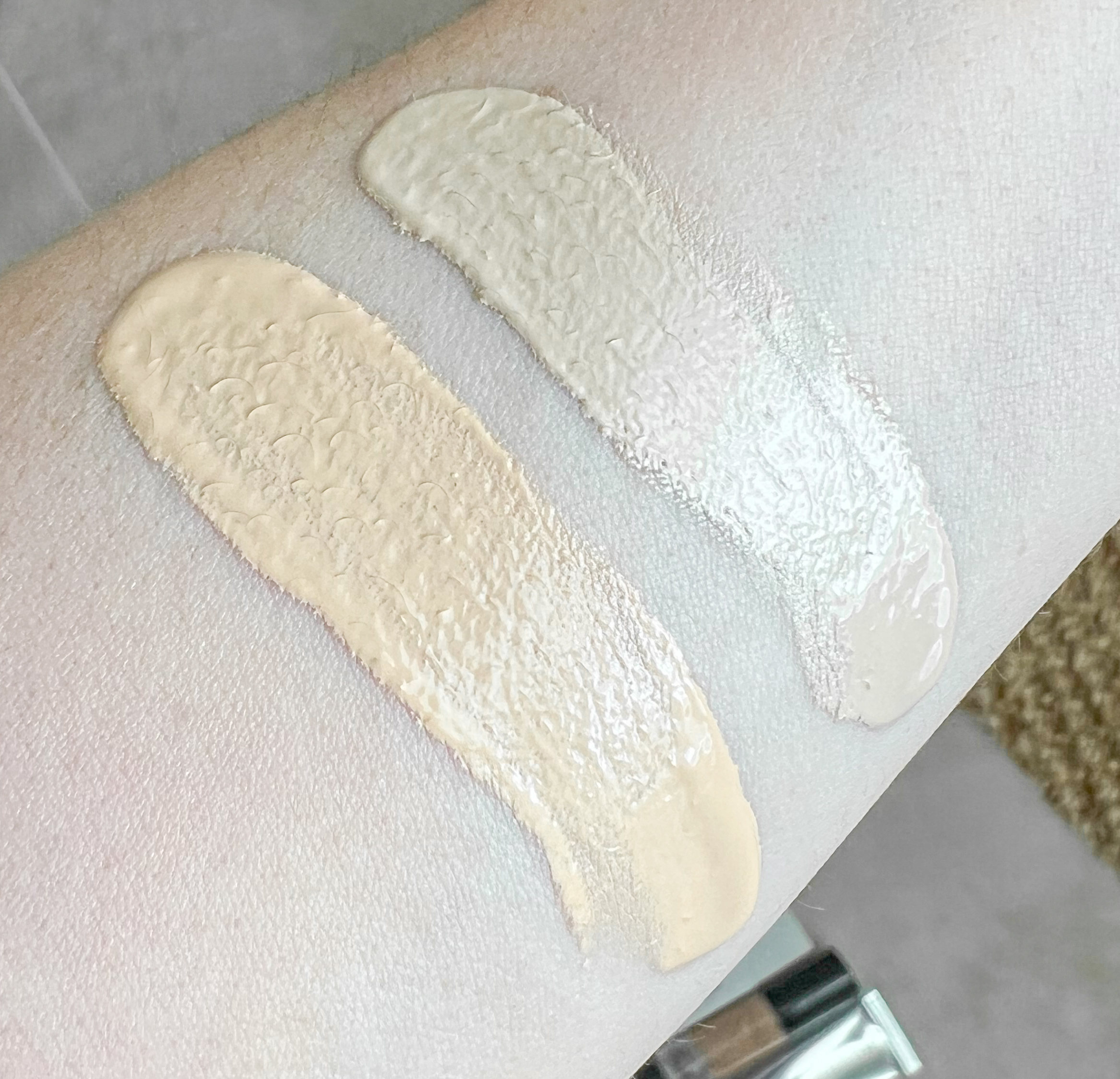 Swatches from left to right: Ilia True Skin Serum Foundation in .5 Sable and Kosas Revealer Skin-Improving Foundation in Very Light Neutral 100
As a tried and true makeup lover, I still love my foundations that deliver a good amount of coverage. And in the summer it's tricky to find a formula that will provide light to medium coverage for a special event but not feel like spackle on your face. Both of these foundations perform almost identically and have a very similar feel to them so if most likely will come down to which brand you like better or perhaps which has a better match for your skin tone.
As a huge lover of the Ilia Super Serum Skin Tint, I was pretty confident that I would also love the Ilia True Skin Serum Foundation. Though different in coverage and texture, they are both staples in my makeup routine. This foundation gives me a great light to medium coverage, has a fresh natural finish and lasts all day. I don't need to set with powder but if you are oily, it may be a good idea to dust some in your t-zone. The coverage is enough that I can even skip concealer if I want – love that!
This foundation is also a wonderful option for those wanting more medium coverage in the summer but prefer something with a weightless feel. It contains a ton of great skincare ingredients such as niacinamide, squalane, vitamin B5 and hyaluronic acid which will help smooth and plump. The finish is natural with a slight velvety blur. Long lasting and really holds up well in the heat. And there are more than 30 shades to choose from.
Best Lightweight Drugstore Foundations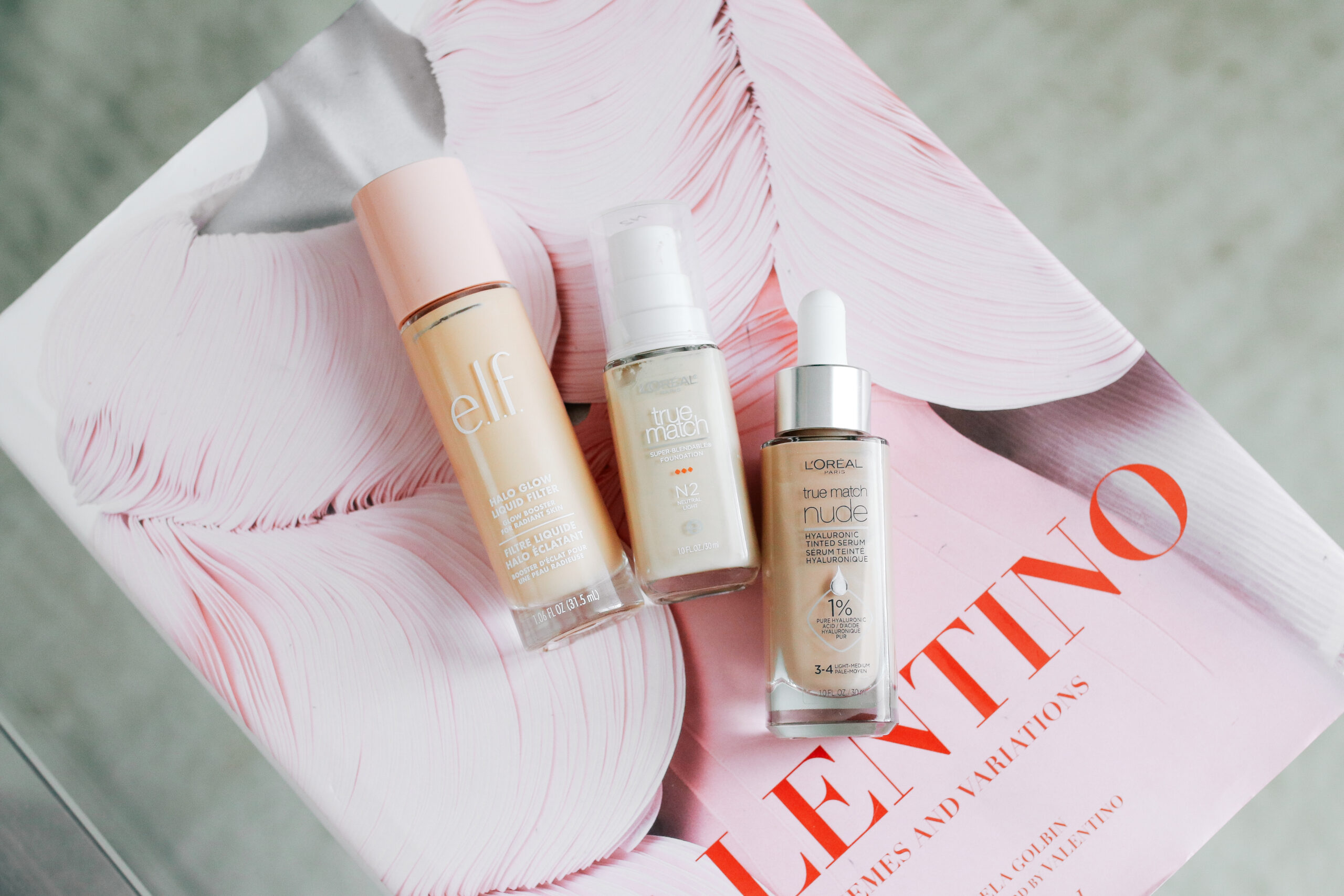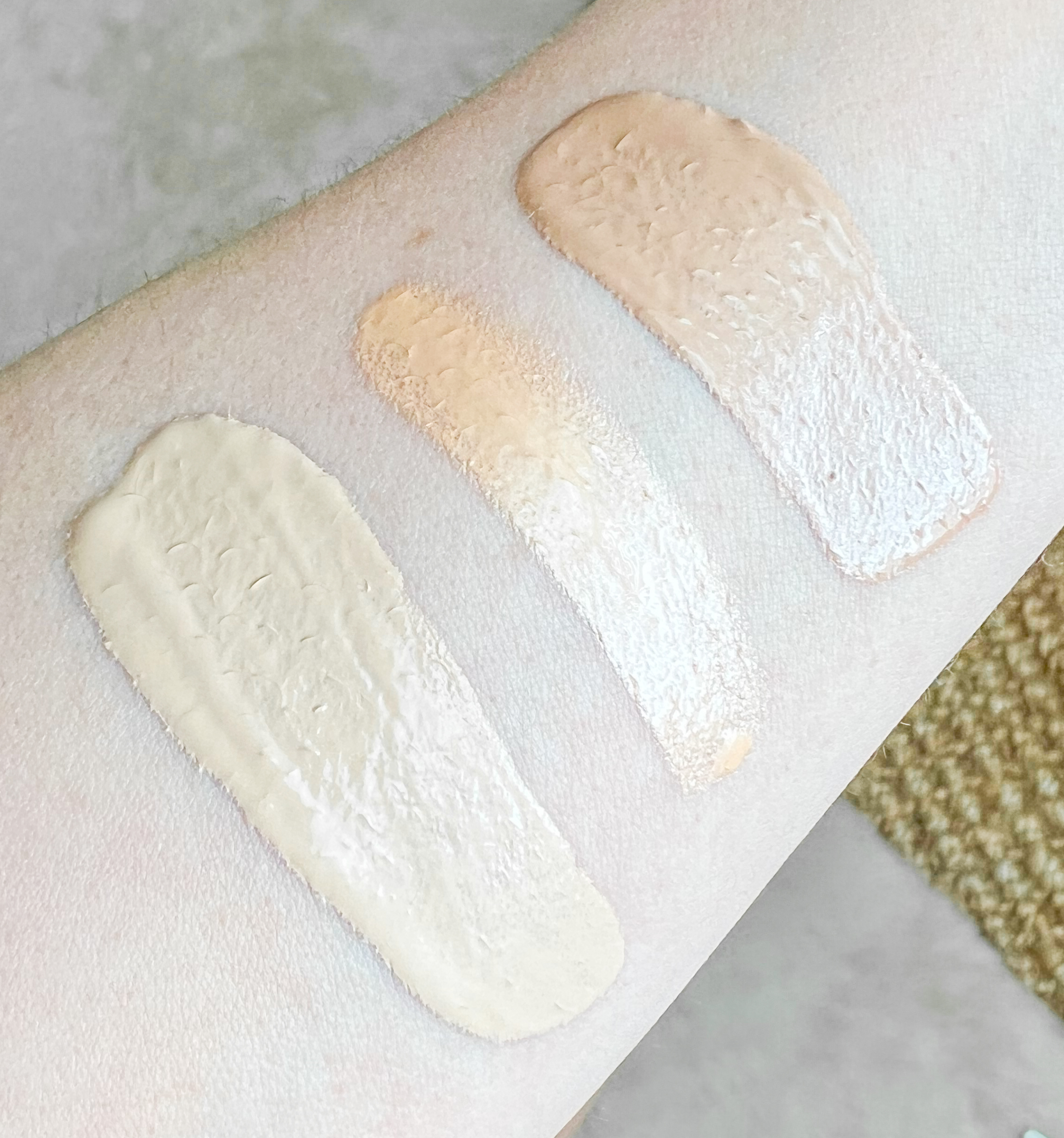 Swatches from left to right: L'Oreal True Match Foundation in N2, Elf Halo Glow Liquid Filter in Fair 1 and L'Oreal True Match Nude Tinted Serum in 3-4
To be honest, I don't have a ton of drugstore foundations in my routine and a few of my picks are closer to skin tints/primers but in the summer these are definitely all that you need. However, the one true foundation I have from the drugstore is an absolute must have!!!
Wow. Wow. Just wow. Every time I wear this foundation, I am blown away by how beautiful it looks on my skin. The color match is perfect, the coverage is buildable, it feels weightless on the skin and is very long wearing. The finish looks skin-like without being too glowy or too matte. You can build this foundation up to be more medium coverage or sheer it out to be quite light.
I know, I know. This is technically used as a primer or glowy base underneath foundation, but to be honest it does a fantastic job at evening out the skin tone on its own. On exceptionally hot days, I have worn this alone and love how it looks. It gives my skin a healthy radiant finish without looking like a true foundation. My favorite way to wear this however is underneath the L'Oreal True Match Foundation – the two together are absolute magic.
The shade in this is completely too dark for me but in the summer it is much easier to use since I am self tanning. Right now I have been using underneath certain foundations that are too pale for me in the summer. And I love how it warms up my complexion immediately. It's a skincare makeup hybrid product and the perfect product for the summer. It's lightweight, contains hyaluronic acid and has luminous pigment in it to give the skin a subtle glow. In addition, it's thin and liquidy like a serum. So I typically apply with my fingers and then blend out with a damp sponge.
Best Hydrating Lightweight Foundations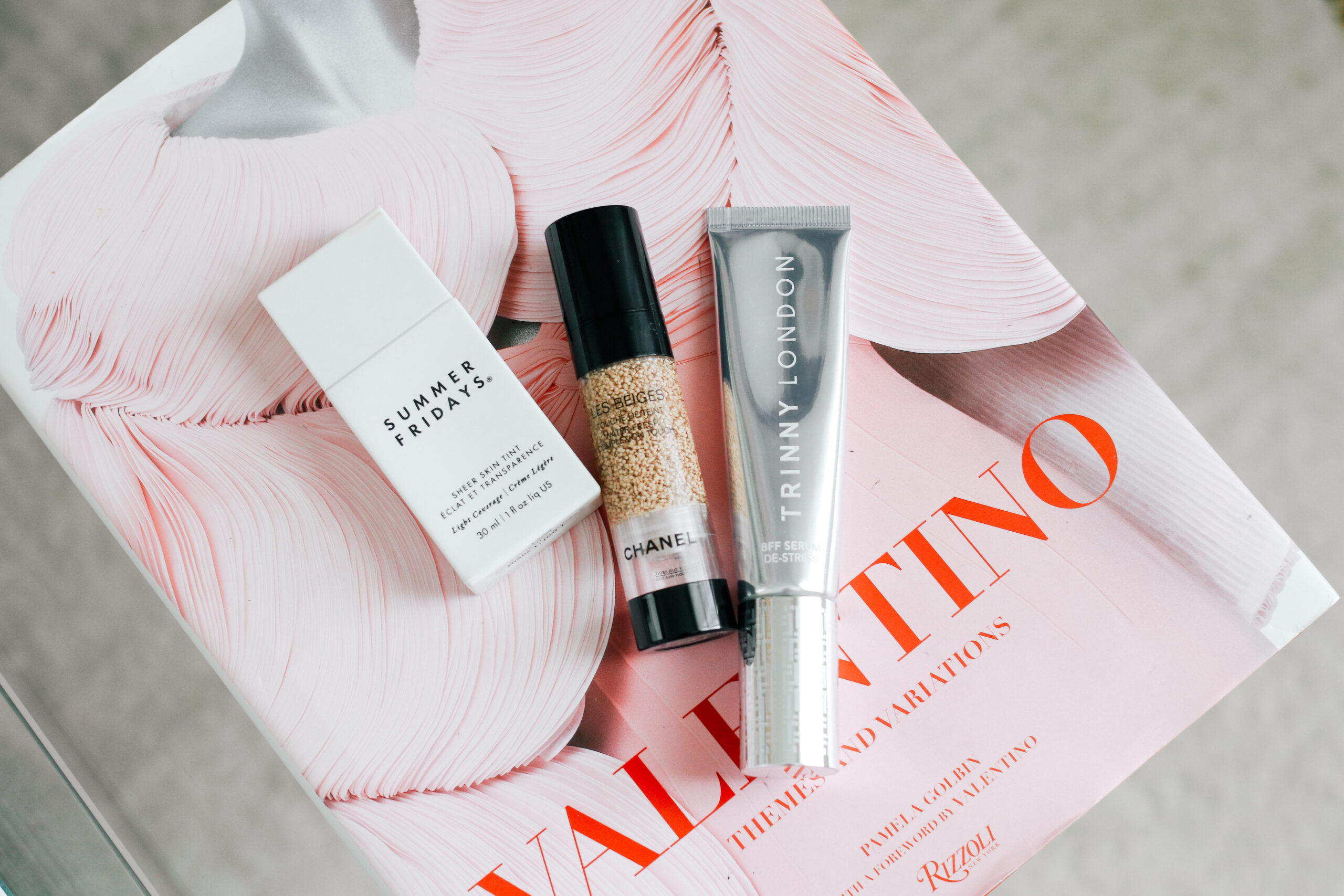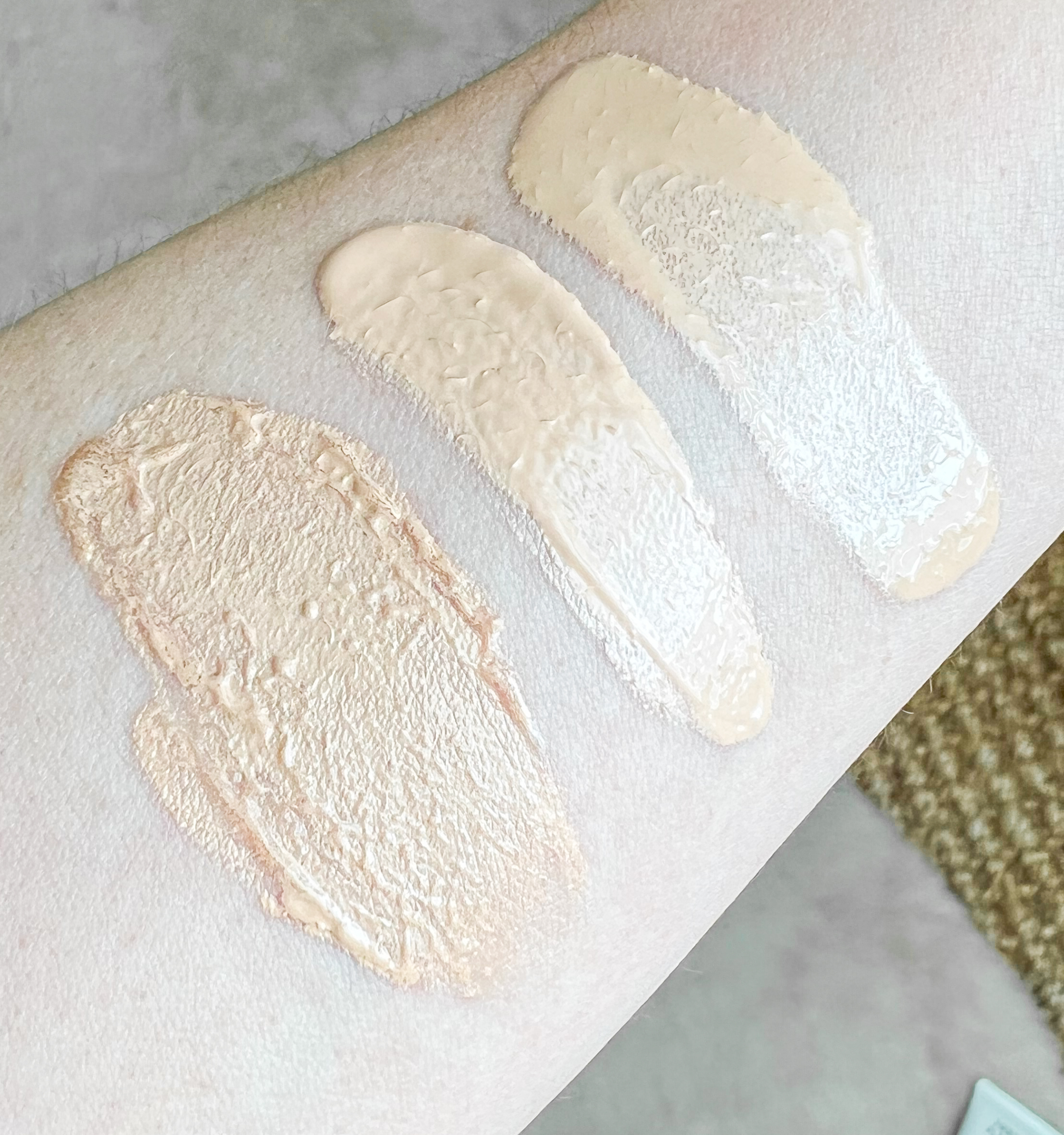 Swatches from left to right: Chanel Water Fresh in B10, Trinny London BFF Serum De-Stress in Flora and Summer Fridays Skin Tint in 1
As I've gotten older, my skin has definitely gotten a bit drier so any foundations with a hydrating component are something I like to have in my makeup cabinet. I do find that the more hydrating a foundation is, the more dewy or glowy it can be but there are some exceptions. I have three formulas here that have a variety of finishes but still manage to make my skin feel hydrated and plump.
At first it seems like this tint will deliver little to no coverage because it goes on SO sheer. But as the little beads burst and the tint sets on the skin, I was amazed at how much it did conceal! It evened out my complexion, minimized the appearance of dark spots and overall makes my skin look so fresh and healthy. It also feels amazing as you apply – like a shot of water for the skin. If it is VERY hot, I will dust my t-zone with a bit of translucent powder because the finish is more fresh and radiant. But if I am inside most of the day, it does not make me look more shiny or greasy throughout the day.
This says that it is a tinted serum but to be honest, it has coverage more like a lightweight foundation and feels like a tinted moisturizer! My favorite part of applying this is that is literally feels cooling on my skin – so refreshing. It is supposed to give a fresh glowy finish but I actually find that it looks more natural on me. It makes my skin look healthy and like I just had a great facial. Like many other of the formulas I shared, it contains hyaluronic acid and does an amazing job at making my skin look plump and bouncy. A must have for mature skin types!
Much like the Chanel Water Fresh, I didn't think this would deliver any coverage whatsoever. Again I was pleasantly surprised! It initially goes on very sheer and super dewy, but after a few minutes begin to set and evens out the complexion beautifully. The dewiness does go away after a bit and the skin just looks healthy and fresh. But as with the Chanel Tint, if I plan to be out in the sun I will use a translucent powder through my t-zone to set. This would be the perfect lightweight foundation to bring on vacation because it would work well at the beach/pool and also for the evening.
Best Lightweight Foundation to give a Flawless Look

While this foundation is definitely the heaviest out of all the ones I shared, it is quite manageable in terms of coverage and can be sheered out for more weightless feel. But if you just can't quit the typical foundation that gives a flawless picture-perfect look to the skin, this is a great option.
Now I know the name of this foundation says it gives a glow, but to be honest I find this to be more velvety and slightly soft matte. It is very buildable so if you want a more medium to slightly full coverage (not as full as something like Estee Lauder Double Wear Foundation), this will definitely do the trick. But I use a damp sponge which helps to sheer it out and find that it feels so weightless on the skin. It's a gorgeous formula that is long wearing and gives a slight blurring effect. For a special summer wedding or event, this would be an absolute fantastic option. I also love the celebrity makeup artist Mary Phillips and after watching her tutorial of this, I was sold!
What is your favorite summertime foundation? Any that I should try?