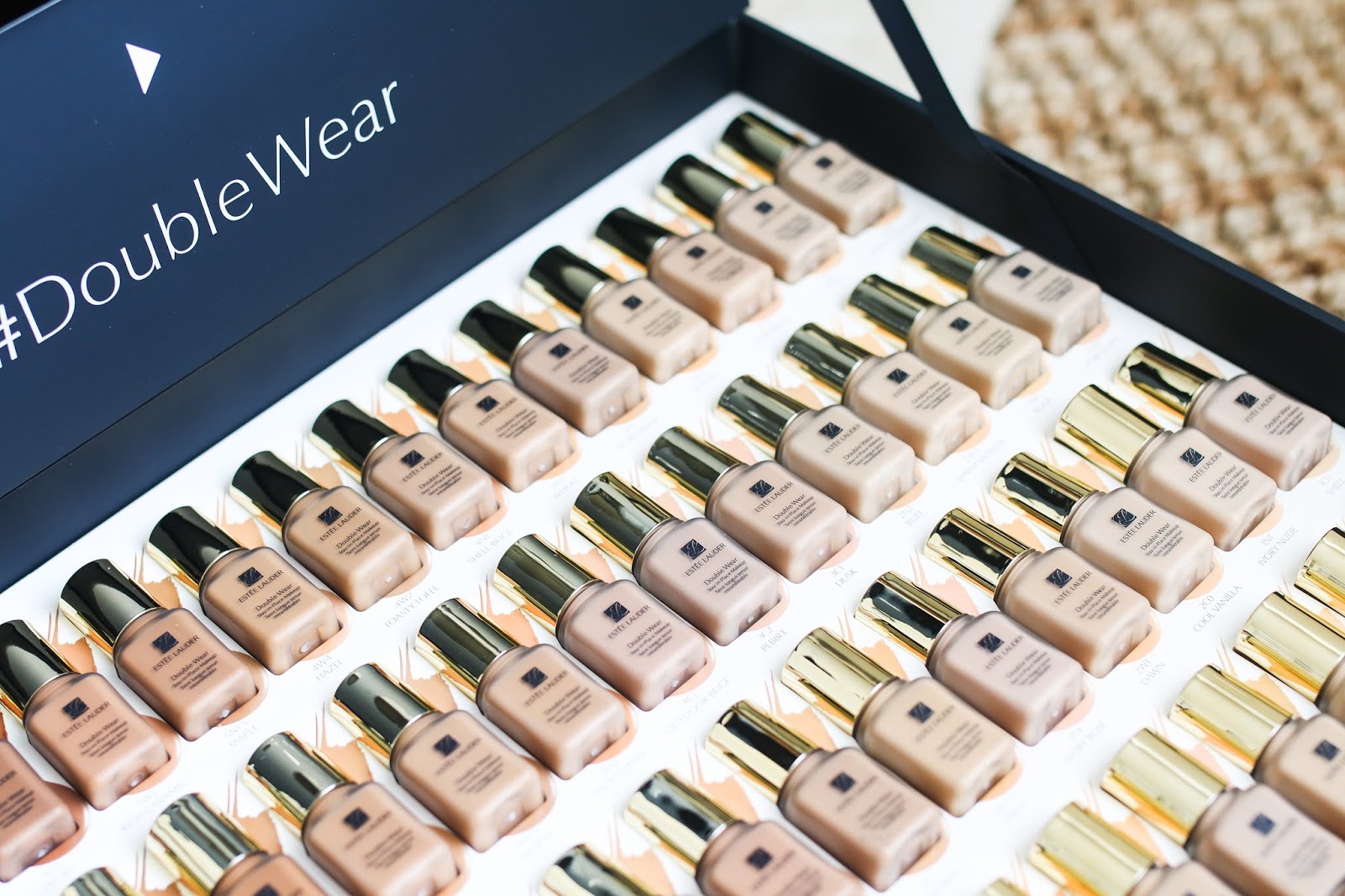 I know this is hard to believe given that I blog about beauty for a living, but I have never tried the iconic cult classic
Estee Lauder Double Wear Stay in Place Foundation
. It's been around forever and I remember seeing it at the counter when my mom would go there to pick up whatever item she needed (she was always an Estee Lauder wearer), but for some reason I managed to overlook it. Recently Estee Lauder sent me a press package with my shades of the
Double Wear Foundation
as well as samples of every other shade and I couldn't wait to test it out.
Estee Lauder Double Wear Foundation Review
I found that I am a mix of
1N1
and
1N2
though I think as winter comes I could simply go with only 1N1. There is a virtual try-on tool on the Estee Lauder website in order to help you better decide which shade you would wear. There are so many Lauder foundations to choose from and the shade range is quite impressive. The formula took a bit of playing around to see how best it would wear and how much to apply since it is a thicker formula. At first I was heavy handed with it and by the end of the day my face looked like I was wearing a mask. It was then that I determined less is more with this foundation. It can cover everything I need it to with only a sheer amount and smooths out almost every imperfection giving a flawless velvety finish. By mid-day, I did notice some oil beginning to break through so I added
my favorite setting powder
the following day and that helped keep my skin matte through most of the heat and humidity. For my combination skin, I think this formula will be better in the cooler months since I did get a bit shiny when wearing, but it stayed put for almost 10 hours straight! For those with dry skin, this would be a great option but oily skin types may need a mattifying powder or primer to help control shine. Since I received a sample of every single shade, I thought I would swatch them all in case you need help finding the shade that works best for you. Scroll through all the pictures below to see the swatches.
Estee Lauder Double Wear Foundation Shades
Estee Lauder Double Wear Foundation Ingredients
This long wearing foundation is oil-free and waterproof and gives medium buildable coverage. It's sweat and humidity resistant so it's the perfect foundation to wear in the warm weather. It's non-acnegenic and won't clog pores though I do recommend using a great cleansing balm or oil to remove thoroughly at night. It's also fragrance-free which I know is one of the reasons why so many people have kept using it for all these years. It does not contain SPF which is why it's also great for using on camera. Some foundations that have SPF can cause flashback when a picture is taken making the person look paler. This is one of the reasons that Estee Lauder Double Wear is still used by so many makeup artists and people that are on camera regularly.
Estee Lauder Double Wear Foundation Pump
Many people like the open top of the foundation since it allows them to dab a little onto a sponge or their hands, but for those that prefer a pump you will need to buy that separately. Thankfully Estee Lauder makes a pump specifically designed for the bottle so it's a perfect fit. I would recommend getting a pump because it gives you better control over how much product comes out. You can use less making it last much longer and getting your money's worth of it. And then when you get down to the very last bit of product, I would remove the pump to easily access what's left in the foundation bottle.
Is Estee Lauder Double Wear Foundation Water Based?
For those that are looking for a water based foundation, Estee Lauder Double Wear is a great option – water is actually the first ingredient. Many oily skinned people prefer a water based foundation that is also oil-free so I would definitely give this foundation a try if that is what you are currently looking for.
I would love to know your thoughts on this foundation and if you have used it! It is definitely for someone that wants more coverage though only using a few dots to cover the entire face allows for  a more sheer application. I finally feel like I am part of the unspoken club now that I have tried the Estee Lauder Double Wear Foundation and definitely know why it has been a classic for so long.