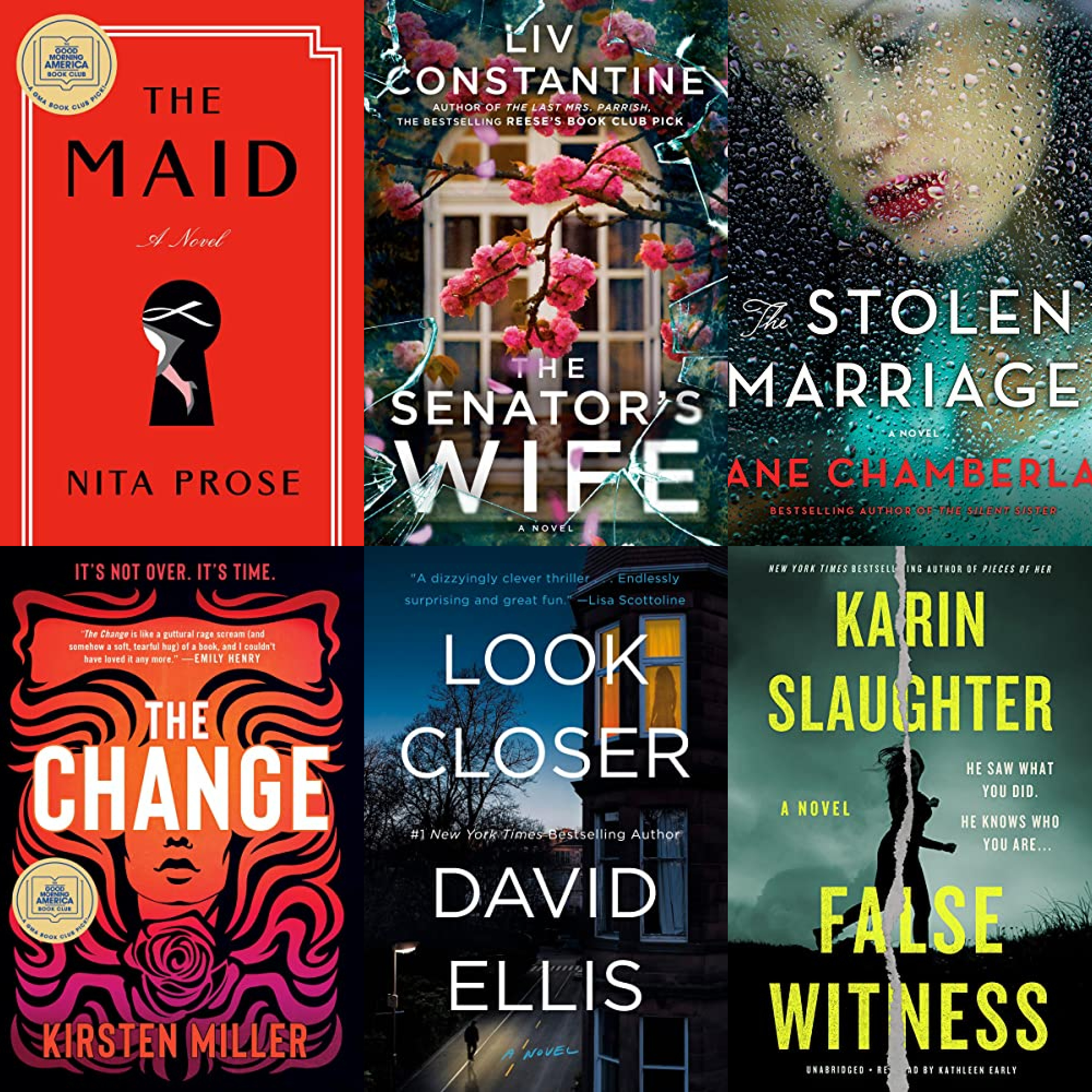 The books I read in June
A tad predictable at times but a really enjoyable mystery/thriller that kept me on the edge of my seat! Sloane and her new husband Whit are trying to move on after the devastating deaths of both of their former spouses. Whit is a senator trying to move his way up in Washington politics and Sloane's strong political connections are helpful for his career. Sloane's health begins to decline when her lupus flares up and she is forced to undergo a hip replacement surgery. Whit hires a home health aide for Sloane to help after the procedure and initially Athena seems to be a blessing for the whole house.
But soon Sloane's recovery begins to decline and she becomes paranoid that someone is trying to harm her. Could it be Athena? Could it be her husband? As she spirals into complete hysteria, Sloane doesn't think she can trust anyone and fears for her life. Such a riveting book and a great vacation read! Rating: 9
This has been on my list to read for SO LONG and I finally decided to go for it. It has a ton of buzz and hype and while I really did enjoy, I didn't think it was as good as I was anticipating. Molly is a maid for a luxury hotel in NYC and takes immense pride in her job. She is meticulous almost to a fault which earns her high regard from management, but does not make her popular amongst her coworkers. When Molly stumbles upon a dead body in one of her rooms that she is cleaning, she immediately alerts authorities and does all the right things. However, her awkward social interactions and rigid behavior makes the police wary of her and soon she finds herself in a situation she may not be able to get out of. Rating: 8.5
OBSESSED!!! This book was SO good but just now that there are many sensitive subjects in the book which could be upsetting. Leigh is a successful defense attorney at a high powered firm and just wants to live her life as under the radar as possible. But when Leigh receives a specific request by a client for her to represent him, Leigh is worried her tragic and traumatic past could ruin her life. You will be on the edge of your seat with this book – it is SO intense! It does get a bit over the top in the end but that didn't bother me because it was one of the best thrillers I have read in a long time. Rating: 9.5
Another major hit!!!! I loved every single second of this book and did not want it to end. And I adored the three main characters so much. It felt loosely based on the Long Island serial killer case that has never been solved but even though it was a mystery, I was really touched by the bonds the three women shared.
Nessa, Harriet and Jo are middle age women living in a small community on Long Island and all find themselves suddenly in each others lives trying to solve the mysterious murders of young women. But society doesn't take these women seriously and after a certain age, it seems like they are supposed to be forgotten and dismissed. I resonated with so much of this book and it felt like I was hearing my own thoughts written out on paper. The strength of these women and their support of each other was inspiring and freeing. I wish I could read it again and may at some point – it was that good! Rating: 9.5
In a group of great reads, this fell very flat. Blah. Simon and Vicky have a seemingly happy and normal marriage, living in a nice area of Chicago and working at jobs they both find fulfilling. But when Simon comes across a woman from his past and then she is found dead in her suburban mansion, suspicions arise that Simon could be a killer. It was ok but felt slow moving and predictable. Rating: 6
My heart literally broke reading this. The emotion I felt for the characters and their situations was so intense. Tess is engaged to the love of her life but after a one night mistake, she abruptly ends her engagement and flees to North Carolina to marry a stranger. It's the 1940's and the south is full of racial tension and the struggles from WWII. Tess is originally from Baltimore so her arrival to this small southern town is not easy and she faces a life that she never wanted. Her new husband is very secretive and his family does not like her. Tess is alone, scared and seemingly trapped in a marriage that neither person wants.
After a series of horrific events, Tess and her husband Henry try to come together and understand each other. And when the truth about Henry is revealed, Tess must make a difficult decision for her future. This book made me feel all the things and I truly loved it. Rating: 9.5
PS. See last month's book roundup.