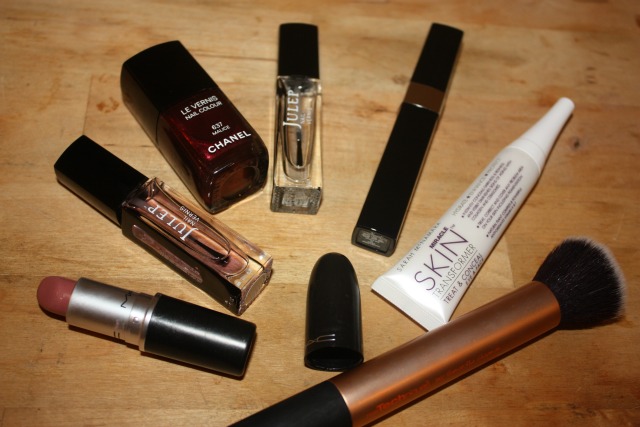 The time has come once again for me to bestow the much coveted title of "favorites" to beauty products that I simply adore.  A slightly more beauty heavy month, in terms of favorites, but that does not mean my skincare favorites were not as awe inspiring – some might even say though there were only 2, they were 2 exceptional products.  But first, the makeup/nails/tools favorites:
1.
MAC Lipstick in Modesty
– Your eyes do not deceive you – that is a neutral pink/brown shade and I KNOW you are not surprised.  Strong enough to give my lip color, easy to wear with any eye look, this lipstick has quickly found its way into  my everyday makeup bag. Even though I may put on a different lipstick in the morning, I always seem to wear this at some point during the day.
2.
Julep Base Coat
– Julep, again? Yes. Always yes.  To this day, I have yet to find a product from them I do not adore – and this base coat is no exception.  Protects my nails from staining and is incredibly long lasting.
3.
Chanel Nail Colour in Malice
– A recent debut on
Sunday Nailday
, this color has been quite talked about in the blogosphere recently, so I had to try.  This is only my second ever Chanel polish (yes I am ashamed), and it is truly worth the hype.  Super long lasting, chip resistant, easy to apply – oh, and this color is absolutely gorgeous.  Darker on than in the bottle but a must have for the holiday season.
4.
Julep Top Coat
– How could I mention the base coat and not the top?  Impossible.  And since this is the fastest drying top coat I have ever found, and amazing at preventing chipping – it may actually be working its way from favorites to holy grail.  If you are not yet part of their
membership Maven program
, I highly recommend it – receiving a box of nail polishes and beauty goodies every month for under $20 is simply heaven.  Click
here
to become a member.
5.
Chanel Inimitable Mascara
– After a
glowing review
just a little over a week ago, it was hard to imagine that I wouldn't feature this product in my favorites.  The ultimate in a volumizing, thickening mascara to make your lashes absolutely perfect.  Per. Fect.
6.
Miracle Skin Transformer Concealer
– Mornings never felt so good after discovering this concealer.  An amazing smooth texture, allows this to glide right on and it does not move. At all!  And why would we want it too – faking the awake is what makeup is all about.  Am I right ladies?
7.
Real Techniques Buffing Brush
– This brush is certainly not new to my makeup routine, but it is truly the brush I use every morning to apply ANY foundation and felt it deserved recognition.  The bristles are incredibly soft and the blunt shape of the hair allows it to buff the makeup into the face, giving a flawless and almost airbrushed finish.  Your
brush collection
is not complete without this buffing brush – trust me.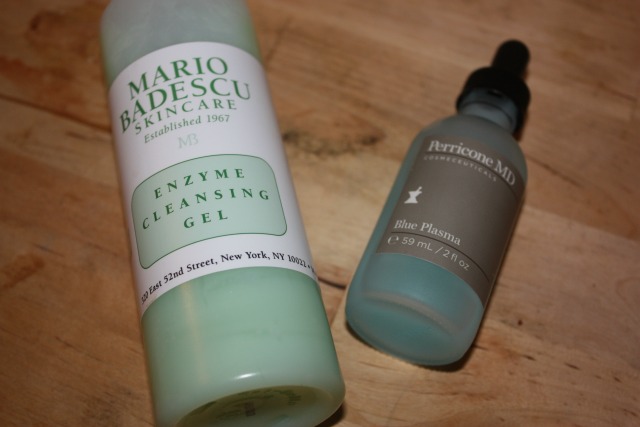 And now we have the monthly skincare favorites – which though there are only two, are two pretty remarkable, knock your socks off, products.  
1.
Mario Badescu Enzyme Cleansing Gel
(c/o) – As a new customer to this brand, I am amazed over and over again at how fantastic and EFFECTIVE their products are for my oily, hormonal, acne-prone, petulant-teenager-like skin.  Since it is soap free, and formulated with alpha hydroxy acids to exfoliate, it gives me everything my skin needs to stay clear and blemish free – hallelujah! 
2.
Perricone MD Blue Plasma
(c/o)- Though this product has just recently launched, I was able to try it a few months ago and was immediately blown away.  It is a non-acidic daily peel (yes you heard right – non-acidic!) that exfoliates and renews the skin without all that ridiculous redness, peeling and irritation that comes with similar products.  My skin immediately took to this product, and radiant results would be an understatement.  Glowing, smooth, hydrated, – skin that is almost perfect would be the best description for my results.  
So there you have it, another month down, another list of beauty favorites to add to your virtual shopping cart.  Remember it's the holidays, so for every gift you buy for a loved one, you must buy one for yourself, and I highly recommend starting with this list.  Tis the season!