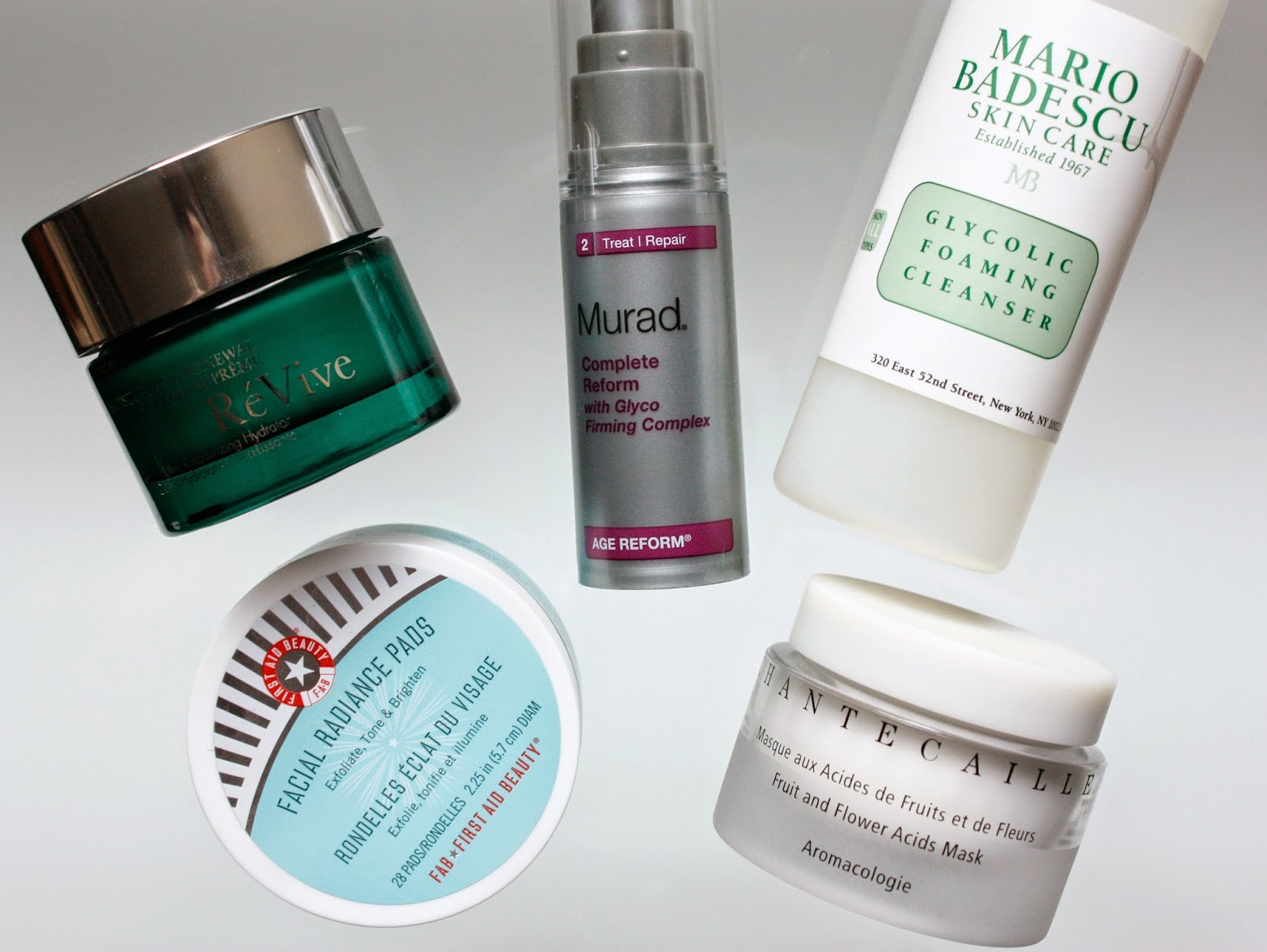 One of my goals this year was to develop a better understanding of skincare ingredients. Yes I love skincare. Yes I love using a ton of different products. But do I truly understand what each ingredient does, how it reacts with other ingredients, and what that all means for my face? Kind sorta, but I am no expert. I did start to make some correlations during my skincare routines when I was using too many exfoliating products or too many acne products at once – my skin would be too dry or too oily – basically out of balance. You can read more about my skincare routine and the thought process
behind it here
. One of the first ingredients I educated myself on was Retinol (read that
post here
). I was amazed at the results and once I fully understood it, I knew why it was working so well. The next ingredient to pop up on my radar has been glycolic acid. I have been using it for a while in many different products, but didn't put two and two together that it was the reason I was seeing such great results.
(epic ditzy moment. Good one, Maree) Here's a quick breakdown of glycolic acid and what it does: it's an alpha hydroxy acid (AHA), helps to break down substances that bond dead skin cells together, is a natural exfoliant, helpful in the treatment of acne, and can have long term effects such as reducing wrinkles, acne scars, a loser boyfriend (just kidding – get rid of him yourself!) and dark spots.
Basically it is great skin in a bottle. That is if you can use it – many cannot for whatever reason, so always do a test to make sure you can tolerate. But now that I have rambled on long enough, let's look at the products I have been loving lately that contain glycolic acid:
1.
First Aid Beauty Facial Radiance Pads
* – Little round pads of heaven if you ask me. I use these after my cleanser, and follow with a quick spritz of a hydrating toner. Gentle enough for daily use, they help to exfoliate and prepare the skin for the rest of my routine. Everyone needs to add these to their regimen. Now. Immediately. Ok finish reading my post first, then GO!
2.
Revive Moisturizing Renewal Cream
* – Holy luxury. I have been coveting this cream for some time and am excited to finally give it a go. I have only used it a short time, but waking up the next morning is like a dream. Glowing, soft, supple skin – heck, I feel like I am going back in age with this bad boy. A total splurge yes, but it will not disappoint.
3.
Mario Badescu Glycolic Foaming Cleanser
– When I am having an exceptionally bad breakout (read hormonal with a side of chocolate cupcake cravings), I add this cleanser into my routine. I use it every other day instead of every day which can be too drying for me, but it helps to break up any congestion and clear up my skin quickly.
4.
Murad Complete Reform with Glyco Firming Complex
* – Hello anti-aging serum. I have only recently began adding in heavy duty anti-aging products into my routine. Typically I focus more on my oily skin/breakouts, but after watching those smile lines or in-between-my-eyes lines not disappear after 20 seconds, I knew I needed to bring in the heavier guns. This Firming Complex has been the perfect addition to my routine – with the first result being less noticeable pores. *throws confetti* My skin does feel more taut as well, and the glycolic acid in this is working overtime to give me extra smooth skin the next morning. 
5. Chantecaille Fruit and Flower Acids Mask* – Dry, dull or lackluster skin need not apply when using this mask. Some retexturizing masks can be way too strong or too weak, yet this falls happily right in the middle for me. It helps to eliminate dead skin cells, refresh my skin without irritation, yet still soothe it at the same time. So much goodness in one jar. For an extra treat, I follow this mask with a spritz of the Chantecaille Pure Rosewater and my skin is in heaven.
* press sample