And now for the exciting sequel to last week's "A Boot Story"……
Ankle boots with a wedge heel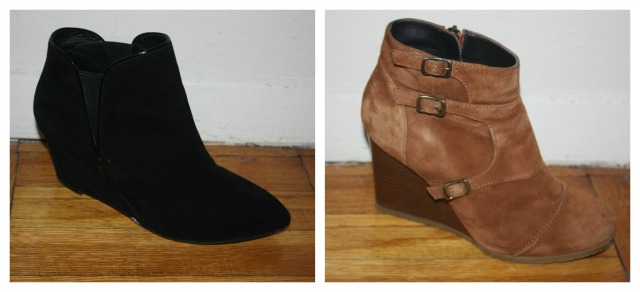 Unabashedly I say that I am a fan of comfort.  Living in a city that has a transportation system based on walking everywhere, I soon shelved my 21-year-old sentiment of "I always wear 4 inches or higher".  Gah.  The nerve of that girl.  I am glad the off-duty cab situation that always occurs when I need to get somewhere whipped my ass into gear.  I soon found that I could somewhat have the best of both worlds in the form of wedge boots that still give me height but allow me to hold my head high, walking proudly with little to no wincing.  Here are my my wedge winners:
1.
Jean Michel Cazabat
– a wedge AND a point?  I knew I had to have them.  And let me tell you that they are truly one of the best boots I have ever purchased.  Your feet need them.  They will thank me later.
2.
J. Crew Wedge Boot
(similar
here
) – The color of these boots scream Fall, while the moderate heel height allows me not to scream at all when wearing. A little more of a casual vibe when wearing these – think cozy sweater dress and tights. See it? Now stick my head on that image. There I am! Look – I'm waving to you in your image. 
Stiletto Ankle Boots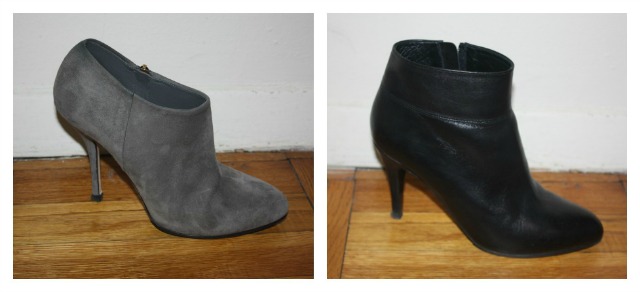 For the days that I want to be uncomfortable, I look to my stiletto heeled ankle boots.  And don't get me wrong, they are a beauty but those gray jams on the left – ooof!  Sass with a side of searing pain after an hour or two.  But I am still a slave to it all and so I oblige like the fashion lemming I am.
1.
Gucci Suede Stiletto Ankle Booties
(similar
here
) – Damn these are one hot shoe and they look amazing with skinny jeans, pants, leggings – anything!  Gucci can do no wrong, right?
2.
J. Crew Ankle Boot
(similar
here
) – the heel is significantly shorter on this boot so they do wear quite well for most of the day, though I don't recommend them if you will be walking the
whole
time.  I even went so far as to
pair these with shorts in the early Fall
.  Who's a fashion daredevil??? *raises hand*
Ankle Boots with a Chunky Heel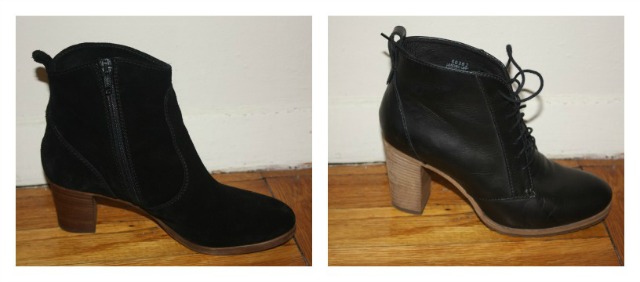 A middle ground between the previous two categories.  Much gentler on the feet though still giving the much needed height that my 5'3″ frame warrants.  Walking is possible in these, though they tend to be reserved for a more casual ensemble.
1.
J. Crew Aggie Boot
– I just purchased these boots and am already thinking about another pair.  True story: I went to brunch with a girlfriend two weeks ago and she loved the look of these so much that she texted me 30 minutes after I got home to say she bought a pair online.  Just waiting on my commission check, J.Crew…….any day now, right?
2.
Madewell Black Stacked Heel Boot
(similar
here
) – I tend to call these my "granny boots" though I am not sure my grandma would have worn them.  I do find them a mix of modern and vintage – as much of Madewell's clothing and shoes tends to resonate between the two.  A little higher heel which make for a louder stomp when walking.  If I am behind you on the street, I sound like the principal walking through your middle school hallways.  But I look gooooooooddddddd.
There you have it – part 2 of my boot miniseries.  I am sure Lifetime will be calling shortly to pick it up so you can say you knew me when…….   The final installment will be later this week.  These past few weeks have been quite a whirlwind, but new outfit posts are coming soon showcasing all the boots.  Please contain your excitement.  Until then…….