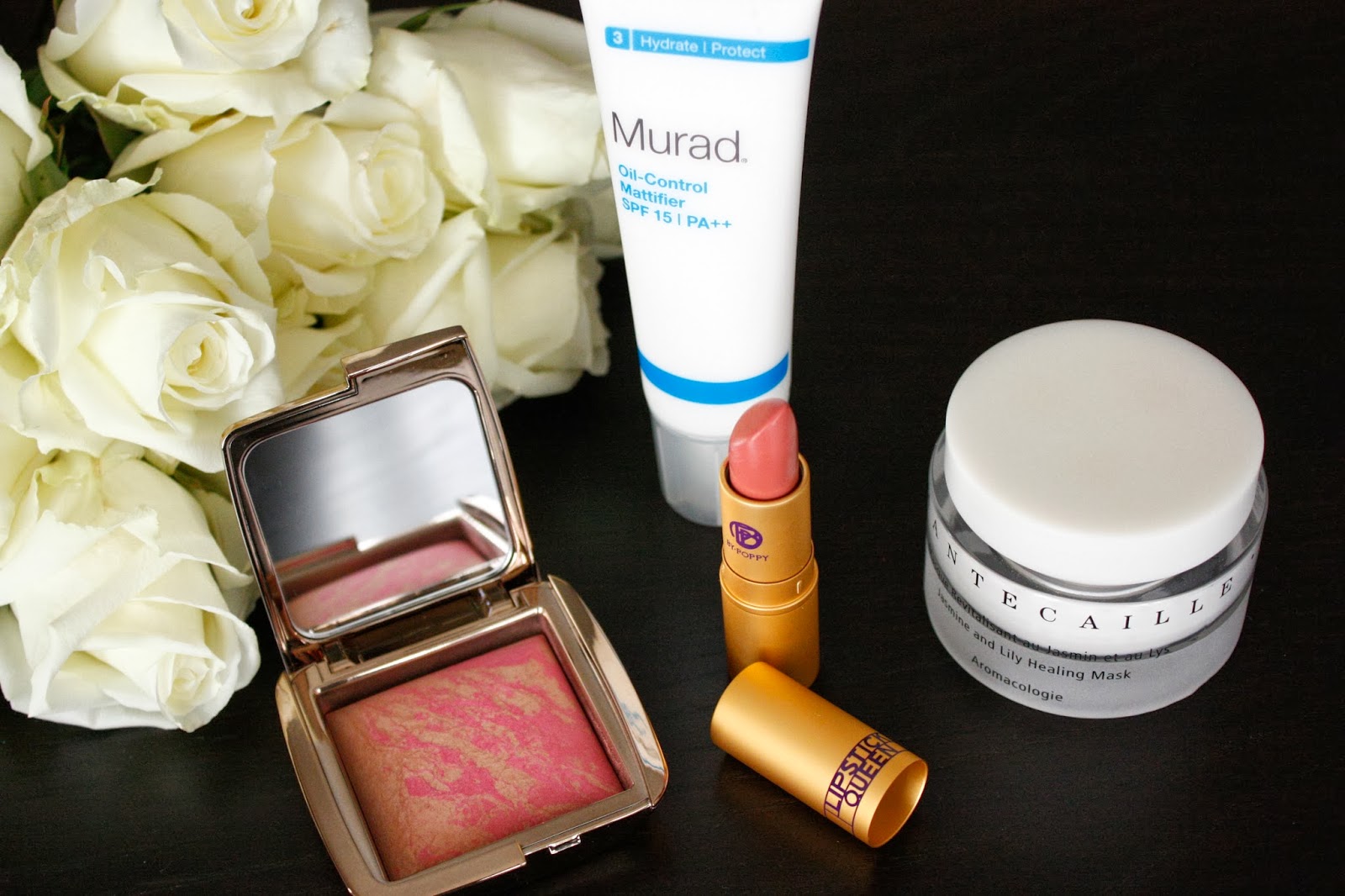 Whenever I try something new (new to me that is) and love it, I find it almost impossible to not talk about it every single chance I get.  Hence the reason I started this blog.  Whenever I would buy a new blush/lipstick/cleanser that wowed me, I felt the need to tell anyone and everyone and unfortunately those close friends in my life were often not that into beauty. Or if they were, they were not that into the product I was pushing.  Thankfully, I don't have to worry about that anymore because I have managed to find an outlet for all my beauty excitement – yay for me, and yay for you! I have been using these 4 products regularly over the past few weeks and they are knocking my socks off – and of course I have to share my good news.
1.
Murad Oil-Control Mattifier SPF 15
(c/o) – I have such a love/hate relationship with my oily skin.  It helps keep me looking young but can be so hard to manage – no one likes a shiny face mid day.  I have been testing this out for the past few weeks and have actually put aside one of my favorite daytime SPF moisturizers in favor of wearing this regularly.  The texture is quite thick and initially had me a bit hesitant, and then I let it soak in for 30 seconds and my face felt smooth and hydrated, with a natural matte finish.  The true test for me is applying makeup over a product and this passed with flying colors – making the need for powder touch ups minimal throughout the day.  My summer shine better be scared.    
2.
Chantecaille Jasmine and Lily Healing Mask
(c/o) – I have started my Chantecaille journey and now that I'm the train, I don't plan to get off anytime soon.  Each and every product is better than the next (
remember these lipsticks I gushed about
?) – and this mask is no exception.  I initially used the mask right before I got sick and thought it was great.  Then I got sick – cue awful, sensitive skin that was dehydrated, irritated and in some places (my nose) raw and uncomfortable (yuck, I know).  That is when this mask went from great to AH-MAY-ZING. It truly helped heal and soothe my skin immediately, alleviating the pain I was having from the irritation and raw/dry patches.  I'm convinced this stuff is magic.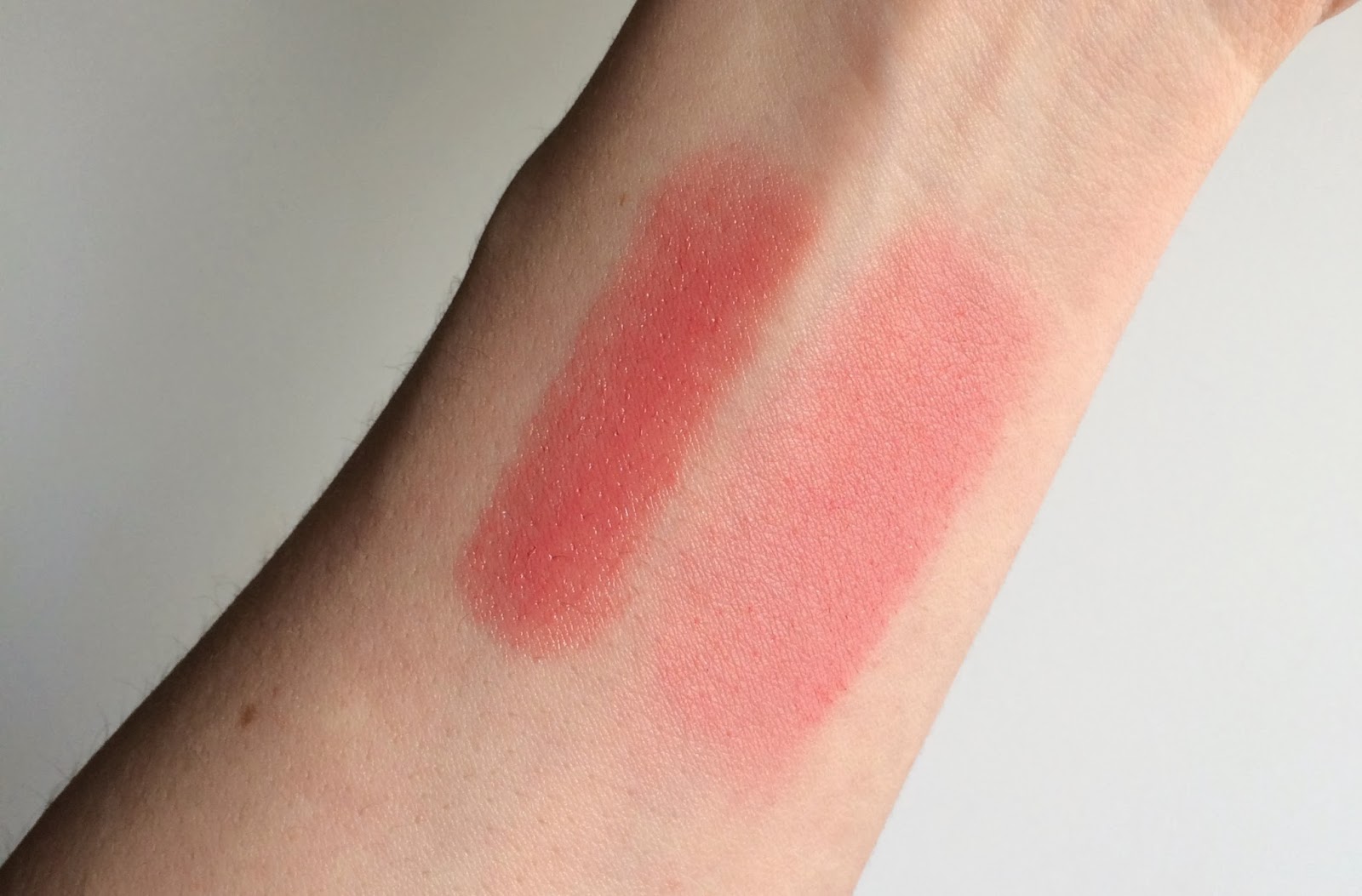 3.
Lipstick Queen in Saint Pinky Nude
(top swatch in the above pic) – This is my first Lipstick Queen lipstick, and I can tell you without a doubt, it will not be my last.  The texture is divine – creamy, smooth and hydrating on the lips, while the color is simply perfect.  The perfect natural pink – not too brown and not too rose.  I'm thinking this is going to become a staple in my collection.
4.
Hourglass Ambient Blush in Radiant Magenta
(c/o) (bottom swatch in the above pic) – You all know my obsession with Hourglass, and (of course) they knocked it out of the park with these blushes, which are a mix between the Ambient Lighting powders and vivid blush colors.  The pigmentation is quite intense (but then again I am practically transparent), so while my first try was with quite a heavy hand, I had to ease up for my second use.  The result was a gorgeous, radiant flushed cheek that suits almost any eye look I can pair with it.  Will I be getting more? You betcha.  I already have my eye on
Luminous Flush
and
Mood Exposure
next. 
Have you entered my Sephora $75 card giveaway?!!!  Enter
here
.
Shop the post: