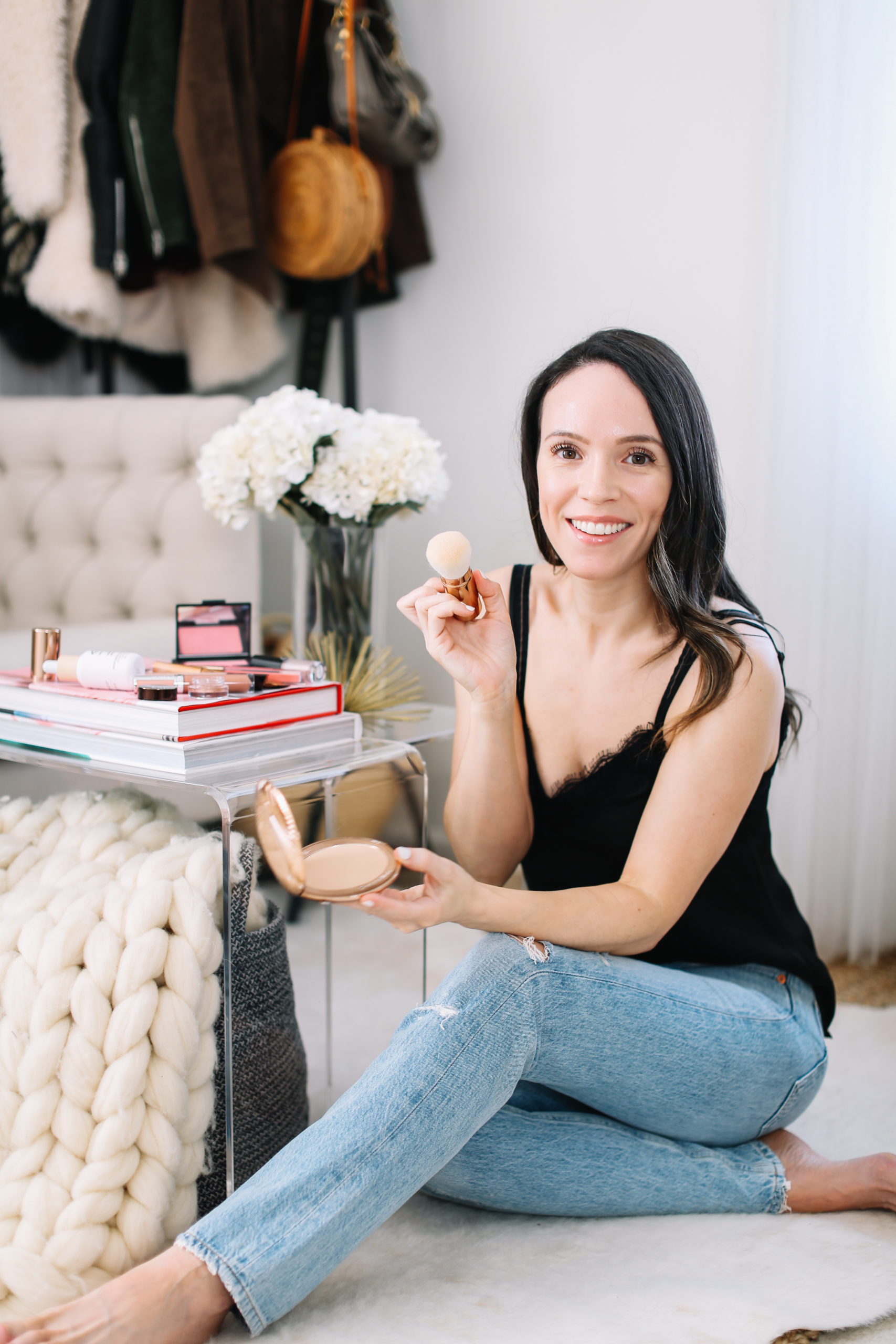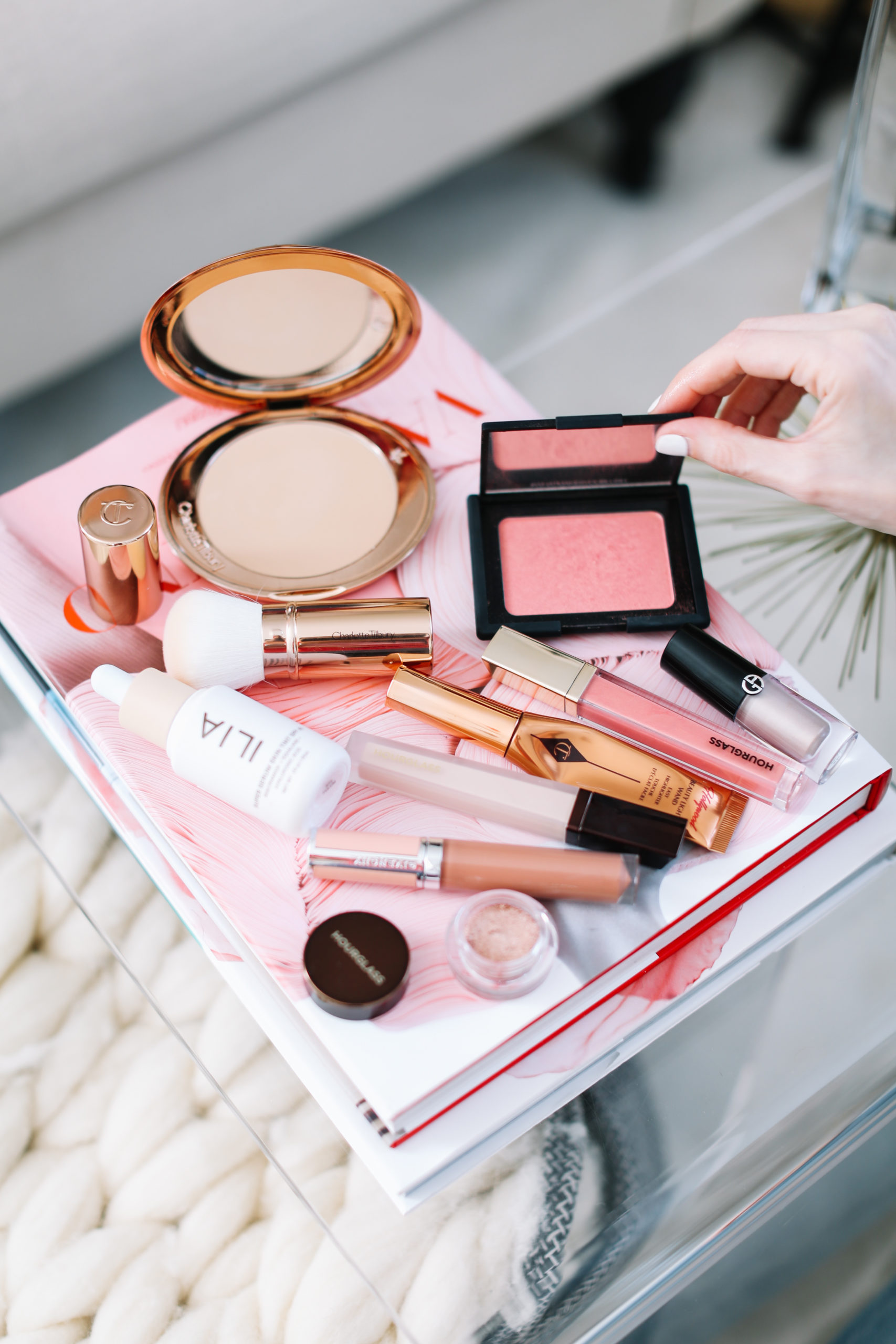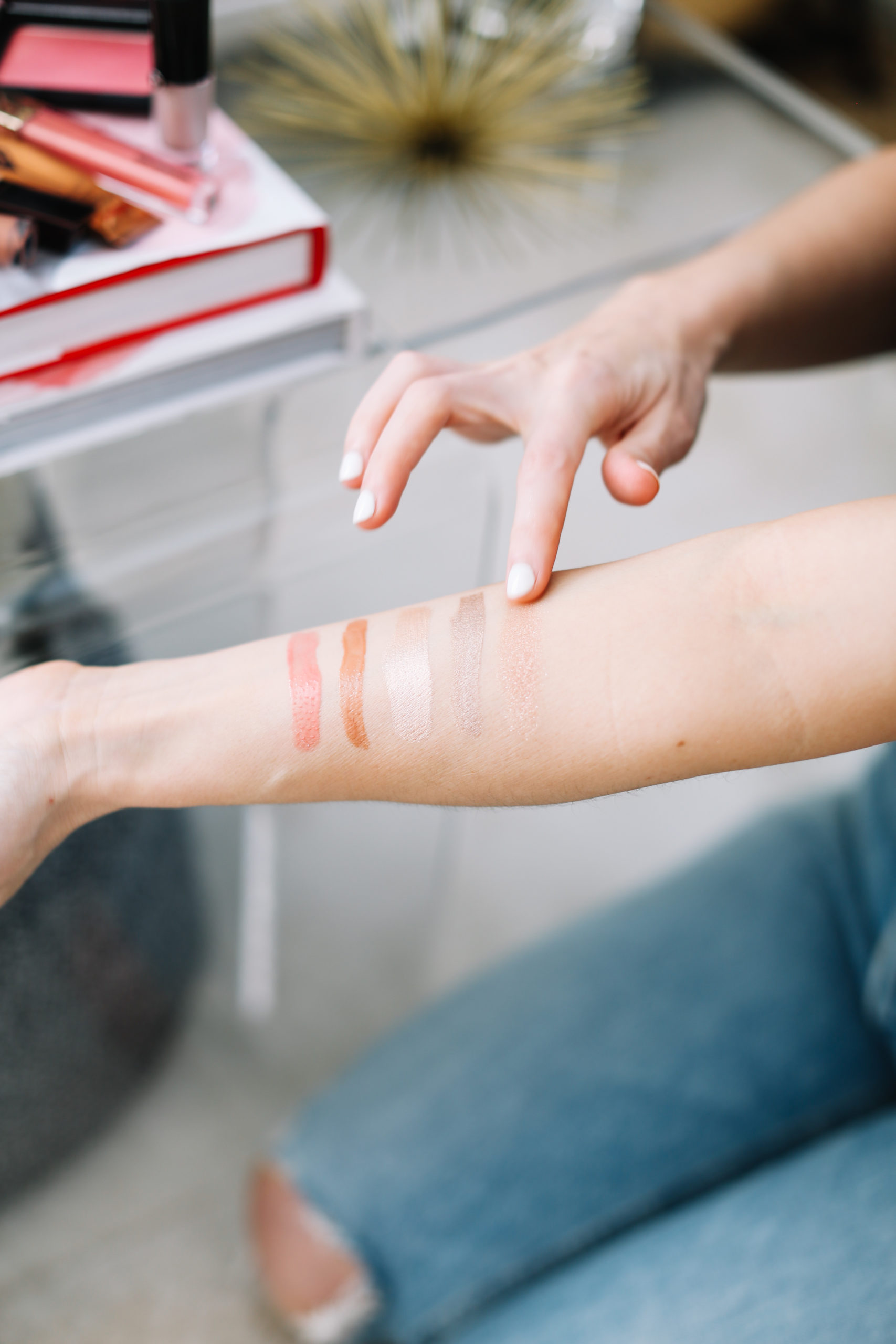 Swatches from left to right: Hourglass Gloss in Fortune, Givenchy Liquid Balm in #17, Charlotte Tilbury Highlighter, Armani Eye Tint #46 and Hourglass Scattered Light Eyeshadow in Reflect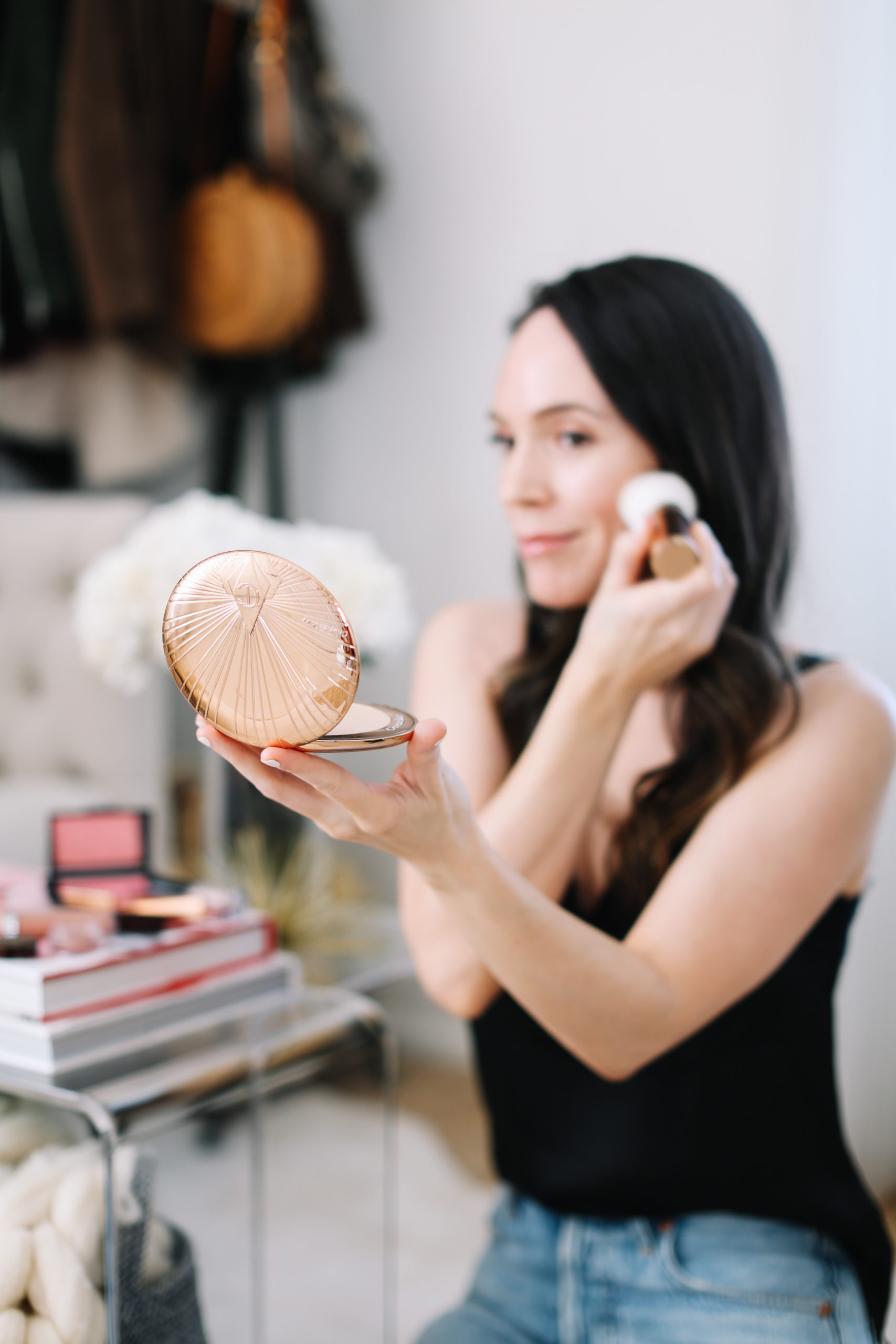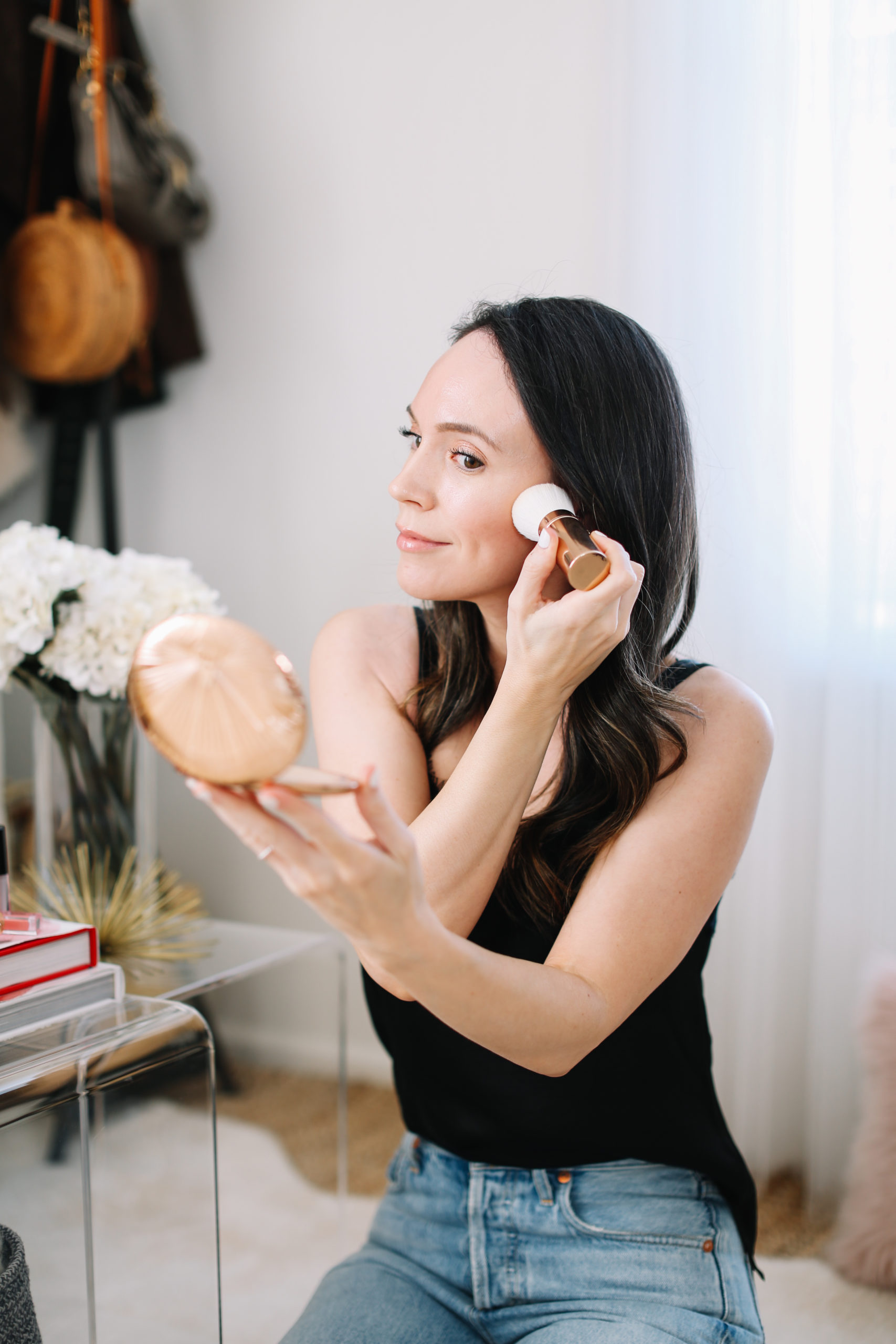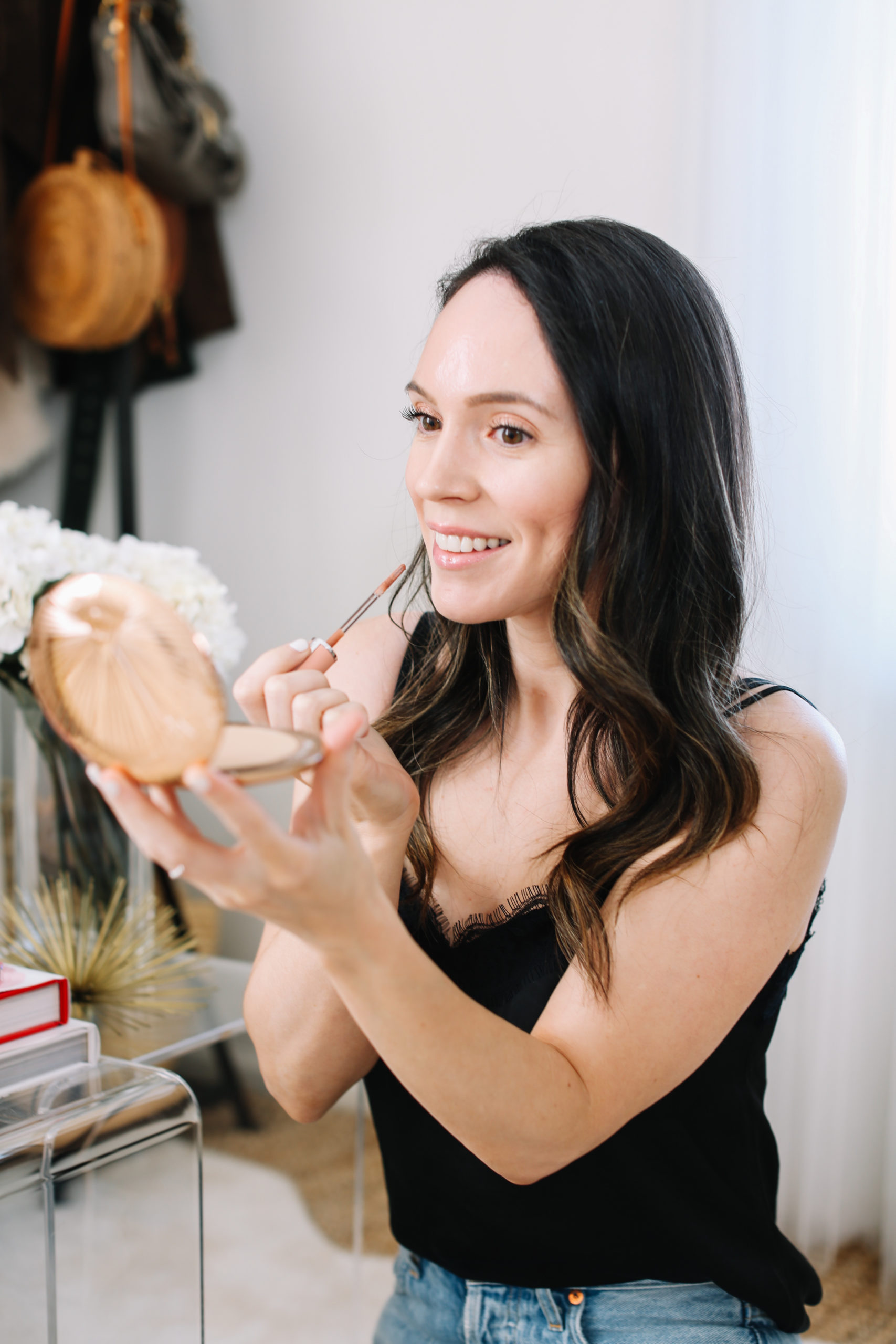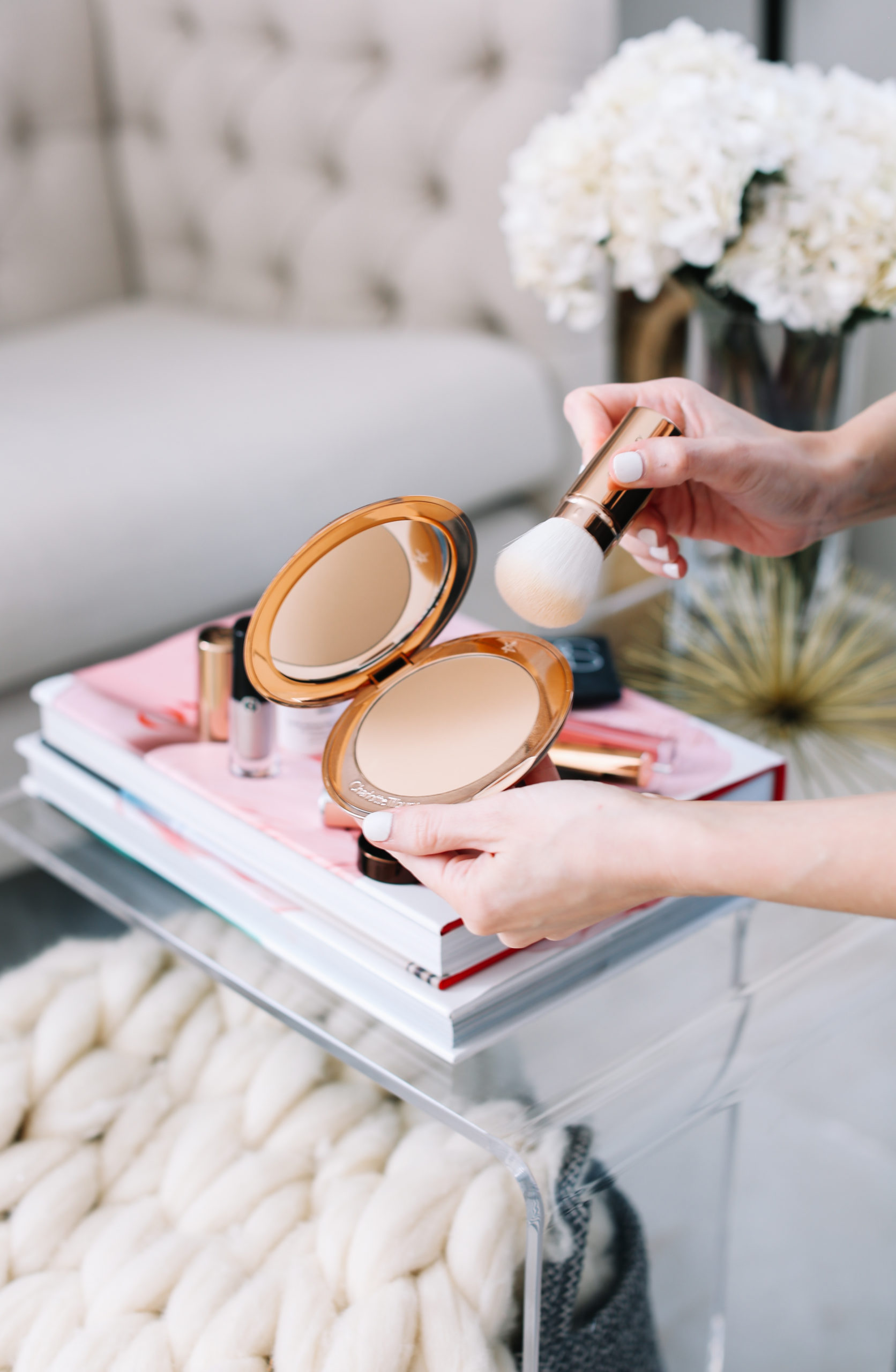 Camisole – BP | Jeans – Agolde
As soon as summer rolls around, I immediately reach for all the glowy products in my makeup collection. I like to have a fresh and radiant look and want products that are easy and quick to use. I constantly check Nordstrom Beauty new arrivals every few days to see if there is anything new I want to try (spoiler alert: there always is! LOL). I always seem to have a full cart of products after my browsing sessions. Ha! I recently picked up a few new makeup launches from Nordstrom that I had been wanting to try and they have become instant staples in my routine. Here are all the makeup products that I have been reaching for to give me a glowy summer makeup look – some are old favorites that you have heard me rave about before and some are new discoveries that will probably become my summer MVPs!
1. Charlotte Tilbury Bronzing Powder in Fair – There has been a ton of hype surrounding this bronzer and for good reason. It is STUNNING! The powder is very finely milled and glides on effortlessly. It's initially sheer on the skin but builds up very easily. The bronzer has a matte finish but still manages to give my skin a warm sun kissed look especially because it has a very brown undertone which I prefer. And if you are going to grab the bronzer, this brush is an absolute must have too! The bristles are super soft and the shape is exactly what you want to buff the color into the cheeks.
2. Ilia Super Serum Skin Tint in Tulum – Besides the Charlotte Tilbury Bronzing Powder, this skin tint may end up being one of my summer MVPs! It's a skincare/foundation hybrid product with an SPF 40. Even though it has amazing skincare properties to it, it still manages to give great sheer-medium coverage. The finish is a bit dewy at first but settles down to a naturally radiant finish and makes the skin look fresh and healthy.
3. Hourglass Scattered Light Glitter Eyeshadow in Reflect – A recent favorite for me but I have been wearing this eyeshadow nonstop (and it's what I'm wearing in the above photos). It's a subtle rose gold with gorgeous shimmer. It's a pressed powder formula so I prefer to apply it with my fingers and press it on to the lid.
4. Armani Eye Tint #46 – One of my all time favorite "one and done" shadows. It's a slightly shimmery taupe cream shadow and looks so subtle and gorgeous on the lid. Apply it with the applicator, blend out with your finger and you are ready to go.
5. Hourglass Unreal Shine Volumizing Lip Gloss in Fortune – A peachy pink that will brighten your face instantly but still be subtle enough to wear everyday. This has been in rotation for me for months now and the formula is smooth, creamy and gives an intense glossy shine.
6. Givenchy Le Rose Perfector Liquid Lip Balm in #17 – Another recent discovery and it instantly became a hit for me. It's a richly pigmented liquid balm that feels nourishing and hydrating on the lips. The color that I bought is a great everyday neutral to keep in your bag and apply when you are on the go.
7. Charlotte Tilbury Hollywood Beauty Light Wand – I've always been a powder highlighter fan but this cream formula from Charlotte Tilbury is one of the best I've ever tried. The color is a shimmering champagne and gives a fresh glow to the cheekbones. I use just a small amount and blend it in with my fingers. I especially love it on bare skin because it illuminates the cheekbones and reflects light in the most amazing way.
8. Hourglass Vanish Concealer in Creme – Weightless coverage. That's the best way to describe this concealer. It covers everything I need it to but it never looks heavy or cakey. It blends beautifully and stays smooth especially under my eyes. I like to reach for this if I have decided to skip foundation for the day and just want to cover up a few spots and brighten up under my eyes.
9. NARS Blush in Orgasm – An old favorite. I've been using this blush for more than 10 years and nothing else will ever compare. It's a golden peachy pink that looks good on so many different skin tones and will gives your cheeks the perfect amount of flush for the summer.
Thanks to Nordstrom for sponsoring today's post.