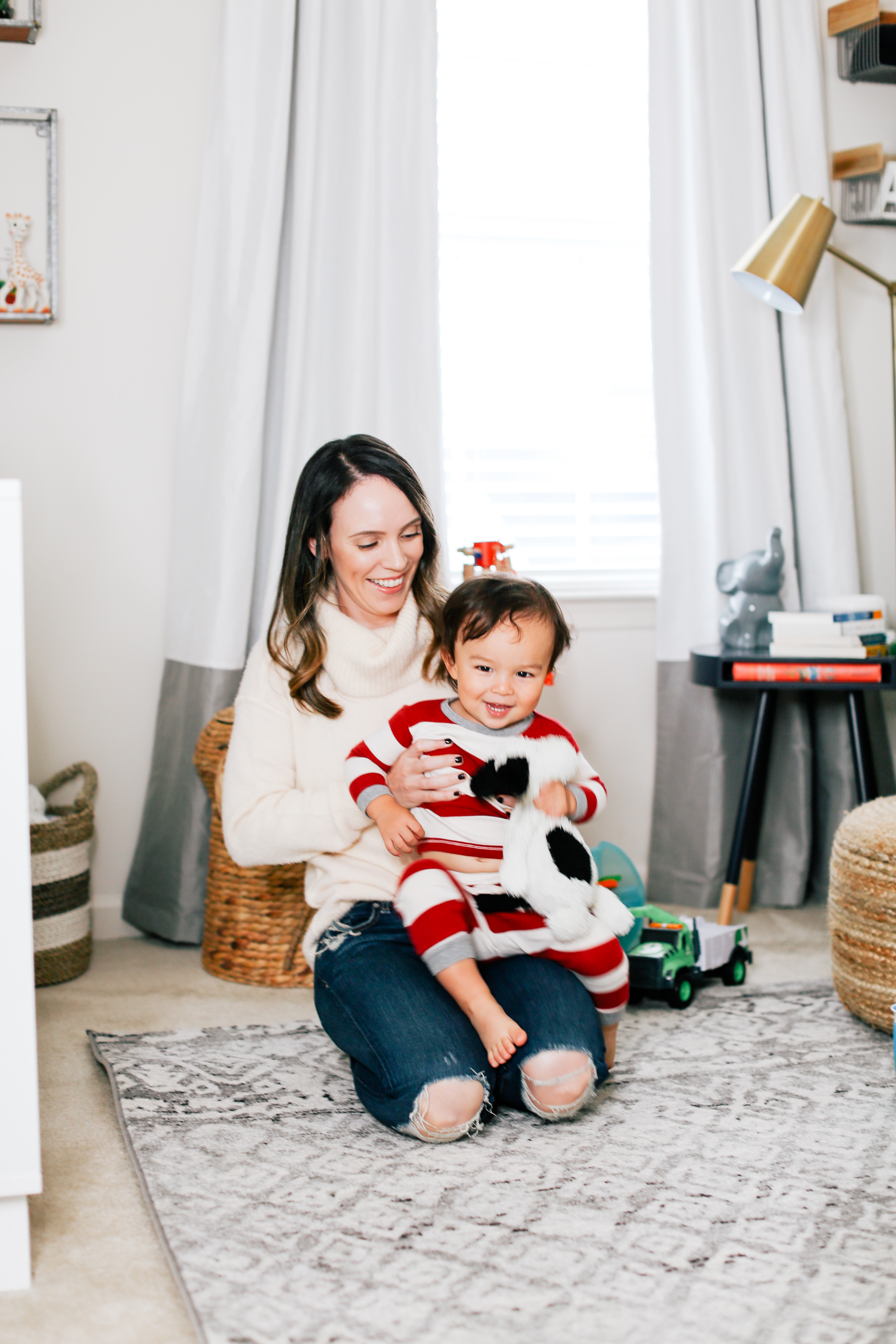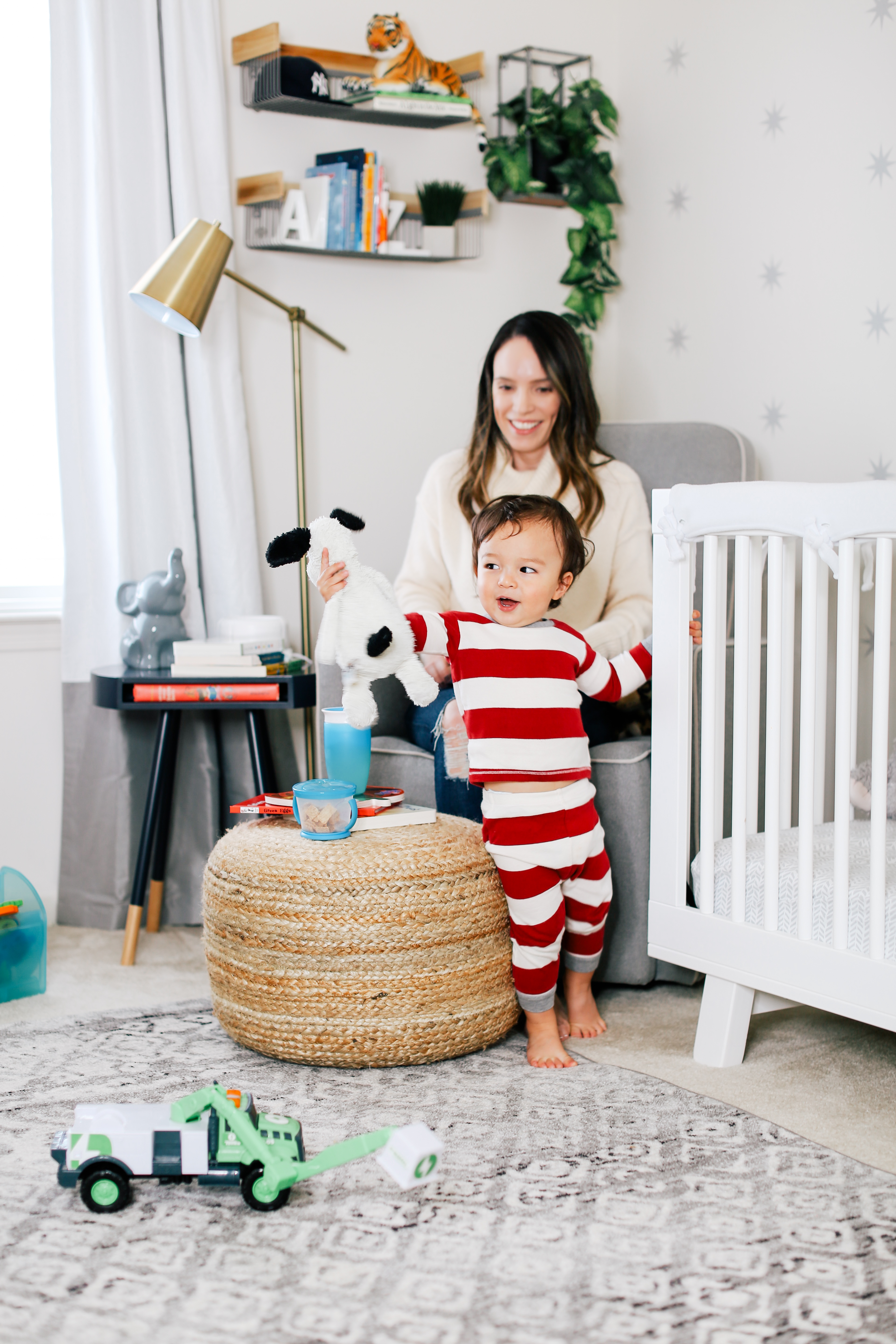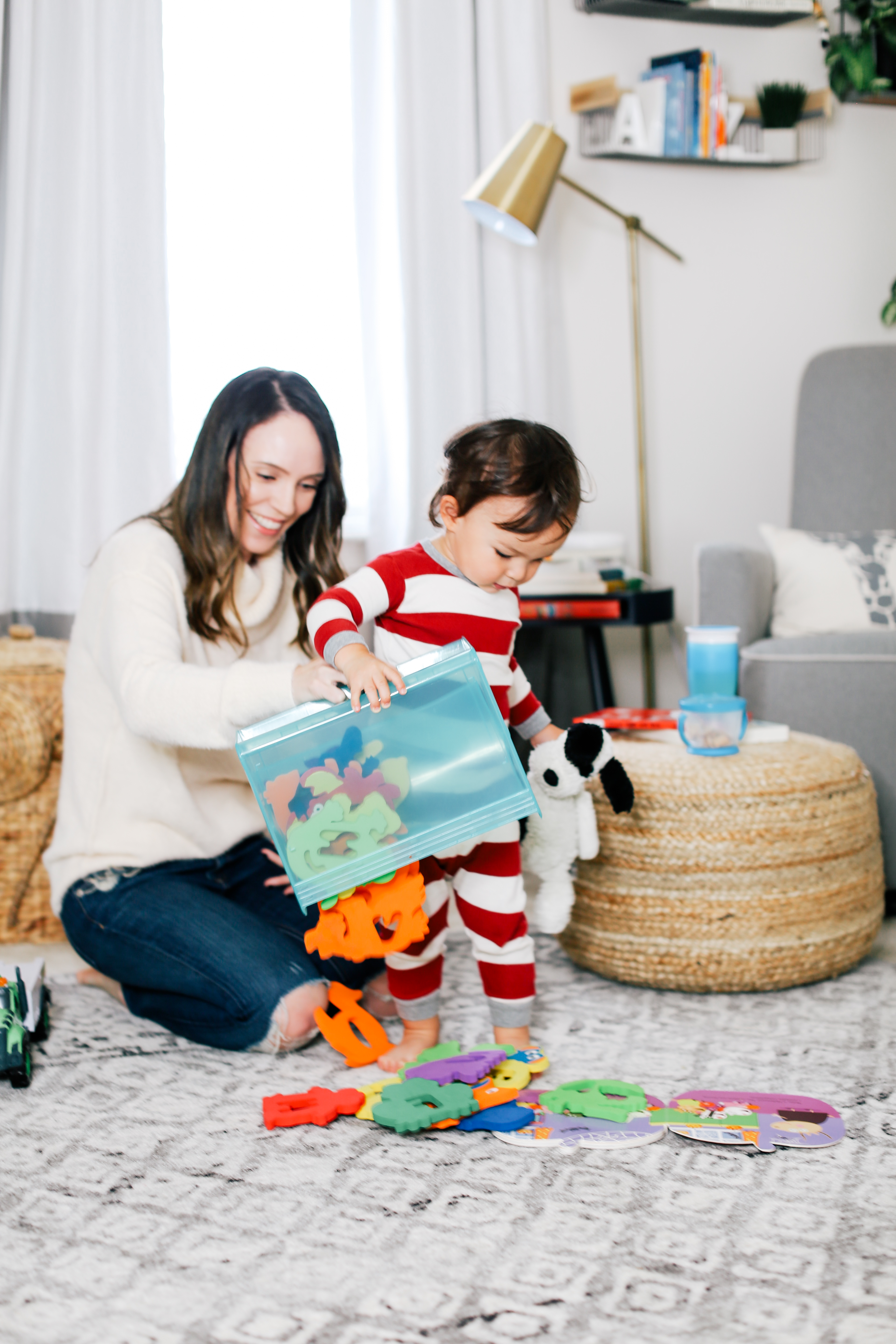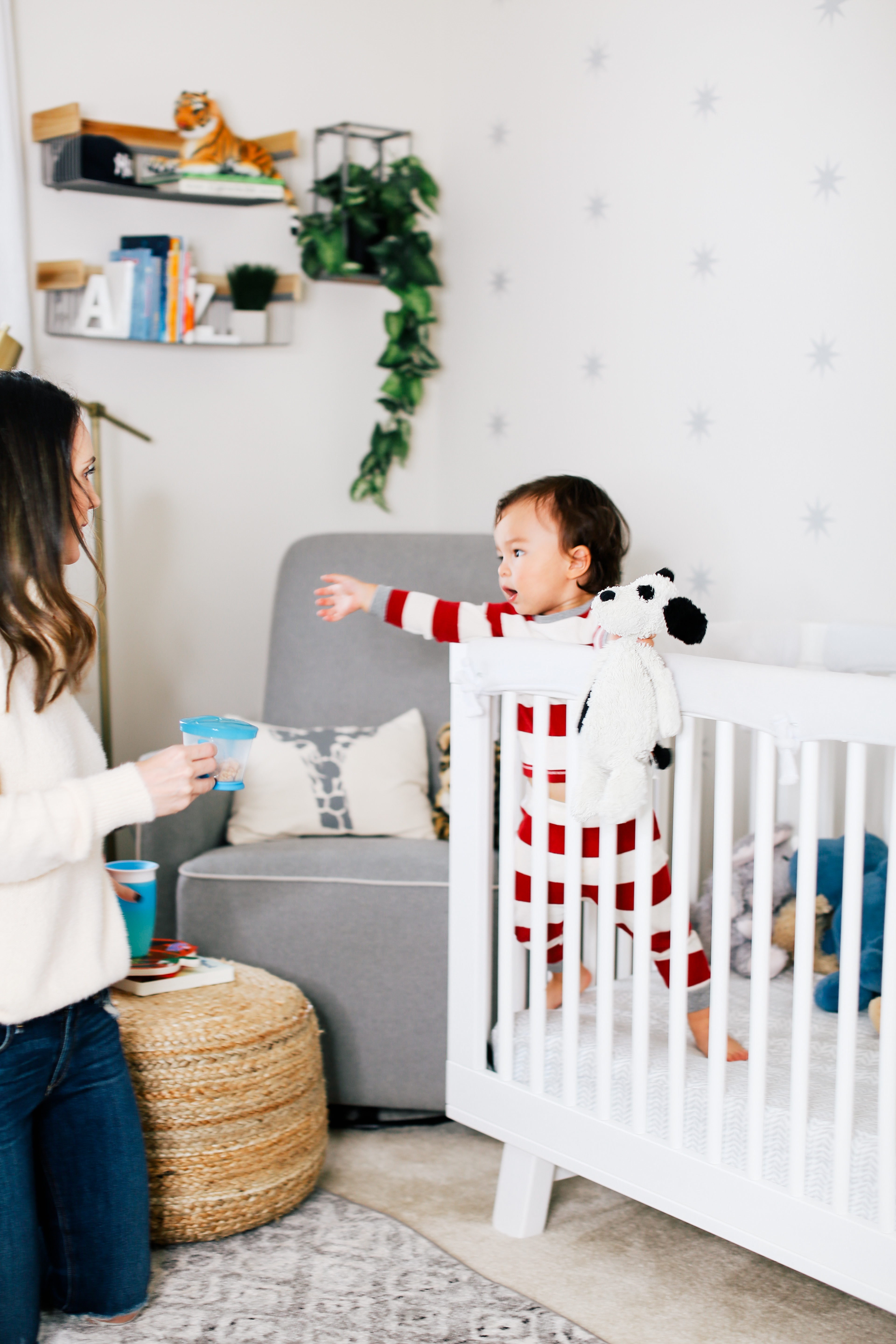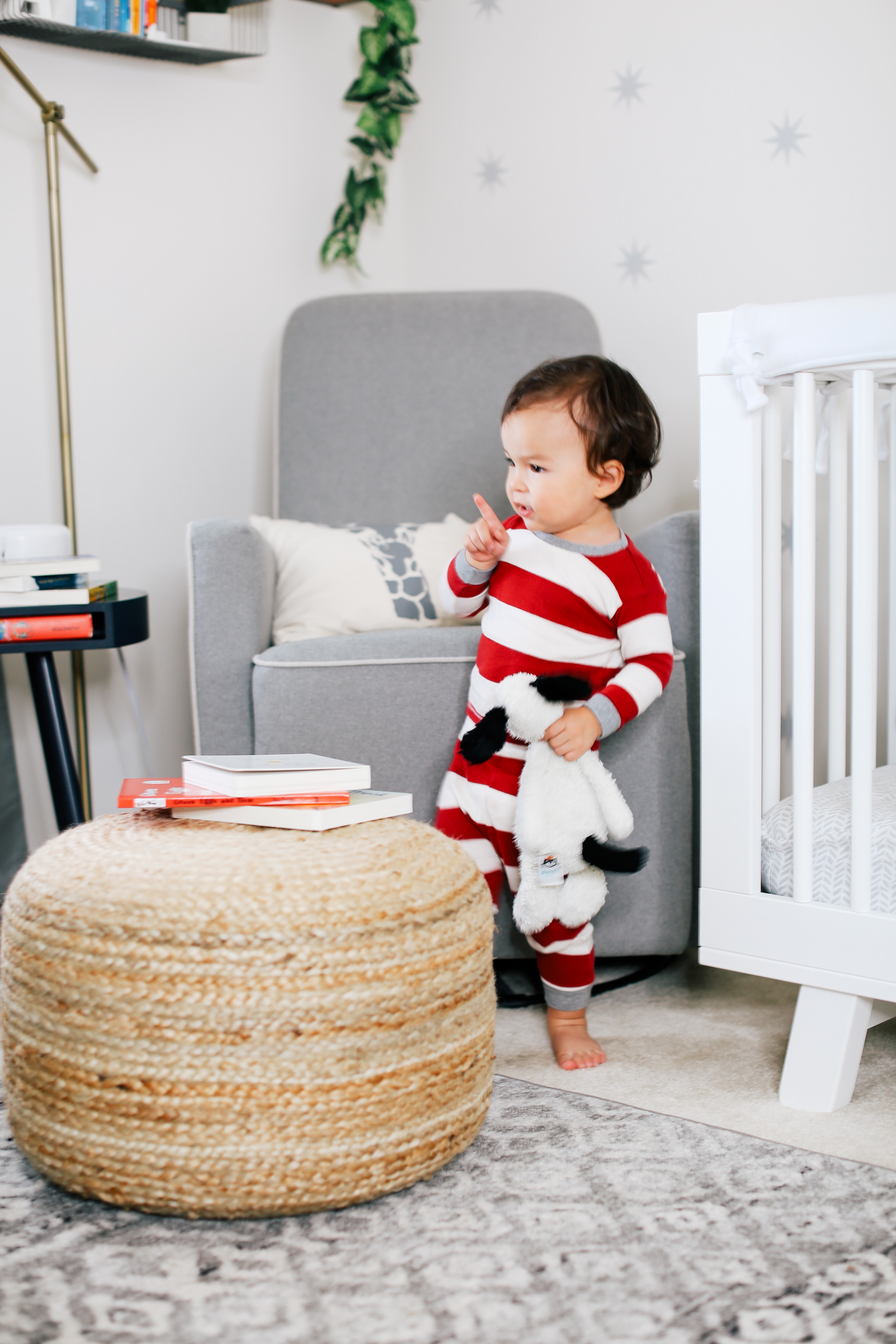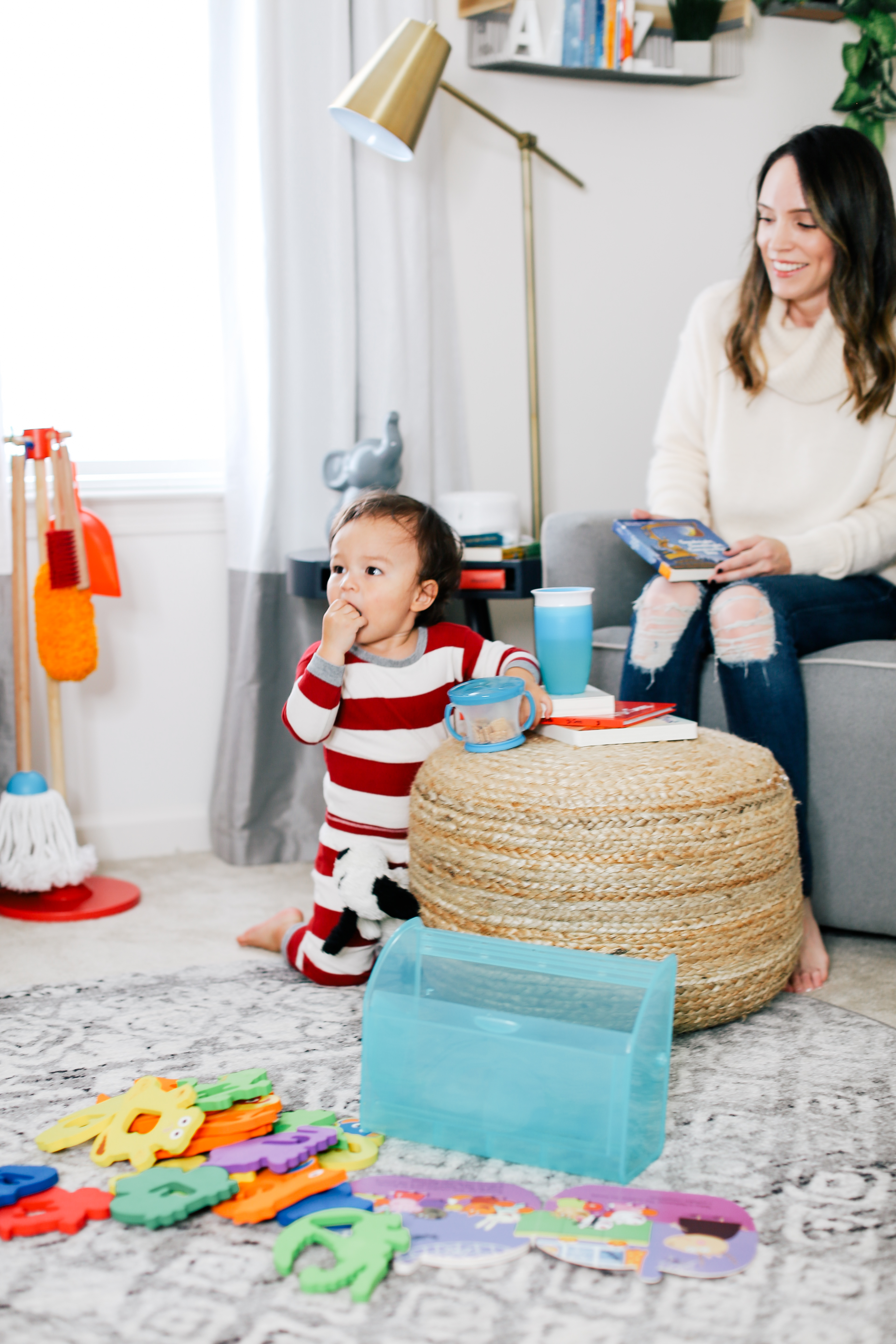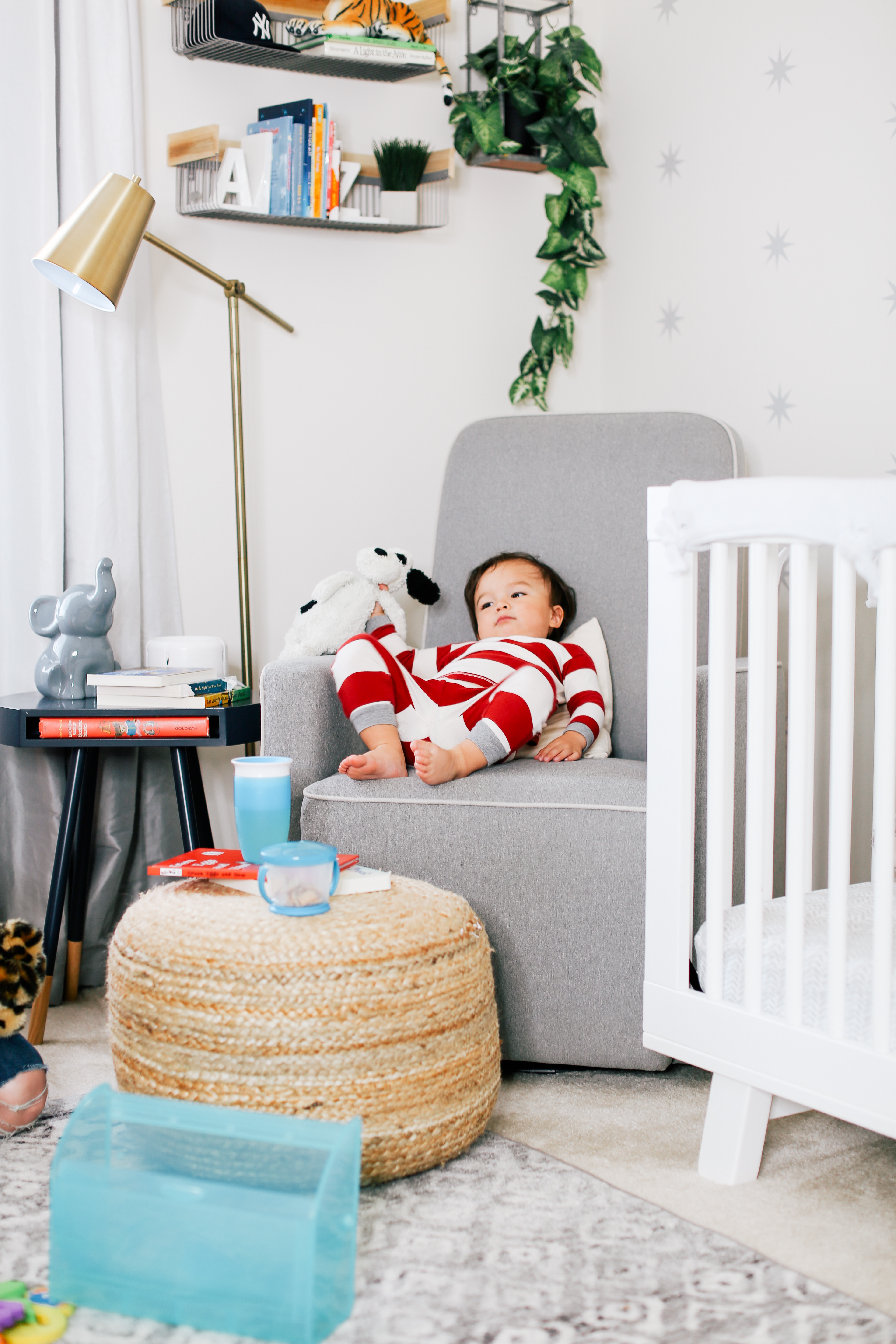 Crib | Mirror on wall (similar) | Glider | Side table | Rug (similar) | Jute pouf (similar) | Lamp (similar) | Snack holder | Juice cup
Miles is just about to turn two (I know, I can't believe it either!) and it's been awhile since I have given an update on him, his bedtime routine (and products that we use nightly) as well as his daily schedule. We sleep trained Miles from a very early age (this is the book we used and it was amazing), so we have had a bedtime routine for him since he was an infant. It has helped make bedtime a more enjoyable experience and something he looks forward to (most of the time LOL).
In addition to talking about his routine, I thought I would also share the products we use every night with him. I have it down to a science at this point and know what works for him. The Walmart near our house has a HUGE baby department so I often run up there to pick up many of these things, or order them online because Walmart offers free 2-day delivery on so many things. Walmart also has their own exclusive baby brand called Parent's Choice that has been around for 20 years and features everything from diapers and wipes to formula and bath products. You can see all their offerings here.
I thought I would first start with the items that I use nightly for Miles after his bath (you can read about all my favorite bathtime essentials for him in this post).
For his bedtime routine, it's pretty simple but Miles loves structure and looks forward to doing this every night.
Bath
Brush teeth
Put on pajamas/diaper
I normally let him sit in his crib and play for a few minutes while I clean up the bathtub and put away all his diaper changing stuff.
Read a book (more like 3-5 books because he never wants it to end)
Put him in his sleepsack
White noise machine and humidifier on
When Miles was an infant, his daily schedule would change every few months, but his nighttime routine has pretty much always stayed the same. As far as his current daily schedule, things have been pretty consistent for awhile now and I don't anticipate anything changing. Here's what his day looks like:
7 am – wake up
7-8 am – drink bottle and play with his toys
8 am – Breakfast
8:30-10:45 am – playtime (multiple snack breaks thrown in there LOL)
11 am – nap (he JUST went down to one nap a day)
1 pm – wake up from nap
1:30 pm – lunch
3:30 pm – If he didn't nap well in the morning, he will sometimes take a short one now or he will lay down in his crib and play with his toys
5:15 pm – dinner
6:15 pm – bathtime/bedtime routine
7 pm – bedtime
Things have changed significantly in the past six months as Miles becomes more verbal and is able to do so many things by himself. He was only saying a handful of words but in the past six weeks, his vocabulary has exploded and he repeats everything that we say. He is slowly starting to put two words together which is what we are working on with him. He was always a very chill baby when we took him out and has always been that way but within the last month he has become so much more stubborn. He is now in full toddler mode we say. Ha! It's so crazy to see his personality develop. When he eats with us at the dinner table, he seems like such a big boy sitting on the bench next to me. The time goes by so fast!
If you didn't catch it, I shared all of my baby favorites and must-haves on Walmart's site here (scroll down to the bottom of the page). I love how Miles is teaching Puppy to read in the photo. So cute!
Thanks to Walmart for sponsoring today's post.