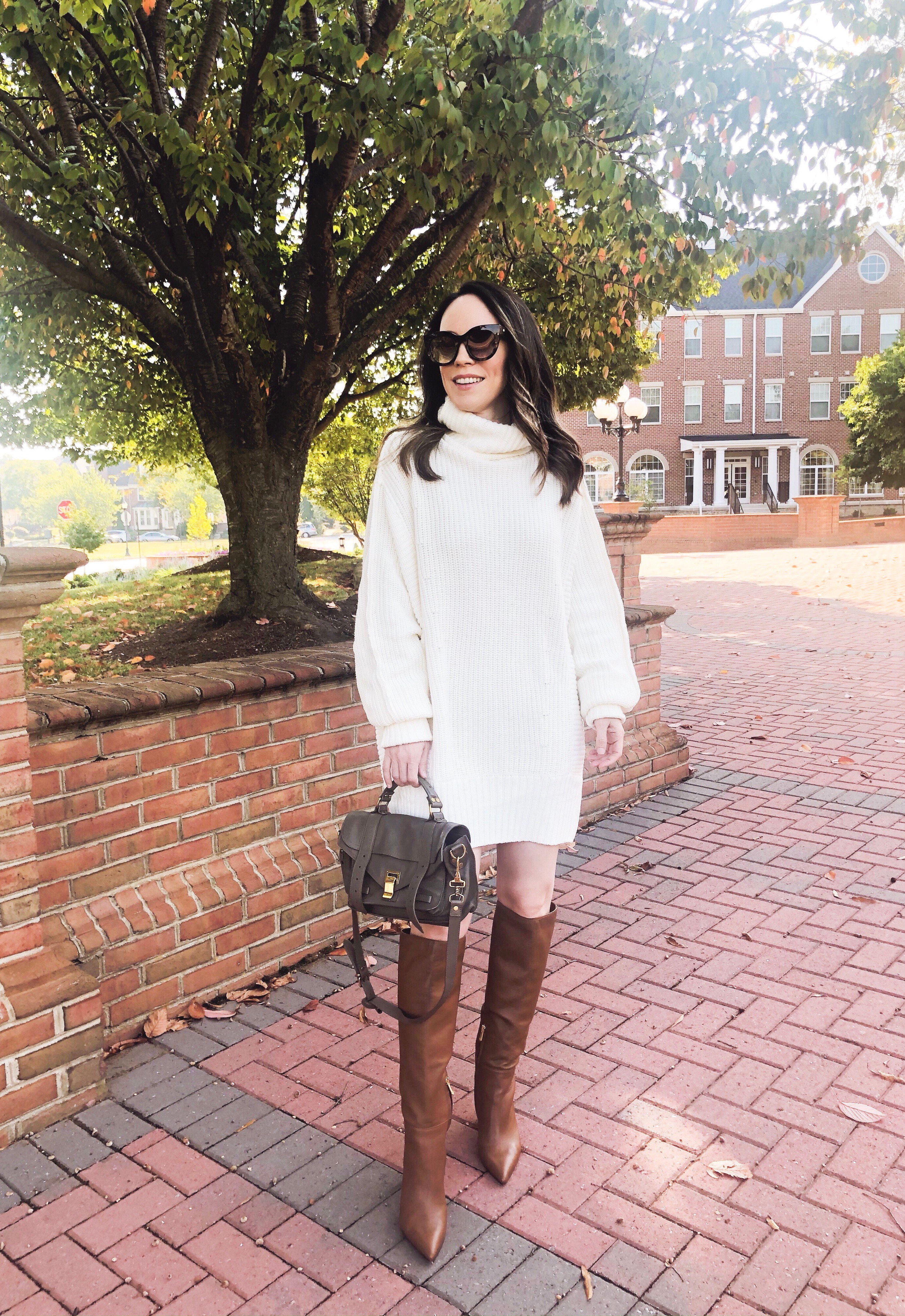 Dress | Boots | Bag | Sunglasses
I've had more and more requests for posts surrounding wardrobe basics so I thought I would make a concise list of 10 pieces that I feel are wardrobe staples for the fall/winter. You don't have to purchase all of these things every season, but rather choose one or two to pick up each year to slowly build a good foundation of things to wear. All of these pieces will be suitable to wear now and for years to come. I also included a blog post of me wearing each of these items from the past few years.
Camel coat – While I do think it is important to have a simple black coat in your closet, I find that camel makes a bit more of a statement. It's still very neutral and can go with anything in your wardrobe, but is a nice change from black. Here is a blog post of me wearing one of my favorite camel overcoats.

Boots – For this post, I focused more on knee high and ankle boots. Over the knee boots are great but for many they may not be practical for day to day or even the workplace. Loving these ankle boots that I'm wearing in this post.

Pumps/Flats – Even though boots are a necessity in fall and winter, many looks still need a good pair of pumps or flats. My wardrobe isn't complete without a great pair of pumps which I show in this post.
Turtlenecks – Everything I included in this round-up are layering options, that can also be worn alone. Having basic layering turtlenecks are a wardrobe MUST – they can easily work under sweaters for more warmth, under coats or jackets that may fit slim or wear them doubled up like I used to do in NYC when it would get super cold in the winter. I am wearing a great basic layering turtleneck under a moto jacket in this post.

Dark denim – Fall is a great time to invest in a new pair of classic dark wash denim. I tried to find styles that were not distressed so they could be more versatile. Love this look where I styled a classic pair of dark denim.

Moto jacket – I personally think that moto jackets are a wardrobe staple. They can be dressed up or down and worn in so many different situations. I adore my moto jacket that I'm wearing in this post.
Sweater dress – Dresses will always be more comfortable for me so I switch to sweater dresses when the temps drop. I just posted one yesterday that I am in love with.
Chunky sweater – What is a fall wardrobe without a handful of classic chunky sweaters?! Here's a look at one of my previous posts wearing a chunky sweater.
Faux leather leggings – Leather or faux leather leggings have come a long way over the years and are no longer super edgy. Wearing them with a classic tunic and flats is a great casual outfit for everyday. Or dress them up with a silk blouse and moto jacket for evening. Here's a more classic way to wear faux leather leggings.
Blazer – Blazers are one of the only items that transition from the workplace to a more casual or dressy setting seamlessly. Here's a post with a classic plaid blazer and dark denim.