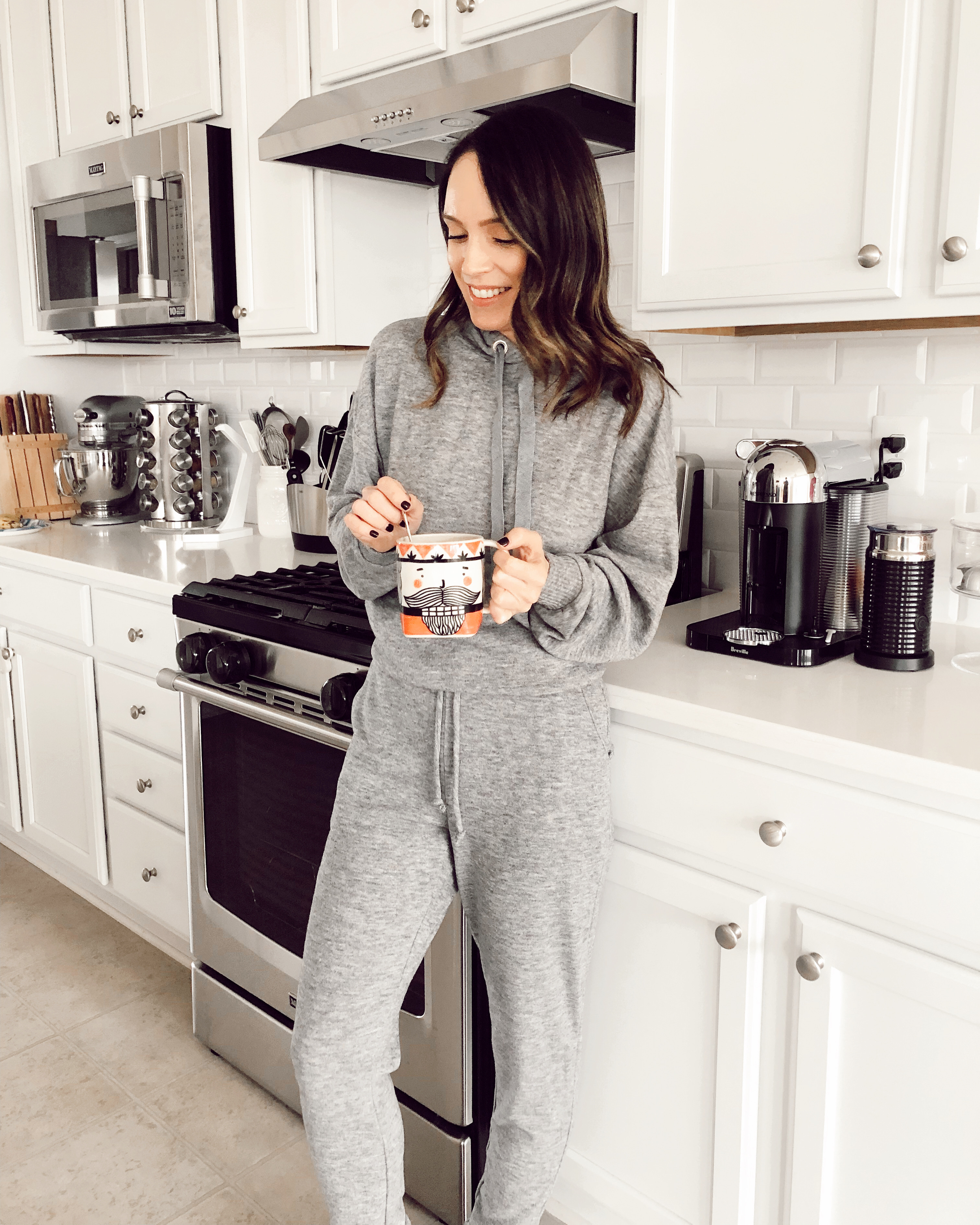 Sweatshirt | Sweatpants | Coffee Machine
My next gift guide is here and it's all the best home and kitchen items that would make great gifts this year (some are personal favorites of mine like my coffee maker/frother combo). A few of these would be great host/hostess gifts as well!
1. Let's first start this gift guide with a personal favorite – my coffee machine/frother combo! My mom gave this as an early Christmas gift to Stan and me and we LOVE it. It is also one of the most searched items on my blog so I thought I would make sure to put it in a post for easy future reference.
2. Dyson makes so many great products and this air purifier/heater/fan combo looks amazing.
3. I don't have an essential oil diffuser but really want to get one! This one looks so chic and is currently on my Christmas list.
4. For the wine lover in your life, this wine chiller would be a great gift.
5. Coffee table books will forever be one of my favorite gifts to give. I recently gifted my friend this one and this one (I have both and adore the look of them!) and she loved both.
6. Candles are a classic gift idea and I always like to find unique ones to give at the holidays. This one comes in its own little stand! How cute is that?!
7. For my Diptyque lovers, there are so many amazing limited edition candles and accessories out for the holidays that would make great gifts. A wick trimmer is a great addition to any candle and the lucky charm carousel is one that I really want.
8. Ok, one more candle mention and then I will stop. Ha! Overose candles are now available at Nordstrom and their packaging is so fabulous!
9. Everyone loves to cozy up under a great throw blanket which is why they always make great gifts! This one is a big splurge but has the best reviews, while this one is more budget friendly and would also look great displayed in a decorative basket.
10. The two kitchen appliances that are on my wish list and would make great gifts are this air fryer and this instant pot. So many of you have recommended both of them to me!
11. These bowls are not exciting but I use them ALL THE TIME and they would make a great gift for someone who just moved in to a new home.
12. For the person in your life that loves to cook, this cookware collection is the ultimate gift to give.
13. I love displaying nice cutting boards and this one would look beautiful in any kitchen.
14. This is the most chic way to organize your daily cooking staples and things you reach for the most.
15. For anyone that loves freshly squeezed juice in the morning (makes me feel like I am at a fancy resort LOL), this juicer would be a great gift idea.
For more gift ideas, check out the other gift guides I have done: Gift Guide for the Woman on the Go (or the frequent traveler) and a Gift Guide for the Beauty Lover (all the best sets to buy from Sephora).