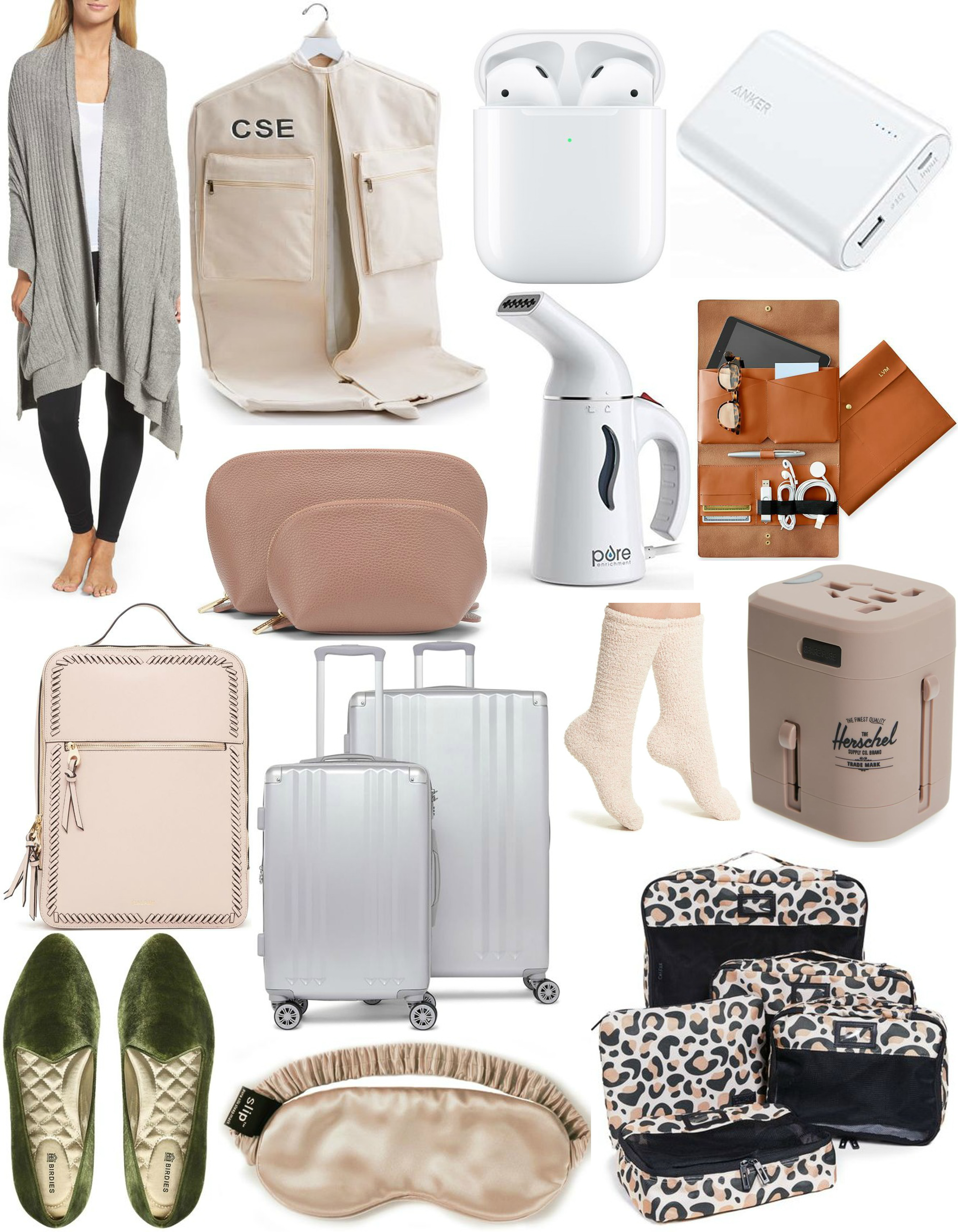 I was going to title this gift guide "for the traveler" but honestly many of these things are perfect even if you are just on the go constantly, not necessarily getting on and off planes all the time. Some would definitely be great for travel, but others are nice to have just when you want to be comfy!
1. Travel shawl – This is the IDEAL plane scarf/wrap but I would personally wear it non-stop around the house!
2. Garment bag – I love this gift idea for someone that does travel a lot because it can be personalized.
3. Air Pods – Stan bought these for me many months ago and they may be one of the best gifts he has ever given me. I use them daily and find them to be so great for listening to audiobooks or podcasts while I get work done.
4. Cell phone charger – I've heard great things about this charger and should probably get this and keep it in my purse. My phone is always low on battery and it would be great to have this handy to charge it.
5. Makeup bags – How chic and elegant are these makeup bags?! They come in a ton of colors and would be perfect for traveling or everyday.
6. Steamer – I have this steamer and love it. I hate ironing so I steam everything. When I do travel, I always bring a steamer with me and it saves my outfits every time.
7. Leather tech holder – This is the type of thing that you would probably not buy yourself, but would love to receive. This envelope has a place for all your tech things.
8. Laptop backpack – I normally throw my laptop into my tote bag, but would love something a bit more substantial and protective.
9. Luggage set – A chic luggage set is always a great gift idea – for yourself or someone else!
10. Socks – Buy these socks for everyone in your life ASAP! Whether they travel or never leave their zipcode, these socks are the coziest and softest things ever. I have three pairs already and wear them all winter long.
11. Travel adapter – This is perfect for traveling overseas because it will work in outlets around the world.
12. Slippers – These are slippers to wear inside the house or outside and they look so cushiony and decadent.
13. Sleep mask – I love a good sleep mask and this silk one is the best of the best.
14. Packing cubes – Packing cubes are an absolute necessity for me because they help me stay organized when traveling. And how cute is this leopard print?!