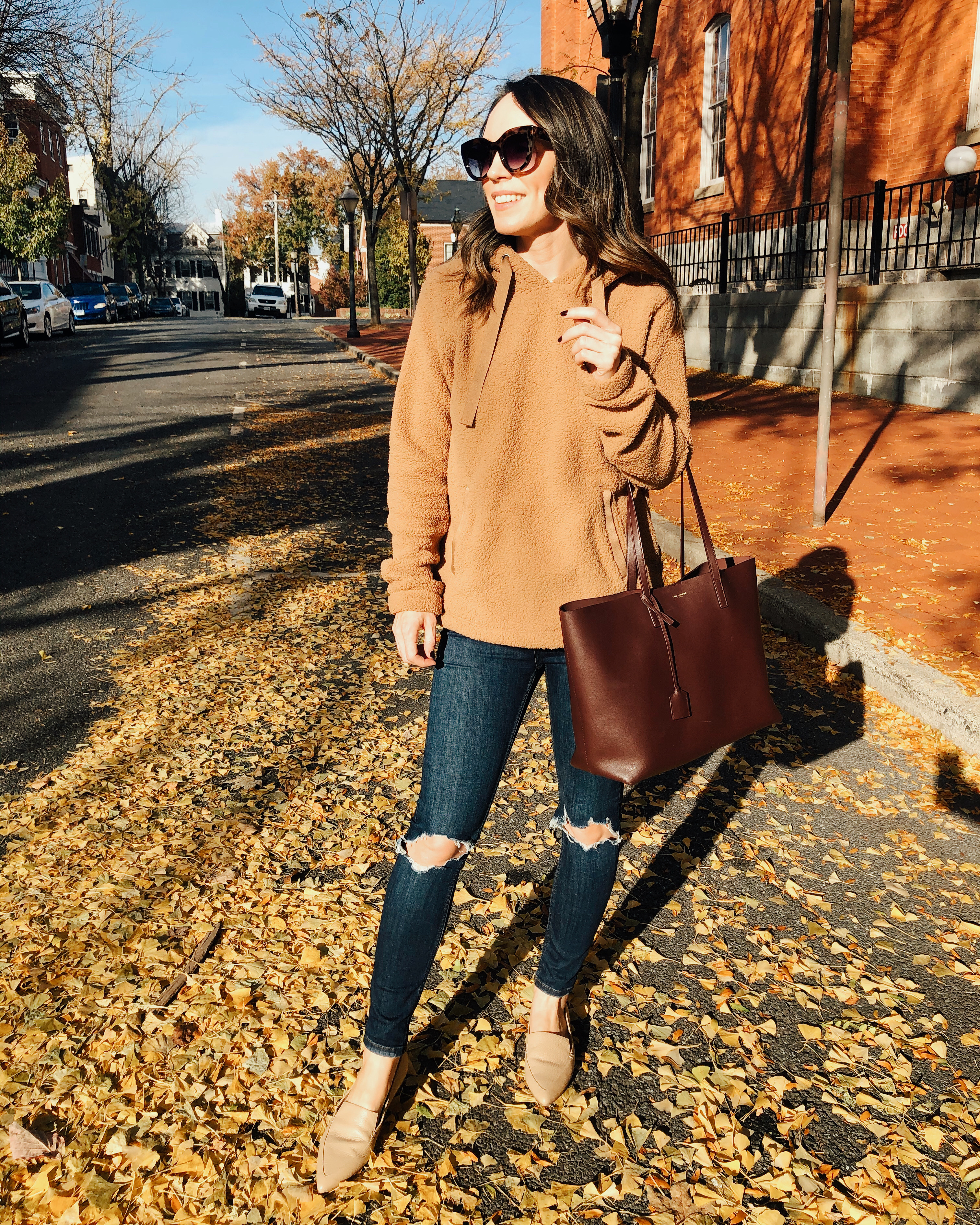 Fleece | Jeans | Loafers | Bag | Sunglasses
Happy Friday! I know everyone is saying that but I really feel like November is moving faster than any other month. And it's actually the month I want to move the slowest. I'm trying to enjoy it as much as I can though it is always the busiest time of the year. But I will definitely try and carve out some time over the  next few weeks to do some fun things with Miles! He loves all the activities we do with him and it is so much fun to be out and about with him. As I said last week, I will be putting up a Friday Finds post each week up until the holidays which was requested by many of you – and they are actually my favorite to put together so hope you enjoy this week's picks!
1. The first thing I have to talk about is the show The Morning Show with Jennifer Aniston, Steve Carell and Reese Witherspoon. It is so good! I started watching the first three episodes this week and was immediately hooked. And I love the entire cast!
2. Abercrombie surprisingly has become a go-to site for me to buy all the cozy things. The fleece sweatshirt I'm wearing above is from there, but I am also loving this zip up one, this puff sleeve sweatshirt looks so comfy and this sherpa lined cardigan looks like the coziest thing ever.
3. Teddy coats are so popular right now and this cropped one is so cute and under $100!
4. I just ordered this Christmas candle and can't wait to start burning it.
5. I didn't know Barefoot Dreams made pajamas but now I want a pair. I love the classic style and all the colors available.
6. I've been dying to try a weighted blanket and this one is under $100.
7. My friend just bought this microwaveable popcorn popper bowl and has been raving about it to me. She says every kernel pops and it's collapsable which makes it so easy to store.
8. I am always drawn to leopard pieces first and this matching lounge set (here are the pants) immediately caught me eye. I may be putting it on my Christmas list!
9. Hello gorgeous Chanel eyeshadow quad! This is a perfect gift for the luxury beauty lover. And there is a matching highlighter!
10. Chantecaille is always pulling me in with it's gorgeous packaging and stunning products. This new limited edition face powder is beautiful.
11. This is one of my all time favorite body creams and I love the limited edition packaging that comes out each year.
12. I'm thinking about getting Miles a scooter for Christmas and am currently looking at this one which has been recommended to me.
13. I'm loving all the pearl details I'm seeing on clothing and accessories because it's perfect for the holidays. This pearl hair tie is a chic yet understated way to wear the trend.