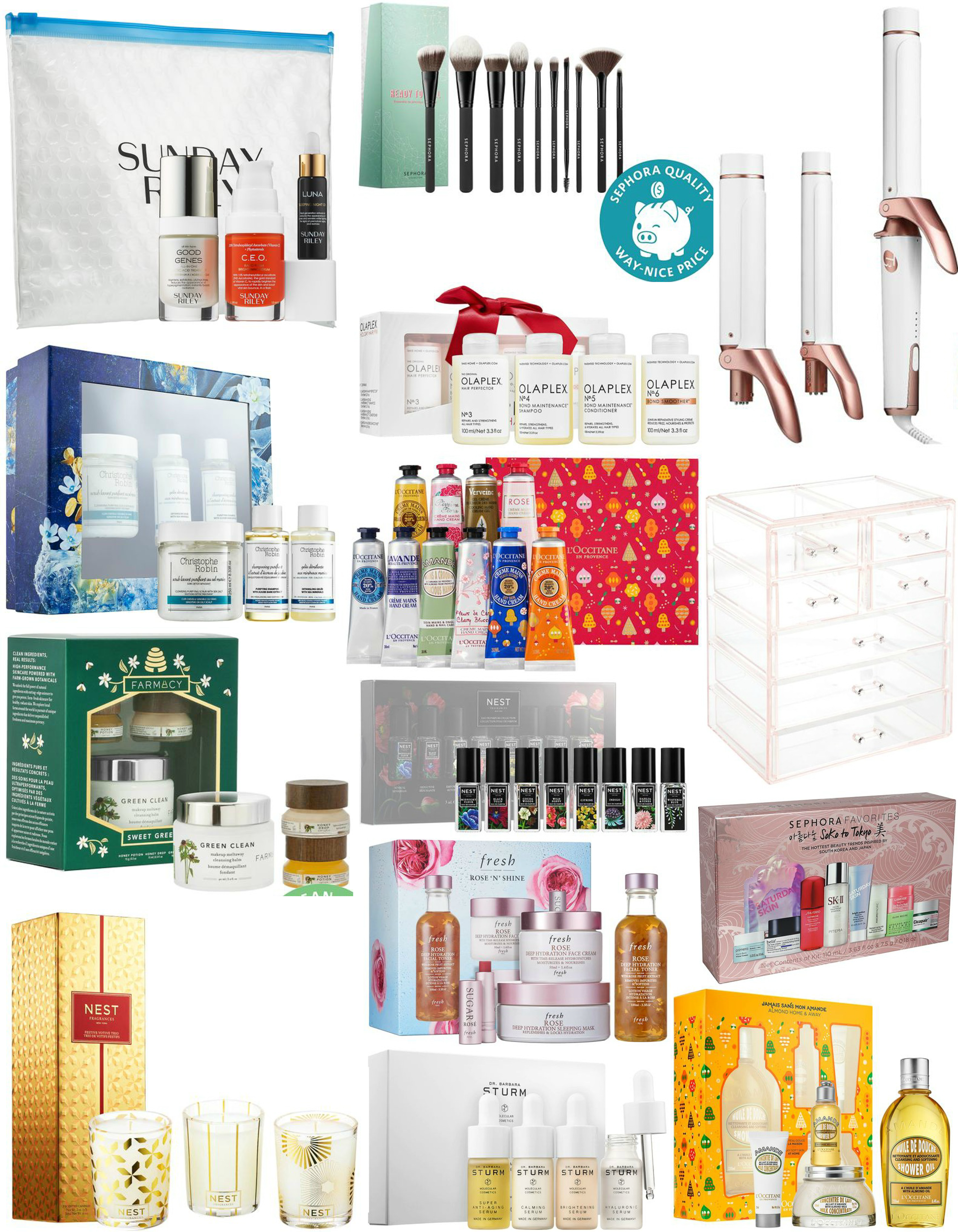 I am starting off my Gift Guides a bit early this year, but I thought I would share my picks for the sets not to miss from the Sephora VIB sale. All of these are great to gift or to treat yourself if you love the line.
1. Sunday Riley Power Trio Set – Good Genes and CEO Serum are my two favorite serums from Sunday Riley so this value set is definitely something I would recommend picking up!
2. Sephora Collection Brush Set – A brush set is one of the best gifts to give a beauty lover or someone who wants to up their current beauty routine. I have quite a few Sephora Collection brushes and they are a great quality for the price.
3. T3 Whirl Trio – I rave about my T3 curling iron every Sephora sale and this one has the best wand sizes! I use the 1.5″ and 1.25″ all the time. This set is definitely worth the splurge.
4. Olaplex Holiday Hair Fix Set – If someone you know is an Olaplex lover, this set is perfect for them! But if you are interested in trying out the line, this is a great option because it carries all of their top sellers.
5. Christophe Robin Purifying Detox Set – Another hair product that I swear by is the Christophe Robin Sea Salt Scalp Scrub. It's amazing for detoxifying and purifying the scalp, and this set contains a full size of the scrub along with a detangling gelee and purifying shampoo.
6. L'Occitane Holiday Hand Cream Set – I am extremely fussy about hand creams because I hate the way most feel on my hands, but the L'Occitane ones are truly as good as everyone says. And I have purchased these hand cream sets in the past and broken them up for cute co-worker gifts or stocking stuffers.
7. Makeup Organizer – When did Sephora get makeup organizers?!!!! I love this clear cube and think it would be the best gift. Fill it with the person's favorite makeup items and that is one amazing present!
8. Farmacy Holiday Set – The Farmacy Cleansing Balm is one that I have repurchased multiple times and really enjoy for removing makeup. This set comes with a full sized cleansing balm and two samples of the Honey Drop Lightweight Moisturizer and the Honey Potion Hydration Mask.
9. Nest Discovery Set – My love for Nest fragrances goes back to my early years of blogging – Midnight Fleur will forever be one of my favorite scents! So I have always had an affinity for their fragrances and love this discovery set that gives you samples of all of their scents.
10. Sephora Favorites Soko to Toyko – I have a feeling this skincare set is going to sell out quickly so I would scoop it up ASAP! It features all the top skincare sellers from Japan and South Korea. Japanese and Korean beauty products have become huge and this set is an absolute must have.
11. Fresh Rose N' Shine Skincare Set – The Fresh Deep Hydration Toner is one of the few that I always have in my collection and constantly recommend it to everyone because it adds a nice boost of hydration in your toning step. In addition to the toner, you also get the Fresh Deep Hydration Moisturizer which is an amazing no muss, no fuss hydrating face cream, and the Rose Deep Hydration Sleeping Mask + Sugar Tinted Lip Treatment in Rose.
12. Nest Festive Votive Trio Set – In addition to Nest personal fragrances, I also love Nest home fragrances. Their Holiday candle is a classic and I pick up a new one every year. This set also contains their Spiced Orange & Clove and Birchwood Pine scents.
13. Dr. Barbara Sturm Discovery Set – Dr. Sturm skincare products are a hot commodity right now and I have really enjoyed the few that I have tried. Since they are extremely pricey, value sets are the best way to try a few things from the line before deciding which one to purchase in a full size.
14. L'Occitane Holiday Almond Set – Hands down the best body line out there! I have purchased these sets almost every year to gift to family and friends because I am so obsessed with all the products in the L'Occitane Almond line. The scent is amazing and they all make my skin feel amazing.