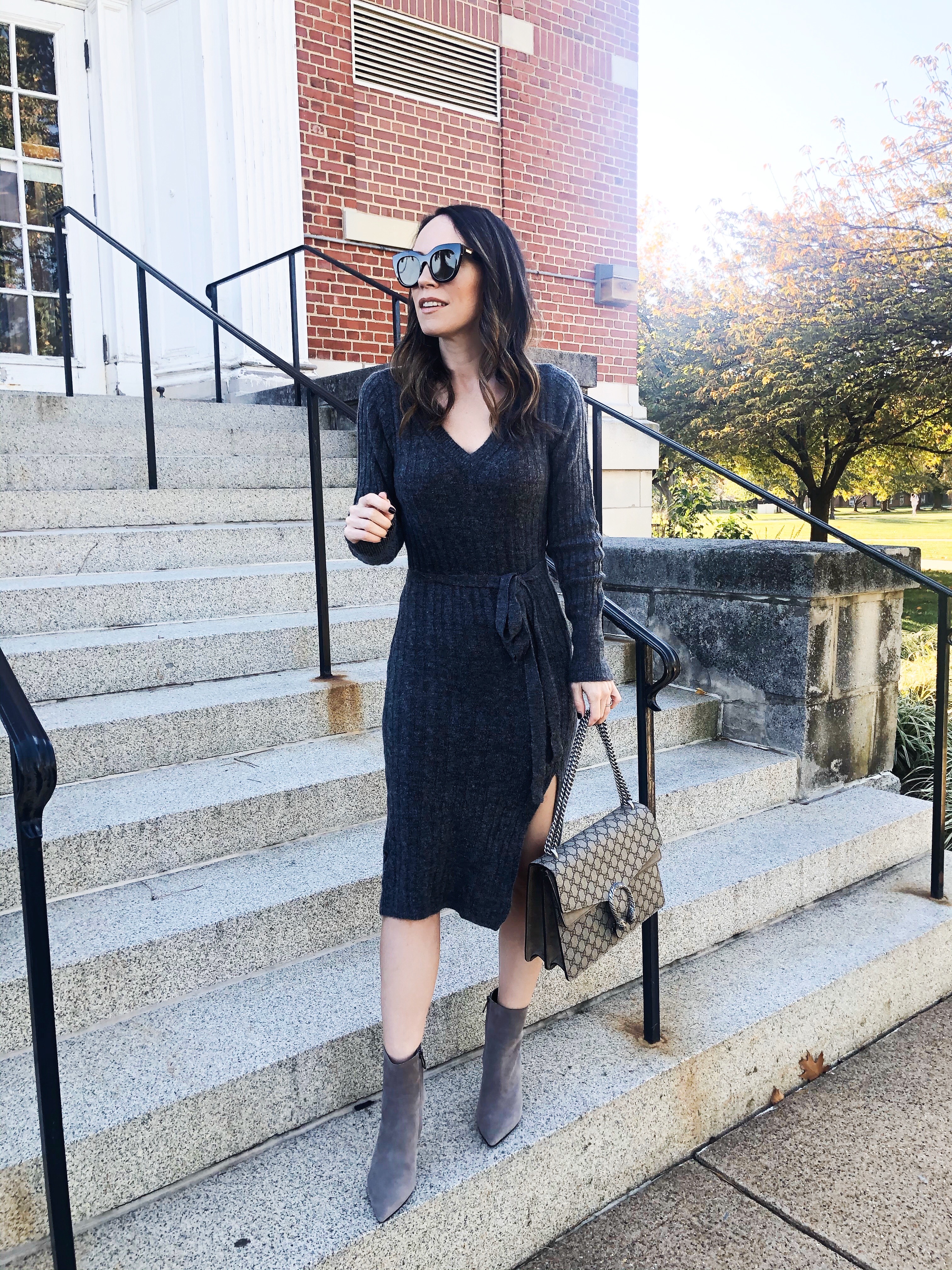 Dress | Boots (similar here) | Bag | Sunglasses
Happy Friday! Or I should say – Happy Day After Halloween! Whew – last night was a crazy one since we were expecting insane storms and weren't sure if we would get to take Miles trick or treating at all. We decided to go around with some friends early and were so lucky that the rain held off until we got home. I shared all of our costumes on my insta-stories so be sure to head over there to check it out! Here are all my favorite finds from the past few weeks:
1. Diptyque has launched their holiday candles! I always love their designs. Here is the full set of all three.
2. My girlfriend just bought this faux fur leopard coat and it looks so great and much more luxe in person!
3. These faux leather pants are currently sitting in my cart! Under $100 and I love that they have a shorter inseam.
4. I've heard so many good things about these Stuart Weitzman sock booties – and I found them at such a good price here.
5. I'm already going through my Christmas decor to see what I have and am thinking about getting another tree for the front dining room. This one came highly recommended.
6. A few great earrings for the holidays – these pearl circle drop earrings are so chic (and under $15!) and these crystal fringe earrings will go with just about any outfit.
7. This sherpa teddy bear coat is on my wish list for winter. I'm loving the rust color.
8. How Chanel-esque are these ankle boots? (and at a fraction of the price!)
9. A leopard print beanie for winter? Yes, please.
10. If you are looking for great budget-friendly coats, here are three worth checking out: the color of this burgundy one is absolutely stunning, this wrap coat is absolutely stunning and this classic camel coat is a winter necessity.
11. Tom Ford launched his huge lipstick set he does every holiday season (and it's a major splurge), and I also saw that he has a half size now available here and here.
12. These slippers are going on my Christmas list this year – they look so comfortable!
13. I'm slowly working on organizing my pantry and refrigerator and have pinned some containers that will help me get organized. This lazy susan, these storage bins, this water bottle holder, this can rack organizer and these under shelf baskets are all on my pinboard. I already have these refrigerator bins for sparkling water and any other cans and they really help!