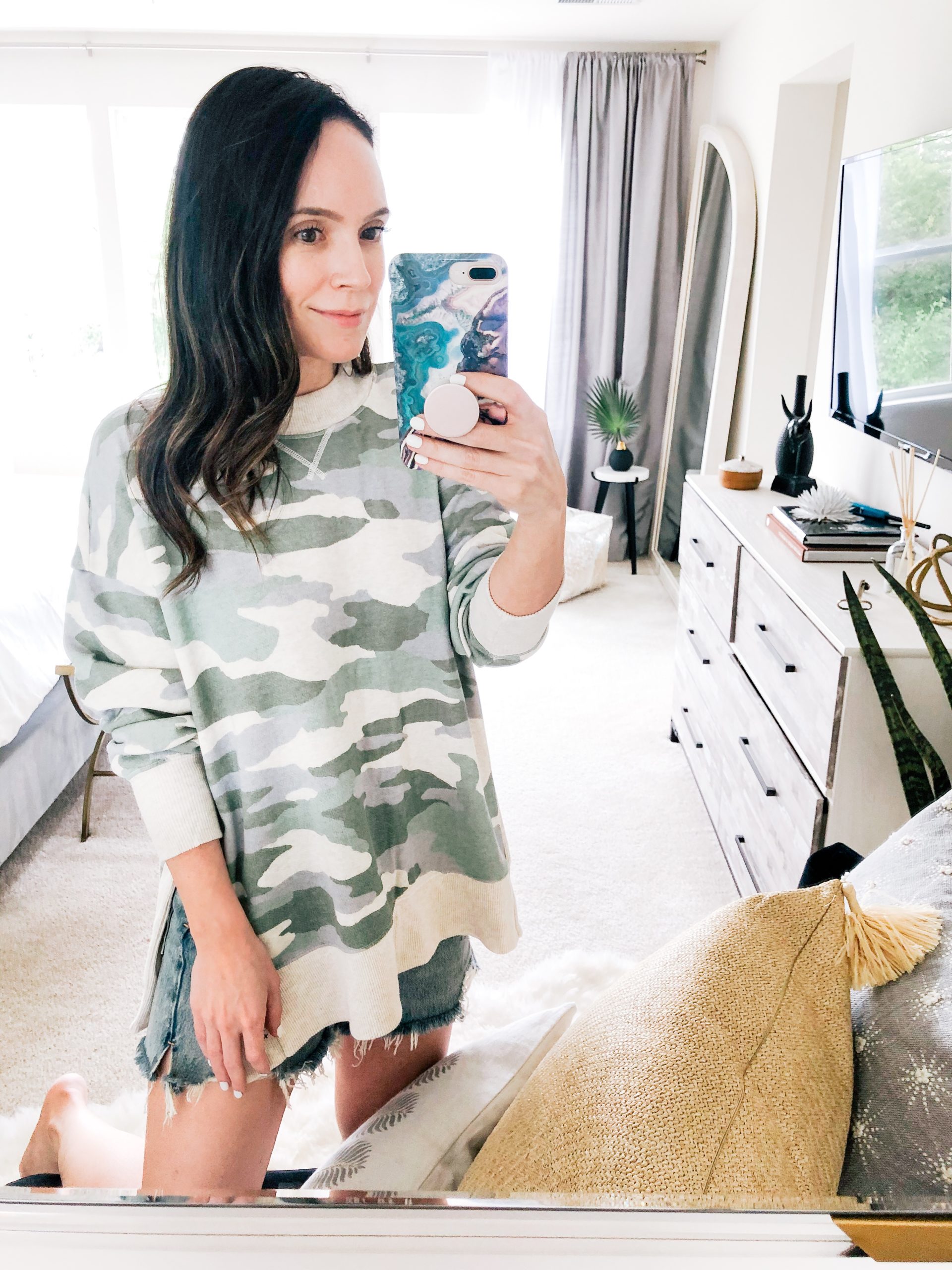 Sweatshirt – Aerie | Shorts – Agolde
Happy Friday! Hope you guys had a great week and enjoy today's round up of my favorite finds:
1. I ordered this small initial necklace and love how dainty it is! It will be perfect to layer with other necklaces.
2. These heels have a Bottega Venata vibe but are only $51.
3. I love a romper in the summer and this one is so chic and affordable.
4. I recently tested this new matte foundation and it is amazing. So long wearing, great coverage and stays matte all day long.
5. I've been pinning new lamps for my family room and this one and this one are so unique.
6. This foundation has also been on my list to try and I will be testing it soon.
7. If you are looking for a classic headband to wear everyday, this one is so cute and under $10.
8. I finally decided on some pieces for my dining room and ordered this sideboard and mirror. I can't wait to style the two together!
9. This productivity planner is probably something I should get! My friend has it and loves it.
10. I'm deciding if I need a chain for my face mask. This is our new reality so I'm all about finding anything and everything to make wearing a mask cuter or easier.
11. I'm thinking of ordering this dainty (faux) diamond stacking ring. It is so delicate and gorgeous!
12. If you love ice rolling, this one is much smaller and seems like it would be easier to maneuver around the face.
13. I'll be sharing what I'm getting from the Nordstrom Anniversary sale soon, but this mirror has been on my wish list for ages so it is definitely in my cart! In the meantime, check out this post where I share all the items from the sale not to miss.
14. I've been on a huge jewelry kick lately and discovered this Black-owned brand recently and fell in love with these gorgeous pieces!!
15. I always love to get a new pair of jeans during the Anniversary sale and right now this pair and this pair are the top two faves in my cart.
16. So many of you recommended this book and I finally read it and LOVED it!
17. Abercrombie has a ton of cute new arrivals – I linked a bunch here.