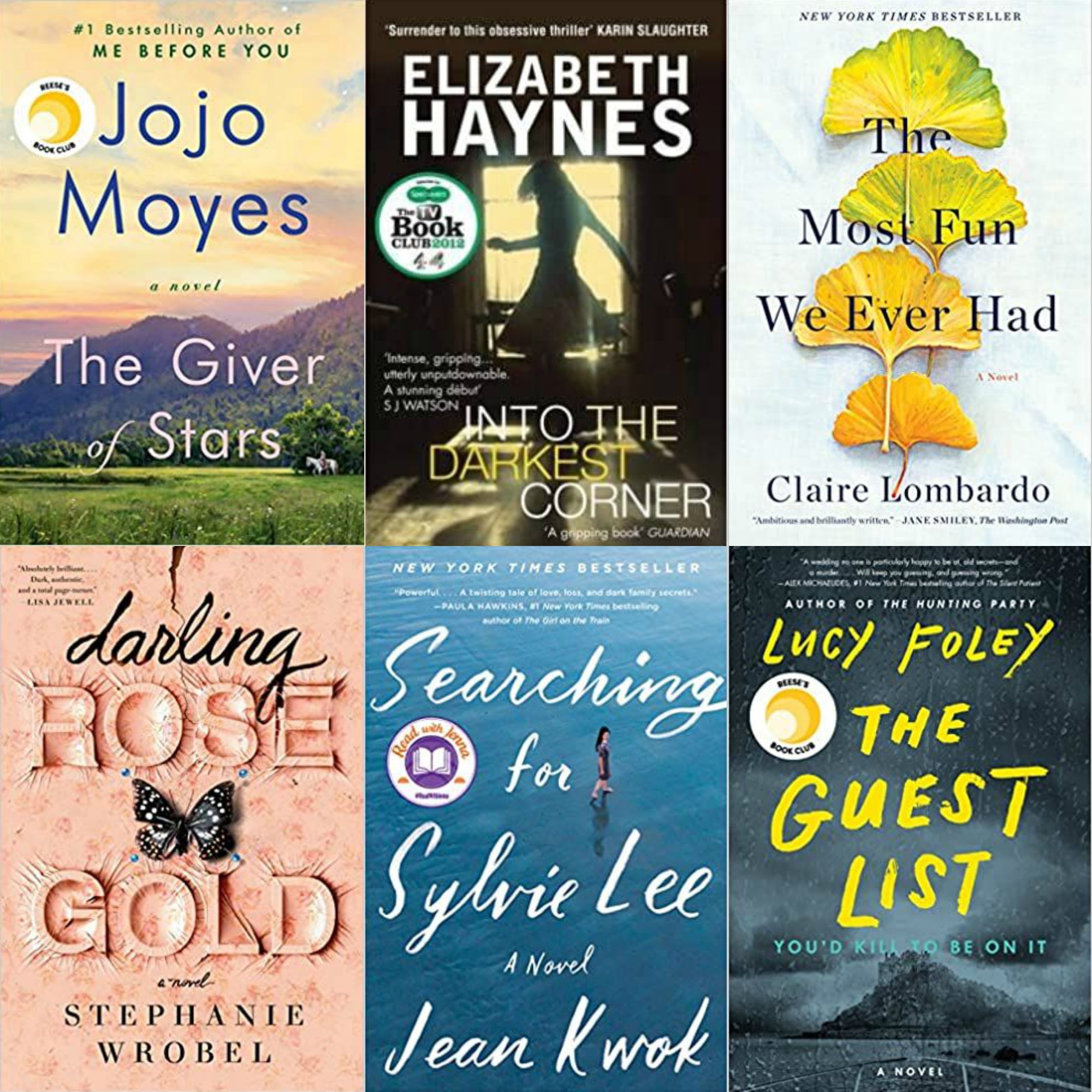 I'm back with another book review post and this time every single book has a rating of 8 or more!! I was on a great run and every book I read I ended up loving!! Don't forget to scroll through all my past book reviews if you want other suggestions of things to read.
1. Searching for Sylvie Lee – I didn't know what to expect from this book but ended up loving it! Sylvie Lee is the eldest daughter of a Chinese immigrant family living in NYC. When she leaves for the Netherlands to attend the funeral of her grandmother, her family doesn't hear from her again. They are unsure what has happened and why she suddenly disappeared. Amy, the younger sister, goes to the Netherlands to try and get some answers. The details of Sylvie's last few days were complicated and somewhat vague, but family secrets are revealed that will shock everyone and could explain Sylvie's whereabouts. Rating: 8.5
2. The Guest List – This was an easy to read mystery/thriller. A couple is getting married at a remote estate in Ireland and invites their entire family/friends to the ceremony. As more of the guests begin to arrive, old tensions and secrets are brought back up and soon someone ends up dead. While my description of the book makes it sound like a cheesy thriller LOL, it's actually a really good book! Rating: 8.5
3. The Giver of Stars – I'm a huge fan of Jojo Moyes books, so I was so excited to read this. It's set in the Depression era and tells the story of Alice Wright and her marriage to Bennet Van Clave, whom she married as a way to escape her boring life in England. She thinks her new life with Bennett in Kentucky will be exciting and new but soon she discovers she is an unhappy here as she was back in England. An opportunity arises for Alice to be part of Eleanor Roosevelt's traveling library initiative, and though her husband is against it, she finds purpose and freedom in this new venture. It's based on a true story and shows the heroic nature of these librarians and what they had to endure to bring books to people in remote areas. Rating: 8.5
4. Into the Darkest Corner – This book toggles back between the present and past, and tt took me a bit to get used to the back and forth of the time periods but eventually it became easier and I really enjoyed this thriller. Catherine meets Lee Brightman, a charming and handsome police officer and falls instantly in love. As time goes on however, Lee becomes more and more controlling and ultimately tries to kill Catherine. Lee goes to prison but only for a few years. Catherine has begun a new life but fears the day that Lee is released from prison and if he will try and find her again. Definitely an exciting beach read! Rating: 8.5
5. Darling Rose Gold – I enjoyed most of this book but the ending kinda ruined it. I hate when the endings leave you hanging with no real conclusion. Rose Gold spent most of her life believing she was critically ill with no hope of ever living a normal life. It wasn't until she was a teenager did she finally begin to realize that her mother was intentionally poisoning her and making her sick. Rose Gold's mother goes to prison for a few years but once she is released, Rose Gold welcomes her back into her life…but not without a possible ulterior motive. There are a bunch of twists and turns in the book that kept me entertained, though I wish the ending was a bit better. Rating: 8
6. The Most Fun We Ever Had – This book took me a bit to get into but I became really invested in the characters and family dynamics surrounding Marilyn and David Sorenson and their four daughters. The relationships are complicated and each daughter has her own struggles. While the family looks picture perfect on the outside, things are more difficult under the surface. It's a really rich read and I love how it highlights the challenges of families and how complex the relationships can be. Rating: 8
I have two shows that I recently binge-watched and loved! Normal People on Hulu is one I've mentioned before but it's soooo good! I read the book but the show is 100x better. The newest show I just watched is Outcry on Hulu and thought it was fantastic. The story is heartbreaking but ends on a positive note and the guy in the documentary is so remarkable.