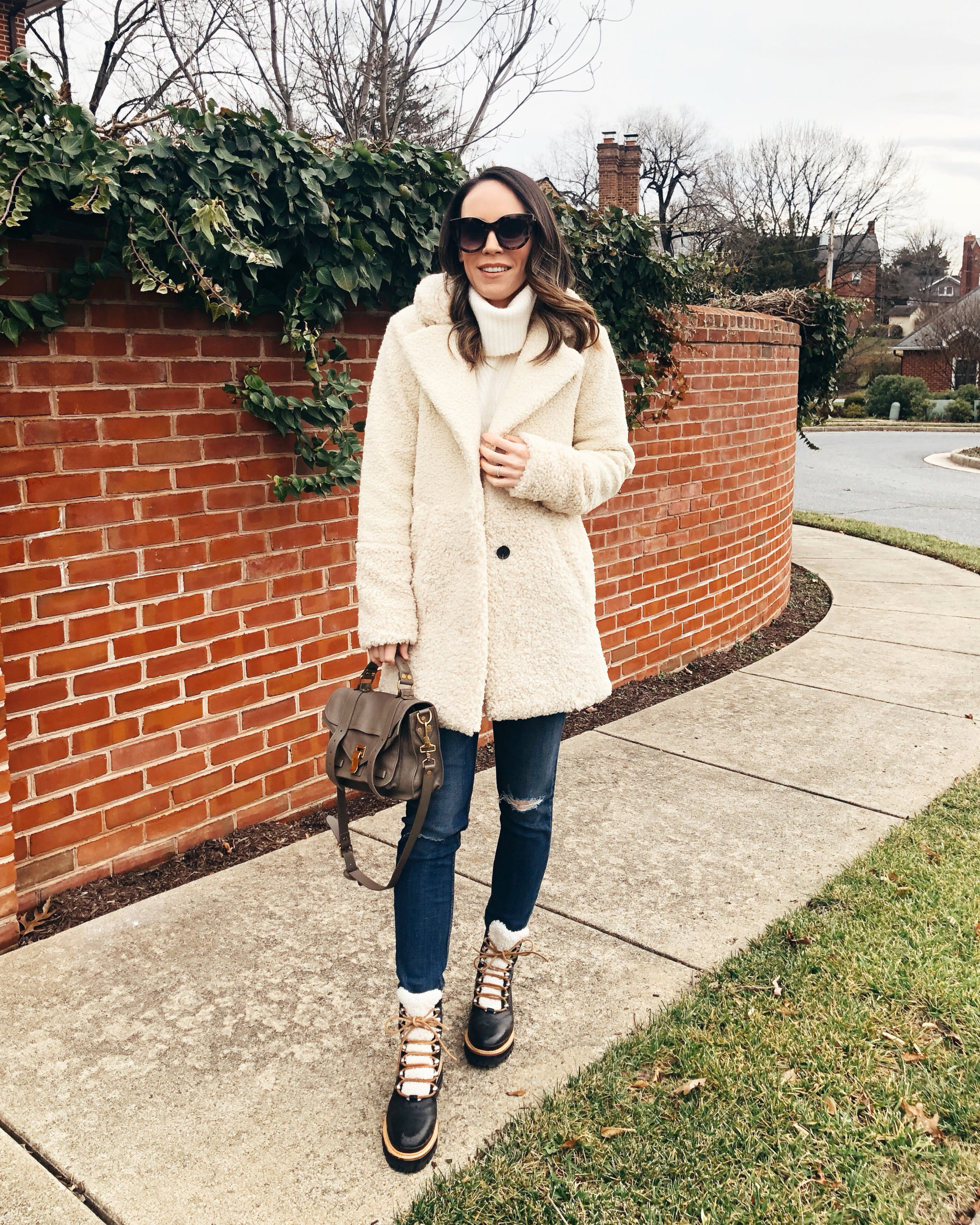 Jacket | Sweater | Jeans (similar) | Boots | Bag | Sunglasses
I normally do a Friday Finds post every other week, but my camera just died on me so I couldn't film any YouTube videos this week. *insert crying emoji* So I thought I would do another Friday Finds post in its place. Hope you enjoy it two weeks in a row!
1. Being cozy in January is always a necessity, so I'm loving this matching sweatsuit that comes in a bunch of great neutral colors.
2. If you are looking for some great accent pieces for your home, here are a few I'm loving: these fuzzy foot stools, this sculpture would be great on a coffee table, a fiddle leaf tree is always great to add a bit of green to a room and this bar cart is so chic.
3. Love the oversized chunky look of this cardigan and it's under $30!
4. My friend just recently purchased these faux cherry blossom branches and they look so good! I'm going to get some to display on my new kitchen table when it arrives!
5. How gorgeous is this initial necklace? I like how it looks layered with other necklaces such as a simple choker like this.
6. I've heard soooo many good things about this exfoliator and it's on my list to try this year.
7. I know this winter coat went viral last year and some people are over it, but I personally still love the look. And the price can't be beat!
8. The new limited edition Diptyque rose candle that launches this time every year is now available. The packaging is always so beautiful.
9. A few great under $100 pieces: this puff-sleeved blouse that is a great workwear piece, this belt is perfect for a dress or pants and this asymmetrical poncho is a timeless piece.
10. I'm into the 5th season of Schitt's Creek and LOVE it! If you need a new show to watch on Netflix, I highly recommend it.
11. If you need a wall calendar to add appointments and important dates to, this one from Etsy is so simple but has enough space to write everything you need.