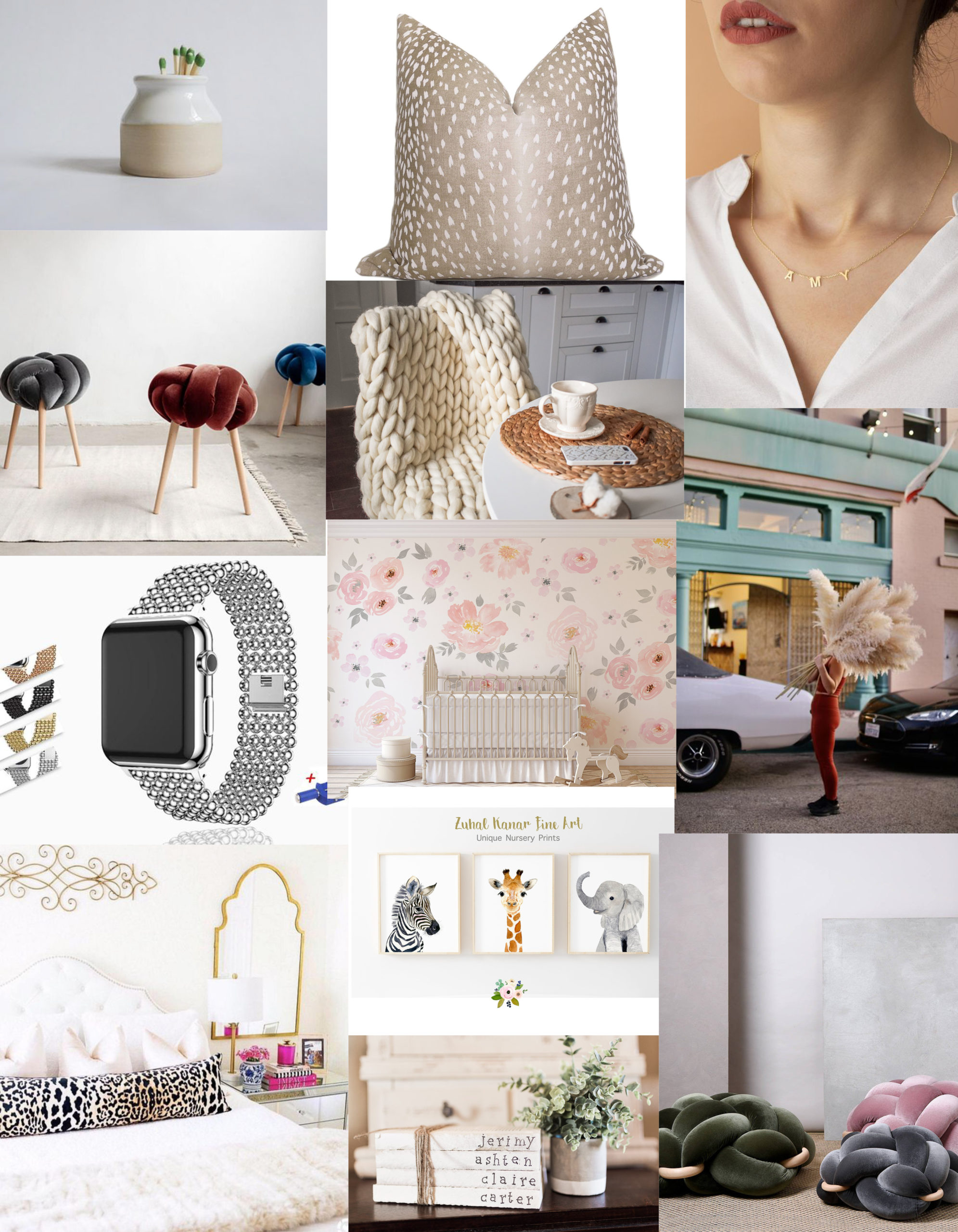 After buying these ear huggies from Etsy, I found so many other great shops and pieces while browsing the site so I thought I would round them all up in one post!
1. Match holder and striker – This would be perfect to display next to your candles on a coffee table or nightstand.
2. Antelope pillow covers – I am in LOVE with all the pillows that this shop makes and these antelope covers are on my wish list.
3. Initial necklace – This is such a great gift idea for a new mom because you can put the baby's name on the necklace or put your own name too! It's small and dainty but a great piece to wear every day.
4. Velvet knotted stools – I am OBSESSED with this store! These stools are absolutely gorgeous and I would love to add one to one of my rooms.
5. Chunky blanket – I have a chunky blanket like this in my home office and it's always one of the first pieces people ask me about when I show pictures of the room. The shop I purchased it from is no longer in business but this shop makes tons of them at a great price. It's a beautiful statement piece to put on a couch or in a basket.
6. Apple watch band – Apple watches look sporty so it's hard to wear them with a more professional outfit. I love this watch band as an option for making an Apple watch look less gym appropriate and more every day office appropriate.
7. Wallpaper – I am a huge wallpaper fan and this site has so many cute designs.
8. Pampas grass – Pampas grass is super popular right now and this shop has gorgeous looking ones!
9. Leopard bolster – In addition to the antelope pillow cover I shared above, the same shop also has these chic leopard bolsters.
10. Nursery prints – I went with a safari theme for Miles' nursery and wish I had found these prints when I was decorating it. I love how sweet they are.
11. Name books – How cute are these to display with the names of each of your family members?! These would also make a great gift.
12. Knotted ottomans – In addition to the stools I spoke about earlier in the post, that same shop also makes these breathtaking velvet ottomans. These are by far some of the most gorgeous ottomans I have ever seen and so unique!
What are some of your favorite Etsy stores or finds? Let me know in the comments!