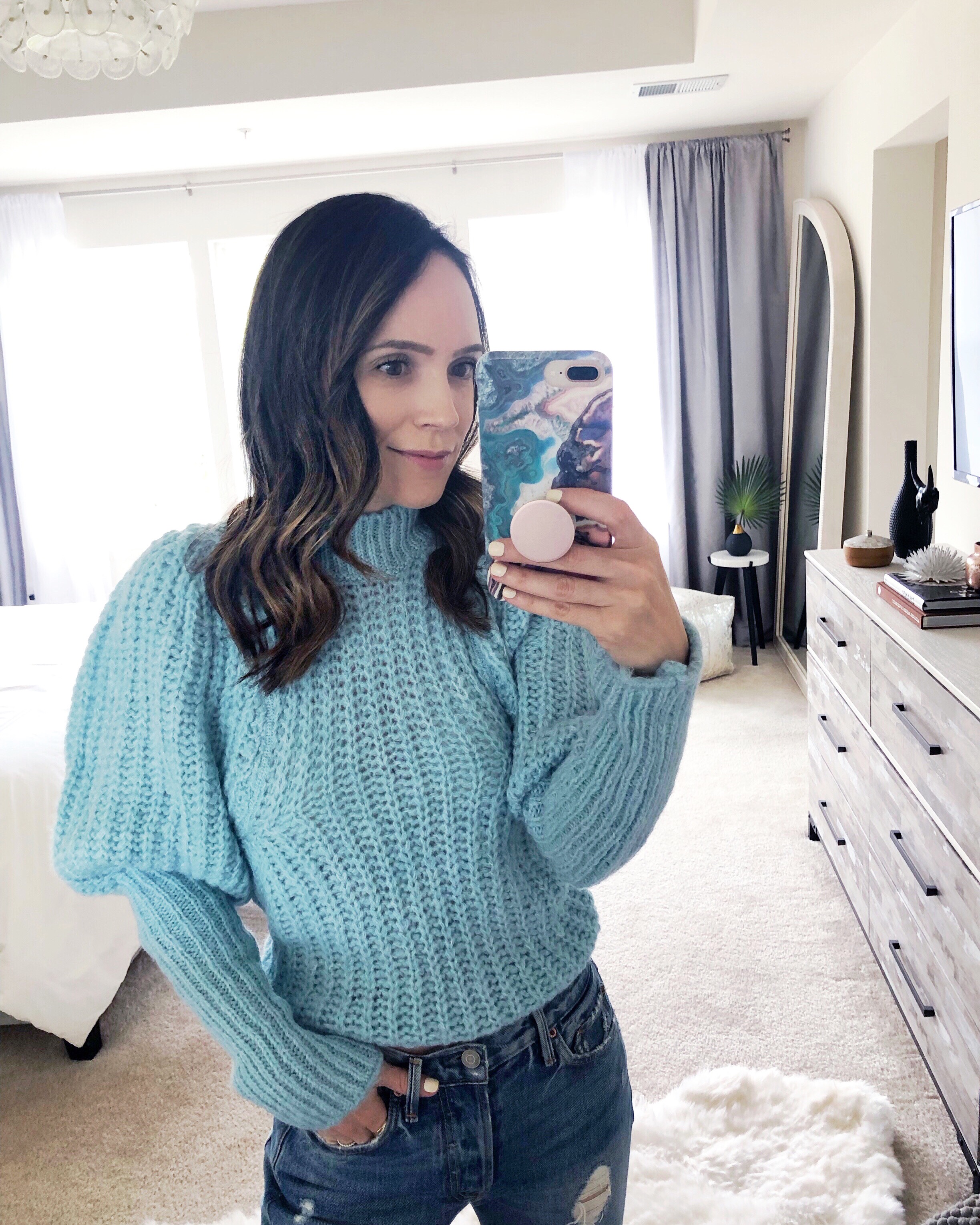 Sweater | Jeans | iPhone case | Dresser | Rug
I just downloaded my most recent audiobook and realized that I hadn't done a book review post in awhile and I have gotten through quite a few books! Here are all my recent reads:
1. The Great Believers – This story follows a group of friends throughout the AIDS epidemic in the 80's and also the present day. Yale is a development director for a gallery in Chicago and begins losing his friends to AIDS, and soon the only person left is his friend's little sister Fiona. Fiona is struggling with her own issues as she is searching for her daughter whom she hasn't spoken with in more than a year. The book follows both Yale and Fiona's stories though decades apart. The book is very well written and gets better as it goes on, but it was not my favorite out of this list.
2. Before She Knew Him – I gravitate towards mysteries and thrillers more than any other genre so you can always bet there will be at least one if not a few in my book review posts. This one was a good mystery but not on the edge of your seat (though I don't think all of them need to be). Hen and her husband decide to have dinner with the neighbors one night and Hen notices a trophy on her neighbor's shelf that may be related to a murder that happened a few years ago. When she looks into it, things take a strange turn and she is left knowing more than she wants to. The ending has some twists and turns that I didn't see coming which made me like the book even more!
3. The Better Sister – Chloe and Nicky are sisters but couldn't be more different. Chloe is an overachiever and builds a very successful career in publishing, while Nicky can't seem to get her life together. What makes things even more complicated is that Chloe ends up marrying Nicky's ex-husband, Adam, and is now a stepmother to her sister's son. But when Adam is murdered one evening while Chloe is out, she is forced to reconnect with her sister in an effort to find out who the killer is.
4. Whisper Network – This book is part of Reese Witherspoon's book club and I enjoy many of her picks so I decided to give it a go. To be honest, it took me awhile to get into but I did enjoy it as the story went on. A group of women executives at a sports apparel company decide to file a sexual harassment suit against their boss who is positioned to become CEO of the company. Unfortunately things don't go as they hoped and it becomes a he said/she said case made even more difficult when something happens to their boss unexpectedly. After finishing the book, I listened to an excerpt from the author about why she wrote this book. She talks about her own experience with sexual harassment in the workplace and how she struggled with standing up for herself. While the book wasn't the best read out of the bunch, I did enjoy it and felt it brought to light the issues that many women face in the workplace.
5. The Lost Girls of Paris – A less interesting version of Lilac Girls if I had to sum this novel up in one sentence. It follows the lives of a few women that were recruited to be spies during WWII, and the tragic fate that awaited them. Lilac Girls was much better.
6. Winter Solstice – Oh Elin Hildebrand, how I love your sappy romance novels. If you enjoy stories about family, love, life struggles, a bit of drama and some romance thrown in, then pick up an Elin Hildebrand novel. It's a great beach read (or more like a crisp fall day read).
7. The Masterpiece – I LOVED Redeeming Love which is by the same author so I definitely wanted to read more from her. This was really good but I still enjoyed Redeeming Love better. It had the same feel – two people that aren't right for each other come together in unique circumstances and find out they are meant to be. There is a strong religious undertone in all her novels, which does not bother me but it was quite significant in this book. So if that is not your thing, you may want to skip this one.
8. Before We Were Strangers – This book has been recommended to me so many times so I finally decided to read it. Sloane McBride's mother went missing more than 20 years ago and she has always suspected that her father had something to do with it. After moving to NYC and becoming a successful model, she decides to go back home to Texas and see if she can uncover the truth about her mom's disappearance. Unfortunately the person standing in her way in the investigation is her own father. This book takes a few twists and turns and I couldn't really decide if her father did it until the very end of the book.
9. The Good Girl – An abduction gone awry. Mia is the daughter of a powerful judge and socialite in Chicago who goes missing suddenly. The man hired to abduct her decides at the last minute not to deliver her to the men who want to hold her for ransom. Instead he takes her to his cabin in the woods and they hide out. Things become complicated the longer Mia remains in his custody and her family must decide how to get her home. The book definitely kept my attention and the ending really threw me for a loop!