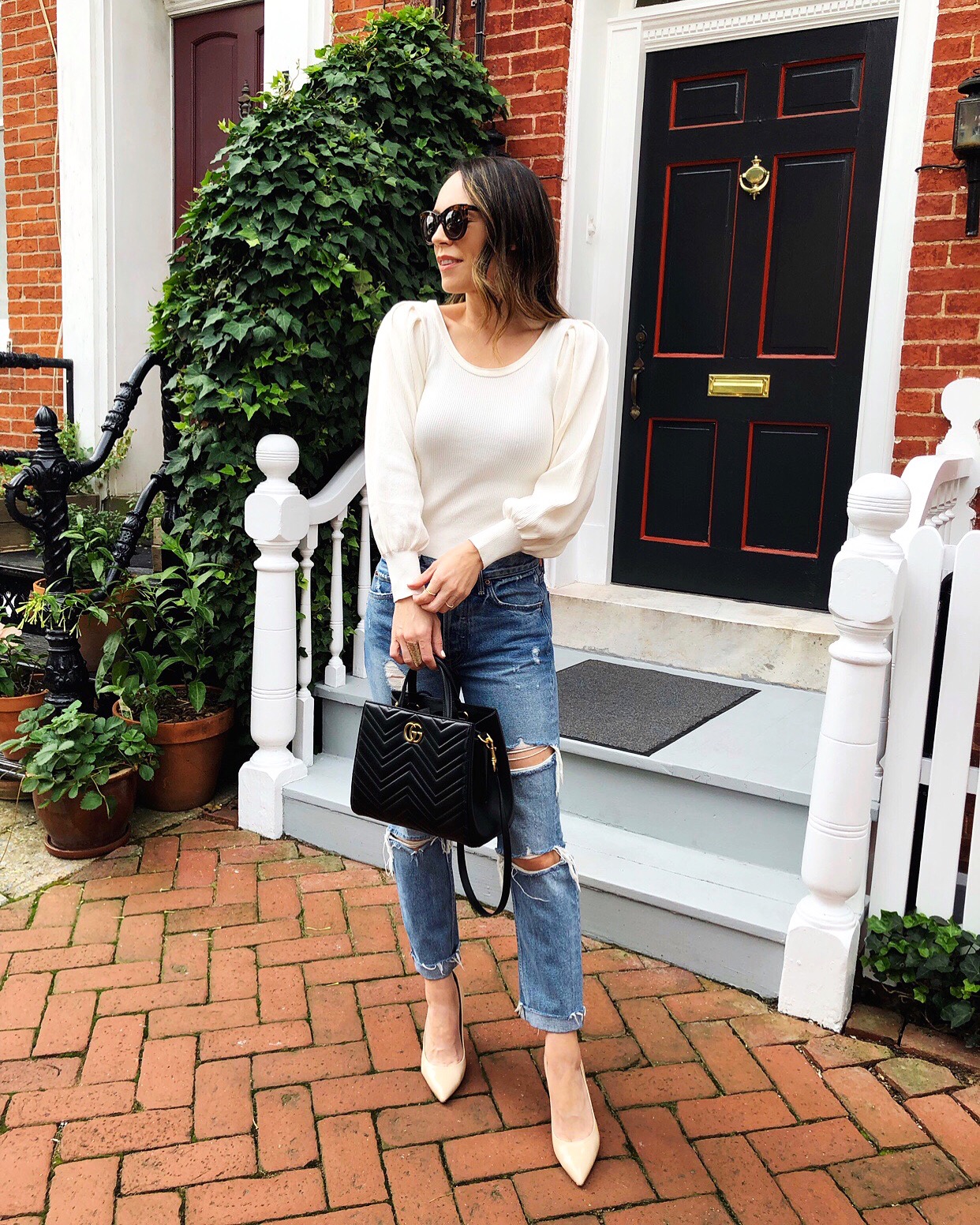 Sweater | Jeans |  Heels | Bag | Sunglasses
Happy Friday! This week has been a calmer one since last week Stan's family was in town visiting us for a few days. After they left I was playing catch up on a bunch of things I needed to do, but I finally feel like my to-do list is almost all checked off. Hope you enjoy all my finds from these past few weeks!
1. If you are attending a fall wedding, there are a few great wedding guest dresses I have come across – this one is so fun and flirty, the color of this one is so stunning, for a more formal wedding this is gorgeous and the hi-lo hem of this one is so unique.
2. In addition to my H&M fall haul yesterday, I also came across this faux leather skirt on there that is absolutely stunning!
3. I'm a sucker for lace camisoles and this one is beautiful and comes in a few colors (and is under $25).
4. My phone battery is always low and I forget to charge it, so I am thinking about getting one of these cases that is also a battery!
5. I love a good sweater dress and this one would look great with OTK boots.
6. I'm really interested to try this new vitamin c serum.
7. I'm trying to decide on Miles' costume for Halloween, though I was thinking about this because he is obsessed with Paw Patrol!
8. Many of you asked for similar options to the wall art I hung above my bed (I bought mine at At Home), so I found this one which is so beautiful and this one.
9. Target has so many great fall fashion pieces right now – this leopard dress is so chic, this leopard blouse is a great basic and I am obsessed with this faux leather skirt! (actually the entire animal print clothing section is so good!)
10. While I'm not a huge fan of MLM type companies, I bought this cleanser (from their website directly) and am really curious to test it over the next few weeks.
11. I always find great home decor pieces from UO and they have a ton of great new arrivals right now.
Don't forget to check out The Fall Shop at the top of my blog. I added a bunch of tabs for Fall Fashion, Under $100, Home Decor, Athleisure, Beauty and Skincare. I will be updating the shop every week!