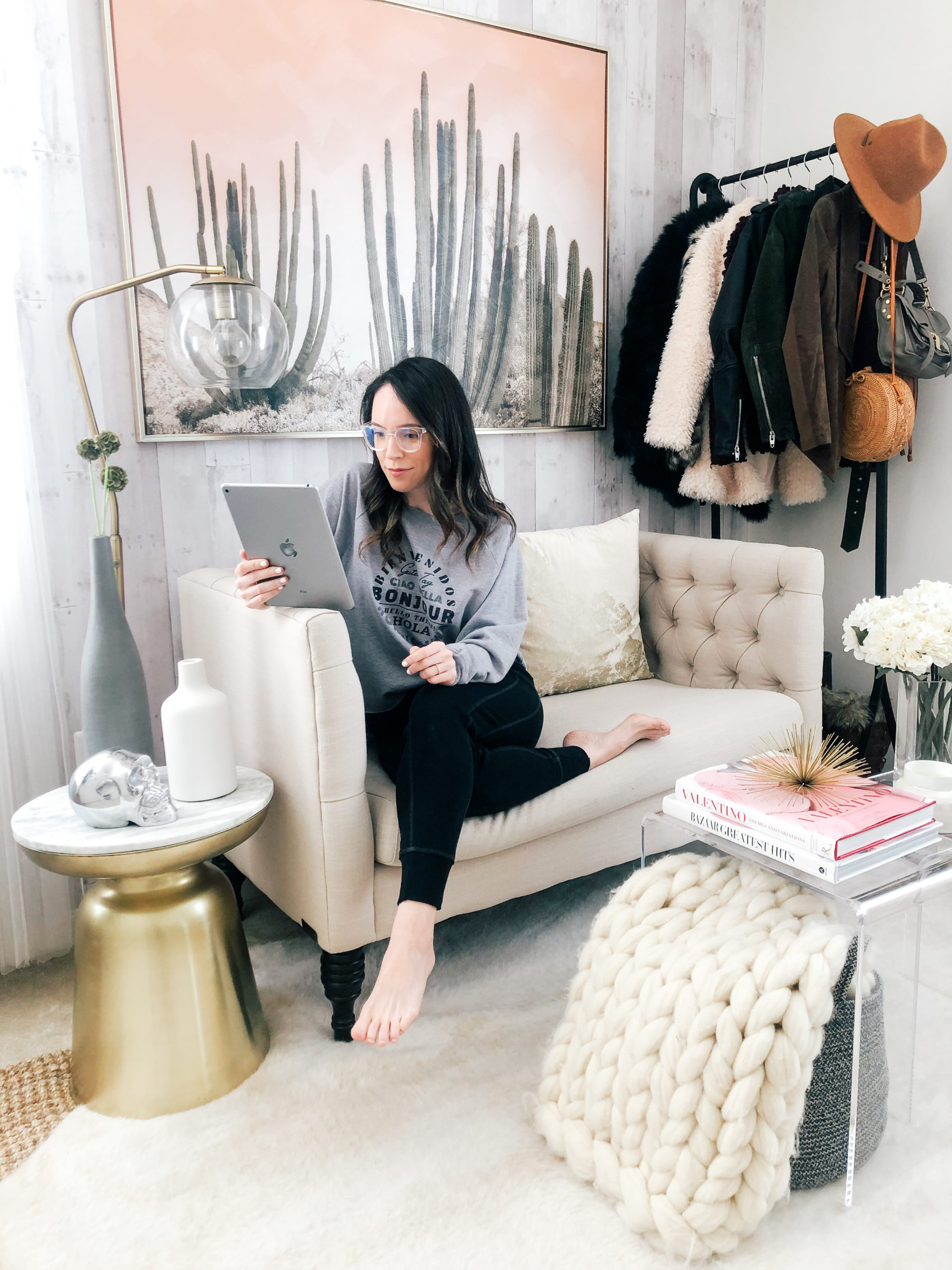 Sweatshirt – Anthropologie | Sweatpants – Abercrombie (similar) | Blue light glasses – Revolve | Settee | Lucite nesting tables | Chunky blanket (similar) | Side table | Rug | Cactus art | Wallpaper | Gray basket | Urchin decor | Rolling rack (similar) | Coffee table book here and here | Lamp
It's that time again! A new book review post is here and I read mostly thrillers this month. Some good, some not. Here are all the ones I read over the past few weeks:
1. Good Me, Bad Me – Milly's mother is a serial killer and her only way to stop her is to turn her in to the police. Milly is put into a foster family during the trial but doesn't reveal her true identity to her new friends and schoolmates. The daughter of the family she is staying with doesn't even know anything about Milly's past and instantly becomes jealous that she is now staying with them and taking her parent's attention. Tensions rise and Milly has to decide if she will ignore the taunts or take matters into her own hands and follow in her mother's footsteps. The ending was a bit predictable but I still really enjoyed this one! Rating: 8.5
2. The Last House Guest – I had high hopes for this thriller, but it fell very flat for me. Avery and Sadie have been friends for 10 years after meeting one evening while Avery is working a party hosted by Sadie's family. Sadie's family is very wealthy and has a lot of influence in their small affluent community in Maine. Suddenly Sadie is found dead on the beach and everyone thinks it was a suicide, but Avery is not convinced her close friend would take her own life. She decides to look further into the tragedy and uncovers some secrets that Sadie's family does not want made public. It's an easy read but not a favorite for me. Rating: 5
3. She Said – This is the story of the the two journalists that published one of the first stories detailing the heinous acts committed by Harvey Weinstein. It documents how they came to work on the story, their challenges in getting people on the record to speak out against him and what has happened since they published the piece. This was a fantastic yet heartbreaking read. Rating: 9.5
4. Long Bright River – Two sisters who were once inseparable have been torn apart by opioid addiction. Mickey is a police officer in Philadelphia and has not spoken to her sister Kacey in years because of Kacey's heroin addiction. A mysterious string of murders begin to happen and Mickey is worried that her sister may be at risk of becoming the murderer's next victim. She decides to begin looking for her again and hopes to find her before it's too late. Good but not amazing. Rating: 7.0
5. The Woman Upstairs – Another slightly bland thriller in this bunch. Katie is pregnant with twins and hasn't known the father, Ian, that long so she is worried about how involved he will be after the birth. Ian steps up and suggests they move in together in a new home he has bought for them. The home is in dire need of renovation but Ian says he will tackle that after he is back from a business trip he is scheduled to take. While out in the neighborhood, Katie meets her neighbor Paula who says she is a doula and would be willing to help coach Katie through the birth. After the babies are born, things begin to unravel between Katie and Ian and Paula seems to be taking a stronger role in helping out. The first half of the book is a tad slow but things do pick up in the second half and I was motivated enough to finish the book. Rating: 7.0
6. The Whisper Man – I didn't love this book from the beginning but I found myself wanting to know what happened after each chapter so it definitely grew on me. After the death of Tom's wife, he decides that he and his son need a fresh start in a new town. Tom purchases a new house and his son, Jake starts a new school and things seem to be moving along nicely. The town that they move to however has a morbid past because 20 years ago, a serial killer abducted and murdered five people. He was eventually caught but soon after Tom and Jake move to this new town, a young child goes missing and people believe it could be a copycat killer. Jake also begins to hear strange noises around the house and things take a sinister turn one night. Definitely an easy and entertaining read. Rating: 8.5
7. The Death of Mrs. Westaway – This book went up and down for me because some parts were interesting and some parts dragged on and on. In the end, it picked up and became interesting because I wanted to find out what was going to happen but it was a bit slow at times. Hal receives a letter in the mail one day stating that she is set to inherit a huge sum of money and estate from a grandmother she never knew she had. She tries to decide if she will fess up and say she may not be an heir or take the inheritance and live happily ever after. Hal has to go to the estate and meet with the family and attorney in person in order to settle matters, and realizes that she may in fact be related to these people after all. But how she is related to them is a mystery and one she is not sure she really wants to uncover. Rating: 8
What book are you currently reading??! Anything you would recommend?