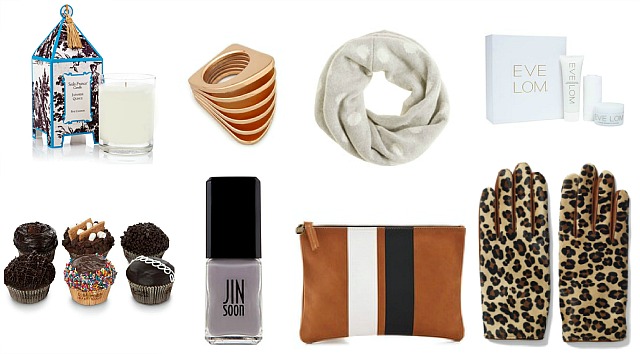 Truth be told, I am not quite sure if this is really a holiday gift guide or rather just my actual Christmas wish list.  Either way, these are items that I am totally coveting right now and would simply LOVE to get  give (note to self – the season is all about giving, the season is all about giving).  But honestly, don't you get all happy just looking at all that shiny, sparkly, fabulous, yummy stuff and want Santa's sleigh to drop one of these gems to your family, friends AND you?  I thought so.  Selfish readers.  I am so proud of you. Let's talk gifts shall we?
1.  Seda France Pagoda Box Candle in Japanese Quince – I actually just want someone to buy me a lifetime supply of this candle, it is that good.  It's a scent that works for any time of the year and makes your home smell fresh, sweet, clean and well – somewhere that you just wanna be all the time.
2.  Vita Fede Futtoro Ring – This ring. THIS RING. People please – there is little I need to say about such a kick ass piece of finger decor.  And in rose gold?  Gimme.  Or more like give it. (holiday time = giving!)
3.  J. Crew Polka Dot Snood – It's a scarf AND a hood – it's a snood.  Who cares what silly names they are going to give it – I love these things.  Super easy to wear, toasty and warm, and sooo chic – and this one is in polka dots! Meep!
4.  Eve Lom Perfect Partners Collection – I have been coveting the cult classic Eve Lom cleanser for a while now.  To be accurate – "it literally melts away makeup and grime as it exfoliates, brightens and tones".  Grateful skin all around.
5.  Crumbs Cupcakes – Ok, ok – I know this is not a food blog but seriously these are my favorite cupcakes in the whole world!  Reason being – the icing to cake ratio is almost 2:1 – me loves icing (said in a cookie monster voice).  I could buy these for myself (and frankly do a few times a week) but I also would gift these in a hot minute.  And then ask them if I could have a bite, or two.
6.  JINsoon Nail Polish – As a self proclaimed nail polish junkie, I hear these polishes are the real deal.  Super long wearing, beautiful colors and virtually chip free.  And small enough that you could buy one for friend, one for you, one for friend, one for you.
7.  Clare Vivier Striped Clutch -Big enough for a kick ass amount of makeup, and chic enough to sport as a night-out clutch.  A gal can never have too many handbags.
8.  Club Monaco Leopard Print Gloves – My hands never looked so chic….er….your friend/family member/office mate's hands never looked so chic.  As the weather begins to get more frigid and just plain unacceptable, wouldn't it be nice to keep sight of one's fashion dignity in gloves such as these?
So there you have it.  My blog's obligatory holiday gift guide/holiday wish list/I hope my husband and family are reading this so they can get these things for me list.  What is on your holiday list this year?  And have you tried any of the above things and can give a true testament to their awesomeness?  Share in the comments below or tweet me @alittlebitetc.
Happy Holidays!