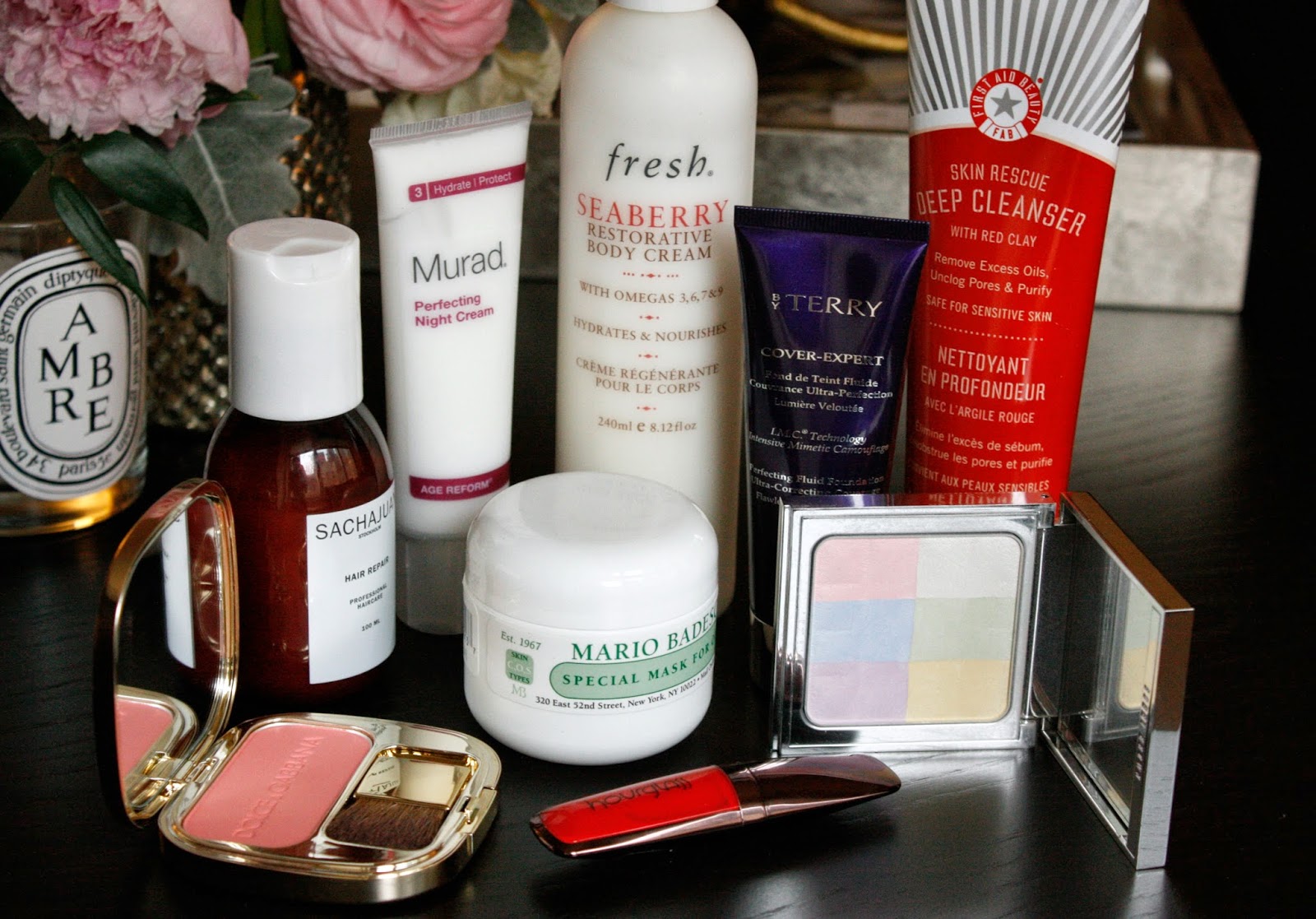 Always my favorite posts to read on other blogs, monthly beauty favorites are equally as fun to talk about on my little space on the internet.  This past month was a smorgasbord of skincare, hair and makeup products that rocked my beauty loving world.  I'm sure you have seem me post about some of these already on my Instagram, but here is a more in depth look at my experience with March's beauty favorites:
1.
Dolce & Gabbana Rosebud Blush
– Darn camera and it's settings, it dulls this blush a bit, thus robbing you of experiencing the vibrant color explosion that is Rosebud blush.  The phase "pop of color" should have been coined from this blush. A bright coral that even on my paler than pale skin looks beautiful and natural.  I wore it all through the winter, so don't expect me to put it away now that the warmer weather is coming.  Heck, I may just throw it in another future monthly faves just so you don't forget about it.
2.
Sachajuan Hair Repair
– I have been on a hair product roll recently.  I am not that excited about hair products to be honest, so I rarely write about them.  But when I find good ones, they are
good.
And then I feel I am cheating all of you by not sharing the news.  So after this recent
post
, I have again found a hair product I love.  I use this Sachajuan Hair Repair once a week on my ends, and while "like butta" is better used with skincare references, "like silk" seems more fitting to describe my hair after a go at this.  Pantene commercial girls have nothing on me.
3.
Murad Perfecting Night Cream
(c/o) – Day by day, minute by minute, I am becoming a Murad fangirl (
this spf cream
has recently reached holy grail status for me).  Each and every product I try keeps luring me in further and further, and this
Perfecting Night Cream
is no exception.  Designed to help restore moisture and hydrate the skin, my oily skin (which needs moisture too don't forget) just eats this stuff up! A little goes a long way for me with this, but the next morning's glow is proof that it's just enough.
4.
Fresh Seaberry Restorative Body Cream
– Winter skin aka alligator skin (for me at least) is not pleasant, and though my face may be super oily, my body can be quite dry.  Put a cape on this body cream, because it has been saving my skin.  Intensely rich and hydrating with tons of omega 3, 6, 7 and 9, seaberry oil and vitamin E, it helps to nourish my skin immediately but still allows me to get dressed without the (often) required dry-down, 15 minute waiting period.  Oh, and it smells divine.
5.
By Terry Cover Expert
– Hey flawless skin, how you doin?  Only a smidge is needed, but this foundation is absolutely beautiful.  A little more coverage then the
Sheer Expert
, this gives me a gorgeous naturally radiant (but not shiny) complexion.  Spring is not ready for the amazing face I am going to serve it with this number.  Get ready.
6.
First Aid Beauty Skin Rescue Deep Cleanser
(c/o) – Hey, First Aid Beauty – how do you manage to knock it out of the park with every product?  First I began with
loving this mask
(and review on
it here
), then I nicknamed their
Ultra Repair Cream
a "wonder cream" because it is that good (review
here
), and now this Skin Rescue Deep Cleanser has knocked my socks off.  Sometimes when treating my acne prone skin, I don't always want to use an acid based cleanser.  And other gel cleansers just make my skin too dry, which is why I fell in love with this one from First Aid Beauty.  No acids, not drying, and great at helping me keep my blemishes at bay.  It's a triple threat.
7.
Bobbi Brown Brightening Finishing Powder
– In all honesty, this product was a total dud when I first bought it.  Too shiny, hard to detect on the skin – all around fail.  And then I began using the
Murad Mattifying SPF cream
which changed how all other products sat on my skin.  So I gave this a go again, and voila! It was stunning.  After I apply my foundation, I dust it along my cheeks and forehead and it helps to immediately illuminate and finish my makeup, giving the skin an airbrushed appearance.  Already predicting a pan hitting moment in the future with this powder. 
8.
Mario Badescu Special Mask for Oily Skin
(c/o) – When is a Mario Badescu product
not
making it into my monthly favorites.  The whole brand has redefined the way I treat my acne prone skin, and this mask is now part of a long list of products (for more recommendations,
read this post
) that are great at helping me fight the war against pimples.  Decongesting pores, cleaning out dirt and grime, controlling oil, this mask does it all. 
9.
Hourglass Opaque Rouge Liquid Lipstick in Raven
– All hail Hourglass.  If there is a knighting ceremony for a beauty brand, I would like to recommend Hourglass.  Every darn product is just amazing.  I talk about them way too much on this blog, but I can't help it.  They never disappoint. I already have a
natural shade in this lipstick formulation
and swear by it, so why did it take me so long to buy another? WHO KNOWS??  But I have rectified that problem and bought Raven, the most stunning vibrant red-orange shade.  No this color is not for the faint of heart so be prepared, but it's a knockout.  *wolf whistle*
Shop the post: