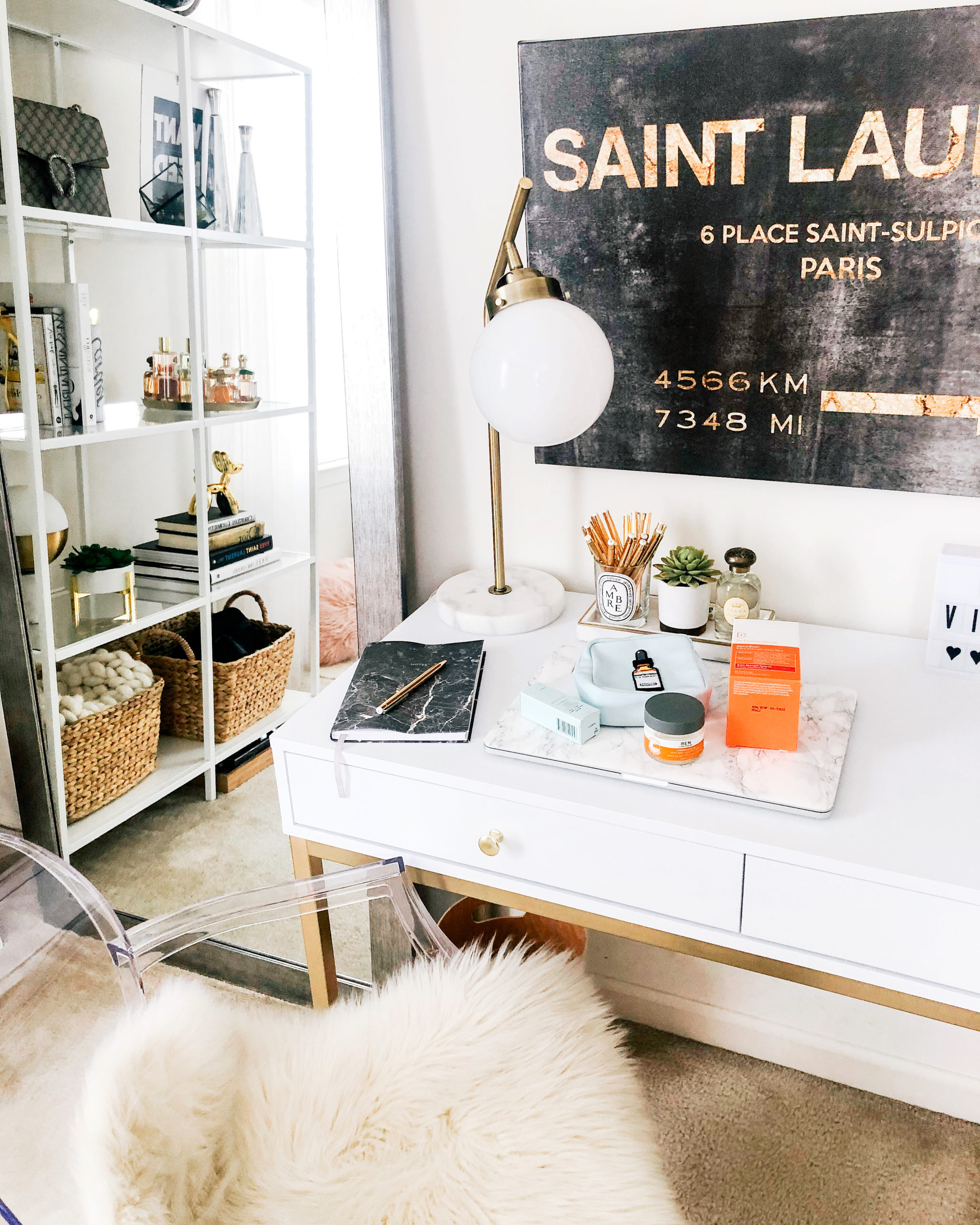 Desk | Lamp | Chair | Painting | Marble tray | Mirror (similar) | Trash can | Baskets | Bookshelf (from Ikea) | Marble notebook (similar)
Since so many of us are now working from home, I thought I would share some items to add to your home office setup to make it more comfortable and chic. Creating a space that you enjoy can really help with productivity.
1. I try to drink as much water as I can when I'm at my desk and this self cleaning water bottle looks so amazing.
2. I use the mousepad on my laptop but am contemplating getting a separate mousepad for when my wrist is bothering me. This one is ergonomic and has tons of great reviews.
3. My coffee gets cold so quickly and this warming plate would be perfect.
4. My girlfriend ordered this and was raving about it to me. It's a small weekly planner that fits just below your computer or keyboard so you can quickly write things down as you are on your computer.
5. I love my cute marble print notebook but it's old from Urban Outfitters. But I found this three pack of marble print notebooks and love the look of them.
6. I have this exact trash can under my desk and love chic and simple design.
7. I'm thinking about getting a time cube to help me stay on task easier. So many people swear by these!
8. This mini exercise bike that you can put under your desk is a great way to keep moving while you are getting work done.
9. This is a much larger bike/desk hybrid but great for a slightly more intense workout while at your desk.
10. For those that prefer a standing desk, this anti-fatigue comfort mat is a great option to stand on.
11. I have actually thought about getting one of these posture correctors because my neck and shoulders really hurt me at the end of the day working at my desk.
12. These chic desk accessories are great to add to jazz up your work space – acrylic stapler, gold tape dispenser and this gold pen/pencil holder.
13. I want pretty much everything from here for my home office!