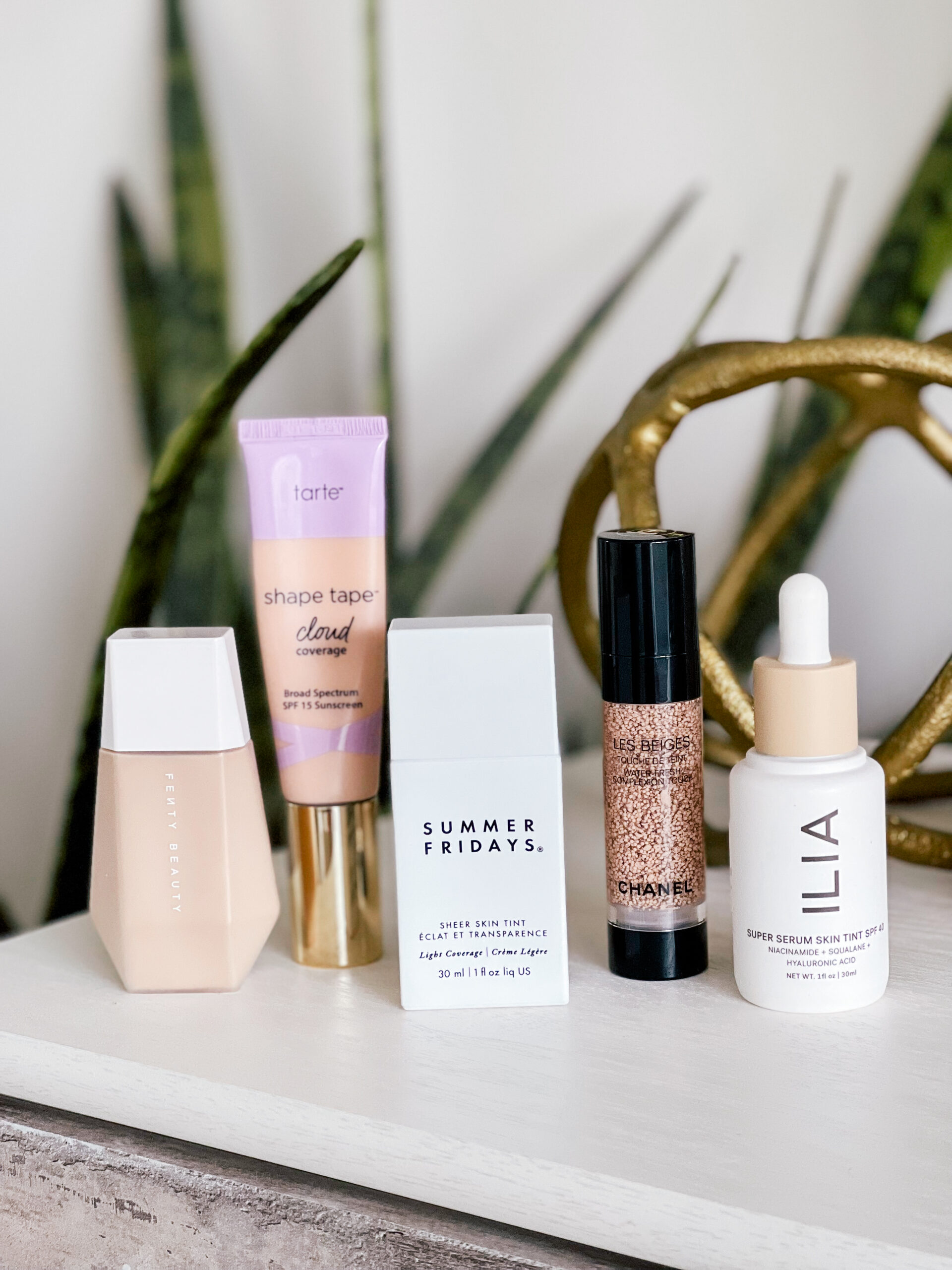 Though I like a natural makeup look, I still prefer a foundation with a bit of coverage for my everyday look. However, I have been testing out a bunch of sheer skin tints recently and have found quite a few that I love.
1. Fenty Beauty Skin Tint in 3 – This one gives the most coverage out of all the formulas and is one of the first skin tints I tried. The finish is a nice natural skin finish, sheer/medium coverage which lasts all day long and it never gets greasy or shiny on me.
2. Ilia Super Serum Skin Tint SPF 40 in S2 Tulum – I have tried serum-like foundations in the past and never really liked them. But this skin tint impressed me from the very first use! In terms of coverage, this is less than the Fenty but still covers everything I need it to. It's more of a sheer to sheer/medium coverage and gives a slightly fresh face finish with a hint of dewiness. However that dewiness doesn't last all day for me and settles to more of a natural finish for me. This also lasts all day for me and never gets greasy or shiny.
3. Tarte Shape Tape Cloud Coverage in 12N Fair Neutral – I LOVE my Tarte Foundcealer but that is a much more medium to medium full coverage foundation so I was interested to try this one for the summer. It gives slightly less coverage than the Ilia Skin Tint but still enough for me to feel like I have a full face on. What I love most about this tint is it feels weightless on the skin! The name is truly perfect – it feels like a cloud. For me, it gives a natural matte finish, sheer coverage and lasts all day.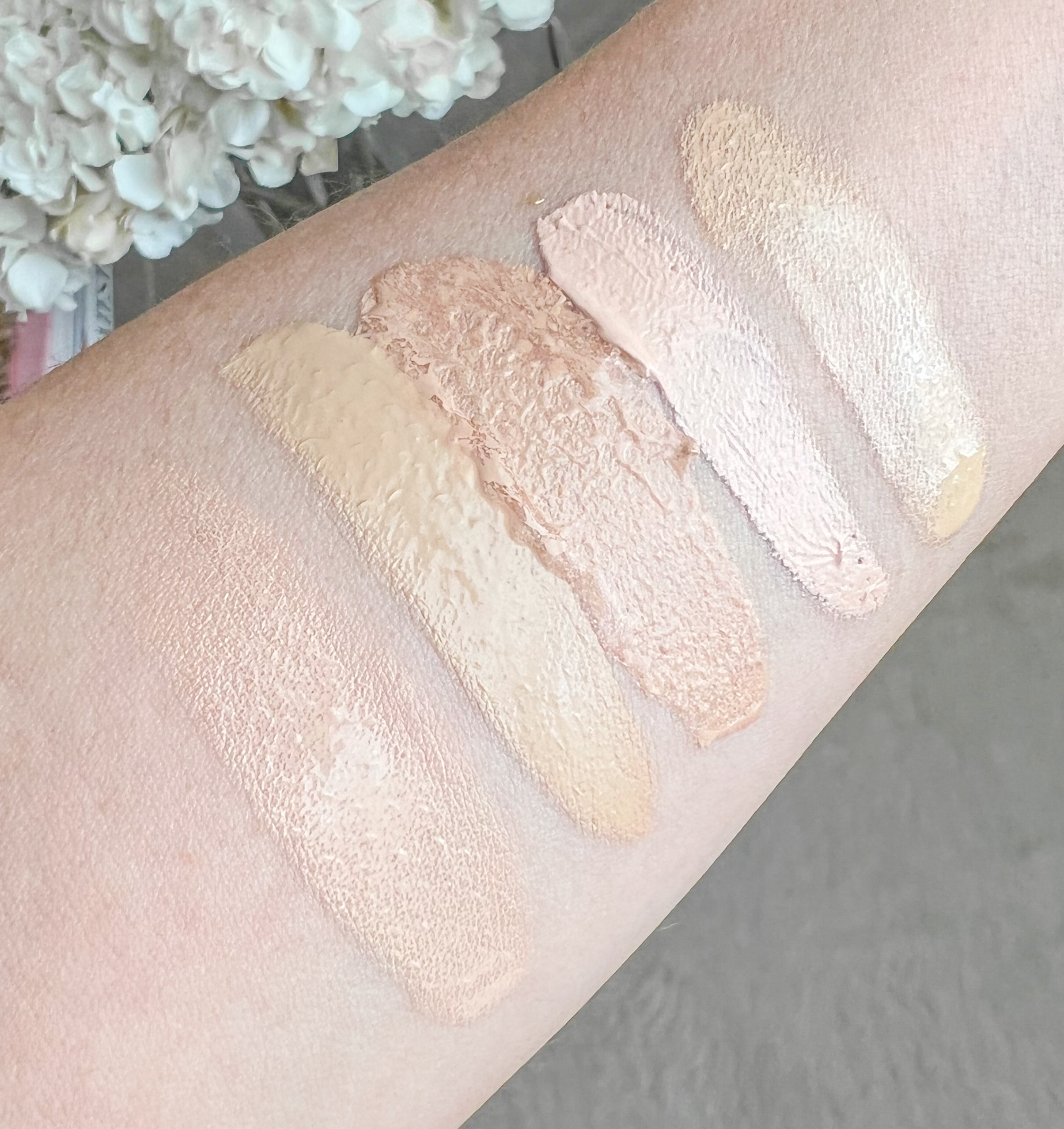 Swatches from left to right: Summer Fridays, Fenty Beauty, Chanel Les Beiges, Tarte Cloud Coverage and Ilia
4. Chanel Les Beiges Water-Fresh Complexion Tint in B10 – I did not see this one coming, but I really love this skin tint. It's the most sheer out of the previous 3 I have discussed but it still does a nice job of giving a hint of coverage and evening out my skin tone. At first, it goes on like water and looks like it will give no coverage but after a few minutes I find that the coverage develops and it really looks gorgeous. The finish is a natural skin look with just a hint of dewiness but nothing too shiny. I was surprised to see it last all day on me with only a touch of separation around my chin (which has become my trouble spot lately).
5. Summer Fridays Skin Tint in shade 1 – I grabbed this the day that it launched and was so excited to try it! It gives the least amount of coverage out of all 5 formulas but is the most similar to the Chanel in terms of coverage. Initially it goes on very sheer and looks like it will be nothing, but after a few minutes the coverage seems to develop and it looks gorgeous. When I first apply, it does look very dewy and fresh but on me it settles down and has a natural finish overall. It doesn't get additionally shiny throughout the day and really looks quite flawless!
Have you tried any of these and if so, what are your thoughts on them??