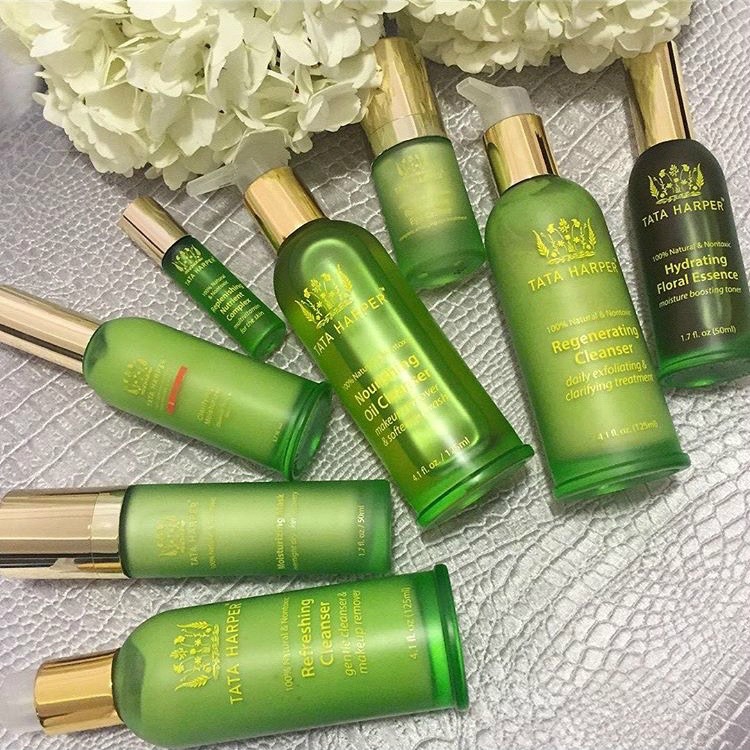 I put up this picture on
Instagram
the other night and realized that I have tried so many products from the line but don't have a full brand review on my blog. So I thought I would give a quick synopsis of all the pieces from the Tata Harper line that I have tried and loved.
1.
Regenerating Cleanser
– This was the second product I ever tried from the line and has become my favorite so far. It is one of the gentlest yet most effective exfoliating cleansers that I can use daily. It has a slight grainy texture but one that never irritates my skin or aggravates it when I am breaking out. My favorite time to use it is in the morning because it helps wake my skin up and any makeup I apply after goes on flawlessly.
2.
Nourishing Oil Cleanser
– This may be one of the thickest cleansing oils in my collection, but it breaks down so easily with just the addition of warm water. It cuts through all my makeup, and then rinses it away effortlessly leaving my skin hydrated and soft. 
3.
Refreshing Cleanser
– For times when my skin is dry or extra sensitive, I like the creamy feel of the Refreshing Cleanser to help comfort and nourish my face. It doesn't remove makeup for me, but is a great one to follow the Nourishing Oil Cleanser for an added bit of hydration. I received a ton of suggestions to try
this cleanser
next so that is on my list!
4.
Resurfacing Mask
– I have already finished this which is why it's not pictured, but this was the first Tata Harper product I ever tried. It is an amazing exfoliating mask that leaves my skin radiant and glowy, while also helping break down any dark spots or hyperpigmentation. 
5.
Replenishing Nutrient Complex
– While face oils are aplenty in my collection, this one from Tata Harper is like a multivitamin for my skin. It is on the richer side in terms of texture, so only one roll can cover my entire face and I prefer it more in the winter. My favorite way to use it is alone after the Resurfacing Mask – I wake up the next morning and my skin is glowing!
6.
Hydrating Floral Essence
– This is definitely at a steep price point for a hydrating mist, but I do find that it's wonderful at helping instantly calm my skin if it's feeling tight or uncomfortable. I have recently been waking up in the morning with slightly drier skin because of the weather changes, so I keep it on my nightstand so I can mist my face first thing in the morning and it immediately helps soothe my skin and wake me up.
7.
Restorative Eye Cream
– This is the only eye cream I have tried from Tata Harper and enjoy it for a soothing and comforting treatment when my eyes feel dry and tight. I don't find it helps reduce any darkness unfortunately, but is amazing at smoothing out the under eye area and prepping it for concealer and makeup.
8.
Moisturizing Mask
– As a last step in my routine, I love to pat in this Moisturizing Mask to give my skin an overnight boost of hydration. A little goes a long way and if I add too much, it can stay tacky and stick to my pillowcase. Ugh. So the trick is using the smallest amount and then it absorbs nicely but still maintains moisture in the skin and I wake up with my face looking plump and supple.
9.
Clarifying Moisturizer
– I just recently began testing this new launch from Tata Harper and was excited to see it was designed for oily and blemish prone skin. It dries down to a gorgeous matte finish and has become one of my favorite moisturizers to wear under my makeup. 
10.
Concentrated Brightening Essence
– As a huge proponent of using essences in my skincare routine, this one from Tata Harper was a big hit for me because it had the added benefit of helping brighten the skin. It did take me a few weeks of using to notice a difference, but over time I did see an overall evening of the skin and my complexion appeared much brighter.
11.
Smoothing Body Scrub
– There is nothing I love more than a good body exfoliation session in the shower. My complaint often is that scrubs can be too oily leaving my shower a dangerous mess after! This Smoothing Body Scrub from Tata Harper is dense, rich and incredibly decadent but the oils are not running everywhere. A little can go a long way with this scrub, but it is truly one of the most effective ones I have in my collection. While I love to use a body lotion after, I don't necessarily need one after this because it's so hydrating and softening. If you are looking for a great gift idea, this scrub is a perfect one!
12.
Purifying Mask
– I love a good detoxifying mask and I blew through this one in just a few weeks because I loved using it so regularly. It helps clarify my skin without ever drying it out. I found that my breakouts were minimized and my skin looked less oily when using regularly once a week. 
Shop all of my Tata Harper recommendations and more of her line below:
!function(doc,s,id){ var e, p, cb; if(!doc.getElementById(id)) { e = doc.createElement(s); e.id = id; cb = new Date().getTime().toString(); p = '//shopsensewidget.shopstyle.com/widget-script.js?cb=1479310312439?cb=' + cb; e.src = p; doc.body.appendChild(e); } if(typeof window.ss_shopsense === 'object'){ if(doc.readyState === 'complete'){ window.ss_shopsense.init(); } } }(document, 'script', 'shopsensewidget-script');