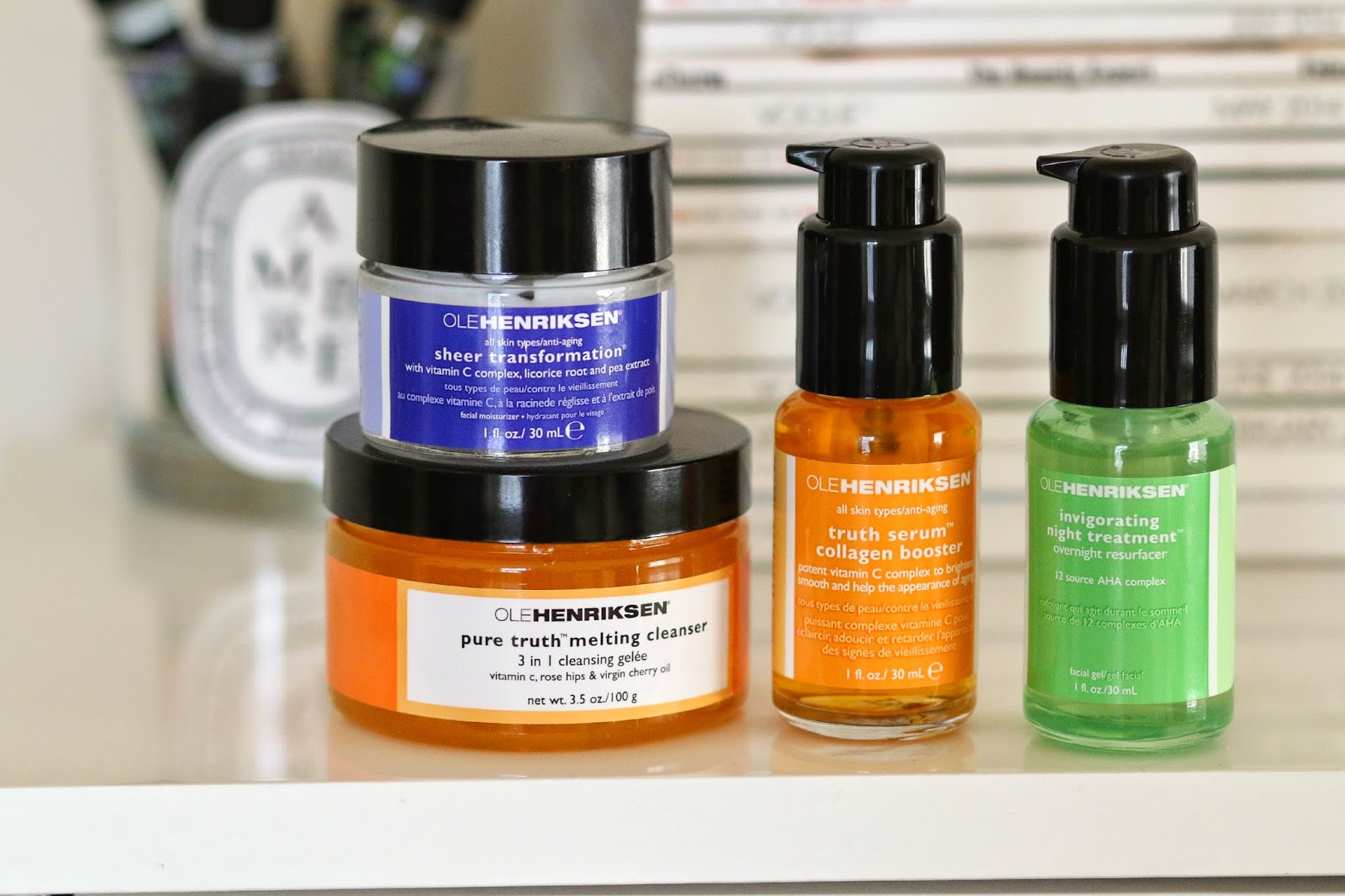 Ole Henriksen
is one of those brands that no matter age, skin type or or concern, there is a product for everyone. And there are 3 core products (now 4, but the last one is new) that just about anyone can use, and frankly
should
use. Between the affordable price points, efficacious formulas and sleek, minimal packaging, I do believe it's one of the best skincare brands out there. I am a long time user of the
Truth Serum
and was excited to try the other 3 products when Ole Henriksen sent them over. If you are in the market for a skincare routine change, I highly recommend looking at any of these products. Here are my thoughts on each:
1.
Ole Henriksen Sheer Transformation
– So many of you have been recommending I try this moisturizer, and now I can see why. It's oil-free which is always nice, but still intensely hydrating. My problem with most oil-free formulas is they still leave my skin feeling slightly dehydrated and uncomfortable. Clearly, Sheer Transformation did not fall into the latter category. In addition to tons of anti-aging benefits and pigment lightening ingredients, it just
feels
good on the skin. And wearing makeup over it is a dream. I've said it before, and I'll say it again – my readers are right again. This moisturizer knocks it out of the park. (the only sports reference I will ever make so let's take a moment to acknowledge that)
2.
Ole Henriksen Pure Truth Melting Cleanser
– It's cleanses like an oil, balm and milk, but feels completely different than anything I've used before. This texture is absolutely divine and it combines all the aspects of my favorite cleansers into one. It feels like a jelly when you first touch it and should be applied with dry hands to a dry face. It begins to melt down into an oil as you rub it in removing makeup immediately, and finally when you add water turns to a soft milky emulsion that keeps my skin feeling hydrated and soft. A truly novel product that delights me each time I use it.
3.
Ole Henriksen Truth Serum
– Ugh, so good. So, so, so good. This Truth Serum is chock full of amazing ingredients, the most prominent being Vitamin C. This does absolutely everything except make you coffee in the morning. It brightens, supports collagen production, minimizes fine lines and helps defend against environmental damage. Use it morning or night or both, but just USE it. It's great for almost any skin type and is the perfect addition to most skincare routines.
4.
Ole Henriksen Invigorating Night Treatment
– Dull skin has met it's match with this product. Holy cow! It gives a serious exfoliation to the skin overnight, but surprisingly is not irritating. I use this in place of a serum and it's as if I had a facial the day before when I wake up. Yes
glowing
is overused but I'm sorry, when a product makes your skin glow, there is just no other word that will suffice. And this seriously makes it G-L-O-W. As cliche as it sounds, it's true. Even better news is that it now comes in a set with the Truth Serum and Sheer Transformation for $70 at Sephora – in other words….you need it. Get your skincare loving hands on it
here
.