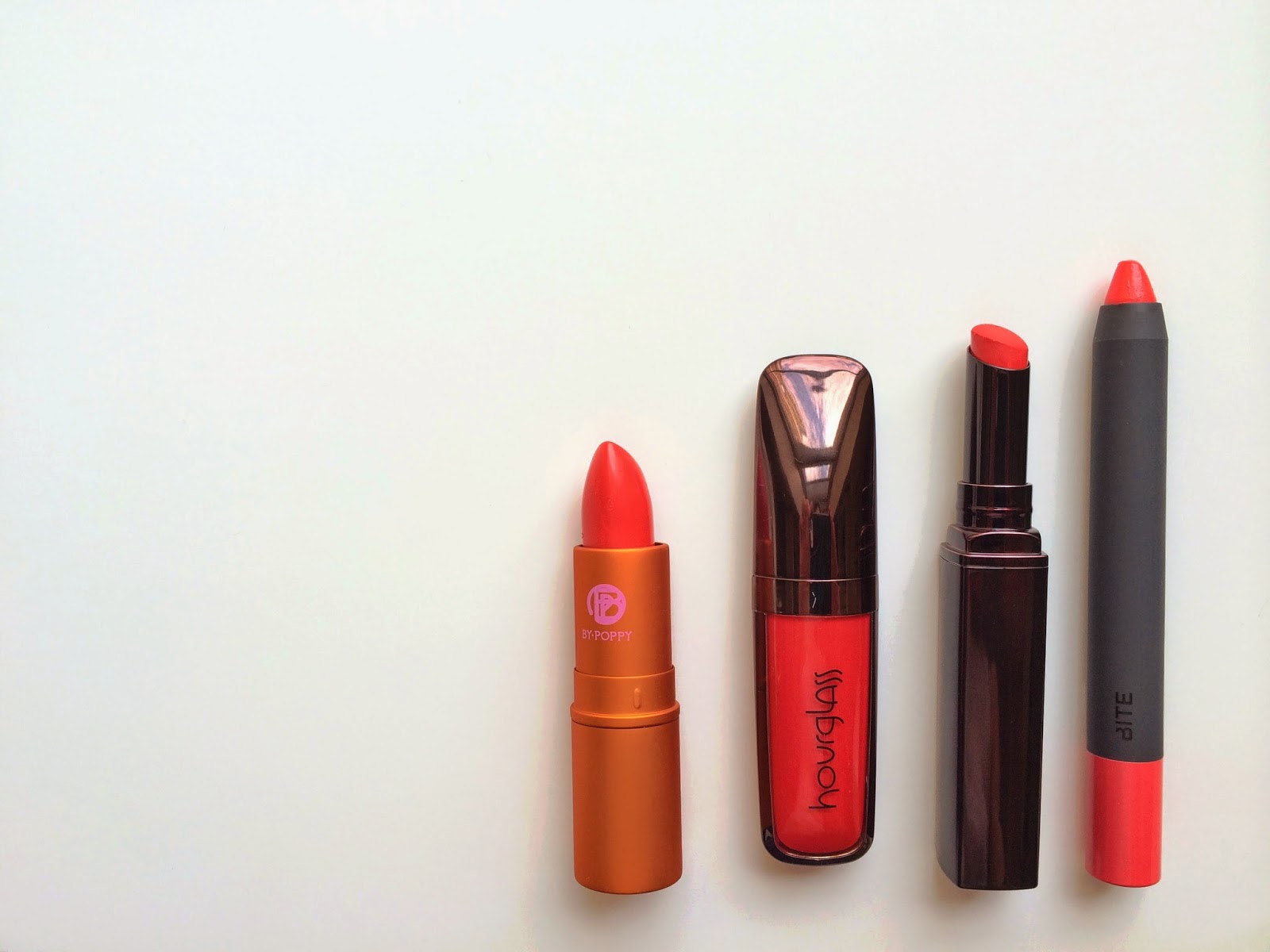 So red it's almost orange. I didn't even know I had a thing for these bright vibrant coral shades until I looked in my drawer and realized I have bought quite a few at this point. And though they look good worn any time of the year, summer is when they seem the most appropriate. These four shades run the gamut from sheer and juicy to matte and bold.
1.
Lipstick Queen in Stoked
* – Swipe it on once for a subtle hint of color, or build it up for a true punch. The texture of this new color from Lipstick Queen's Endless Summer collection is lightweight and hydrating and I can already see this being a favorite of mine for the summer.
surprisingly super comfortable on the lips. I already own the shade
Canvas
which has become one of my holy grail lip colors, so Raven was the perfect next color. These lipsticks feel like velvet on the lips and this color is the quintessential fiery coral. Buy it and thank me later.
3.
Laura Mercier Rouge Nouveau Weightless Lip Color in Mod
– Slightly less pigmentation than Hourglass and a true matte texture, this is weightless on the lips. Often I can
feel
matte lipsticks on my lips, but this is easy to wear and rarely needs reapplication. I can see this with glowing, dewy skin and lots of lashes. Oh and a beach, umbrella drink and straw fedora.
4.
Bite Beauty High Pigment Pencil in Zinfandel
– I am not going to stop until I have collected every bite beauty lip color out there. I LIVE for this brand. All of the products feel amazing on the lips, have food grade ingredients and wear forever. I bought this Zinfandel shade and another shade
called Tart
in the same Sephora shopping trip – and frankly I am quite proud of that since at one point I had 7 Bite shades in my hand and forced myself to pick only two. My favorite quality is the pencil tip which makes application a breeze.  And it is much thinner and more pointed than similar pencil style lip products which again makes Bite beauty a winner in my book.