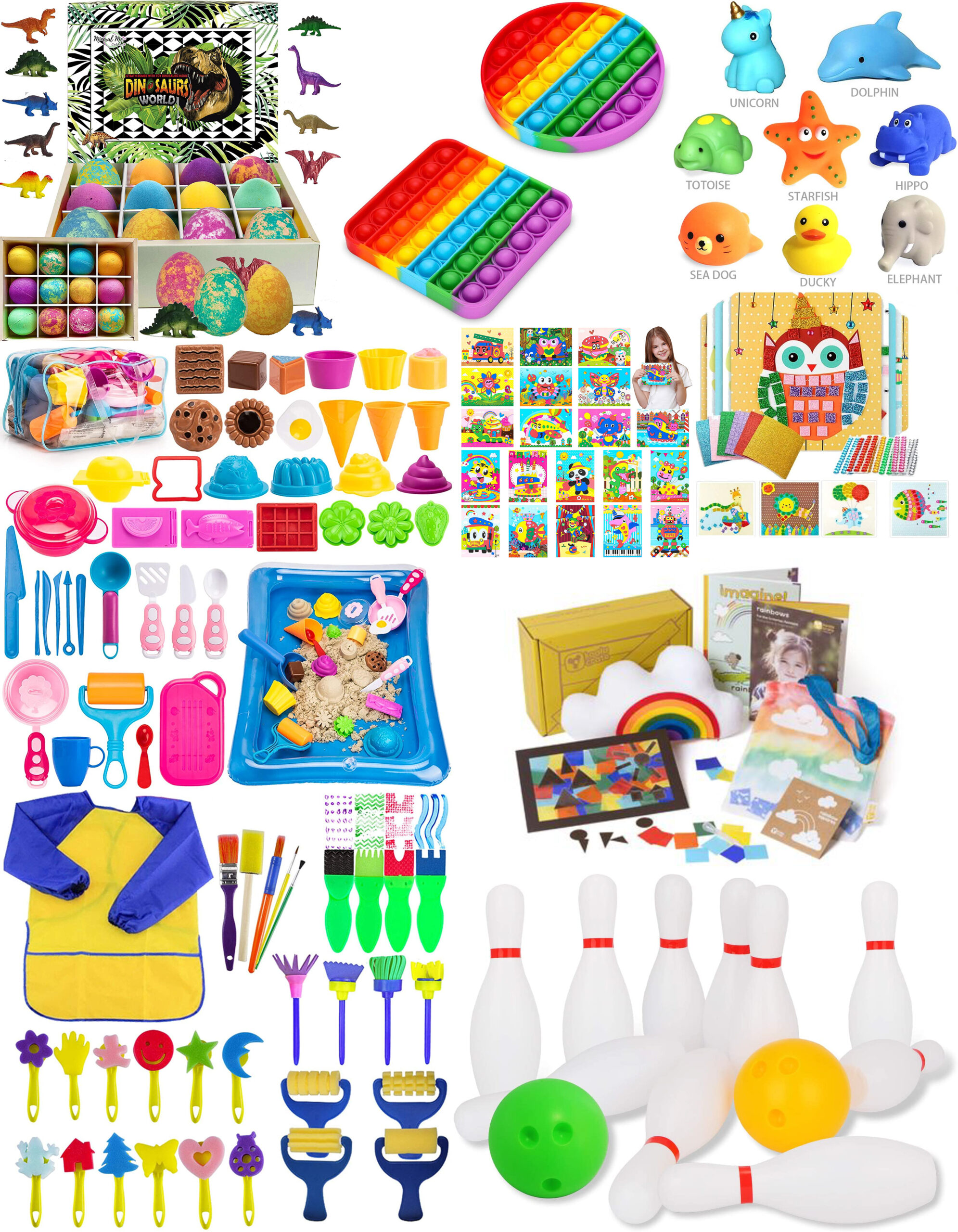 Keeping Miles entertained all day long is a struggle so I am always looking for new activities and projects for him to do that will keep him occupied for longer than 5 minutes. I've found a bunch of new things he is loving and thought I would share them all in one blog post!
1. Bath bombs – Bath time can be a struggle some days so I always need something fun to get him excited to take a bath. And sometimes midday baths happen too if I need to come up with something to keep him entertained. LOL While bath bombs are fun, Miles only cares about the ones that have little toys inside. Ha! This set has cute dinosaurs but I have also bought him this set which has a bunch of adorable animals in the bath bombs.
2. Bubble fidget sensory toy – I wasn't sure Miles would be into this little thing but to be honest he will sit for awhile and just pop the little bubbles in and out. He also is OBSESSED with anything rainbow so this was the perfect little toy.
3. Light up bath toys – Another bath time hit, these toys light up when they hit the water.
4. Sand toys – We do have a sand table that he uses them with, but I love that this set comes with an inflatable tray so he can play with it in inside. Miles is crazy for anything food related so that is why I picked this one. He likes to use the sand to make "cakes" and "cook stuff" LOL.
5. Mosaic crafts – My mom actually found this one and the other mosaic craft but Miles fell instantly in love with both. He loves crafts and these are super easy to do and they can feel like they made their own artwork.
6. Shine and sparkle mosaic set – This was the most recent mosaic set she bought him and he finished the entire kit in two days. The pieces are a bit bigger which was nice and they follow the letters on the pictures to figure out where to put the colorful stickers.
7. Kiwi Co. koala crate – I've shared this monthly subscription box a few times on my insta-stories but thought I would also include it in a blog post. There are subscription boxes for any age range and the activities in them are absolutely adorable! They are educational, age appropriate and not very messy (which frankly was what sold me HA!). In fact in one of the boxes, he made a rainbow pillow and he carries it around everyday and sleeps with it every night. This would also make a great gift!! You can buy the boxes individually or as a monthly subscription.
8. Painting set – Miles loves anything craft related and this painting set is fun because it has a bunch of various sponge shapes, rollers and brushes. We actually have Miles use the cardboard boxes from our online orders as his canvases – they are super durable and easy to paint!
9. Bowling set – If your kid loves to knock things down, they will love this set. It's ridiculously annoying as a parent to constantly set up the pins, but it does kill a good half hour or more so that is a win in my book! LOL