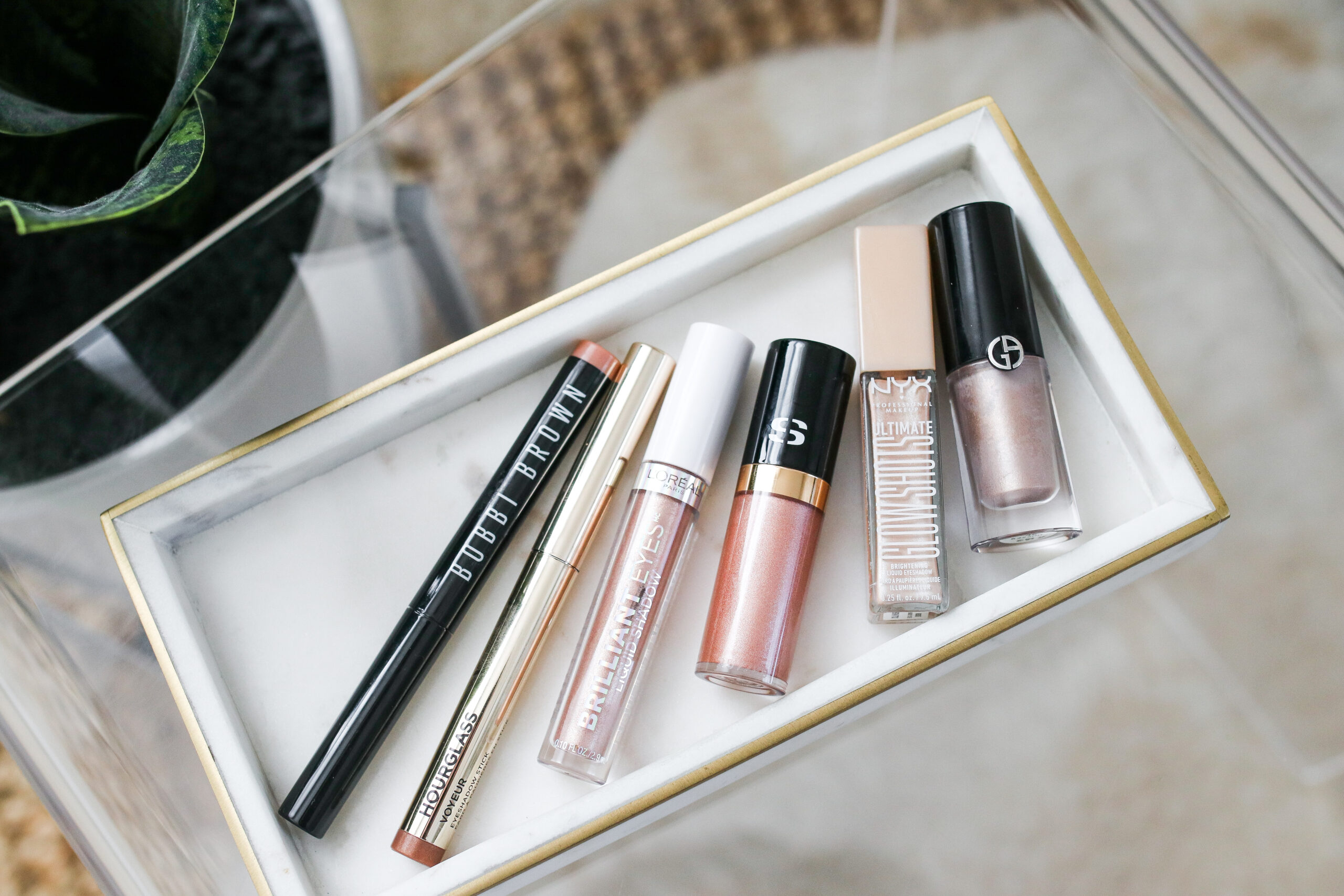 I've said time and time again that I love a one and done eyeshadow look. One shadow all over the lid and even blended into the crease is my constant go-to for daytime. I've added a bunch new ones to my collection so I thought I would do an updated review on all of them including my favorite shades in each formula.
1. Bobbi Brown Long-Wear Cream Shadow Sticks (my favorite shades: Golden Pink and Truffle) – I've been using these shadow sticks for years. They are creamy, blend well and last all day. They are richly pigmented and there are a ton of matte and shimmer shades to choose from. Most shadow sticks are rounded at the top (including these) which has always been fine for application, but compared to the slanted shape of the Hourglass Voyeur Eyeshadow sticks it is not as smooth anymore.
2. Hourglass Voyeur Eyeshadow Sticks (my favorite shades Prism, Moon and Equinox) – These launched recently and I immediately fell in love with them! The shape of the stick is angled which makes it so much easier to apply and the colors are all neutral perfection. For now, there are only shimmer shades available but I am hoping they expand in the future. They are not as pigmented as the Bobbi Brown ones and are a tad more subtle which for me is a positive benefit. They apply effortlessly and blend like a dream!
3. Sisley Ombre Eclat Liquid Eyeshadow (my favorite shades are 1, 2, and 3) – As I would expect from Sisley, these liquid eyeshadows are sophisticated and chic. From swatches the payoff is very shimmery, almost like liquid metal but when on the lids, they look much more subtle and don't emphasize texture. Great for daytime but the darker shades would be gorgeous for evening.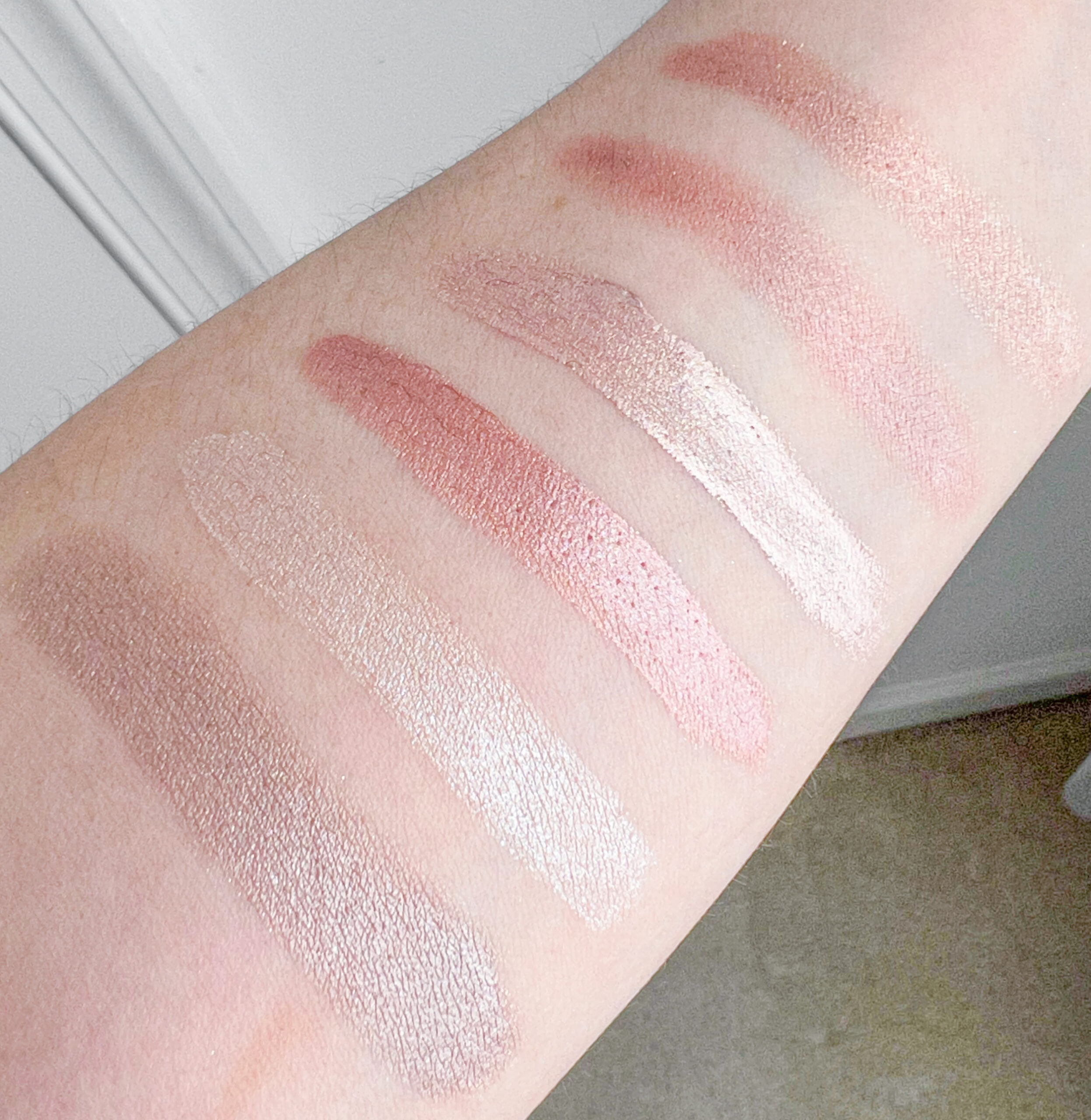 Swatches from left to right: Armani Eye Tint in 46 Halo, NYX Glow Shots in Highkey Lychee, Sisley Ombre Liquid Eclat in shade 3, L'Oreal Brilliant Eyes in Diamond Drop, Hourglass Voyeur Eyeshadow Stick in Prism, Bobbi Brown Shadow Stick in Golden Pink
4. L'Oreal Paris Brilliant Eyes Liquid Eye Shadow (my favorite shade is Diamond Drop) – For the pricepoint, these are one of my favorite drugstore liquid eyeshadows. They are very shimmery and really reflect light nicely on the lids. The shimmer payoff is definitely more bold than the Sisley so if you prefer more subtle eyeshadow shades during the day, this may be a bit too much. These also work really well as a base shadow to apply powder shadow on top.
5. NYX Ultimate Glow Shots Liquid Eyeshadow (my favorite shade is Highkey Lychee) – These were a recent discovery for me and I really do love the formula but they are much more sheer than any of the other liquid eyeshadow formulas I have. I find that patting the color on helps the color show up more because if I blend it too much, the color will disappear. They are great for a super sheer wash of color on the lids or as a base to intensify a powder shadow on top.
6. Armani Eye Tint Liquid Eyeshadow (my favorite shade in 46 Halo ) – A long time holy grail favorite. I have loved this formula since the first day I ever tried it. It's a medium pigment that isn't too bold or too sheer, has just enough shimmer to look luminous but not too glittery and they last all day. This still remains my favorite liquid eyeshadow formula.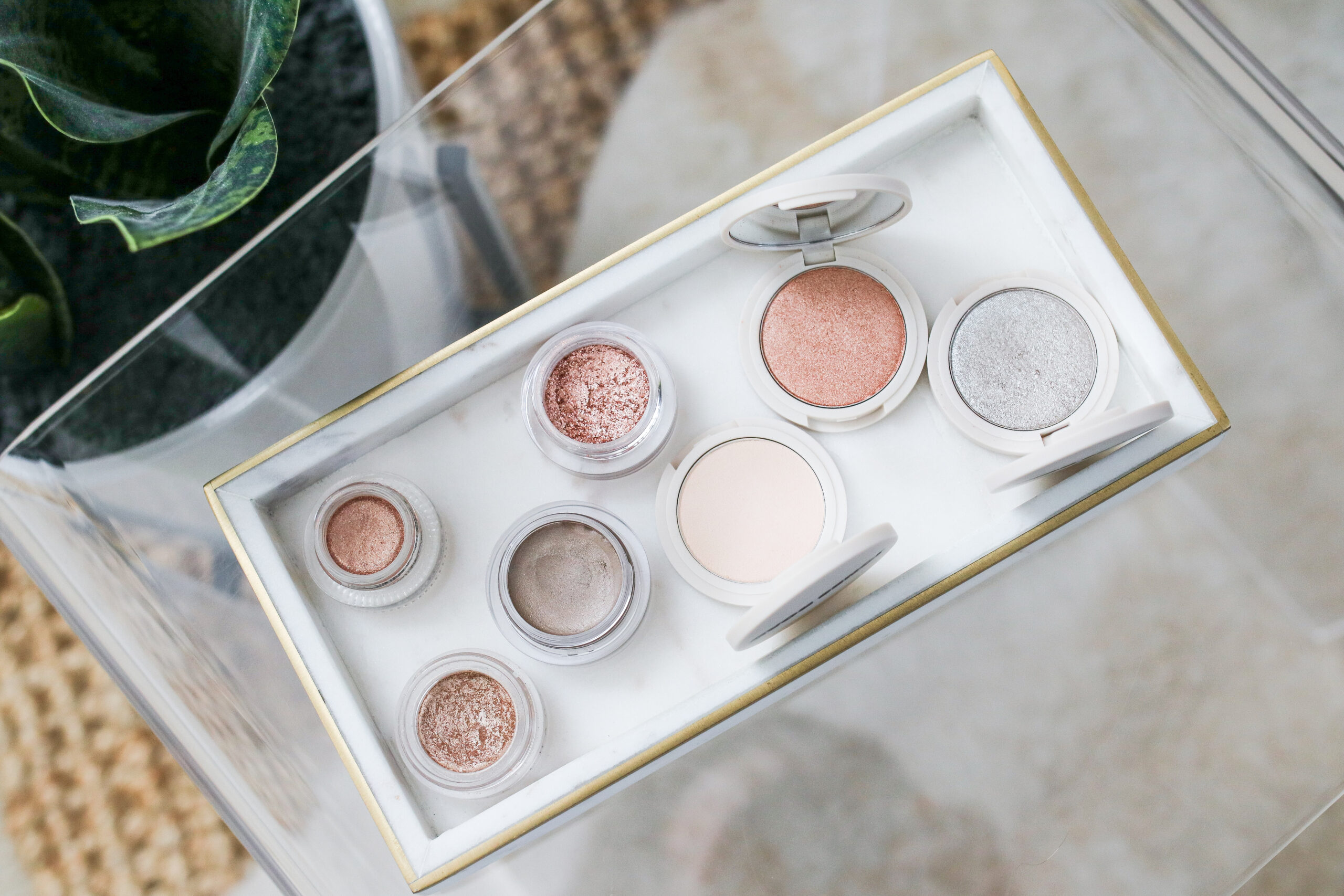 7. Jones Road Beauty Just a Sec Bright Eyes (my favorite shades are Linen and Topaz ) – Jones Road is a new brand to me but so far I have loved almost everything I have tried from the line. These cream shadows quickly became a favorite for me as they looked so lovely on the lids and were so easy to apply. I like to use my finger to apply the color and find the formula to be on the drier side which I prefer. I have enough time to blend but the color does set once on the lid. The pigment is medium so you can build it up somewhat but it will never be a full intense color payoff.
8. Chantecaille Mermaid Eye Color (my favorite shade is Seashell) – This formula feels like a mix between a cream and powder. The color payoff is rich and pigmented and all the colors are so natural and wearable for everyday. The shimmer is understated and would be perfect for a workplace or wearing day to day. I can apply these with my finger but I prefer to use a brush.
9. Trinny London Eye2eye (my favorite color is Mystery) – These are the newest solo eyeshadows I added to my collection and to be honest, didn't really get overly excited from just looking at them in the packaging. The color I tested seemed dull and muted but once I applied it, I was blown away! There are a mix of matte and shimmer shades in the formulation but the shimmer is VERY subtle and looks like a soft satin on the lids. They don't emphasize any texture and would look great on mature lids. The pigment is quite sheer so these will give just a wash on the lids but can be packed on to give a bit more payoff.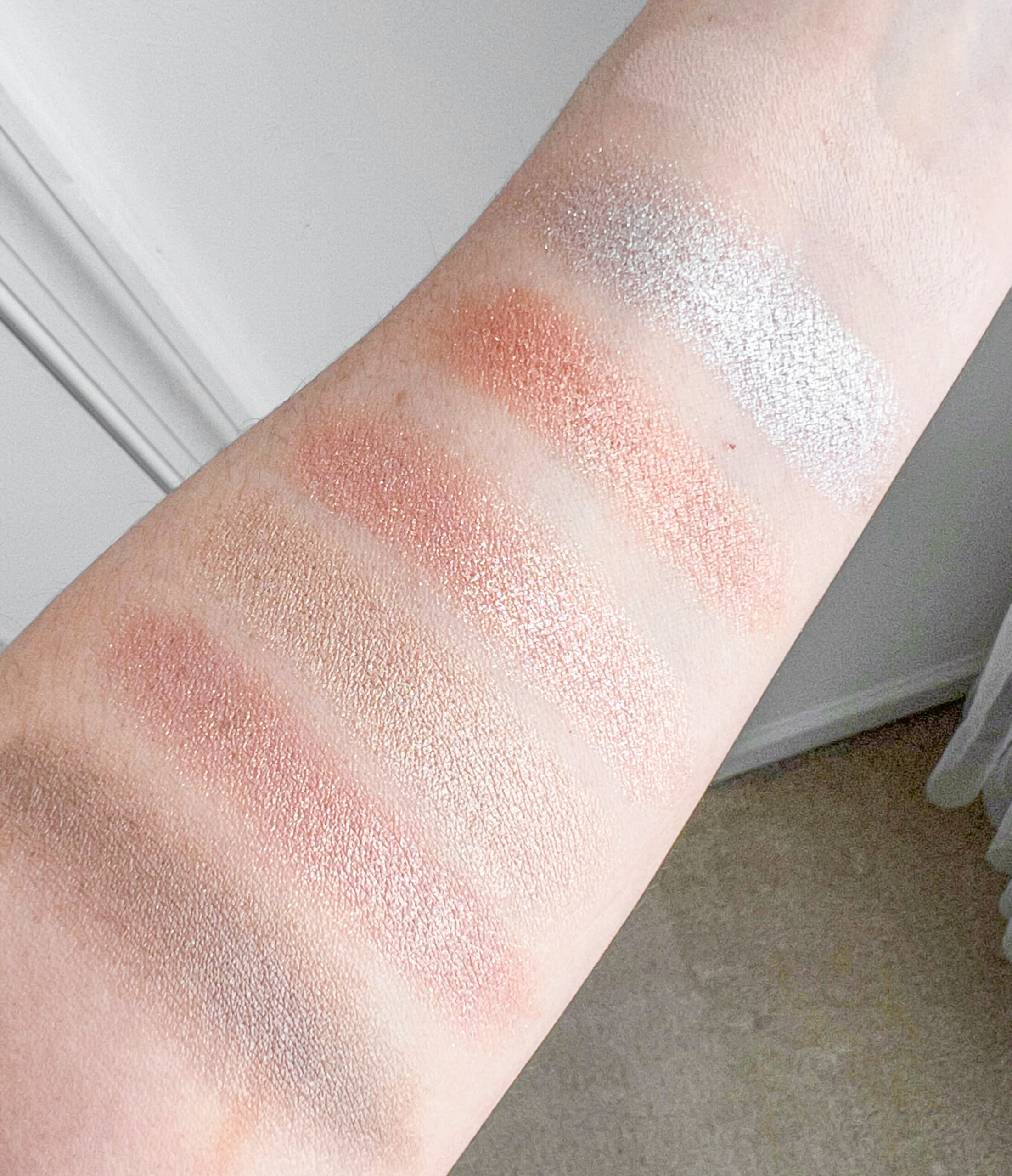 Swatches from left to right: Trinny London Eye2eye in Mystery, Jones Road Just a Sec in Topaz, Chantecaille Mermaid Shadow in Seashell, Hourglass Scattered Light Shadow in Reflect, Jones Road Best Eyeshadows in Rose Gold, So Pretty and Cream)
10. Hourglass Scattered Light Glitter Eye Shadow (my favorite color is Reflect) – Another formula that feels like both a powder and cream in one. These are VERY glittery and shimmery, though surprisingly have little to no fallout. I recommend applying to the lid by pressing on rather than swiping since the texture can be a tad chunky. However, I absolutely LOVE these eyeshadows and the payoff is so rich and the shimmer is bold and stunning. These are a true statement eyeshadow formula.
11. Jones Road Beauty The Best Eyeshadows (my favorite colors are Cream, So Pretty and Rose Gold) – It's hard to decide which Jones Road Beauty eyeshadow formula I love more. These are all powder and she has great range of shimmer, matte and satin shades in the most perfect neutral colors. From first look, the glitter/shimmer shades made me very nervous and I assumed there would be fallout all over my face. But thankfully that is not the case. I have tested them numerous times and end up with little to no fallout under the eyes and the shimmer payoff is STUNNING! Very glittery so if you want something subtle, stick to a matte or satin shade for daytime. The matte shades are super creamy, richly pigmented and blend easily.