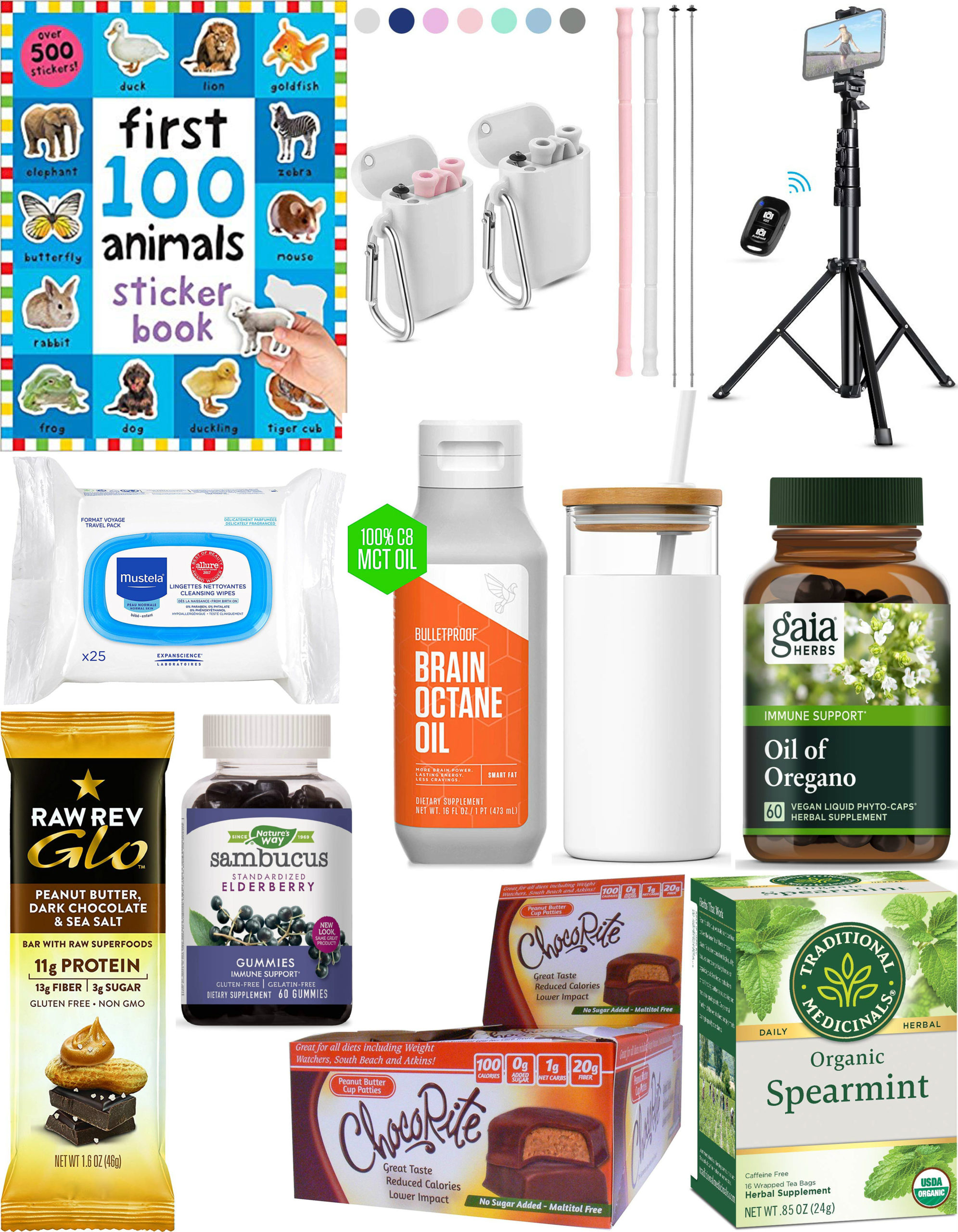 It's been awhile since my last Amazon post so I thought I would share some of the random things I bought recently.
1. Animal sticker book – I bought Miles these books a few months ago and he absolutely LOVES them! So I saw they had sticker books and bought him one for Christmas. It was a huge hit and he actually stays focused on them and trying to find the page where he should put the corresponding sticker.
2. Reusable straw with case – I wanted a straw that I could carry with me and this one is so compact and comes with its own carrying case!
3. iPhone tripod – I use this when I want to film a quick IGTV. It's easy to set up on my countertop but can also extend to 51″ tall.
4. Mustela face wipes – There are hands down THE best face/hands wipes for kids. I use them all the time for Miles and have been since he was an infant. They are the only hand wipes that get off every last bit of stickiness and smell amazing.
5. Brain Octane Oil – I used to drink Super Coffee all the time and really loved it because of it's high protein content and MCT oil. I've been making my coffee with my Nespresso machine lately and wanted to buy MCT oil to add in every morning. It helps keep me full and I have noticed that I am more focused afterwards. It also really helps to counteract the caffeine in the coffee and prevents me from getting the jitters (which I can get sometimes from caffeine).
6. Glass tumbler – I love my Hydro Flask but it doesn't fit in the cup holder in my car so I ordered this one which is great for around the house or on the go.
7. Oil of Oregano – The whole house was sick recently so I ordered these to help boost our immune system.
8. Raw Rev Glo bars – Sometimes I want a mid-afternoon snack and sweet treat all in one and I LOVE these protein bars.
9. Elderberry gummies – I have been taking Elderberry for years to help keep my immune system strong and prevent any possible colds. I swear they really do work and I noticed a huge difference in how often I got sick once I began taking them regularly.
10. Chocorite chocolates – Desserts are my weakness so I am always looking for healthier options. These taste just like peanut butter cups and are only 100 calories a pack!
11. Spearmint tea – I drink spearmint tea regularly because it really helps me reduce and prevent hormonal acne. I have no idea why but I saw a huge difference once I began drinking it daily. Breakouts virtually cleared up in just a few days and stayed away!