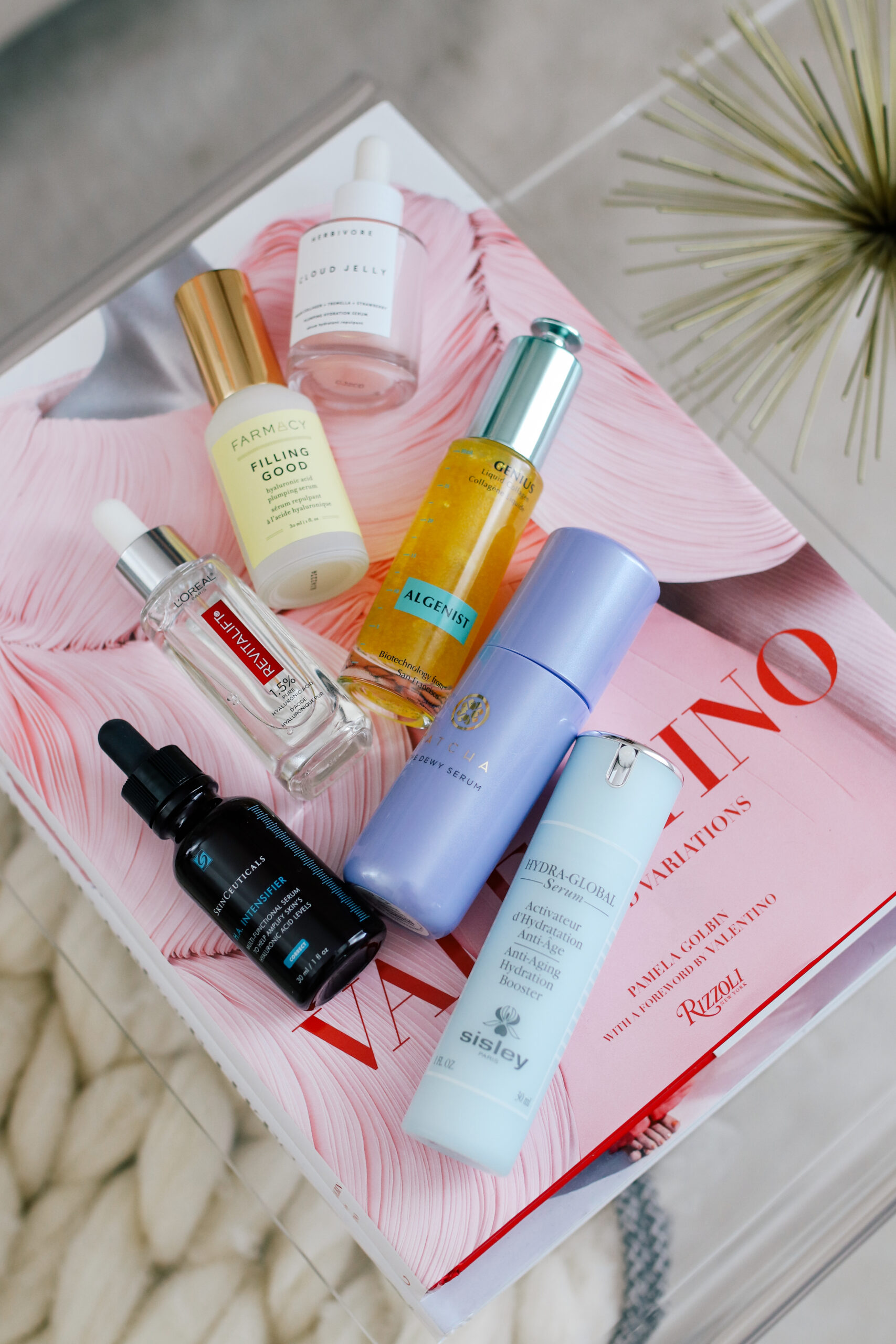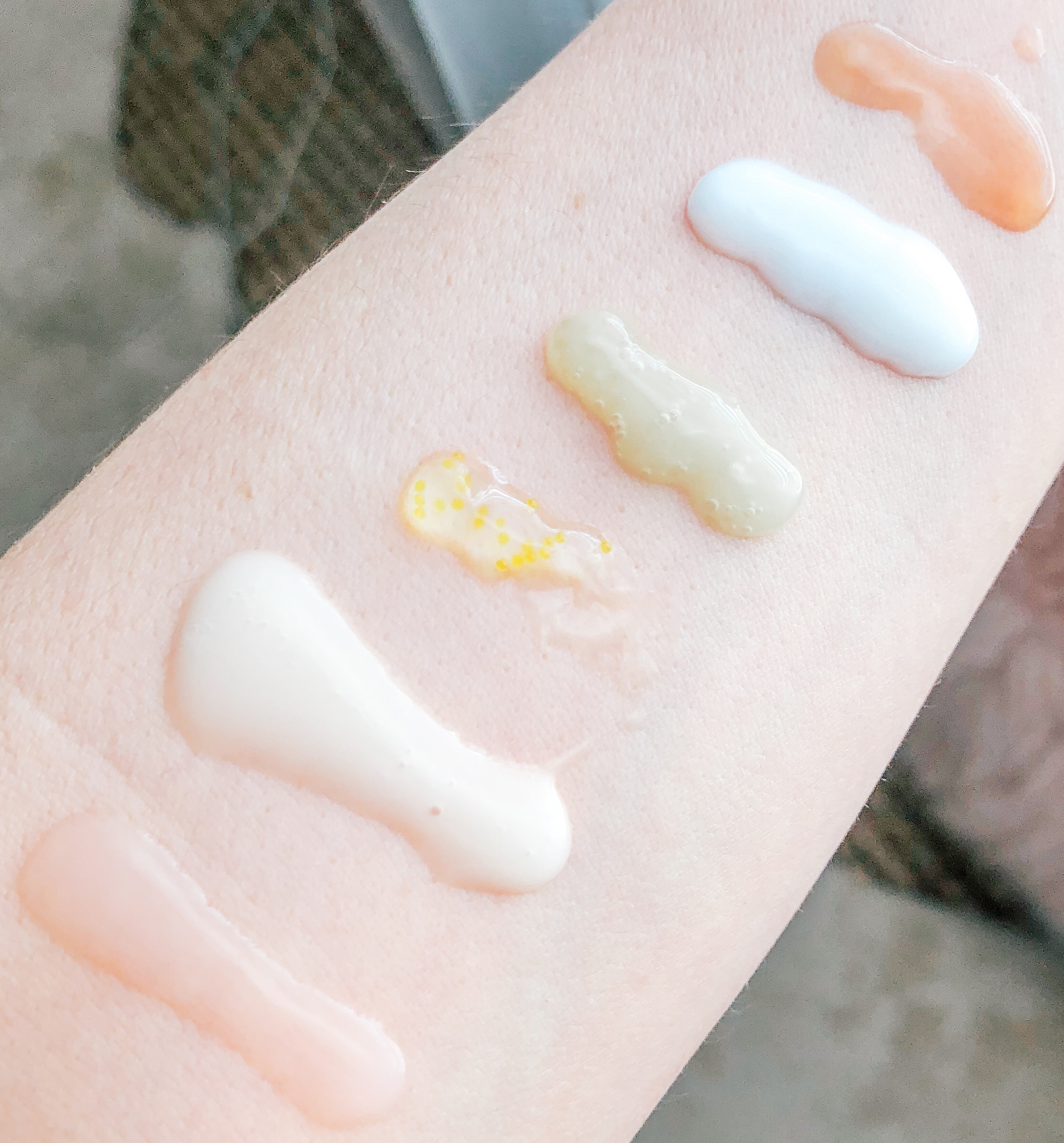 Left to right: Herbivore Cloud Jelly, Farmacy Filling Good, Algenist Liquid Collagen, Sisley Booster, Tatcha Dewy Serum and Skinceuticals H.A. Intensifier
There are a few key ingredients I always have in my skincare routine – vitamin C, retinol and hyaluronic acid. Hyaluronic Acid is naturally occurring in the skin and helps the skin retain moisture. As we age, we lose some of that hyaluronic acid and it can be seen on the skin in the form of fine lines, wrinkles, dullness and loss of elasticity. Adding hyaluronic acid in a serum form is the best way to help put some of that moisture back into the skin and minimize some of those signs of aging. Personally I love a hyaluronic acid serum that plumps as well as hydrates and I rounded up some of my tried and true staples as well as a few new discoveries that impressed me.
1. Sisley Anti-Aging Hydration Booster – This is more like a gel rather than a true serum, but I immediately fell in love with this as soon as I tried it. It delivers intense hydration and plumps the skin so nicely. Especially in the summer, I enjoy using this as a lightweight lotion if it's really hot. I follow it with my SPF and I'm good to go for the day.
2. Skinceuticals H.A. Intensifier – A definite holy grail and regular repurchase for me. This really helps to deliver immediate hydration and moisture to the surface of the skin, but also helps amplify hyaluronic acid levels in the skin. I notice a big difference in how firm, tight and nourished my skin feels when using this regularly. For a slightly less expensive option, the Hydrating B5 Gel is great too but not as plumping or firming in my opinion.
3. Tatcha Dewy Serum – A new addition to the Tatcha lineup, this plumping serum is great at delivering hydration but also resurfacing the skin with the addition of lactic acid. This makes it different from other hydrating and plumping serums and really gives you the benefits of two serums in one.
4. L'Oreal Revitalift 1.5% Pure Hyaluronic Acid Serum – For the price point, this serum is absolutely fantastic! It gives straight hydration and makes the fine lines on my face appear minimized almost instantly. I also notice that my skin doesn't lose moisture throughout the day when I'm using this and doesn't get as dehydrated.
5. Algenist Liquid Collagen – This serum doesn't contain hyaluronic acid or deliver as intensely on hydration as the others do but really helps with plumping and elasticity so I wanted to include it in the list. If you are looking for something that will firm, address fine lines and help give you some elasticity back in the skin, this is a great option!
6. Farmacy Filling Good serum – The newest addition to my lineup and an instant favorite!!! Wow, this serum is fantastic and really delivers on plumping almost immediately. You only need one pump for the face – a little goes a long way. It feels great on the skin, helps to hold on to every last bit of moisture, keeps my skin hydrated all day long and plumps. Basically everything I want it to do! And the price point is under $45 which is amazing.
7. Herbivore Cloud Jelly serum – To be honest, I have only tried this a few times so I can't speak to it's long term benefits but wanted to include it because the first impressions were really great. I love the texture which is a jelly-like serum that instantly absorbs. It actually doesn't contain hyaluronic acid but rather a natural alternative (Tremella mushroom) but I find that it does a nice job of helping to plump the skin and keep it hydrated throughout the day. I will keep you guys posted over the next few months as I test it further.
What is your favorite hydrating and/or plumping serum??