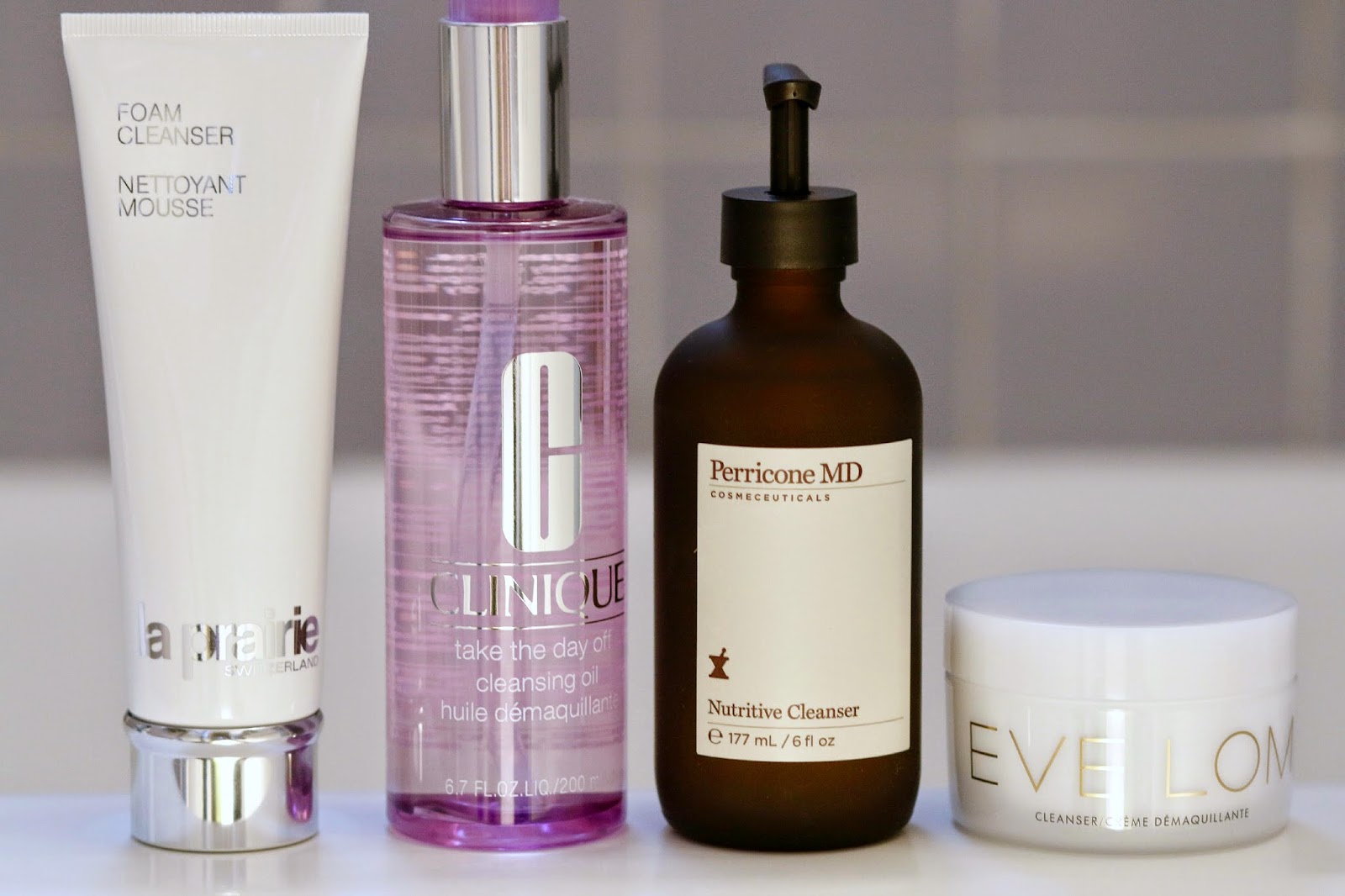 I just recently finished a few cleansers in the past couple weeks so it was the perfect time to usher in new ones to my routine.
This one
by NUDE and
this one
by Liz Earle were the last ones I finished and enjoyed a lot, so I was hopeful these would fare just as well.
1.
La Prairie Foam Cleanser
– I am not here for foam cleansers. I like milk, balms and oils but rarely do I choose a foam. They make my skin feel tight, dry and I do not like it. *stomps feet* That is
until
I tried the La Prairie Foam Cleanser. Holy moly, it is amazing. I had a suspicion that if anyone could do a foam cleanser the right way, La Prairie could. I tend to use it after removing my makeup, but I will say it does a great job removing makeup alone. It leaves my skin refreshed, hydrated and feeling wonderful. I am still not excited about foam cleansers but this one will forever be the exception and have a place in my skincare routine.
2.
Clinique Take the Day Off Cleansing Oil
– While I am not here for foaming cleansers, I am here for any and all cleansing oils. Occasionally I come across one here and there that don't measure up, but for the most part they are the most effective cleansers out there. Since I am already an avid user and fan of the
Clinique Take the Day Off Cleansing Balm
, I figured I would love this cleansing oil. And I do. It is lightweight and thin but does a stand up job of removing makeup and giving my skin a deep clean. I enjoy it so much that it has now reserved a place in my top 3 favorite cleansing oils. (
this one
and
this one
are my other faves)
3.
Perricone MD Nutritive Cleanser
– Another slightly foam-y cleanser that surprised me. This does not foam as much as the La Prairie for me still gets some good suds going. Being that it is from Perricone MD, you can count on it having a ton of anti-aging benefits even for a cleanser. The most noticeable result I have found since using is how firm and taut my skin feels after washing, and not in a dry or tight way. I find that it does not completely remove my makeup, so I prefer to use it after an oil or balm. But for my morning routine, it has become quite a delight to wake up and use.
4.
Eve Lom Cleanser
– This is a cult classic and you either love it or hate it. And yes, I love it. I know the thick grainy texture can be off putting for some people but I adore it and find that it makes my skin unbelievably soft. Some cleansers are great at only cleansing the skin but fall short in the makeup removal area but this one does both and does it well. I went to the SpaceNK website and watched
the video
demonstrating the Eve Lom Facial Technique which uses a muslin cloth to remove the cleanser. I have adopted this method and find that the few seconds I leave the hot muslin cloth on my face makes all the difference. It is a bit of a splurge but I do think of this acts as an exfoliator
and
cleanser so to me it justifies the price a bit more. Either way, I highly recommend grabbing a sample if you can and giving it a try. I think your skin will thank me.