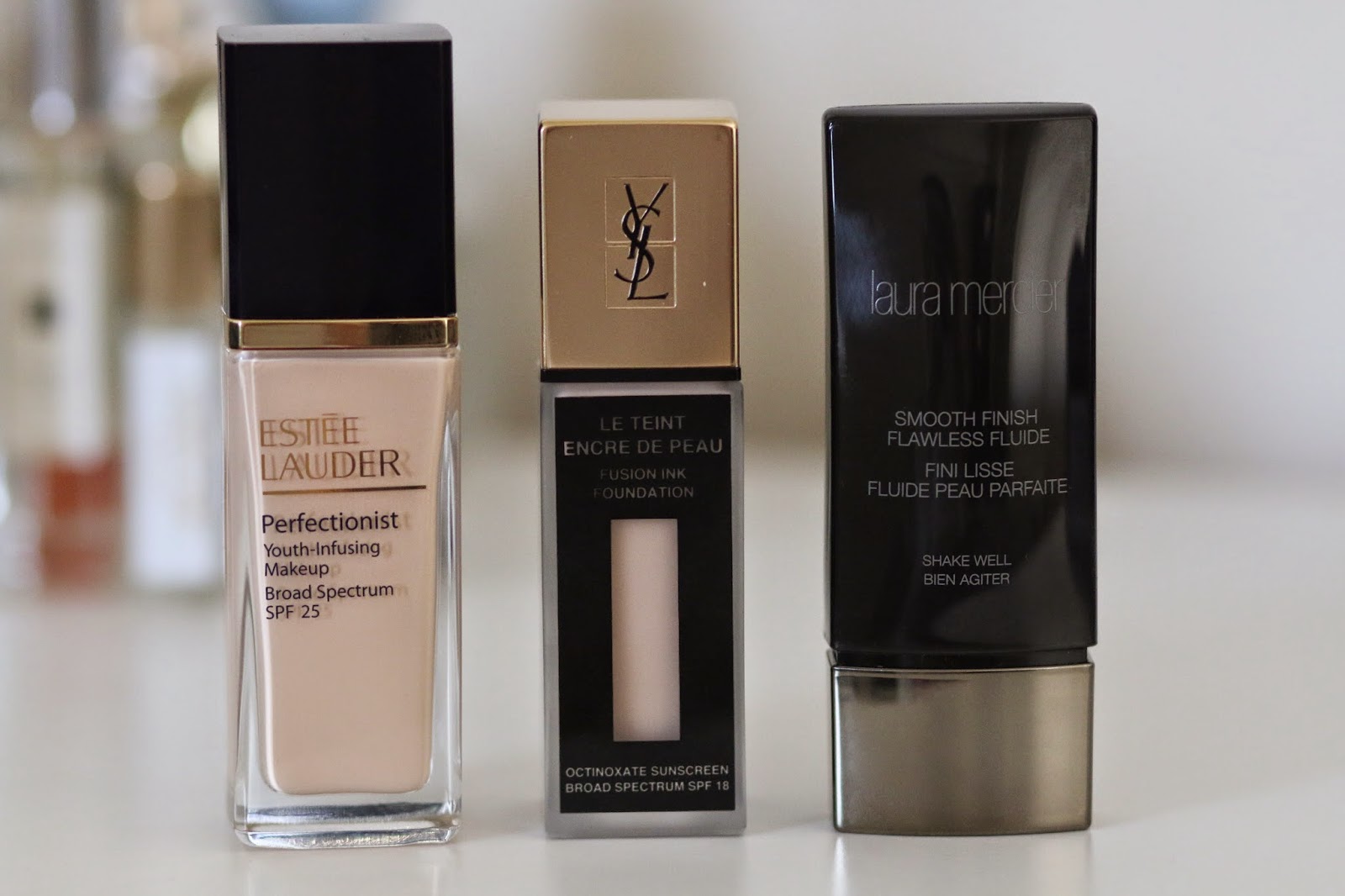 There have been so many new foundation launches recently that I can hardly keep up. I can't try them all, but I picked the three that interested me the most. I know everyone has been chatting about the new
Tom Ford foundation
, and there is a lot of buzz about a new Dior one coming out this fall, but these are the three that I truly had a desire to try.
1.
Estee Lauder Perfectionist Youth-Infusing Makeup
(in shade 1N1) – On the love/like scale, this fell onto the "like" side for me. It does have a similar texture to the
YSL
and Laura
Mercier
, and applied a bit sheer. I was able to build it up, but had to be careful in certain spots that it didn't pull or cake up. It is a bit more hydrating than I prefer so I think this would be a great foundation for those with dry skin. However, when set with powder, it did wear well for most of the day. I did find that I started to get oily around the 4-5 hour mark, so powder touch ups are necessary for me when wearing this foundation. The color was ok but skewed a bit too pink for me though I bought one with a neutral undertone. I am going to continue to play with it using brushes, sponges and primers to see if I can find a combination that works the best. Stay tuned over the next few weeks and I will give updates on my
Instagram
.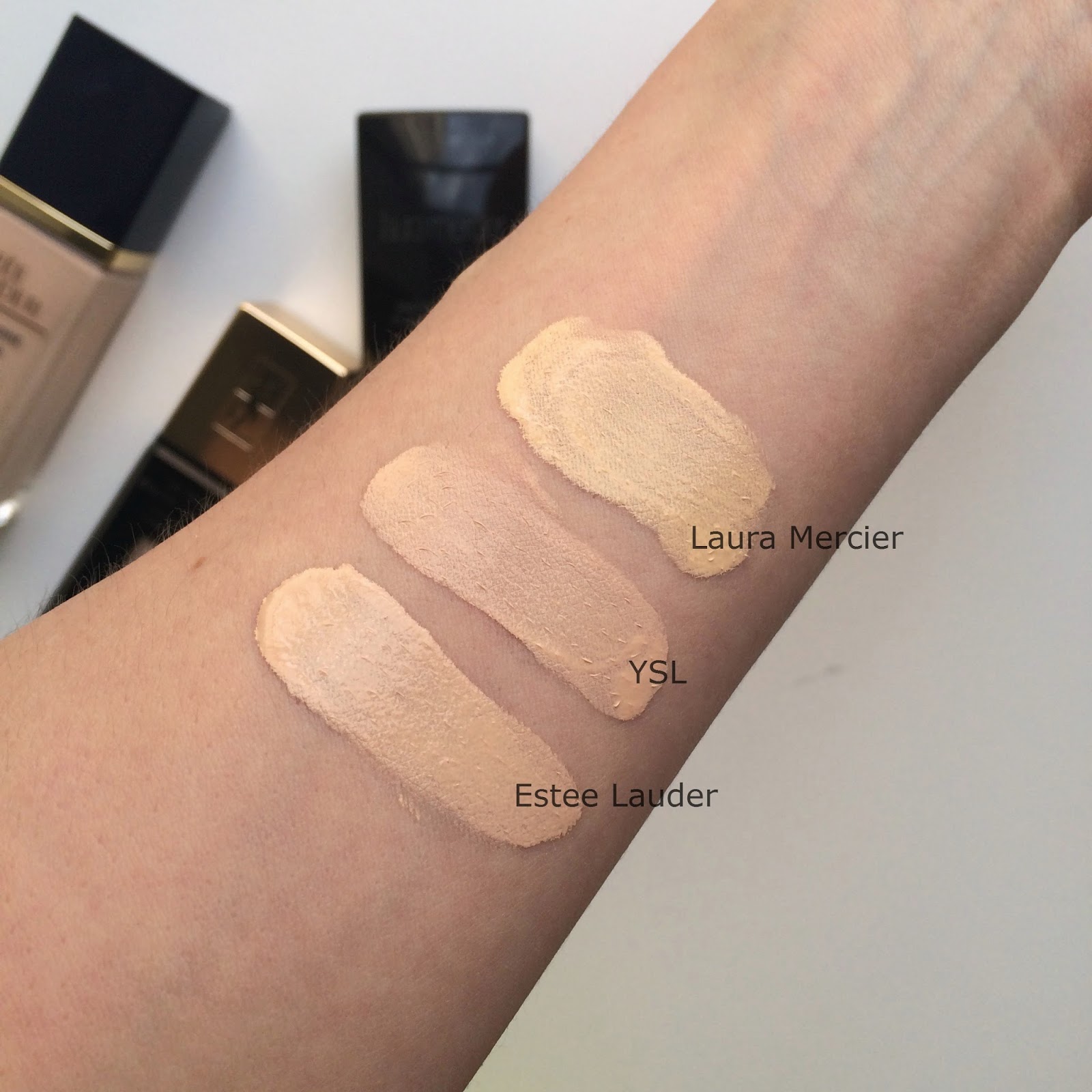 2.
YSL Fusion Ink
(in shade B10) – I bought this without knowing anything about it other than the media buzz. There was said to be a 12,000 person waiting list in the UK for it, which just about blew my mind. 12,000? For a foundation? Even
I
am not that much of a beauty lover, but still I bought it on the first (or possibly second) day it launched so I guess I shouldn't be throwing those stones in my glass house. Anyhoo….onto the formula and my thoughts. It is exactly like the Armani Maestro as many of you told me it would be. A thin, oily formula that dries down instantly after application. And I sadly was just not a fan. I liked the Maestro initially, but after a few months it became hit or miss for me. This, unfortunately was just a miss. I got super oily a hour or two after application, it was hard to blend and  it pulled on dry patches that I didn't even have. I rarely do this, but I actually ended up returning it, which should tell you a lot. Maybe it could work for someone else, but it was not my cup of tea.
3.
Laura Mercier Smooth Finish Flawless Fluide
(in shade Creme) – Unlike the YSL foundation, I had done my research on this one. I swatched it in store, read reviews and found my correct shade. The formula felt
very
similar to the YSL/Armani texture that can be hit or miss, but I am happy to report that it is a total HIT!!! OMG – do I love this foundation! It is a bit thicker than the YSL, and blends like a dream. No pulling on dry patches, just enough coverage, a natural matte finish and it looks like second skin. I did get oily halfway through the day but nothing that my trusty
By Terry powder
couldn't fix. The finish is absolutely magnificent, the formula is oil free and  great for all skin types – it's like everything I could ever want wrapped up into one foundation. If you are on the fence with this one, I urge you to get off and pick this up. Like now.
Have you tried any of these foundations? What are your thoughts?