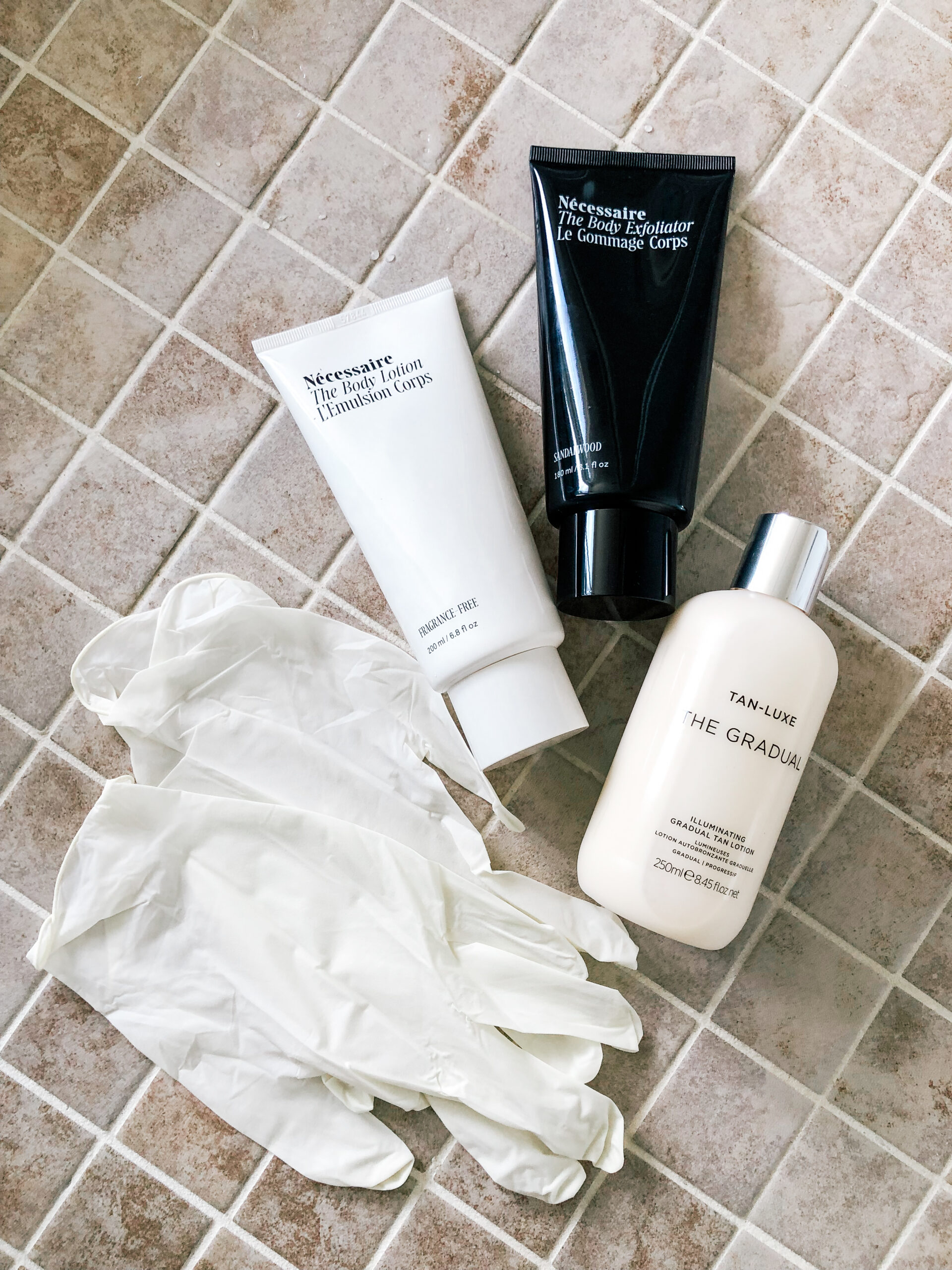 Self tanning season is here and I've started back on my routine so I thought I would share my must have products. I typically self tan at night and then rinse it off the next morning in the shower. I prefer to keep my tan very subtle and minimal because I am so fair and you can see streaking easily if I don't do it correctly. So I will dilute my self tan with body lotion which means it takes longer to develop but the result is worth it for me. I will usually apply my self tan 2-3 nights in row in order to build up the color and then it lasts about a week. I continue to apply body lotion every night which helps keep my tan looking smooth and as a result it fades evenly and gradually. Here are my must have self tanning favorites:
1. Necessaire The Body Lotion – This is my favorite body lotion to use with my self tanners. It's unscented, the perfect texture and absorbs instantly. I also use it without self tanner and love how soft it makes my skin.
2. Necessaire The Body Exfoliator – I typically will exfoliate right before I apply self tanner or the day before. I love the texture of this exfoliator and it leaves my skin sooooo smooth!
3. Tan Luxe The Gradual – By far my favorite self tanner that I have ever tried!!! It gives a subtle glow and I've never had an issue with streaking. Even though it's light, I still like to dilute it with body lotion to ensure that I never get a streak and my self tan goes on much more evenly. It will take me 2-3 days of applying it to build up the color but I would rather have it that way than deal with patchiness or streaking. I also notice that when my self tan fades, it fades evenly and gradually. I definitely think this is from blending it with the body lotion. I usually apply this at night and it never gets on my pajamas or sheets.
4. Rubber gloves – This is my newest discovery but I am not sure I can ever go back to using a tanning mitt. I use much less product and am able to apply it so much easier. Because I don't go too dark with my self tanner, I actually just don't apply any to my hands so there is no issue when I take off the gloves, but I'm sure you can just remove one glove and apply any excess to the backs of your hands with this technique. If you have not yet tried rubber gloves, I highly recommend!