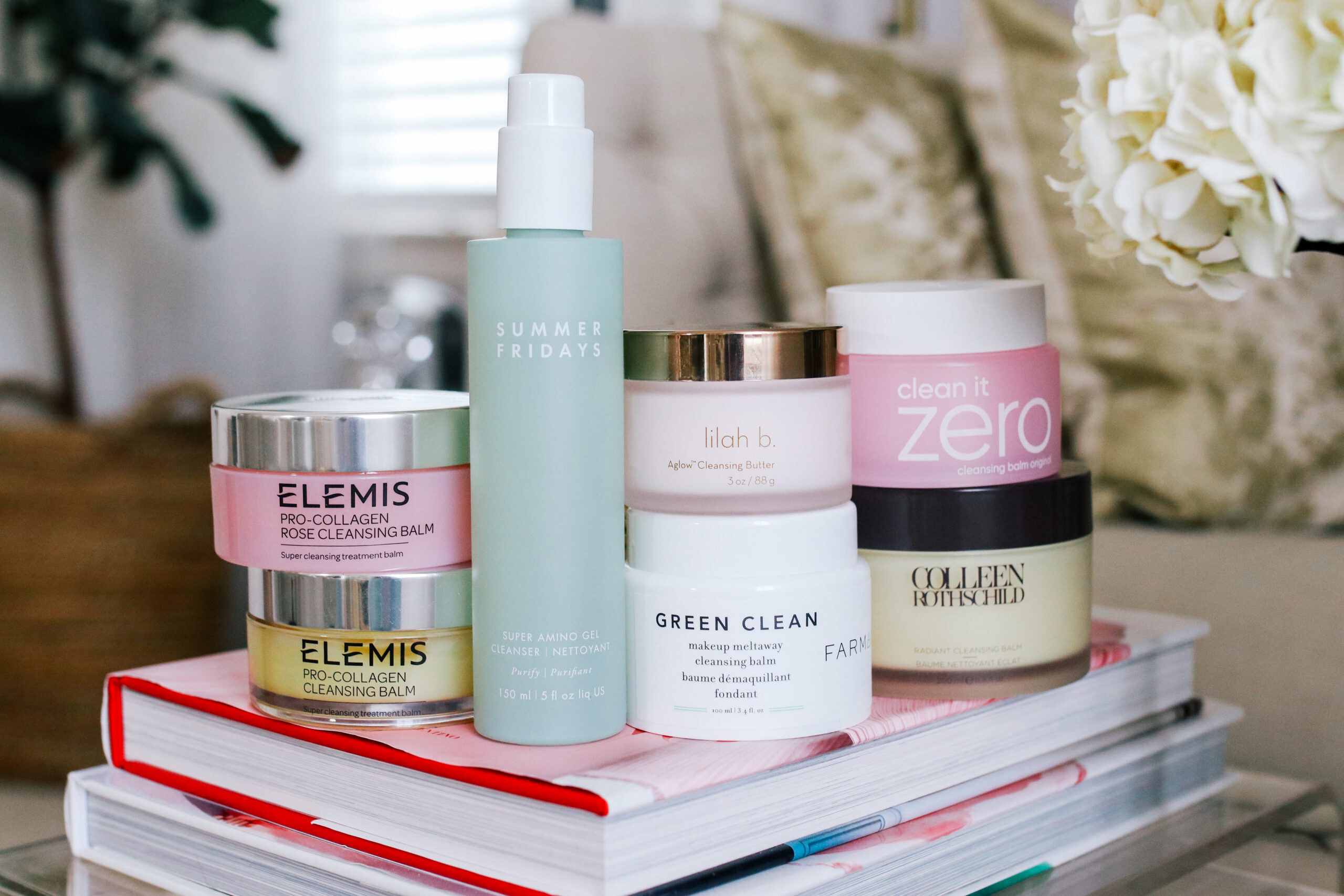 I can't believe I haven't done a post on this before because it's one of my favorite things to talk about – cleansers! These are six of my favorite cleansers that remove makeup and sunscreen easily and effortlessly.
1. Elemis Pro-Collagen Cleansing Balm (regular and the rose version) – My tried and true. I absolutely LOVE the Elemis cleansing balm and have been using 6+ years. It's amazing at removing makeup, nourishing the skin and leaving it feeling smooth, supple and hydrated. There is also a new fragrance-free version that JUST LAUNCHED! I can't wait to try it!
2. Summer Friday Super Amino Gel Cleanser – I never thought I would include a gel cleanser in this list because I mainly reach for cleansing balms and oils when I want to remove my makeup. However this cleanser from Summer Fridays is amazing! It manages to remove every last bit of makeup effortlessly. So if you are not a fan of cleansing balms or oils, this is a great option.
3. Farmacy Green Clean Cleansing Balm – Another long time favorite. The texture is a bit stiffer and less oily than the Elemis balm, but it does just as good of a job (if not a tad bit better) at cutting through even the longest wearing makeup formulas.
4. Lilah B. Cleansing Butter – I discovered this last year and instantly fell in love. The texture is very similar to the Farmacy Green Clean and feels so creamy on the skin. After you add water, it turns to a soft milk and rinses right away.
5. Clean It Zero Cleansing Balm – For a cleansing balm at a VERY good price point (under $20), this one is excellent. Similar texture to the Farmacy Green Clean and Lilah B. Cleansing Butter, the Clean It Zero Balm removes all my makeup without any difficulty. Highly recommend giving this one a try!
6. Colleen Rothschild Radiant Cleansing Balm – Another long time favorite – next to the Elemis Balm, I have been using this one the longest. It's so creamy and removes makeup easily but I also love massaging it into the skin for an extra minute. I then use a warm washcloth to remove it and my skin is left glowing and so soft.
These 6 cleansers are some of my tried and true, but there are a few other cleansers I really love for removing makeup and I will link them in the widgets below.
What is your favorite cleanser to remove makeup? Let me know in the comments so I can try it!!