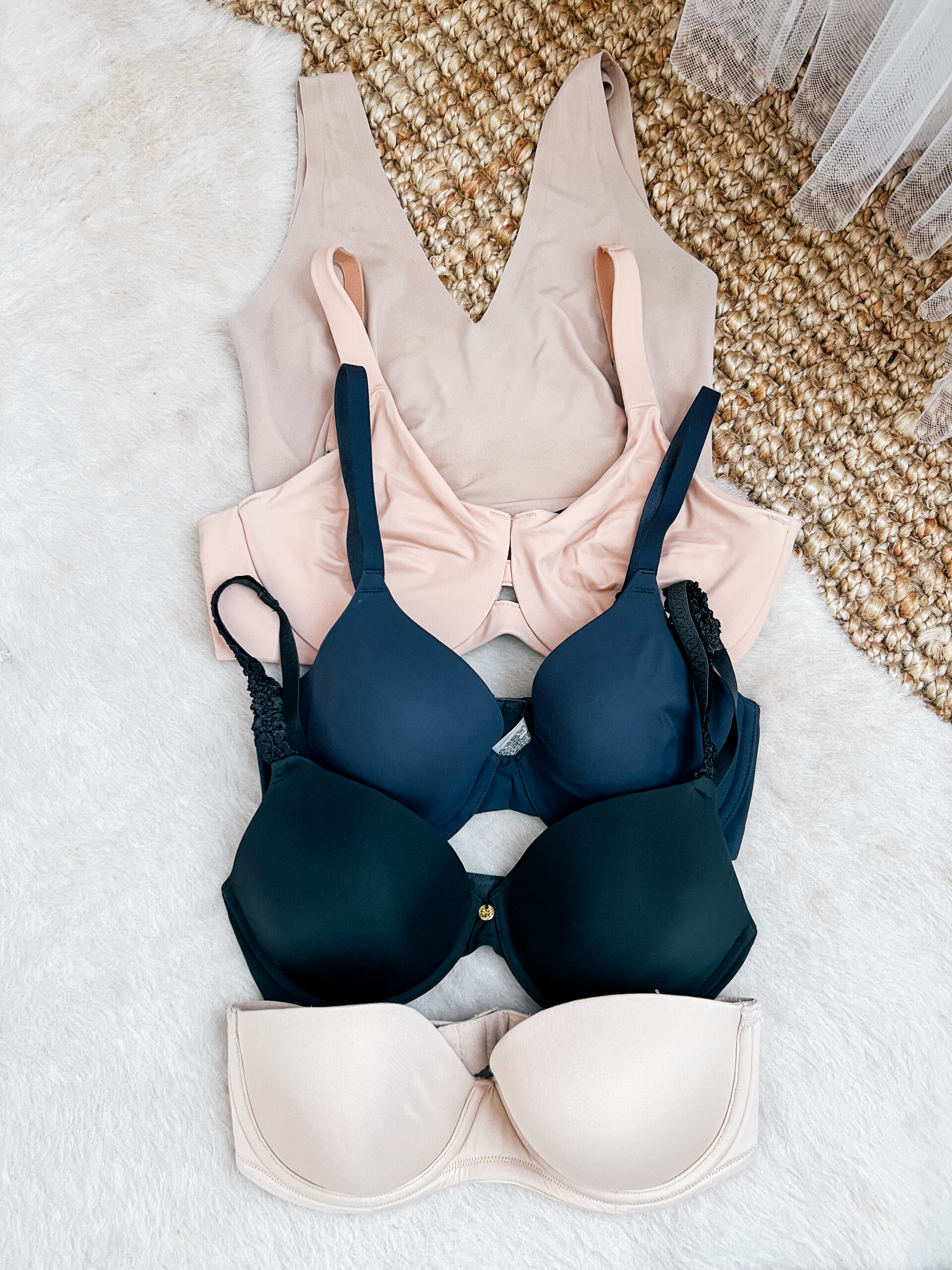 I realized I have not done a blog post on my favorite bras so I thought I would share my absolute favorite styles that are the most comfortable AND give great support. I do have more bras than this and like other bras, but these are ones that I can't be without and will buy over and over. For reference, I am typically either a 32DD or 32E in most bras.
1. True & Co. True Body V-Neck Wireless Bra – I first tried this wireless bra a few years ago during the Nordstrom Anniversary sale and fell in love with it immediately. I have tried other wireless styles from True & Co, but always go back to this one as a favorite. I wear one every night to sleep in and love how comfortable they are and still manage to give good support. For me this is not a bra I would wear out and about everyday because I need underwire, but this is the bra that I wear nonstop when I'm home. In this particular style, I wear a S.
2. Spanx Low Profile Minimizer Bra – This is the newest bra I added to my favorites list – it is SOOO AMAZING! It's a minimizer style so I personally love to wear this with button down shirts and tops that might be tight across the bust. Even though it is great at minimizing, I find this bra so comfortable to wear. As far as giving shape, this is the not the bra for that and does slightly smush everything down (that's the best way I can think to describe it LOL) but as something with a larger chest, a minimizer bra is a must for me and this one is perfect.
3. Wacoal Comfort First Underwire T-Shirt Bra – It's the band that goes around my ribcage which makes this an immediate favorite. I know that sounds so particular but that band is crucial to how comfortable a bra can be. The band is so stretchy and soft that I almost forget that I am wearing an underwire bra. I also like that the straps are quite thin but still manages to give amazing support. I prefer a thinner bra strap when wearing a tank top, but often the downside of a thinner strap is less overall support. But that is not the case for this bra and I think the super fitted/stretchy band is a big part of how much support that bra gives.
4. Natori Pure Luxe Underwire T-Shirt Bra – I own this bra in multiple colors and have been wearing it for years and years. It's supportive, smoothing, comfortable and looks great under clothes. The straps are a bit wide for a tank top, but the rest of the bra fits so nicely and nothing spills out. Every year during the Nordstrom Anniversary Sale, I will buy another because I wear the ones I have so often.
5. Wacoal Red Carpet Strapless Bra – There is a reason this strapless bra is a cult classic – it is truly the best! It stays up better than any I've ever tried and I will even sometimes forget I am wearing a strapless bra. THAT is how comfortable it is. While it does come in all sizes, this is a must have for those with a larger chest and who struggle with finding a strapless bra to stay put.