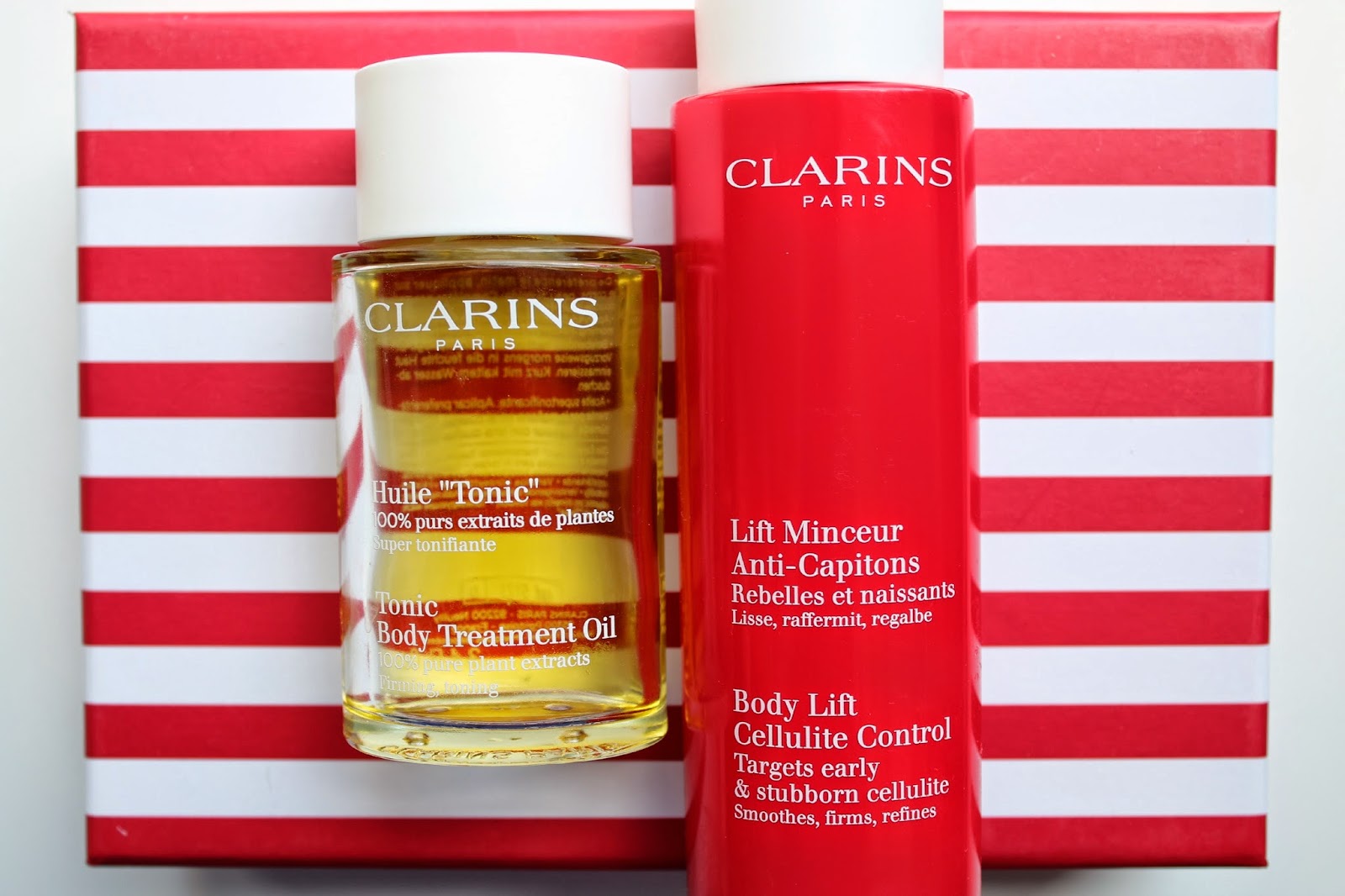 I have cellulite. There I said it. It's nothing to be ashamed of and I have had it almost my entire life. Even when I was a figure skater in my teens, skating 8+ hours a day, I still had cellulite. It's not something I obsess over to be honest because that would be pointless, but I am a beauty product fanatic and have been wanting to try both of these products from Clarins for quite some time. I know there are other more permanent treatments out there for cellulite such as wrap treatments, lasers or heat technology (I've been reading about
this one
lately), but I am not sure I want to take it to that level right now. But never say never, I
do
love a good beauty treatment. But back to the less permanent options, I was curious after Clarins sent these products over to see if I would truly notice any difference. Who am I to turn down an opportunity for a firmer (looking) backside??
1.
Clarins Tonic Body Treatment Oil
– This oil is ideally designed to help skin firmness and prevent stretch marks, i.e. during pregnancy. As I am not with child, the second feature was not necessarily designed for my needs, but the skin firming aspect was the initial appeal. I should first mention how to use the oil because it can be a bit confusing. I typically apply to my thighs, legs and stomach in the shower after exfoliating and/or cleansing, rub into the skin and then rinse it off with a cold shower. The very first thing I noticed after using the oil was the immediate decrease in bloating and swelling that my legs suffer from in the summer. In addition to helping with water retention, it is incredibly hydrating and nourishing to my skin. I did see a slight difference in firmness after using a few days, but that was nothing compared to when I combined it with the Body Lift Cellulite Control. That is when I
really
saw a difference.
2.
Clarins Body Lift Cellulite Control
– I will preface this review by saying that any results I had were temporary. It truly helped smooth the appearance of areas that had cellulite, but my skin went back to normal as soon as I discontinued use. But that being said, I do
love
this product. My skin looked smoother and tighter after just two days, and when added on top of the Tonic Body Treatment Oil – wow!! I was walking around with the thighs of a 20 yr old. Ok, maybe that's a bit of a stretch, but seriously the combination of the two made a serious difference in my thighs' appearance. I probably wouldn't use this product all year round, however I can say with certainty that it will be a staple each and every summer going forward. I had heard for years that nobody does body contour products like Clarins, and you know what? "They" were right. Both of these products are amazing and now I wonder why it took me so long to try them! The more you know….
What are some of your favorite body firming products? Tell me in the comments below!
Shop more Clarins body products