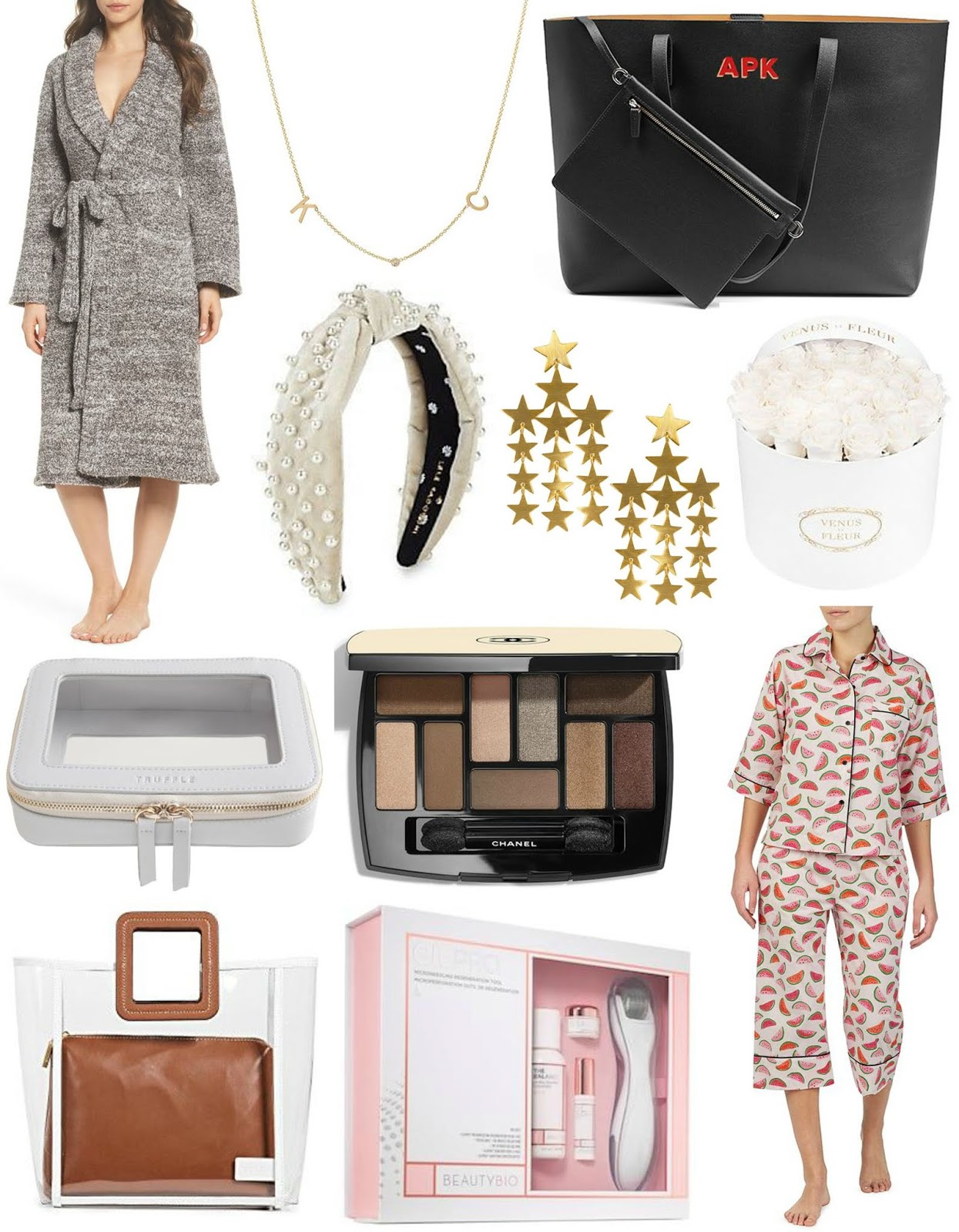 It felt like Easter was yesterday and then I looked at the calendar and realized Mother's Day is this coming weekend. Yowza! Spring seems to be flying by. I thought I would share some great Mother's Day gift ideas in today's post.
1.
Robe
– I own this robe and have convinced so many of my friends to get it as well (and they love it too!). It is the fuzziest and coziest thing you will ever wear.
2.
Initial necklace
– This dainty necklace is so chic and is perfect for putting your kids' initials on it.
3.
Monogrammed tote
– A classic black tote is a wardrobe essential and this one is able to be monogrammed! I love adding touches of personalization to a gift to make it more special.
4.
Pearl headband
– The headband trend is big right now and the pearl embellished ones are so beautiful.
5.
Star earrings
–
Lisi Lerch
is my go-to for statement earrings and each pair can be customized for pierced or non-pierced ears. These star earrings are so cute for summer.
6.
Eternity roses
– Many of my friends have received these roses as gifts and they truly do last for an entire year! As someone who loves flowers, these would be a gift that I would love to receive.
7.
Cosmetics case
– I've seen these cosmetics cases all over social media and think they look so chic. Great for travel or using at home.
8.
Chanel eyeshadow palette
– I have this palette and it is worth every penny. Such a great present for the luxury beauty lover!
9.
Clear bag
– Clear bags are so popular right now and this brand makes some of the best. I love the white piping with the brown accents which makes it great for wearing year round.
10.
Microneedling tool
– This has been on my wish list for a long time and I have heard so many great things about it. If anyone in your life is a skincare lover, this would be the perfect mother's day gift.
11.
Pajama set
– This is my favorite brand of pajamas and it's all I ever ask for when any holiday comes around. They fit so well, I love the prints and most of them are cropped which means I never have to worry about the pants being too long (#shortinseamproblems)!