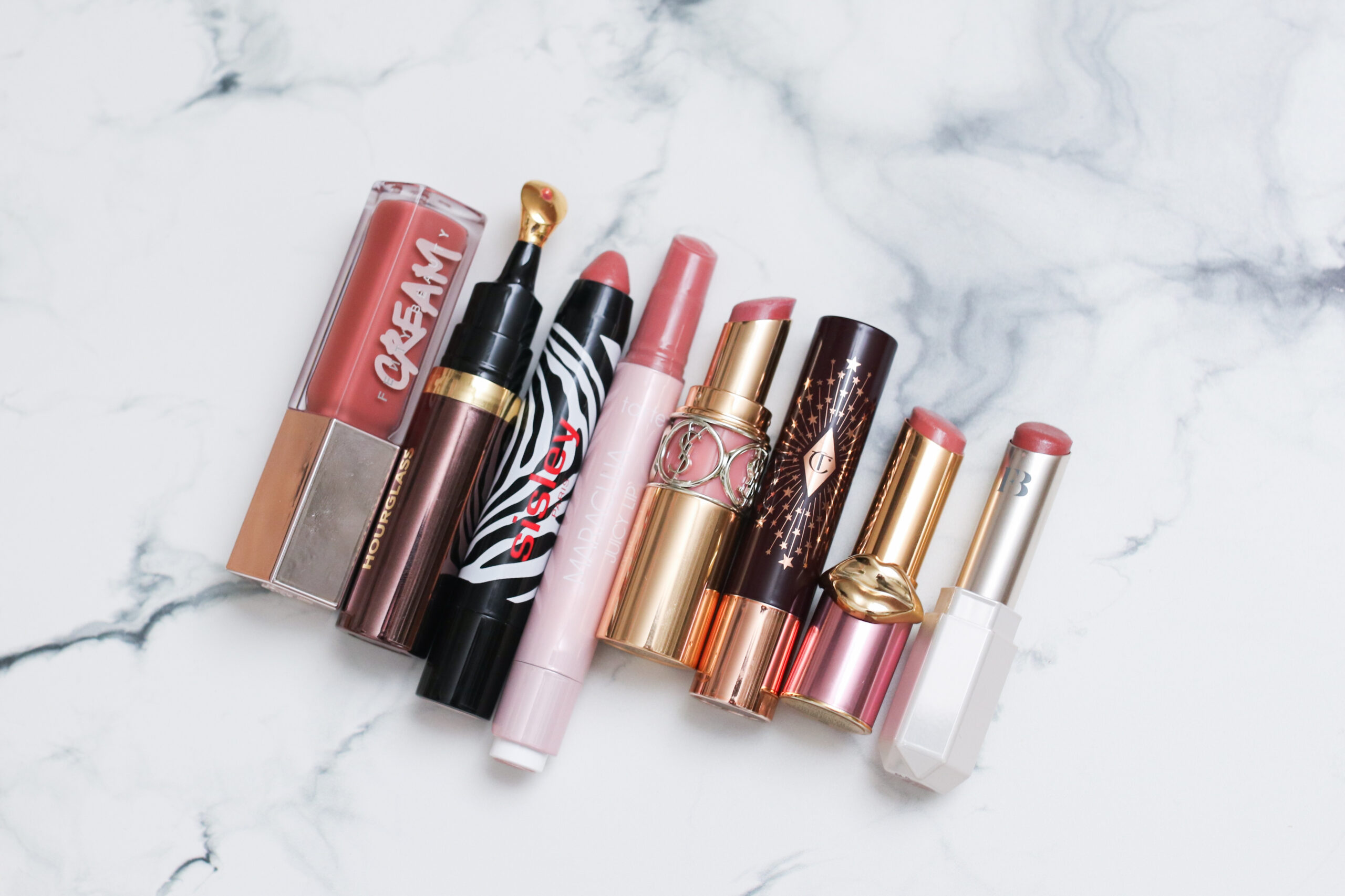 This post was a reader request and I thought it was a great suggestion! I have accumulated quite a few great lipstick formulas with insane moisturizing properties so I am sharing all of them in today's post. I will be trying each of them on over on my Instagram Insta-stories so be sure to head over there to watch. I will then save it in a highlight so you can reference back.
1. Fenty Beauty Gloss Bomb Cream (this shade is Fenty Glow) – This is a thick gloss with a gorgeous creamy finish but it does not have the stickiness or tackiness that most glosses have. It's super moisturizing and has great pigment!
2. Hourglass Lip Oil (this shade is Cameo) – If you are looking for a lip color that feels like a treatment, this is the one to get. It's incredibly nourishing on the lips but still gives intense color payoff.
3. Sisley Phyto Lip Twist (this shade is #11) – Out of all my picks, this is the driest formula but still creamier and more hydrating than most lipsticks and lip pencils. I also love the application of this as a jumbo crayon – it makes the application foolproof.
4. Tarte Maracuja Juicy Lip (this shade is Rose) – My absolute favorite out of the entire bunch! The formula is so lovely and keeps my lips hydrated all day long. It also gives medium coverage so it gives great color while keeping your lips feeling great.
5. YSL Rouge Volupte Shine (this shade is #9) – This formula is quite sheer which is great if you don't want a ton of color. Because of that it won't be super long lasting but still a great lip stick/balm hybrid that will keep you lips nourished.
6. Charlotte Tilbury Hyaluronic Happikiss (this is the shade Crystal Happikiss) – This is the newest addition to my collection and I really fell in love with how wonderful this formula is on the lips. Feels like a traditional balm but with a ton of color!
7. Pat McGrath Divine Lip Shine (this shade is Nude Venus) – Definitely on the sheerer side of this bunch, but I LOVE this color and formula.
8. Fenty Beauty Slip Shine (this shade is Retro Rose) – The Slip Shine formula is closer to a true lipstick in how it applies and how much pigment it has, but the texture is super nourishing and hydrating as well.