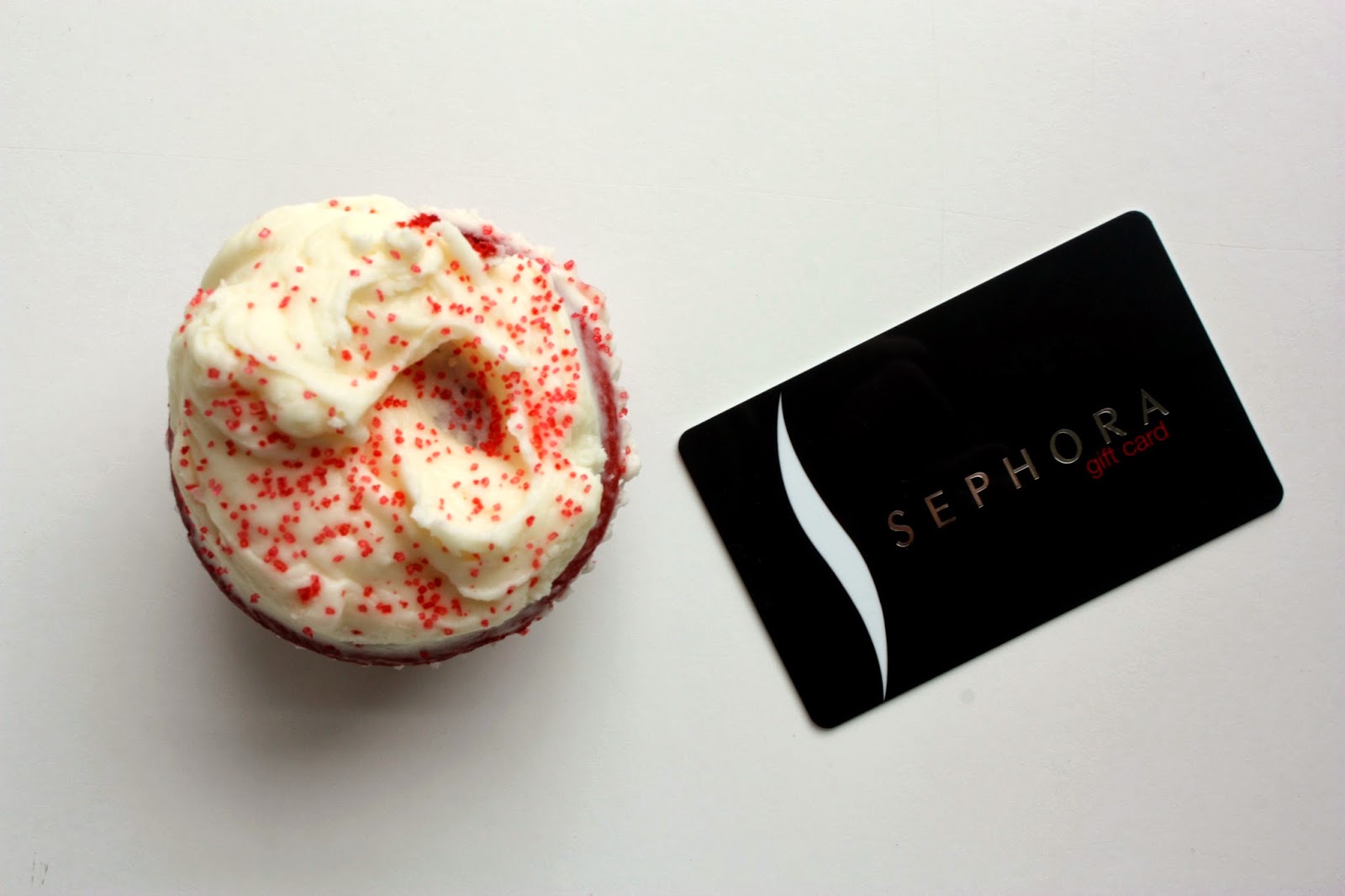 It's my two year blogging anniversary – and while I felt a proper lop-sided and uneven (but delicious) red velvet cupcake was in order to celebrate, it was also the exact right time for a giveaway!!! Hooray!!! As I take a look back over my two years, a few things come to mind:
1. Wow – my blog, photos and content have come a ridiculously long way (and still have much farther to go but baby steps).
2.  I had no idea that I would get such joy and pride from sharing my thoughts on makeup or an outfit.  I mean, they are the two most superficial topics ever – but sharing my excitement over great items with such a passionate and supportive community that exists within the blogosphere (making up words now) is so rewarding.  Who knew?
3. Swatching is hard work ya'll.  Stupid lighting, camera angles, arm hair, freckles – I could go on and on but you get my drift. 
4. Blogging can become a full time job while still having a full time job.  I have a 9-5 gig that occupies my days, but I was a tad naive as to the time this little puppy would need outside of my working girl life.  Nights, weekends, days off – I am a blogging machine.  But I wouldn't have it any other way – I find the time even if it means a few less hours of sleep (hello?! I have enough concealer to fake a restful night).
5. There is a whole community of gals and guys that are just like me in regards to my love (read obsession) of beauty and fashion.  And while we are often just talking about "things", those interactions can be so meaningful – and true bonds can be formed often across states, countries and even continents, and for that I am so grateful and appreciative.  Cue mushy and corny Maree. 
So to celebrate my blog-iversary in the proper fashion, I am ending it with a GIVEAWAY!!! Typically I pick the products for the giveaway (ugh, I'm so bossy), but this time I thought I would let you have free reign to pick what you love from Sephora with a $75 gift card! YAY!!! Below are the details to enter.  Good Luck!!! 
3.  Leave a comment below this post letting me know what you would buy with the gift card!!  Please be sure to include you twitter handle for reference. 
4.  The winner must have a valid email address to be contacted.  
5.  The contest ends February 27th and the winner will be announced on my blog on February 28th, so be sure to check back.
Items featured are not affiliated with any brand, no compensation given and have been purchased by me.  Giveaway open to US residents only, and the winner will be selected at random.  Good Luck!