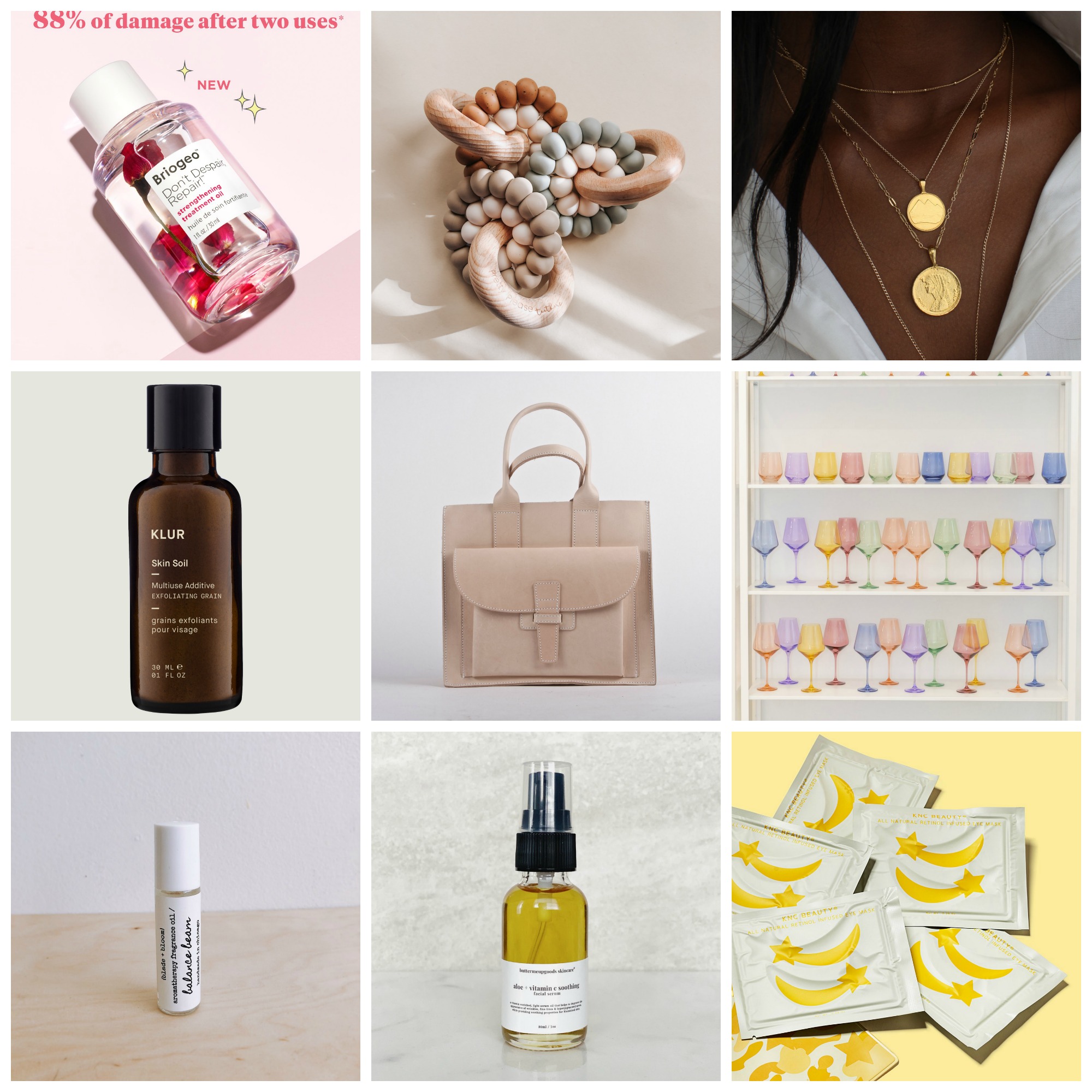 I thought I would dedicate today's Friday Finds post to all Black owned businesses. I had many of my readers send in their favorites + I'm sharing new brands I discovered that are so incredible and impressive!
1. Butter Me Up Goods Skincare – I love a sweet scent and this brand has scented body butters that sound amazing. Coconut caramel cluster and lemon pound cake just to name a few as well as a full line of facial skincare, body care and men's products.
2. Miss Jessie's Natural Hair Products – This brand was recommended over and over again – so many of you use and love their hair products!
3. KNC beauty – Between the lip masks and the shooting star eye masks, I really adore this brand's aesthetic.
4. Golde – A beauty and wellness brand that has both face masks and delicious superfood latte blends. The Cacao Tumeric Latte Blend sounds like a healthier hot chocolate option!
5. Klur – A skincare brand that makes beautifully packaged oils and serums. Their Elements of Comfort Body Oil is one of their products that I've heard great things about.
6. Blade + Bloom – A 100% natural plant-based skincare + wellness brand designed for all skin. One of my readers told me she loves this brand and was definitely worth checking out!
7. Vicky Cakes Pancake Mix – I love a good pancake mix and this one is vegan and non-dairy. The chocolate chip buttermilk one seems like something that Miles would go crazy for.
8. Agnes Baddoo – If you are looking for your next splurge-worthy handbag, these bags are absolutely stunning! So classic, beautifully made and timeless.
9. Estelle – These hand-blown colored glassware and cake stands are gorgeous. Can you imagine hosting your next dinner party or brunch with these wine glasses? The color options are so unique and fun.
10. Sensual Candle Co – For those that love a chic candle to burn, these candles are minimalist perfection.
11. Briogeo – This is a pretty well-known brand that you can find at Sephora and the Don't Despair Repair Hair Mask and Charcoal Shampoo are an absolute must have for my hair! Both have worked wonders for me. I did a full review on both just a few days ago.
12. Omiwoods – A jewelry brand made with fair-trade African gold and globally sourced fine metals. The Egyptian Coin Necklace Stack is perfect for those that love a layered necklace look which is so on trend at the moment.
13. Pretty Please Teethers – For all the moms with infants or those that are expecting, these teethers and teething rings are chic and stylish yet still safe and made from 100% natural food-grade silicone and beechwood.
In addition to these brands that I discovered, please leave your favorite Black owned businesses and/or brands in the comments below!