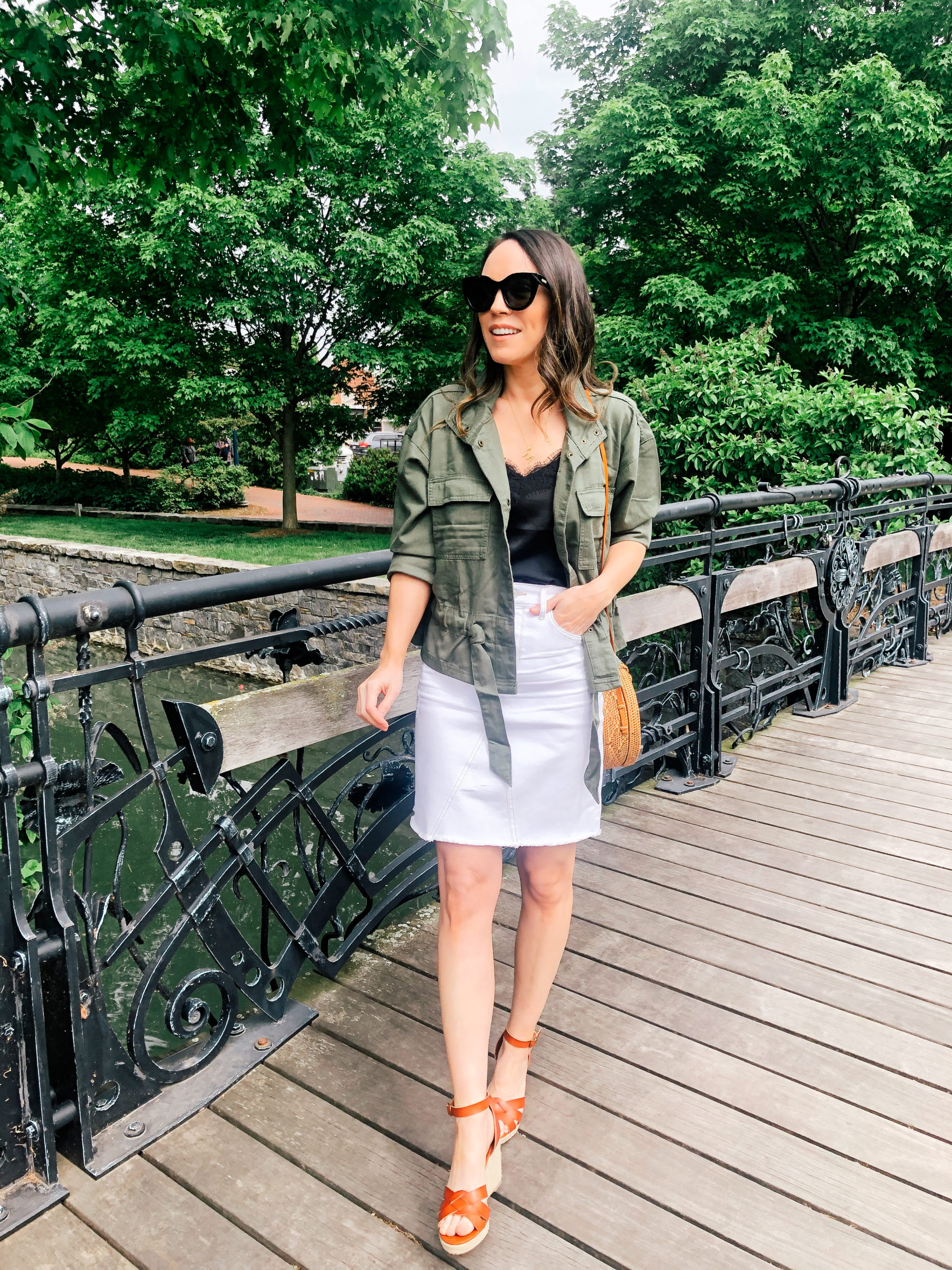 Jacket – Scoop | Camisole – BP | Skirt – Scoop | Wedges – Scoop | Bag – Nordstrom | Sunglasses – Le Specs | Necklace – Adornmonde
I haven't done a Friday Finds post in a few weeks so I was so excited to share all my finds. My phone is full of screenshots of items I am constantly coming across and I have a Pinterest board dedicated to any other things that catch my eye! Here are my favorite finds from the past couple of weeks:
1. I'm currently on the hunt for a new doormat for my front door. I am loving the look of this one!
2. Another gorgeous neutral rug find. I love the geometric pattern throughout.
3. These marble stone frames would be a great gift – they are so stunning.
4. H&M is killing it this summer! I ordered this leopard kaftan and these red sandals are currently sitting in my cart.
5. This cutting board inspires me to make a charcuterie board ASAP!
6. Ok, how did I miss that McGee and Co did a collab with Target? I am currently stalking this piece to see if it comes back in stock. This one looks similar and is a good second option.
7. I didn't want to buy a second face mask (or was avoiding it), but I realize that I may need another one. So I ordered this snake print one.
8. These studded sandals are on major sale and would be so chic for summer.
9. For those that love to cook, this marble cookbook stand is the most fabulous thing I have ever seen.
10. I may need to order this cute MAMA ring.
11. If you have a large plant in the home and need a gorgeous basket to hide the base, this one is gorgeous.
12. Do I need another mascara? No. Did I order this new one anyways to try it? You bet I did.
13. I'm so intrigued by this new skincare range from Kate Somerville. It's designed to help calm the skin and reduce redness.
14. I've been on a headband kick lately and ordered these off Amazon. They look like the Lele Sadoughi ones but are a fraction of the price.