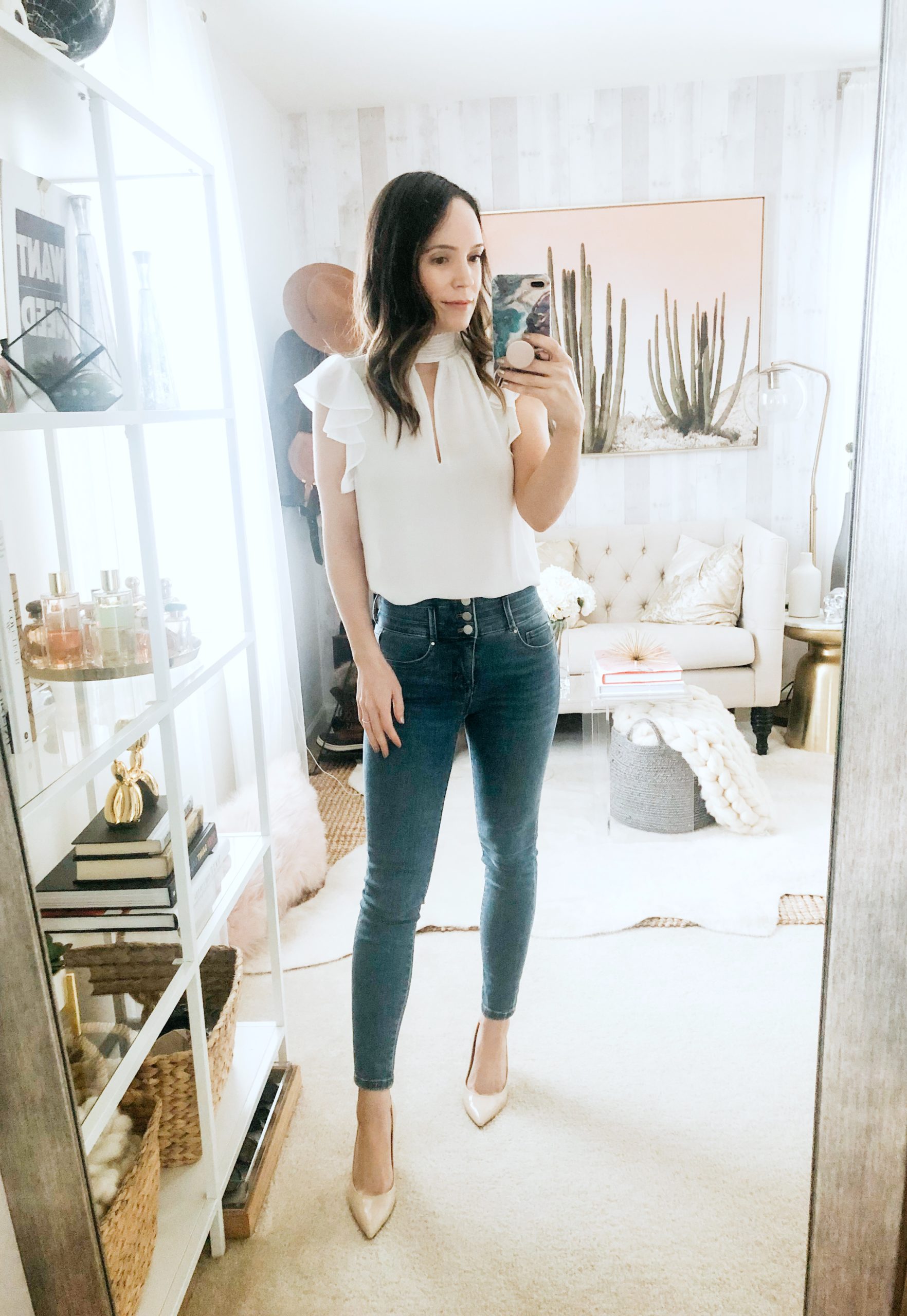 Top – 1.State (on sale for $46!) | Jeans – Ann Taylor | Shoes – Dee Ocleppo (similar here)
Happy Friday! The weather has been so mild this week and it has gotten me in such a spring mood! Tons of good spring finds in today's post.
1. I love wearing utility jackets especially in the spring when it's not warm enough to go without a jacket and this one is a cute style and currently 40% off!
2. If you loving the headband trend, this pearl one is a must have (and it's only $40).
3. How cute are these high waisted white pants? Perfect for work or any spring events you have.
4. If you need a great straw tote for any upcoming beach vacations, this one is a great classic style and super affordable price point.
5. I am all about the ear huggies right now and these pearl ones are so cute!
6. These nude wedges are currently sitting in my cart. They will go with just about any look!
7. If you need a simple strappy black sandal that are easy to walk in, this pair with the square heel look perfect.
8. This sunscreen is getting a ton of buzz and I am really intrigued to try it. It's supposed to give your skin a glow and it has blue-light protection.
9. Hermes finally launched their lipstick line – there is a matte and satin formula. I'm still deciding if I want to take the plunge and try one. What do you think?
10. Here's another gorgeous straw tote for spring and summer! This would be great for the office as well.
11. The Shopbop sale is still going on until March 8th. I did a full round-up of all my looks included in the sale in this post. Here are a few more pieces not to miss: these beige slides are absolutely gorgeous, these splurge-worthy nude strappy sandals that will go with anything, the perfect neutral slide, leopard print joggers, these rose APL sneakers and this ear cuff is so chic!
12. I am a cozy slipper fanatic and these memory foam ones are currently sitting in my cart!