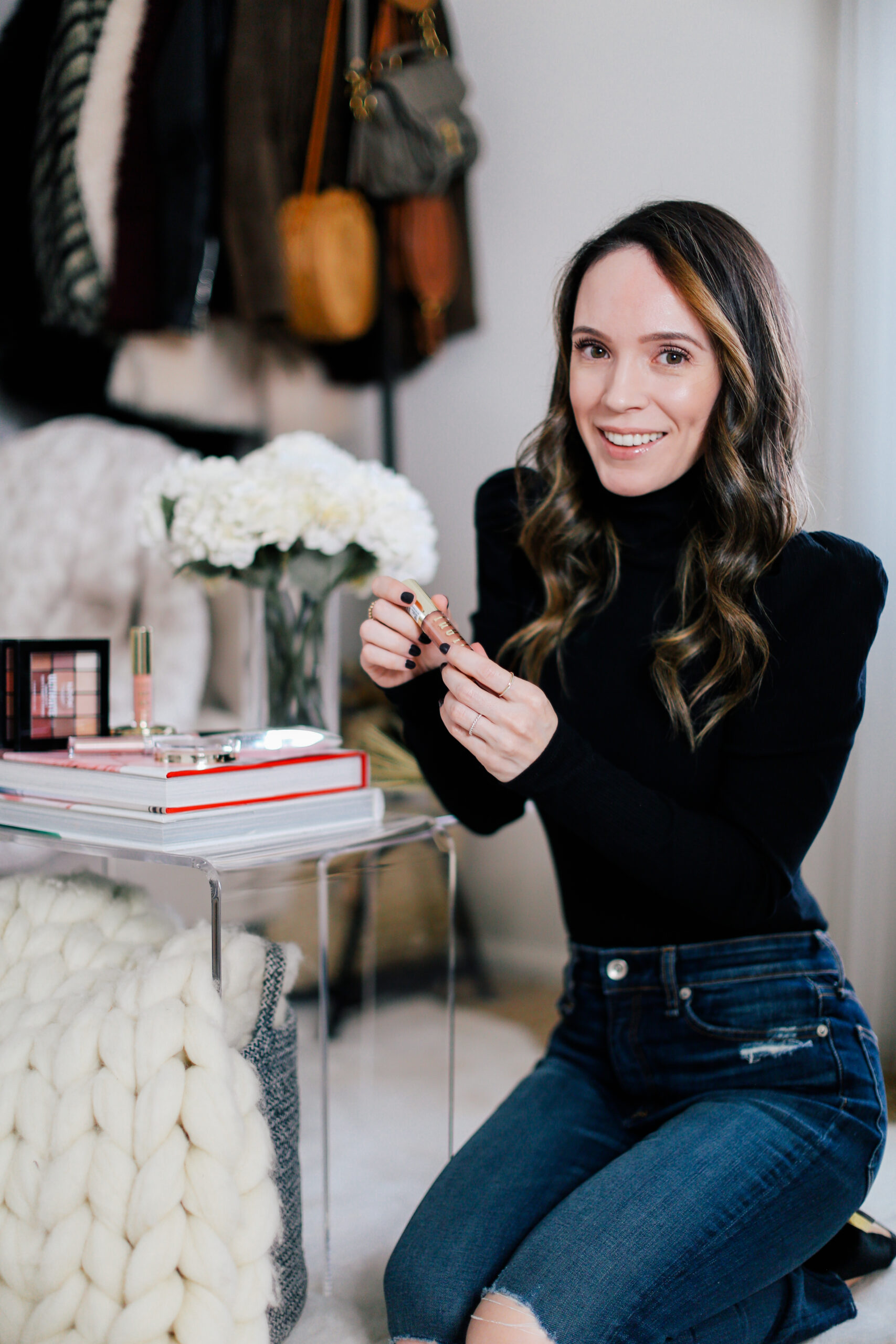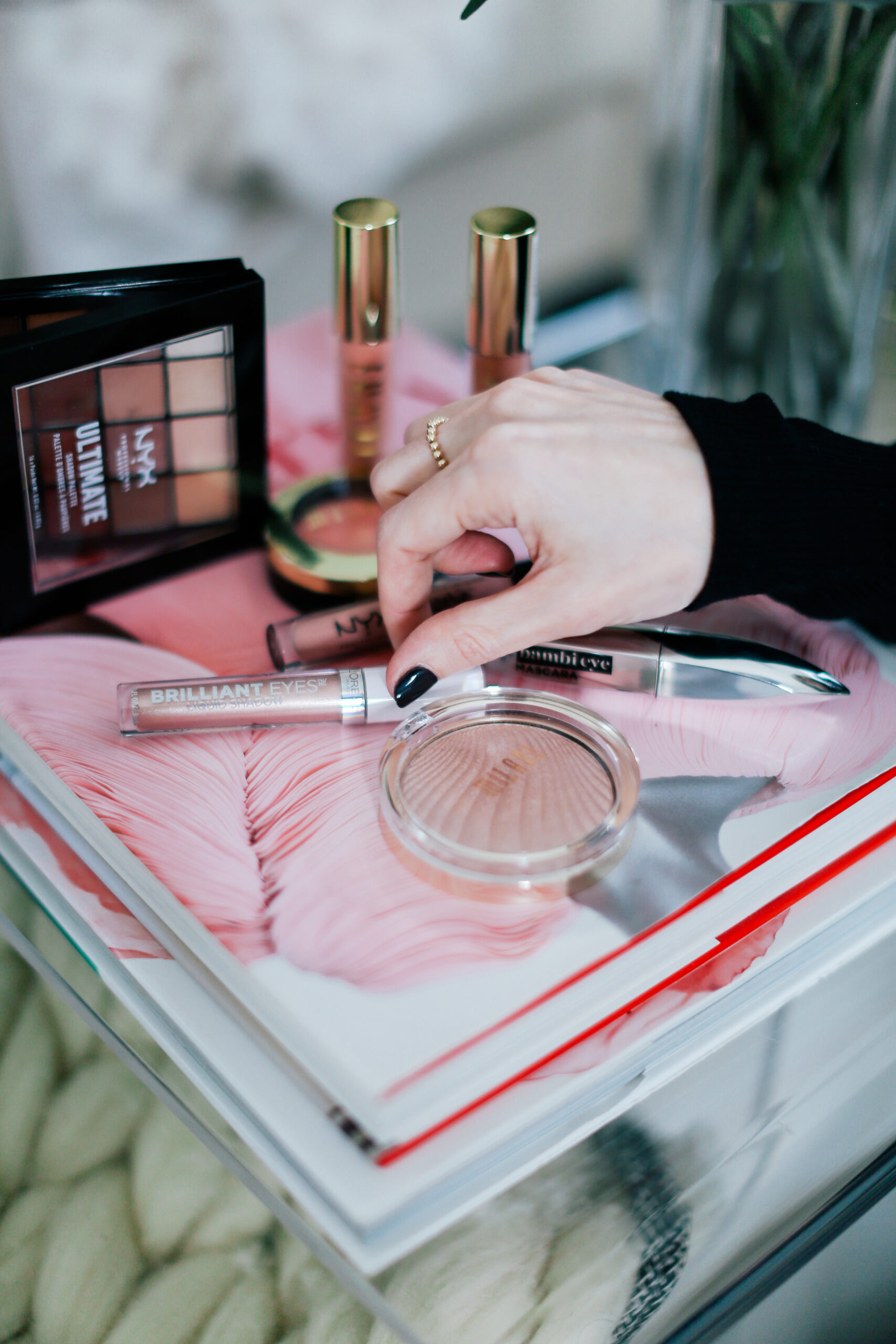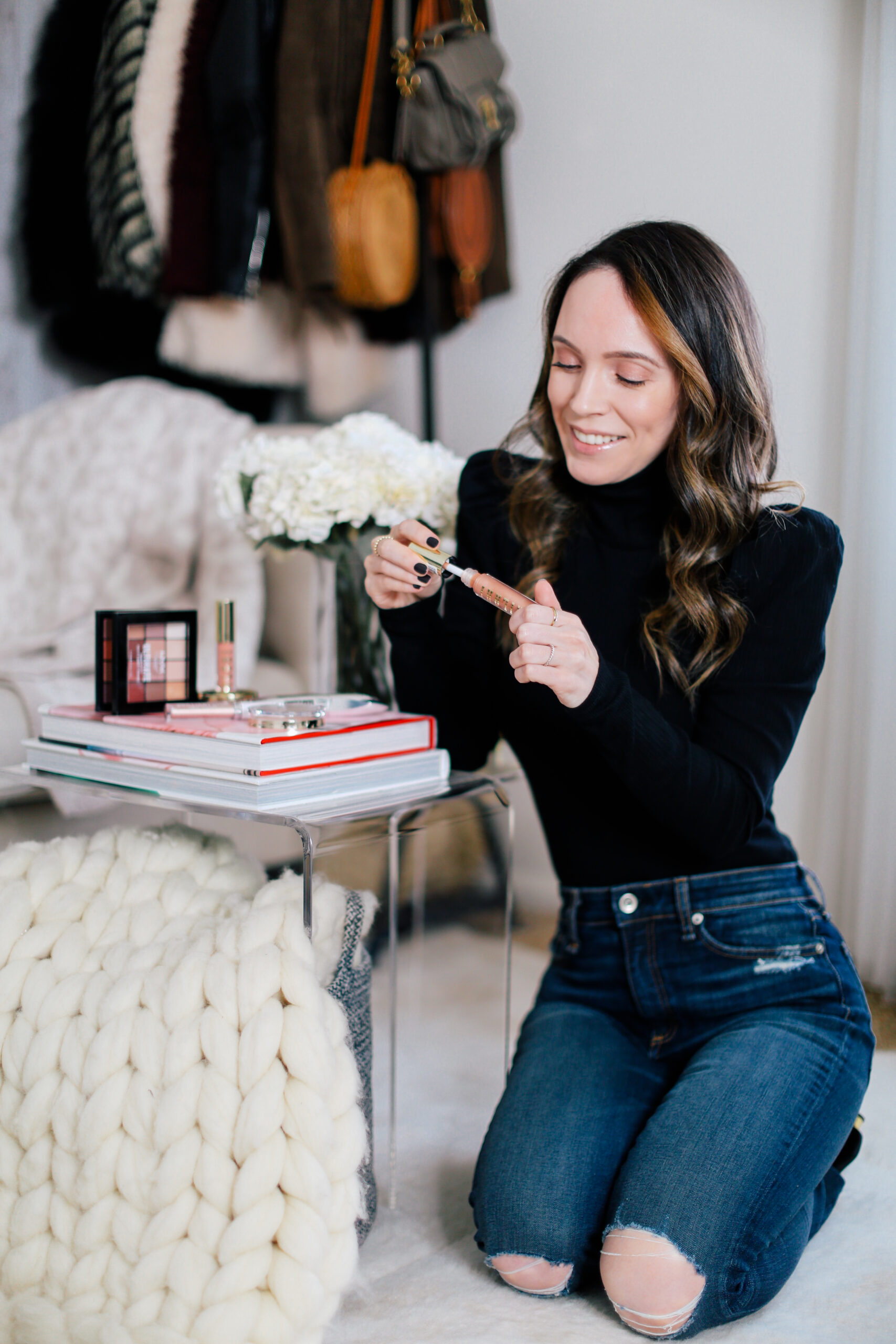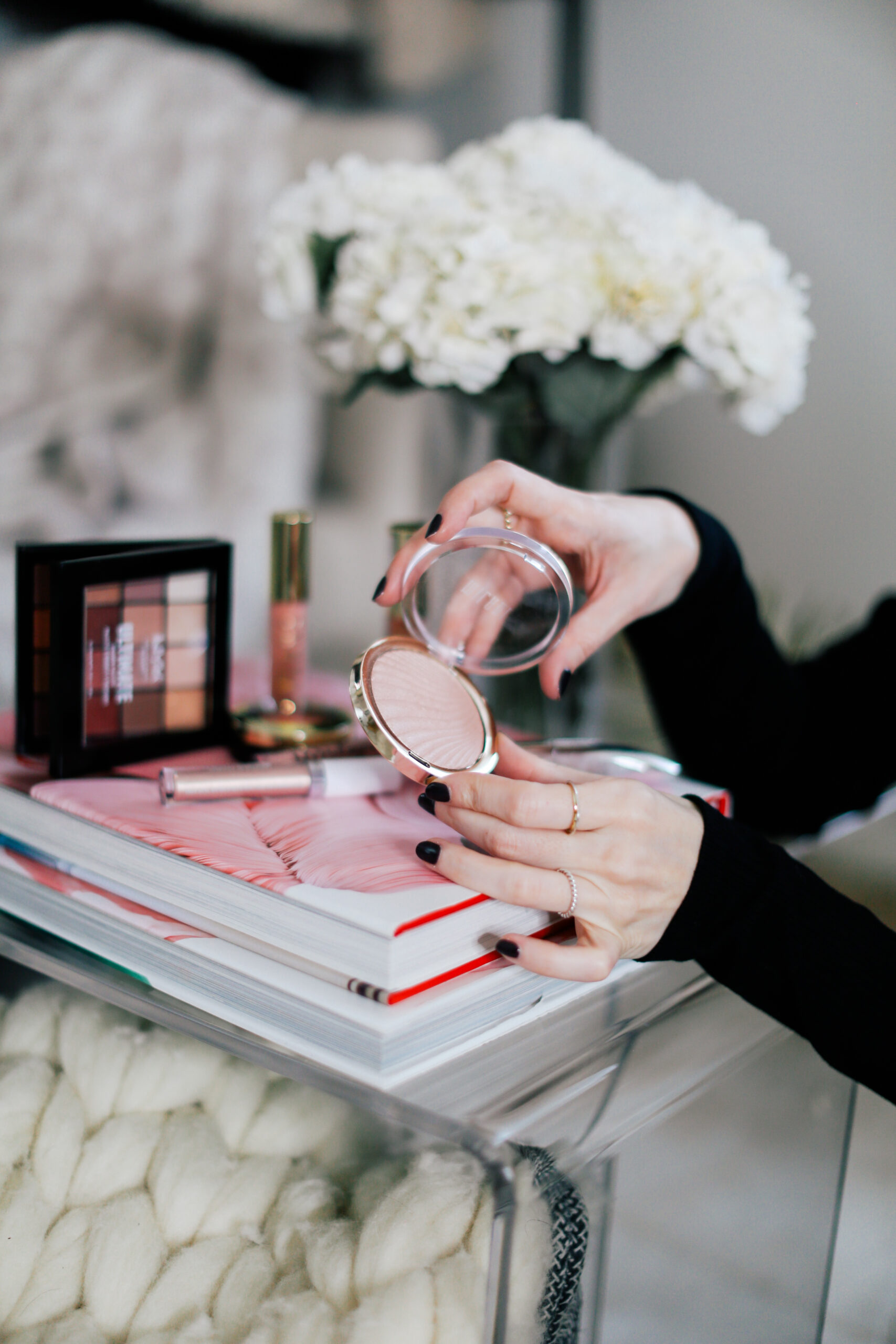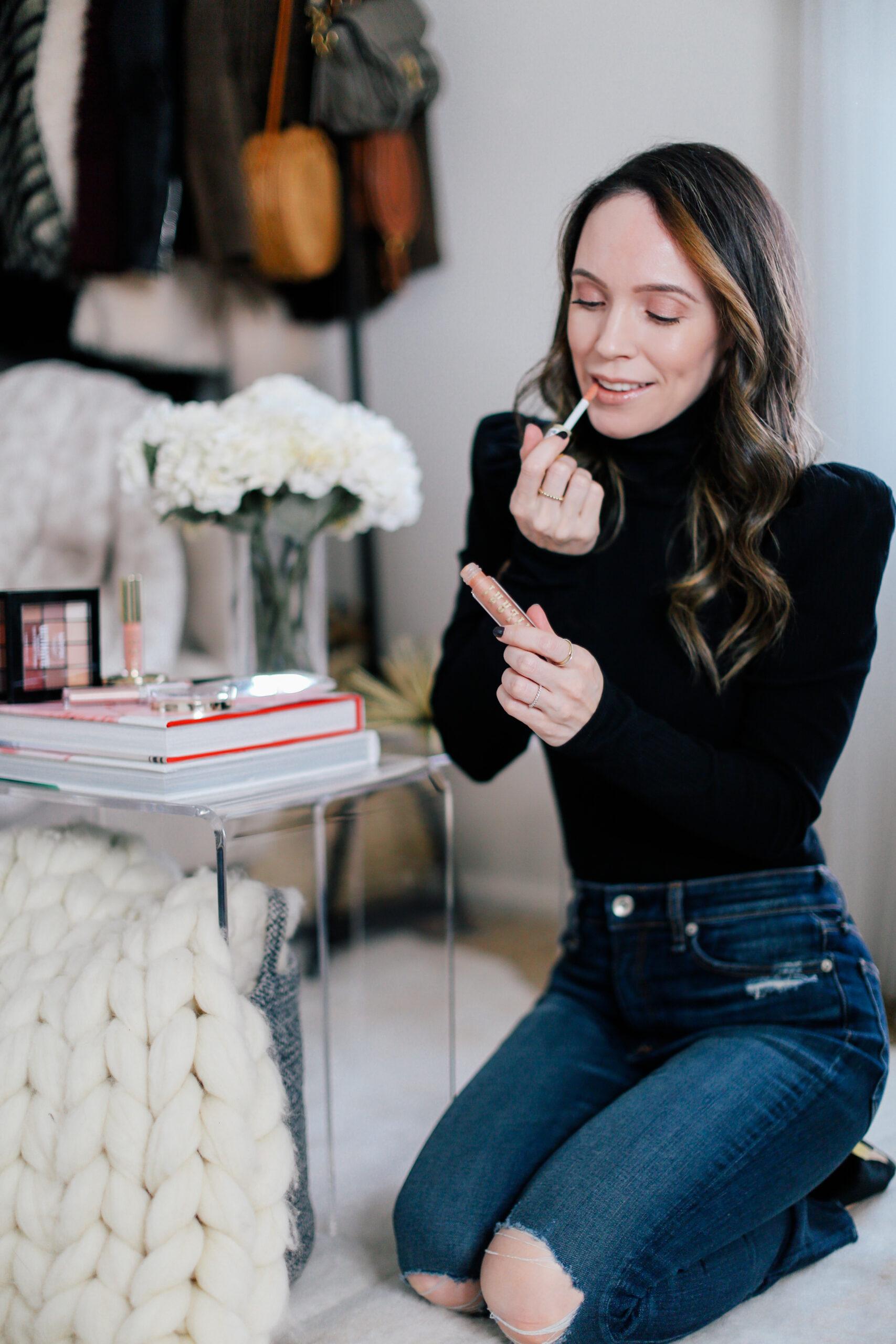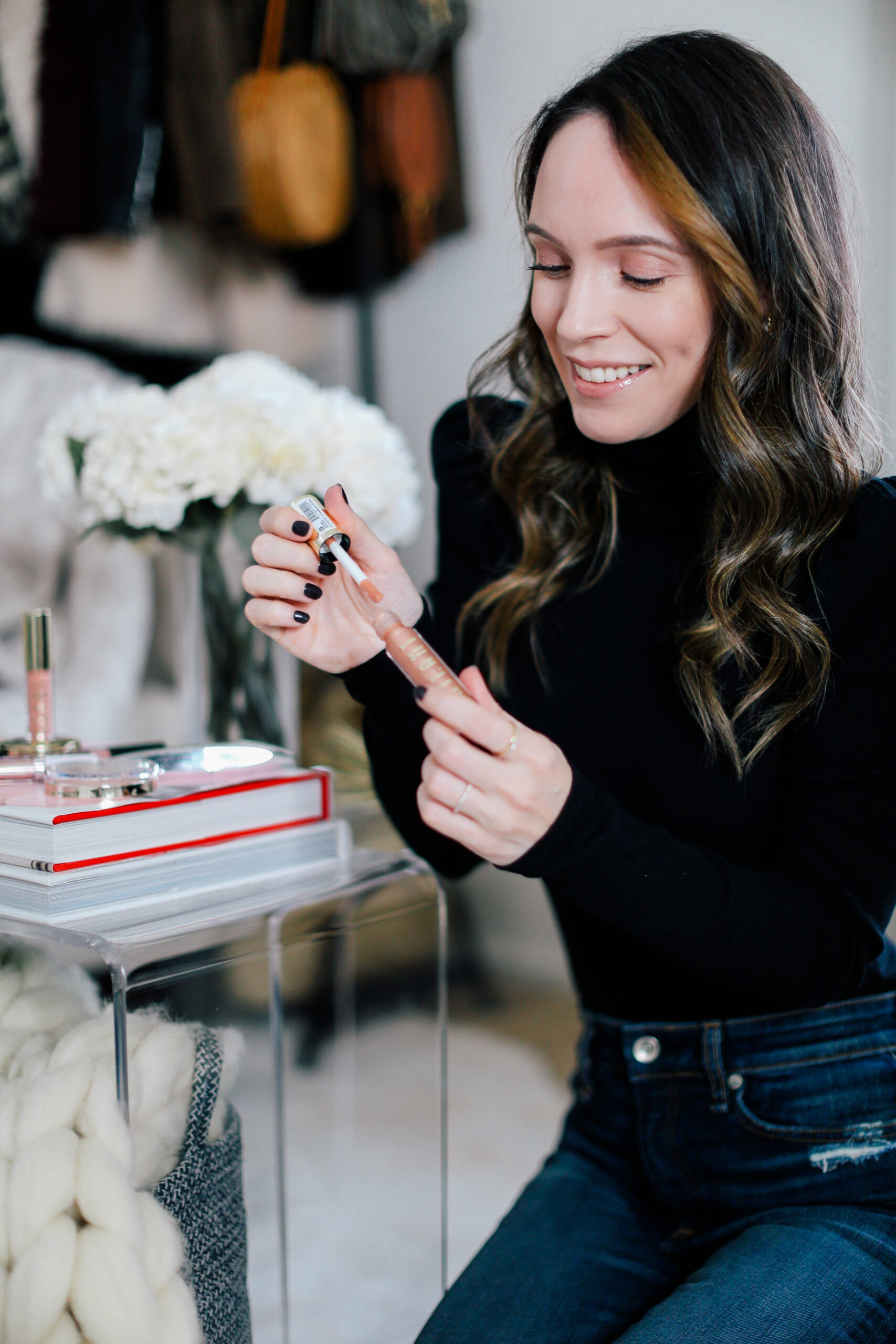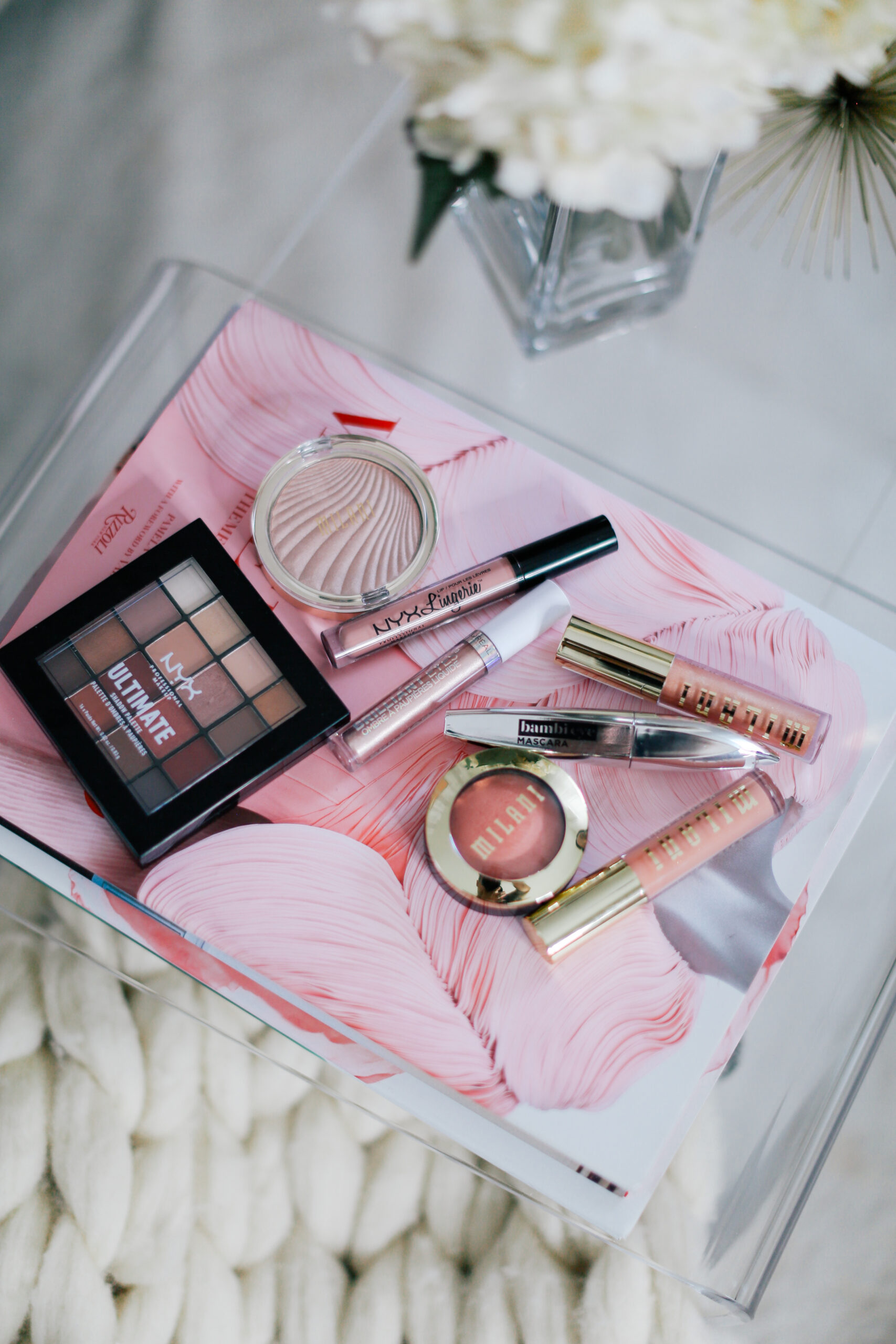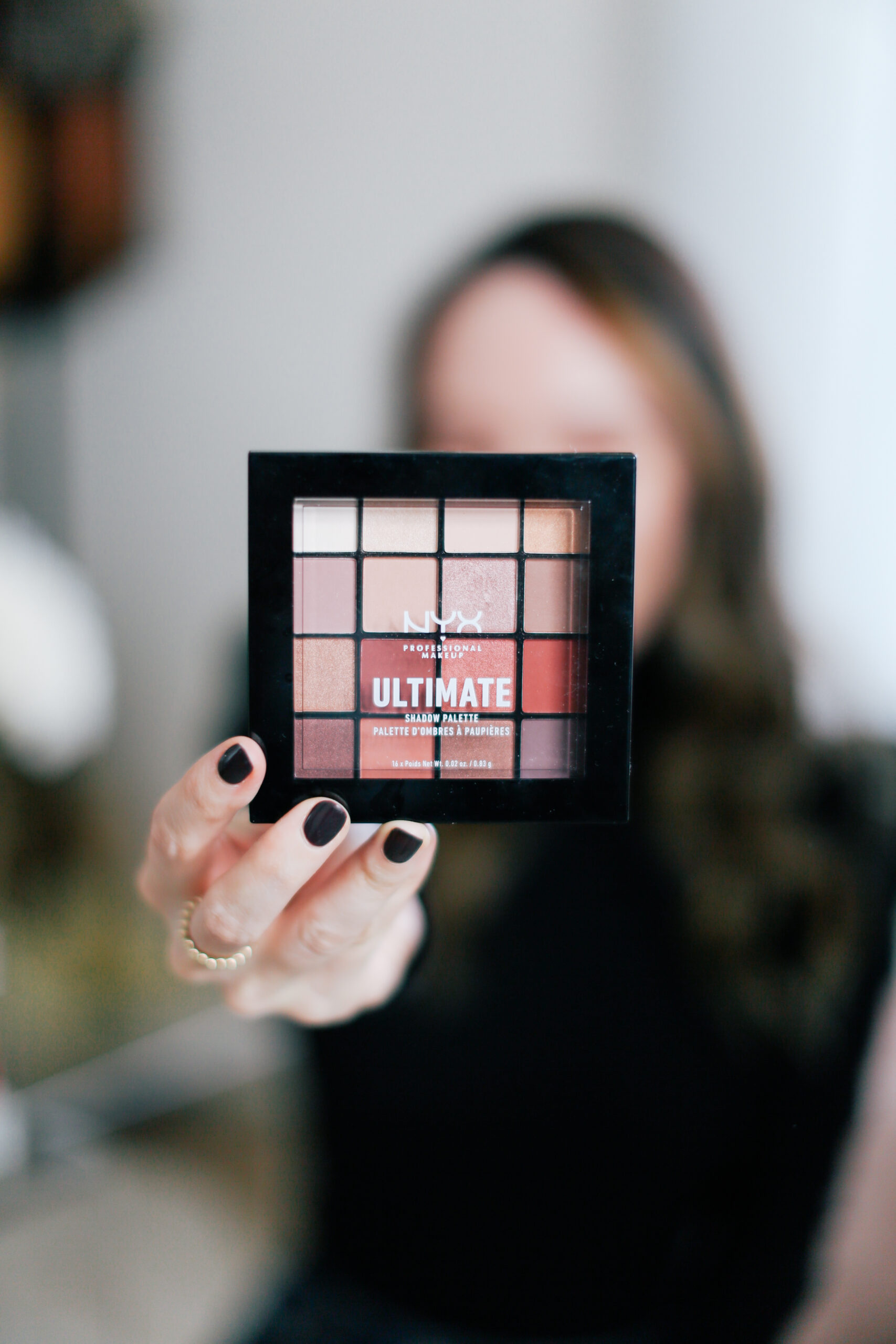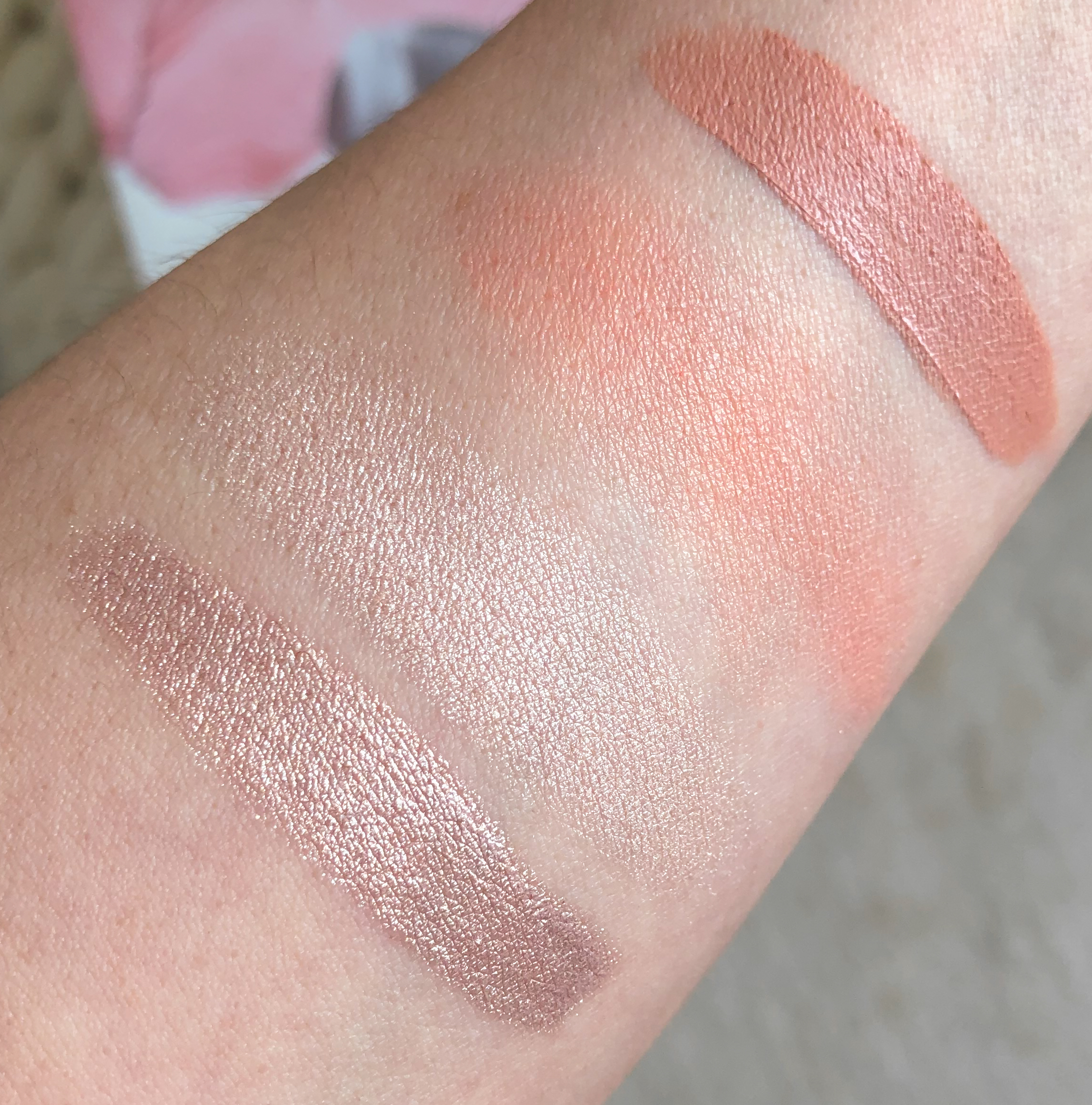 Swatches from left to right: L'oreal Liquid Eyeshadow, Milani Highlighter, Milani Blush and NYX Liquid Lipstick
I was so excited about this makeup post because everything in it is so affordable and all of it is perfect for fall! Normally when I do any makeup haul, at least one or two things I buy doesn't end up working but every single item I bought I ended up loving. The Walmart near my house has a very extensive beauty and makeup section so I had a huge selection to choose from. All of the items I found are also available online in case you can't get in store so I made sure to link all of the exact items and shades with my reviews. I stuck to a neutral color palette when shopping so all the products I bought look good together in one look or worn with other products I have at home. I haven't quite decided on my Halloween costume yet but there was a TON of Halloween makeup as well in case I need to make a last minute run on Saturday. LOL I did put together a quick tutorial over on my IGTV so be sure to check that out so you can see all of these products in action and the final look that I create with them.
1. NYX Ultimate Shadow Palette in Warm Neutrals – This palette is absolutely incredible especially for the price! It is definitely more of a warm toned palette but there is such a great mix of matte and shimmer textures. You can create any look with this palette for either day or night. 
2. Milani Baked Powder Blush in Luminoso – I have heard great things about Milani blushes and this one had *best seller* next to it so I decided to grab it. The texture is very smooth and blendable but there is a TON of pigment. Wow! You only need a touch to give your cheeks a nice glowy flush.
3. Milani Instant Glow Powder in 01 After Glow – This is quite a bold highlight so be light handed when using but it's the exact color of a highlighter I have been looking for. It's a shimmery beige that isn't too warm or too cool. I add a touch on my cheekbones but also love using on my lids and in the inner corner of my eyes to brighten them up.
4. L'oreal Bambi Eye Mascara – This mascara was THE most recommended one by all of you and every time I have worn it over the past week, I have gotten DMs asking me what mascara I am wearing. It manages to grab every single lash and really gives a dramatic and separate lash look. And the best part is……I have not seen any flaking or smudging with this mascara!
5. L'Oreal Brilliant Eyes Liquid Shadow in Diamond Drop – This was a total gamble because I have never tried these liquid eye shadows and wasn't sure exactly how it would wear. From the first time  I tried it, it blew me away! The color is the perfect shimmery champagne that you can wear alone or layered under powder eyeshadow. I am tempted to get other colors in this formula because it is THAT good.
6. NYX Lingerie Liquid Lipstick in Baby Doll – I love NYX lip colors and already have one of the Lingerie Lips in a gloss formulation so I wanted to try a liquid lipstick for fall. The texture is very matte and lasts so long on the lips. It can be a bit drying so I like to add a lip balm over top throughout the day.
7. Milani Nourishing Lip Plumper in Nude Shimmer and Champagne – If there is one product you get from this list, I would start with these lip plumping glosses. They are gorgeous! Very sheer and glossy, but not sticky or tacky at all. They really make the lips look full and smooth. There is a slight plumping feeling but nothing that is irritating or painful. All the colors in the collection are super wearable and easy to wear alone or layer over a lip liner or lipstick.
I could not believe how successful I was with my shopping trip! Full disclosure, there was not one single item that I tried that disappointed me which is rare when I try drugstore makeup. Every single item I bought exceeded my expectation! And I've been wearing these products almost every day and have gotten more DMs this past week than ever before asking about my makeup. So clearly many of you are loving the look as well! I love that any of these products can be easily incorporated into your current makeup look and all work so well together.
Thanks to Walmart for sponsoring today's post!