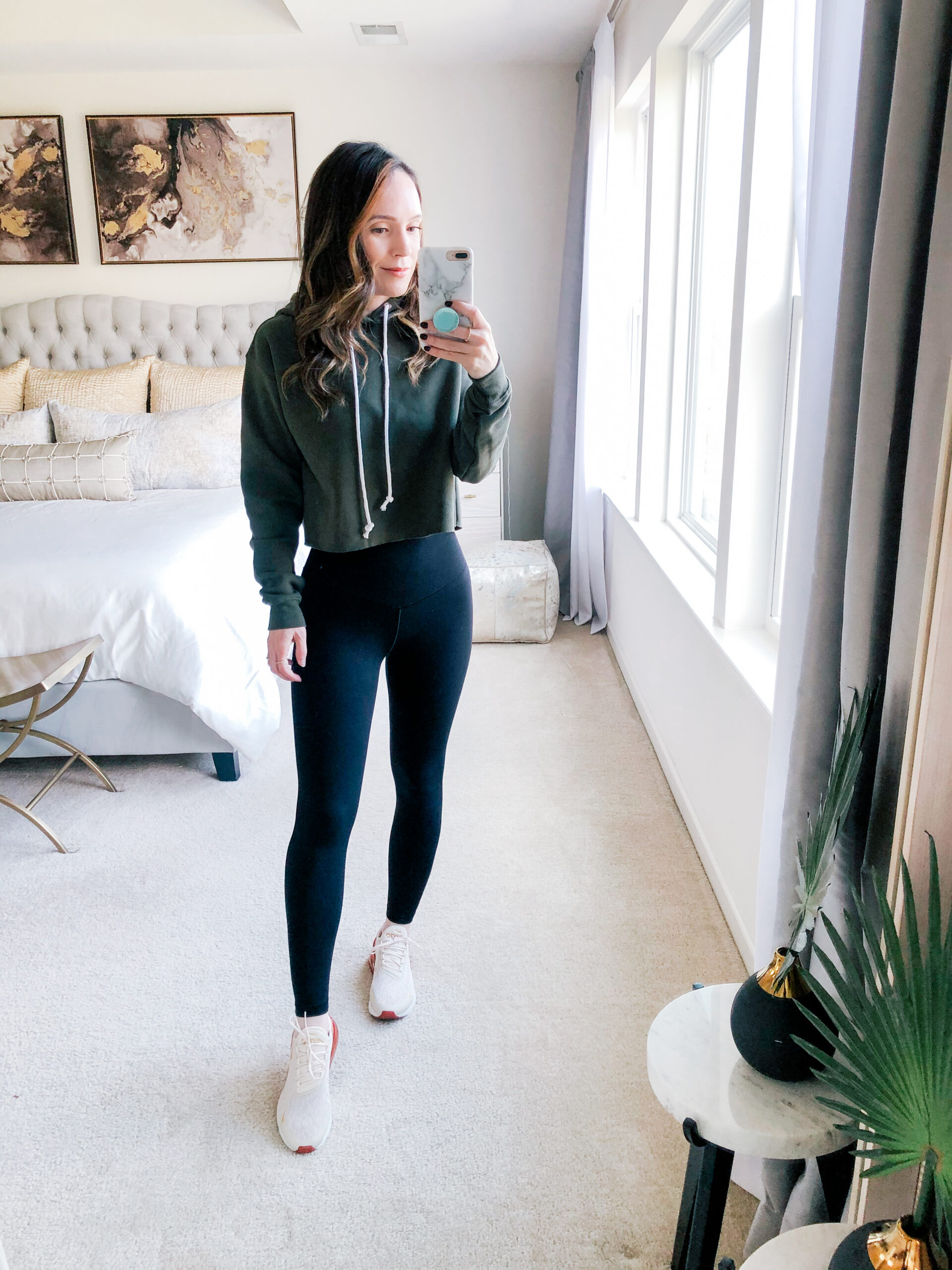 I can't believe I haven't done a post like this sooner because it's something that most of us live in – black leggings! I have certain pairs that I love for both running errands, working out and then some that work for both of those things. I am going to do a quick blurb about each on my insta-stories and will save to a highlight so you can reference back any time.
Aerie High Waisted Leggings – These are the newest leggings I added to my collection and they really blew me away from the first time I tried them! They feel very similar to the Lululemon Align leggings because they are very thin, super stretchy and incredibly soft. When you first buy them they look like they will be too small if you order your regular size, but trust me they stretch when you put them on! These are super slimming as well and come in a few different lengths which is perfect. I ordered the petite length and they are the exact length I want. I wear these both for errands and working out. Run true to size.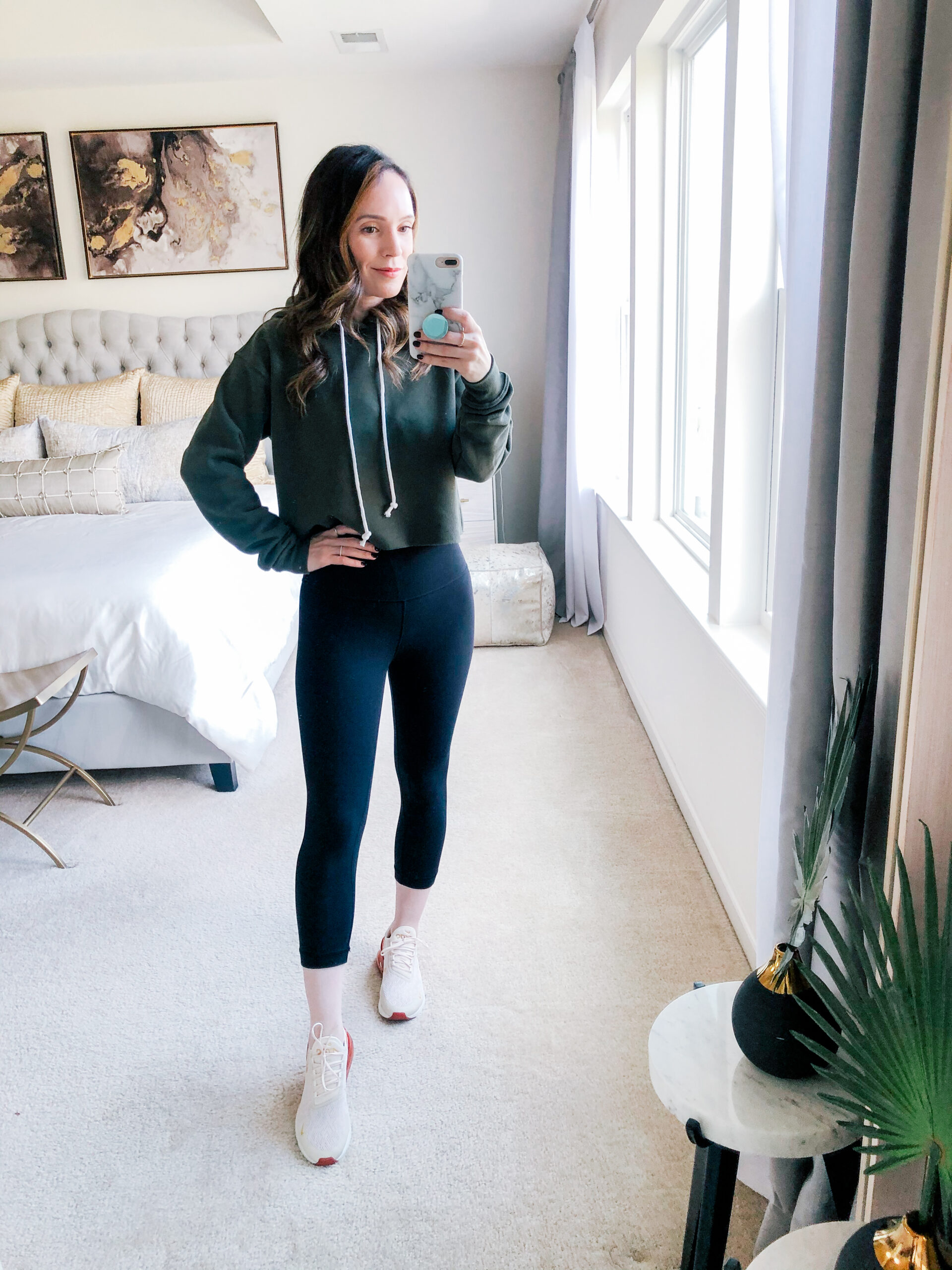 Lululemon Align Leggings – These leggings are a cult classic and for good reason. They are some of the softest leggings I own and are incredibly stretchy but hold their shape so well. I wore these throughout my entire pregnancy and they fit up until my due date and then still fit just as they did when I first bought them. They are also super thin but not see through in the slightest. I can wear both my regular size and a size down so it can depend on how you want them to fit.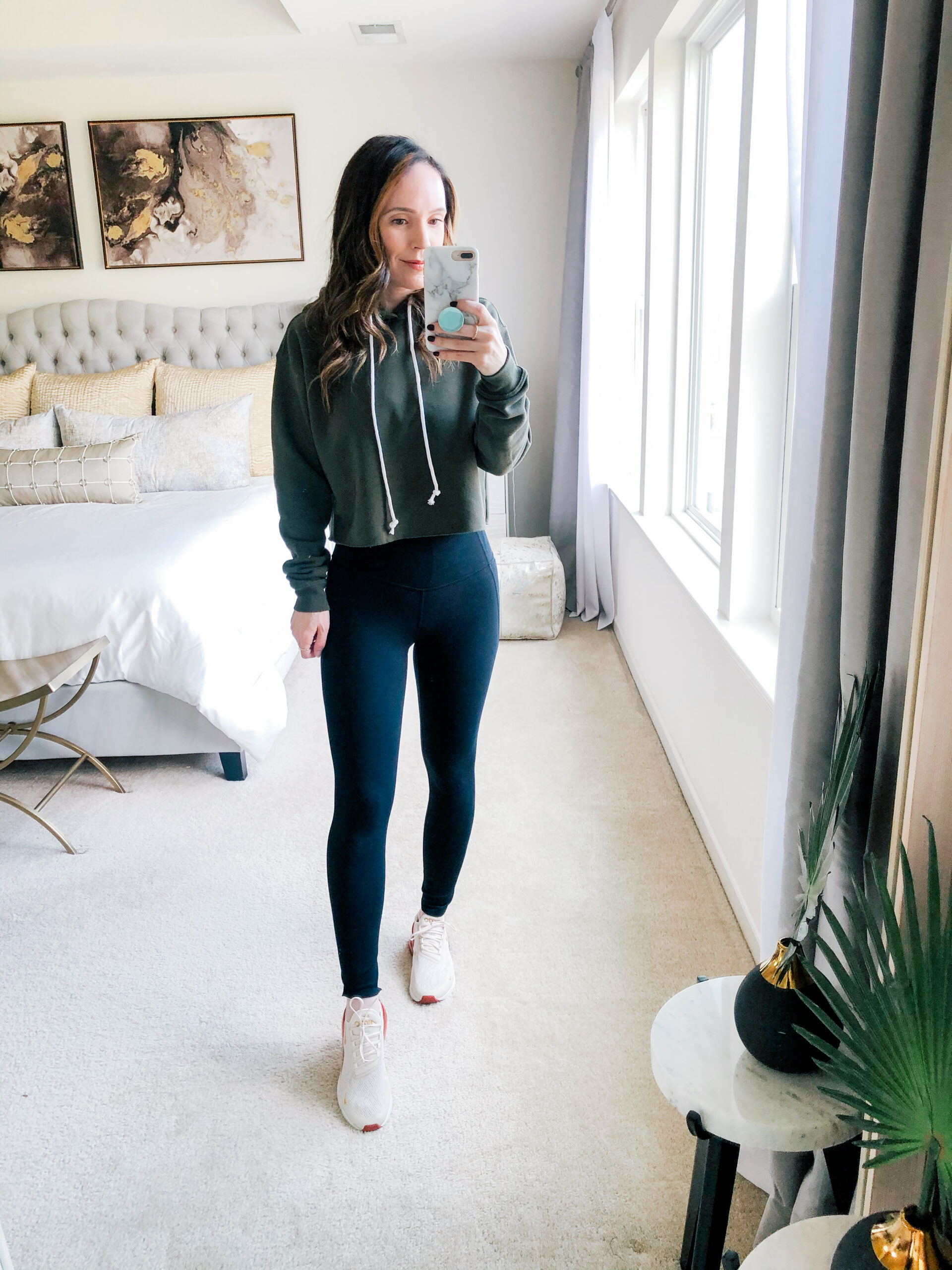 Zella High Waisted 7/8 Leggings – This is the thickest pair of workout leggings out of this bunch and really help to suck you in, so to speak. They have a ton of hold to them and definitely feel stiffer than the other two that I just shared. However, I still really love wearing these to work out but I find myself wearing them more for errands and casual looks. They are the perfect length for my short inseam. These run true to size for me.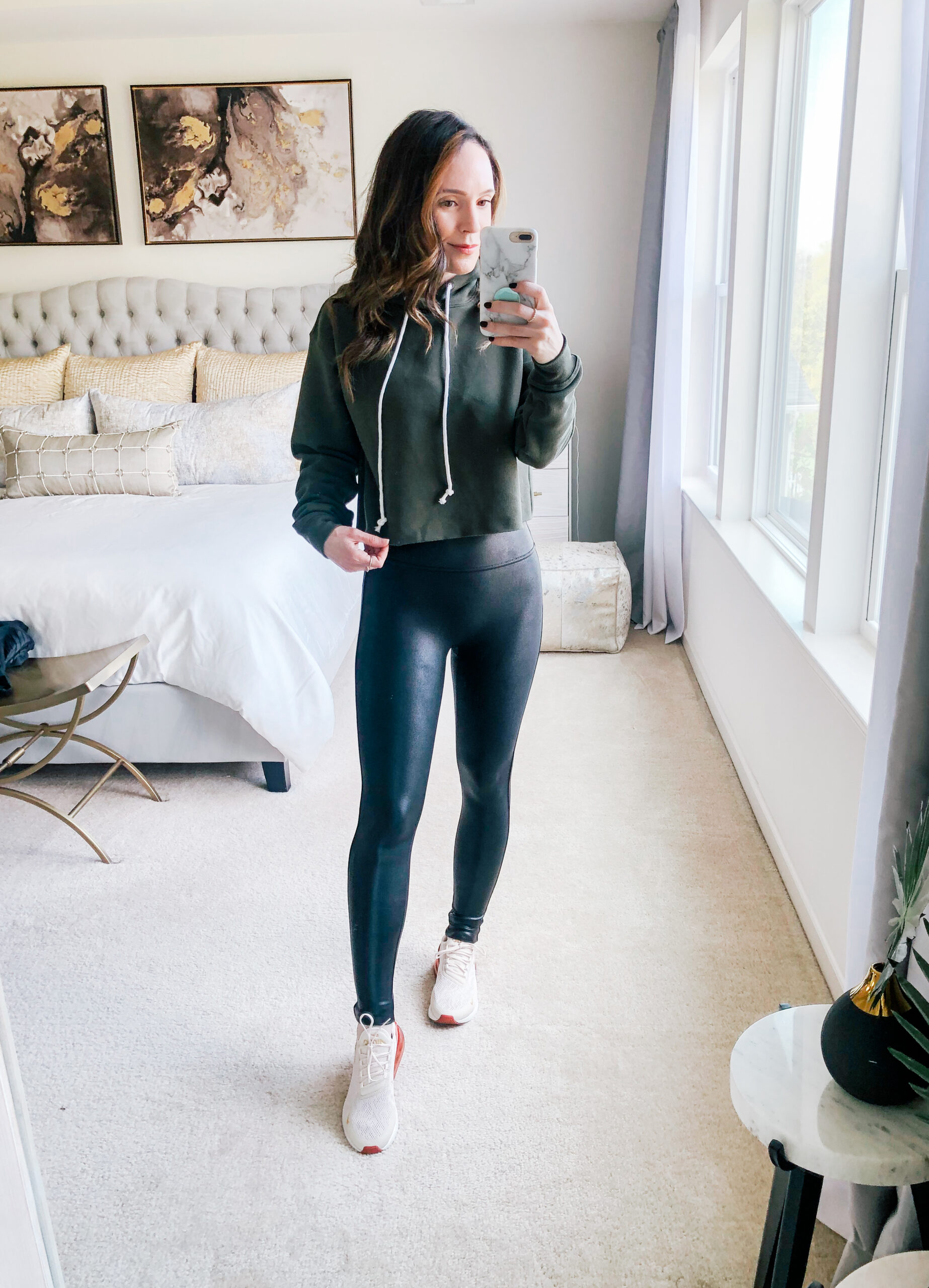 Spanx Faux Leather Leggings – These are the black leggings I have had the longest and I had to get a second pair because I wear them so much in the fall and winter. Out of all of my leggings I own, these are truly THE most slimming. I always say they give me new legs when I'm wearing them because they manage to make everything look smooth and firm. While you can technically work out in these, I prefer to only wear them with my casual everyday outfits or on occasion a dressier look. They do run super small though so I would size up one or even two sizes. Another thing to note is they run SUPER long, even the petite sizes do. So you either need to get them hemmed or fold them under when wearing.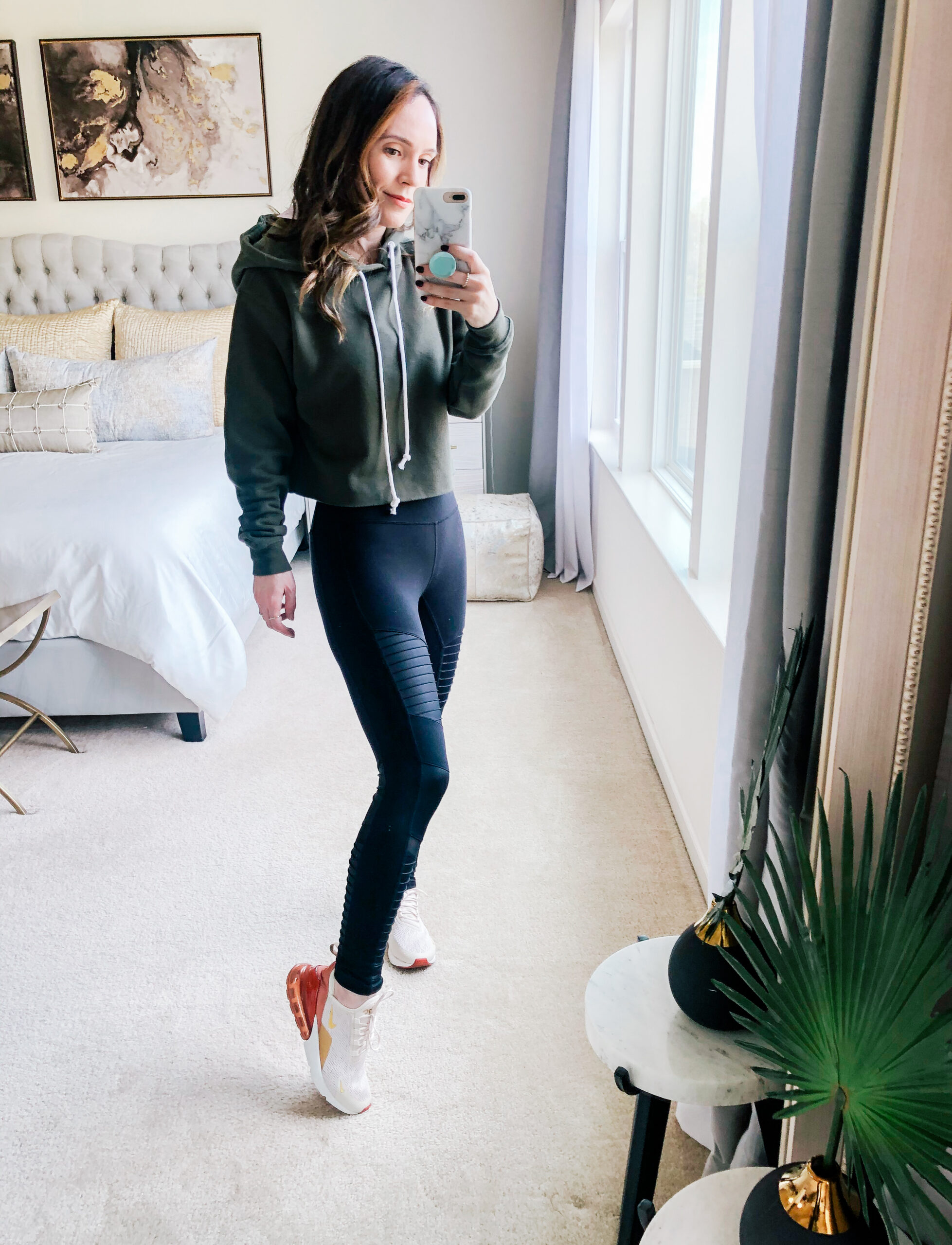 Alo Yoga Moto Leggings – These black leggings are such a fun addition to my collection that I've had for a few years. This moto style is a super popular style for Alo Yoga and comes in a ton of different colors. I have worked out in these before but to be honest, I prefer to wear them with my casual outfits instead. They run true to size but are very stretchy and are also quite slimming. My only issue with them is they run SUPER long so I have to tuck them under quite a bit each time I wear them. There are a shorter style available now which I'm thinking of buying as well because I wear these so much.
I hope this was helpful and gave you some suggestions of black leggings to try for yourself. Leggings are such a personal thing I have discovered and what works for one person can be a total fail for the next. So my advice is to order a few different styles and sizes that interest you and then return what doesn't work. It can take some time to find ones that you absolutely love so don't give up! LOL For reference, I am 5'4″ and all of these leggings are high waisted. I have a long torso and short legs so I like to wear high waisted things because it elongates my legs and looks more flattering for me.
Linking my green cropped sweatshirt here and my sneakers here (more colors available here).