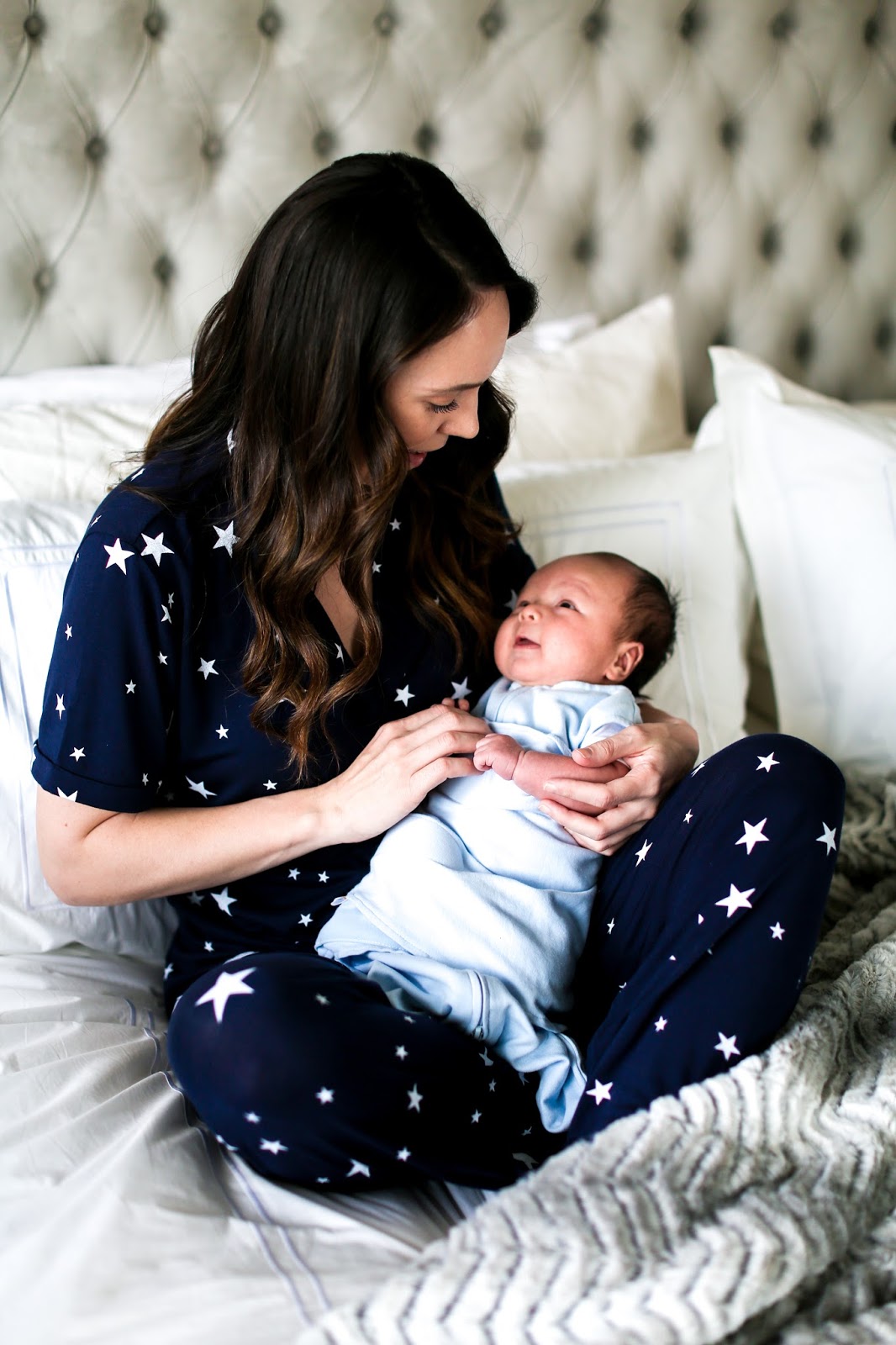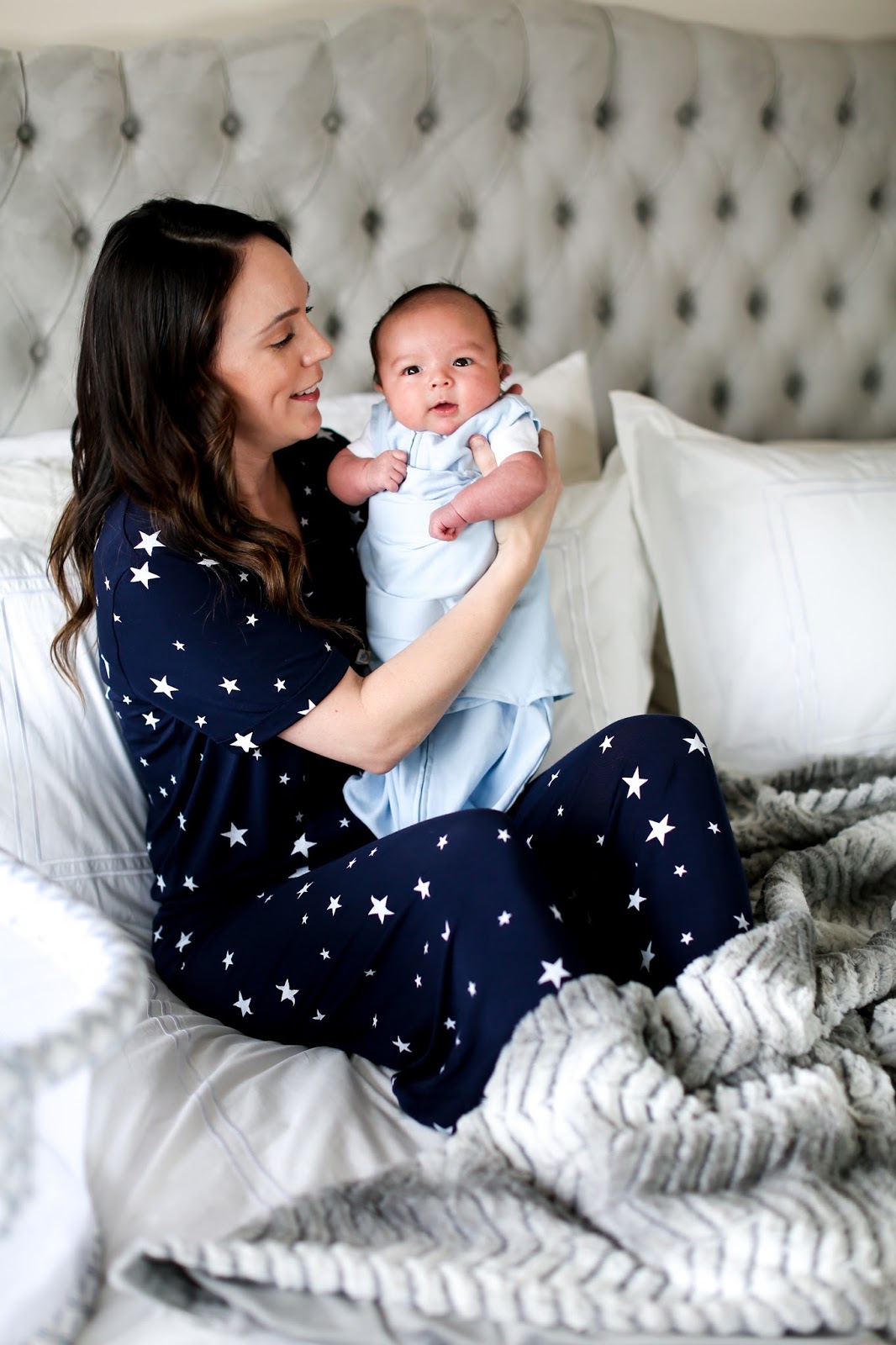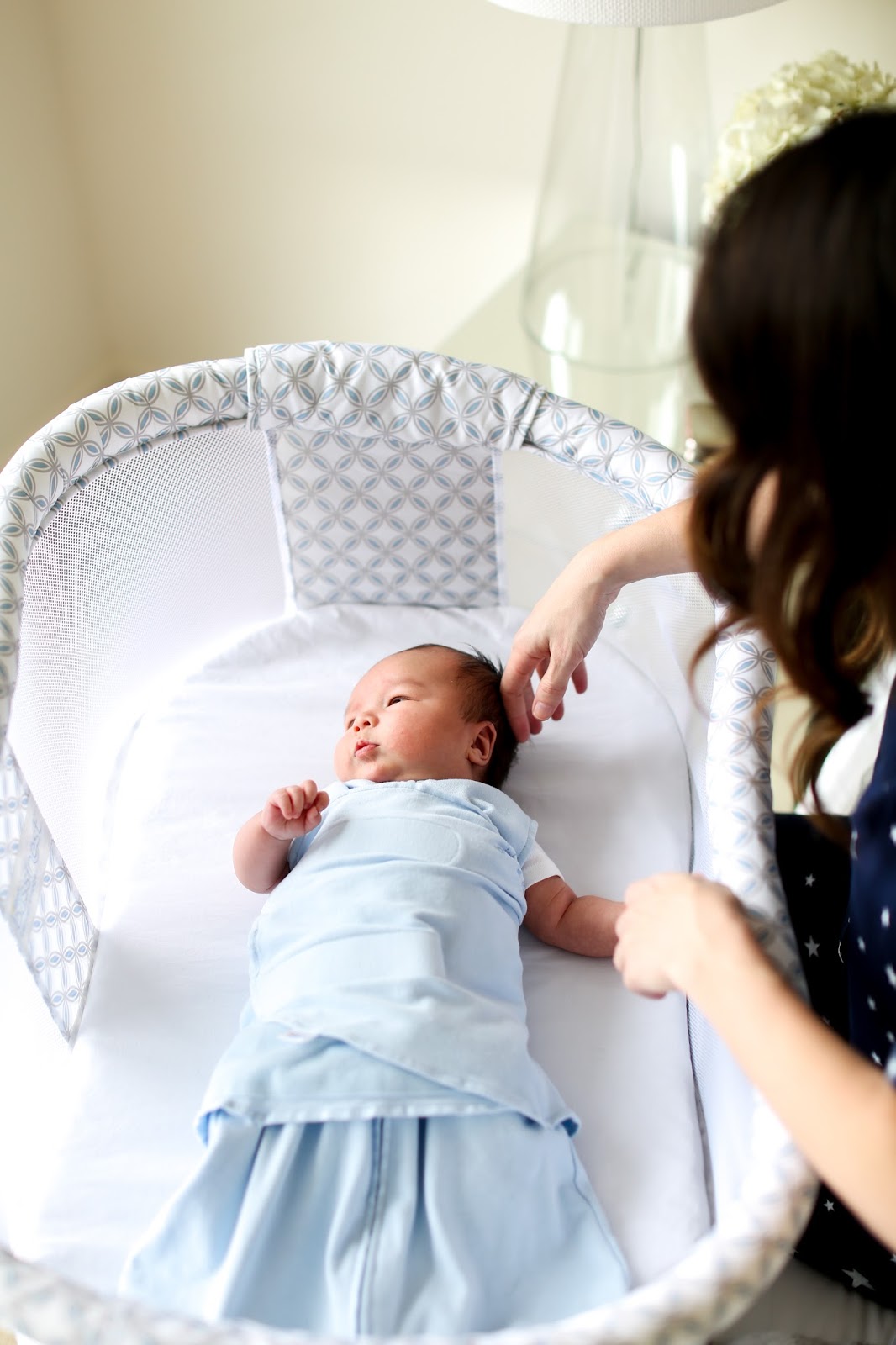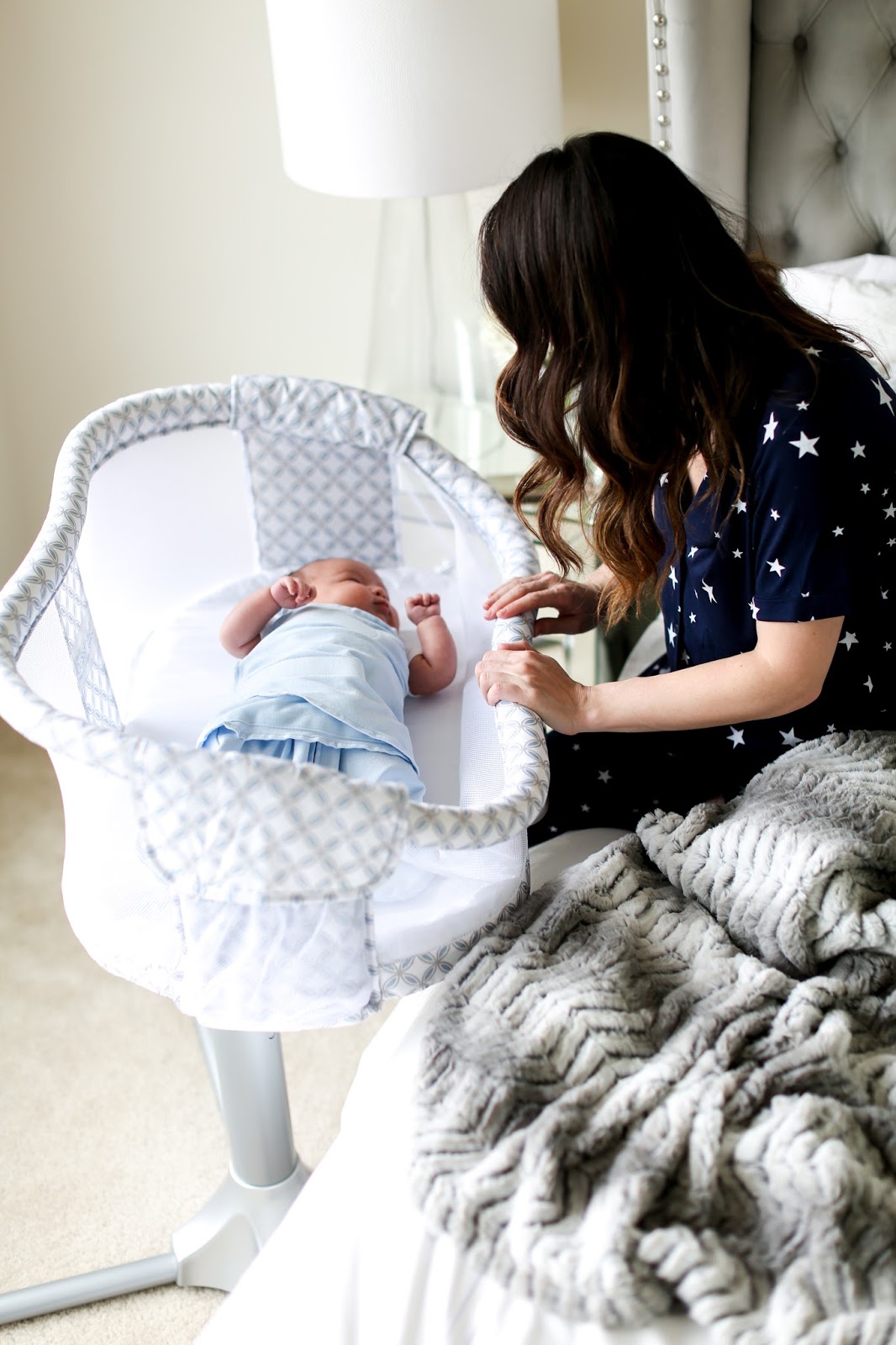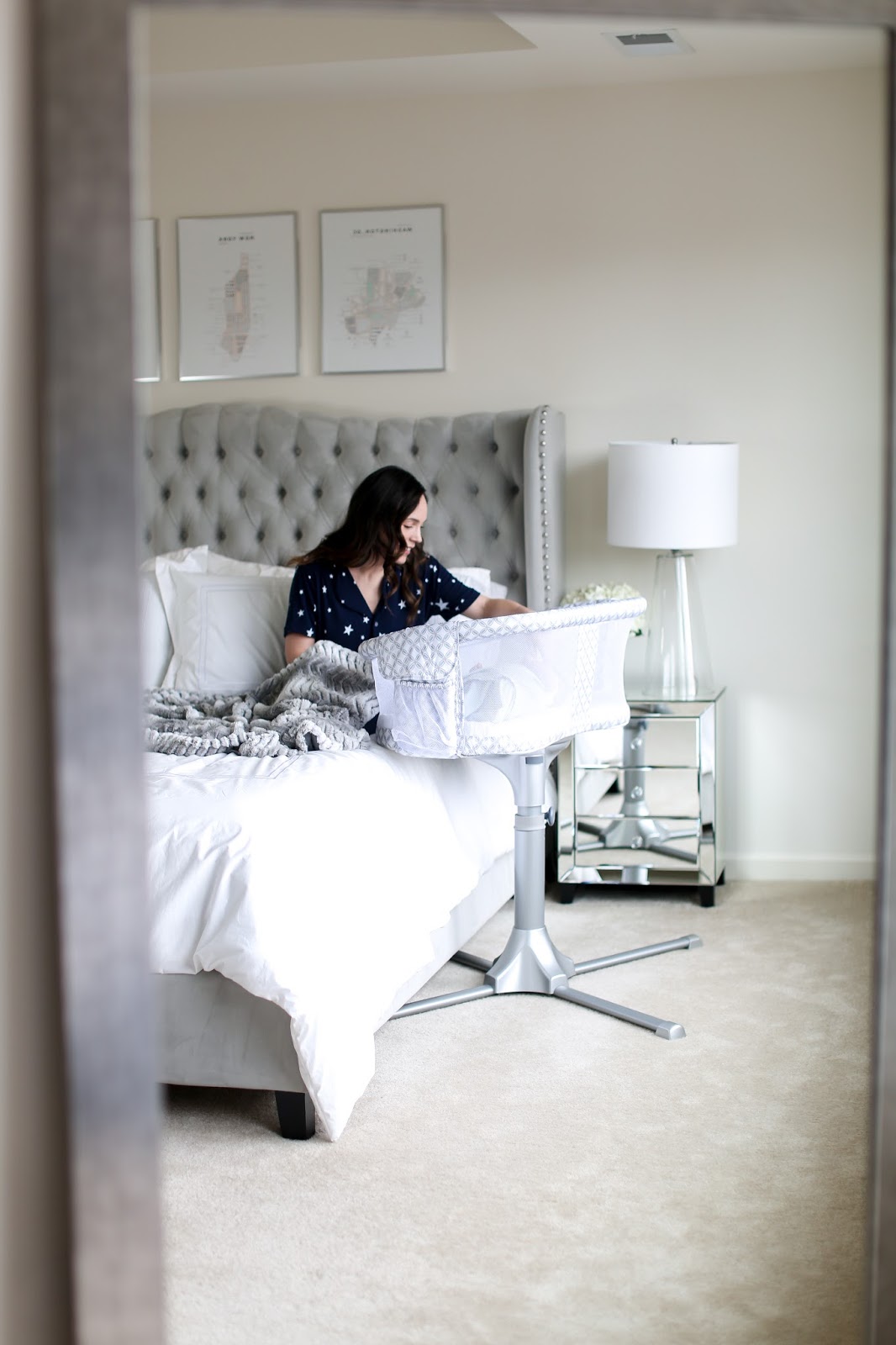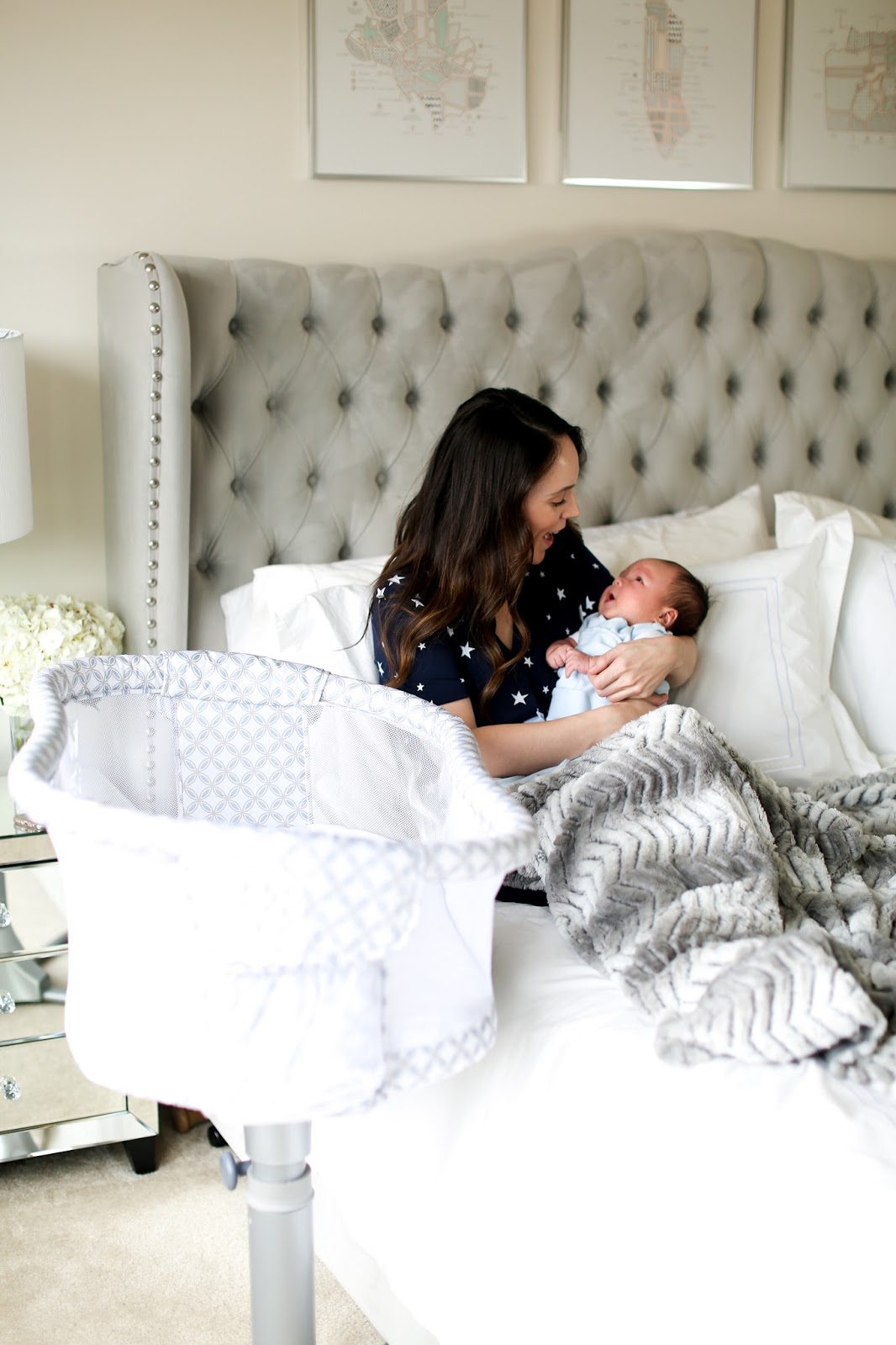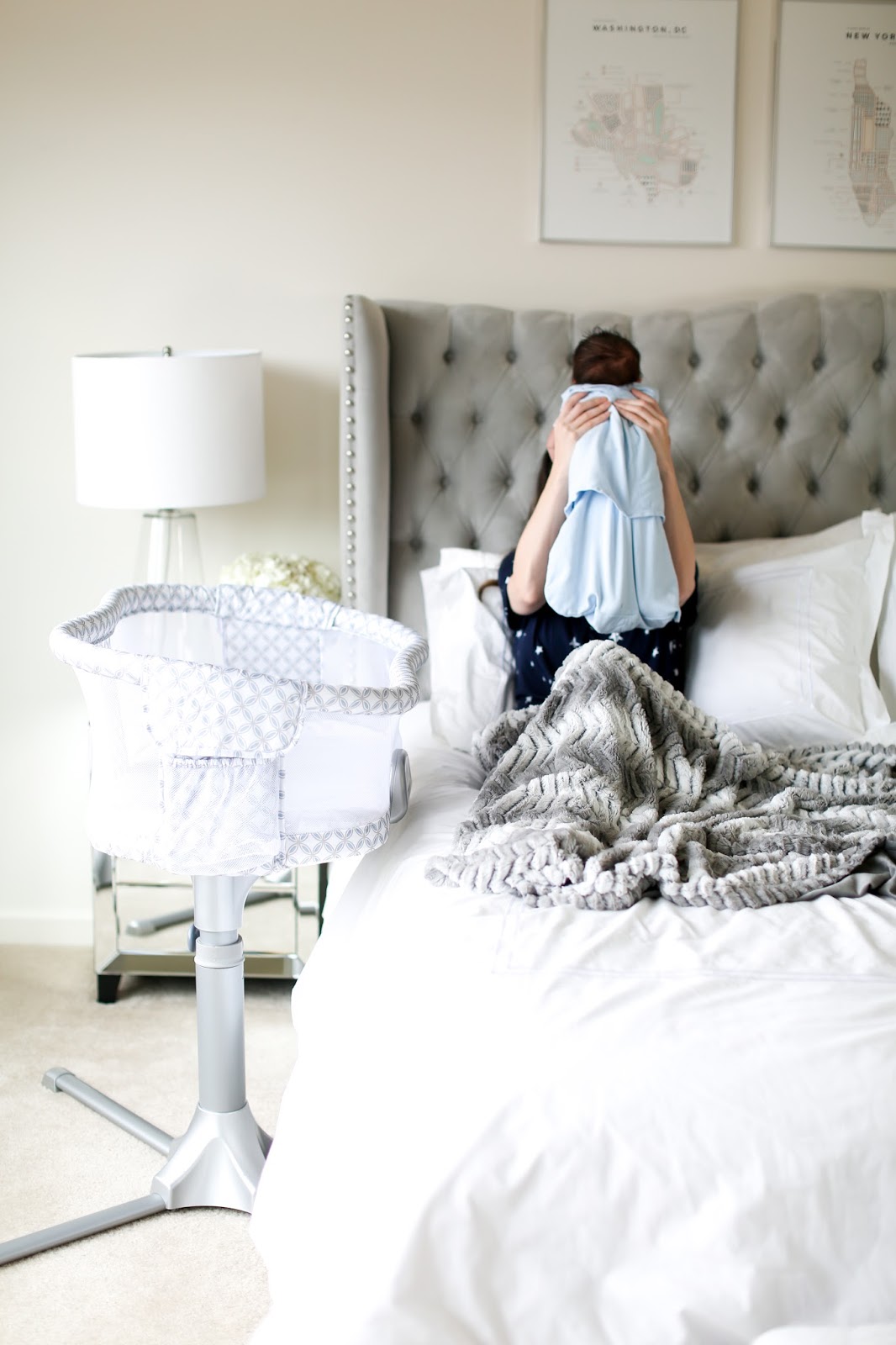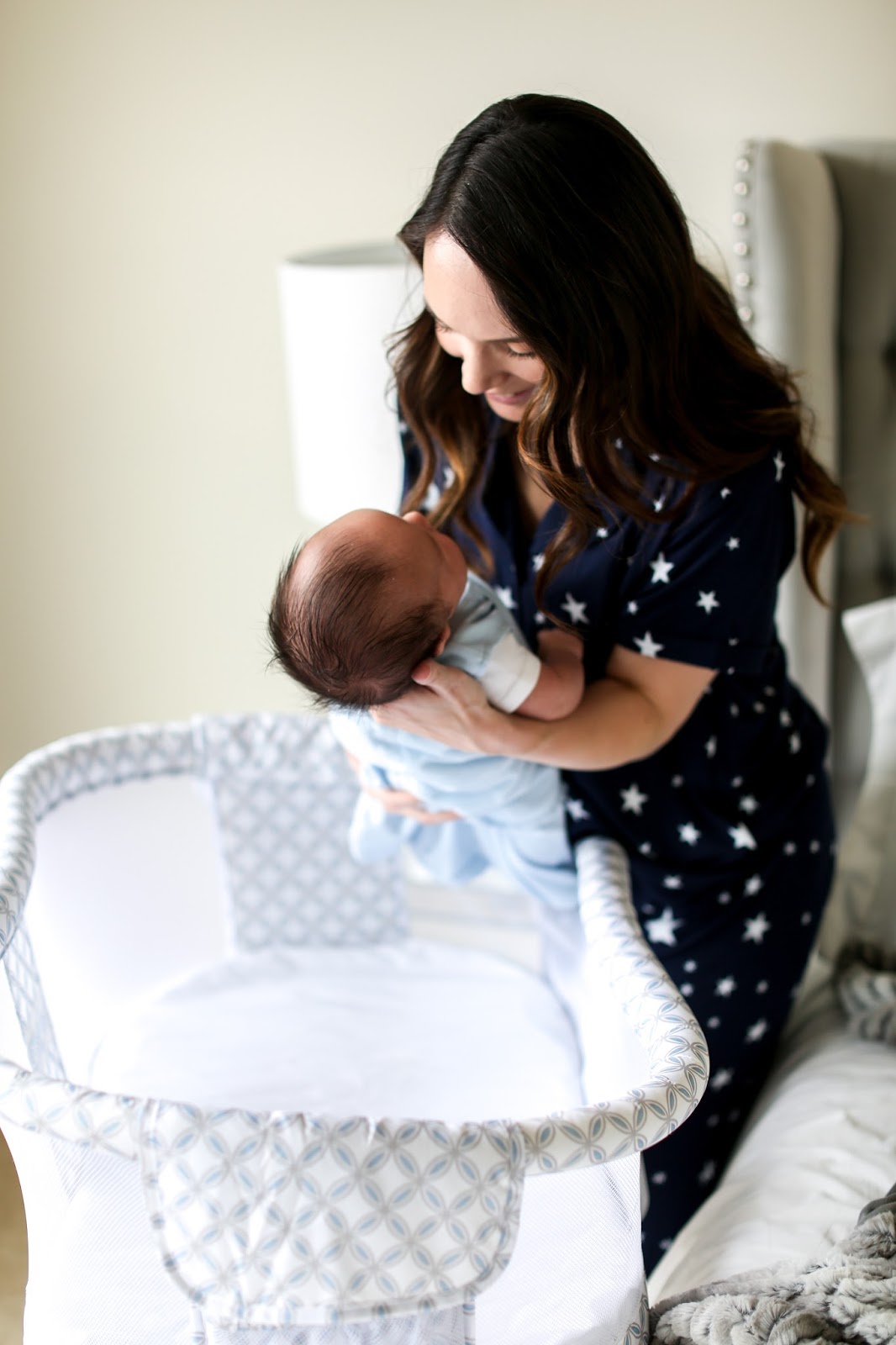 Oh how these photos seem so sweet and effortless – but it took us almost a full hour to get them because Miles would fuss or squirm around while we were shooting. Ha! We took them during the day instead of at night to take advantage of the light, which means that he was fully awake and super active. However, since we first brought Miles home, he has adjusted quite well to sleeping which surprised all of us. From the first night, he slept in the
HALO Bassinest
so we could immediately get him used to sleeping in his own space though we were able to check on him easily since we kept it right next to the bed. I tried to show in the photos how it swivels over the bed and one side can be lowered down so I could check on him without ever having to get out of bed (a lifesaver when recovering from my c-section). There is even a nightlight button I can press and just peek at him through the Bassinest while lying in bed.
In the first few weeks, we would feed him every 2-3 hours but we have gradually begun spacing that out to every 3-4 hours. And during the day when he would nap, we try to replicate the same sleeping conditions we had at night so we put him in the
SleepSack Swaddle
and
Bassinest
to get him used to the feeling of it. There is a
portable stand option for the Bassinest
so you can move it to another room to allow the baby to be where you are. From the very beginning, we noticed that he preferred to have his arms out so he could self soothe so we would wrap the swaddle around his chest/tummy area but leave his arms free. Now that it's a bit colder, we usually put him in a long sleeved onesie first and then put on the
Sleepsack Swaddle
overtop. From a safety standpoint, we obviously don't put anything else in the
Bassinest
with him such as blankets or pillows and always lay him on his back which will prepare him to transition to the crib.
It's only in the past week or so that he finally began sleeping through the night which was another surprise for us. He would typically wake at 3 or 4 am to feed, but around 6 weeks we began to see if we could soothe him back to sleep. The bassinest has a lullaby setting, nature sounds, womb sounds and a vibrating setting so often we would give him a pacifier and choose one of those to see if he would just settle himself back down. The first night we tried this, it took us 20 minutes to get him to go back to sleep and then he slept until the following morning when he woke up at 6:30am. The next night, it took us 20 minutes again, 15 minutes the following night and then by the 4th night we both woke up at 5 am and realized that he was still asleep from putting him down at 11pm. Since then, his body has gotten used to not waking up for that middle of the night feeding and he sleeps typically from 11pm – 6:30am. The hardest part is waiting out that middle of the night session when you are exhausted and wondering if he will go back to sleep.
We have tried to stick to a schedule from day one which has really helped but obviously we allow for some wiggle room since he doesn't always want to follow it. I think it's crucial to understand that a schedule is a great template but will never be followed exactly every single day. Some days he is hungrier earlier or won't want to nap so we have learned to be flexible with him. We are just beginning to start a bedtime routine this week before his last feeding so it signals to him each night that bedtime is coming. I'm not quite sure what it will involve, but we are going to try a few different things and see what works best (ex. baths, reading to him, soft music, rocking in the glider, etc).
I should also mention that I am no longer pumping (sadly breastfeeding was not successful since I really struggled to get him to latch), and Miles is exclusively on formula at this point. My recovery was so painful and really much more challenging than I anticipated, so I made the decision to stop pumping a few weeks ago.
Here is a quick snapshot of Miles' typical day and sleep schedule. As I said before, this is not exactly the same from day to day and will change as he gets older, but it's what we try to use as a guide for now.
Wake up: 6:30-7am
Feed: 7:00-7:45am
Playtime: 8-9:00am
Nap: 9-10:45am
Feed: 11am-11:45am
Playtime: 12-2pm
Nap: 2-3pm
Feed: 3:00-3:45pm
Playtime: 4-5:00pm
Nap: 5:00-7:30pm
Feed: 7:45-8:30pm
Playtime: 8:30-10:15pm
Feed: 10:30-11:15pm
Sleep: 11:30pm-6:30am
If you have any tips or tricks of your own with bedtime and sleeping, I would love to hear them! Leave me a comment or send me an email.
Shop all the products in the post:
!function(d,s,id){var e, p = /^http:/.test(d.location) ? 'http' : 'https';if(!d.getElementById(id)) {e = d.createElement(s);e.id = id;e.src = p + '://' + 'widgets.rewardstyle.com' + '/js/shopthepost.js';d.body.appendChild(e);}if(typeof window.__stp === 'object') if(d.readyState === 'complete') {window.__stp.init();}}(document, 'script', 'shopthepost-script');

JavaScript is currently disabled in this browser. Reactivate it to view this content.