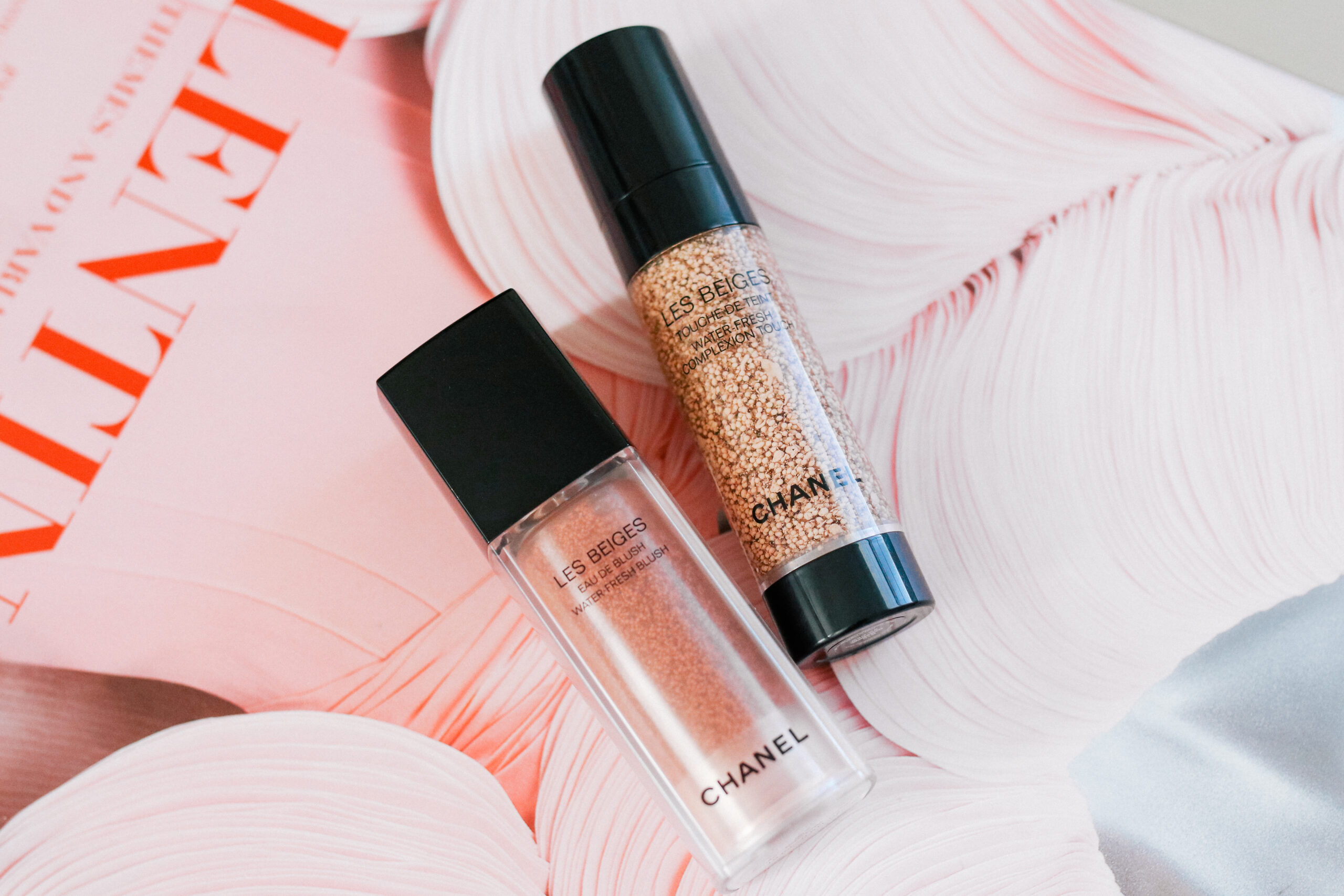 I've always had a love/hate relationship with Chanel products (especially Chanel foundations) and am not drawn to every new launch they put out but some definitely pique my interest. I love a lightweight complexion product and was curious to try this Chanel Les Beiges Water-Fresh Complexion Tint. I tried the Rose Inc Luminous Skin Tint which is very similar but didn't love it. It was too dewy and too sheer to cover anything. I was worried that the Chanel formula would perform in a similar way but to my surprise it was actually a major hit for me! I figured I would try both the Complexion Touch and Blush at the same time and review them together. For reference, my skin type is normal to slightly dry though my t-zone can get a bit shiny in the heat/humidity. Here are my thoughts on the Chanel Les Beiges Water Fresh Complexion Touch and the Chanel Les Beiges Water Fresh Blush:
Chanel Les Beiges Review
The Chanel Les Beiges Water Fresh Tint is designed to be a medium coverage formula (that was actually quite surprising to me) that has little micro-droplet pigments that are very concentrated. It's full of antioxidant ingredients such as jasmine extract and tamarind seed extract which are both designed to plump the skin and shield it from environmental aggressors. I can't compare this to the original Water Fresh Tint because I haven't tried that but from the description, it gives much less coverage overall. There are currently 16 shades available for various skin tones and I find the formula adapts well to my complexion even though initially I thought it was too dark. B10 is actually the fairest shade they offer and BR172 is the deepest.
I feel like there is a bit of a learning curve with this as to figuring out how much to use and how to apply. I have been using a sponge for the time being and like how it looks. It's VERY sheer at first and looks like it's not going to cover much, but after about 15-20 seconds the coverage seems to develop and it really evens out the complexion nicely. It won't give significant coverage but I definitely felt like it covered everything I wanted it to and didn't oxidize over time. I was anticipating a more shiny/dewy finish but it gave a fresh skin look instead which I loved! It lasted all day for me and surprisingly didn't begin to break up or get very shiny. The color is a great match for me and I am pleasantly surprised  how much I am enjoying it! It does come with a brush but it was too small for me to use and felt a tad unnecessary. On very hot and humid days, I will add a touch of a translucent powder to my t-zone but normally I don't find that I need to set it with any powder.
In addition to the Chanel Les Beiges Water Fresh Complexion Touch, there is also a Water Fresh Blush formula. It has the same micro-droplet pigments that disappear into the skin upon application. The formula is highly moisturizing due to it's 75% water composition so you will instantly feel the hydration when you apply. It's very lightweight, gives just a hint of color and has a healthy glowing finish. There are 6 colors available with shades ranging from pink to peach to bronze. The 6 shade names are:
Light Peach
Light Pink
Deep Bronze
Warm Pink
Intense Coral
Deep Apricot
After applying the Complexion Touch and loving it, I was excited to try the blush next. I had high hopes but sadly the Water Fresh Blush was not a hit for me. I purchased the shade Light Pink which was a perfect everyday shade. It is a neutral pink that doesn't pull too warm or too cool and I knew it would look good with almost eye look I wore with it. It swatched beautifully on my hand initially and I tried first applying it with just my fingers. I recommend warming it up on the back of your hand first to break up all the bubbles of color before applying. The color payoff seemed to be more intense when I did this and showed up better on my cheeks. The finish is much the same as the Complexion Touch and gives a fresh skin look without being too glowy or dewy.
Though the feel and texture of the blush were very promising, the application and wear was a challenge. My first problem after applying was that it began drying very quickly. I didn't feel I had enough time to blend it correctly and was struggling with making it look smooth and even. The second issue was that it moves all around on my cheeks but not in a uniform way that allowed for even distribution. It seemed to slip and slide all around and then combine that with the quick dry down time and I was left with an application that looked a bit patchy. I tried a few other tools to apply such as a damp sponge and a buffing brush to see if this would resolve my issues, but sadly the formula didn't perform any better with these tools. Then as the day went on, the blush seemed to disappear from my cheeks and by mid-day it looked like there was no color at all. The Water Fresh Blush delivered such a vastly different experience from using the Complexion Touch which really surprised me. One was a major hit and one was a major disappointment.
Chanel Les Beiges Water-Fresh Swatches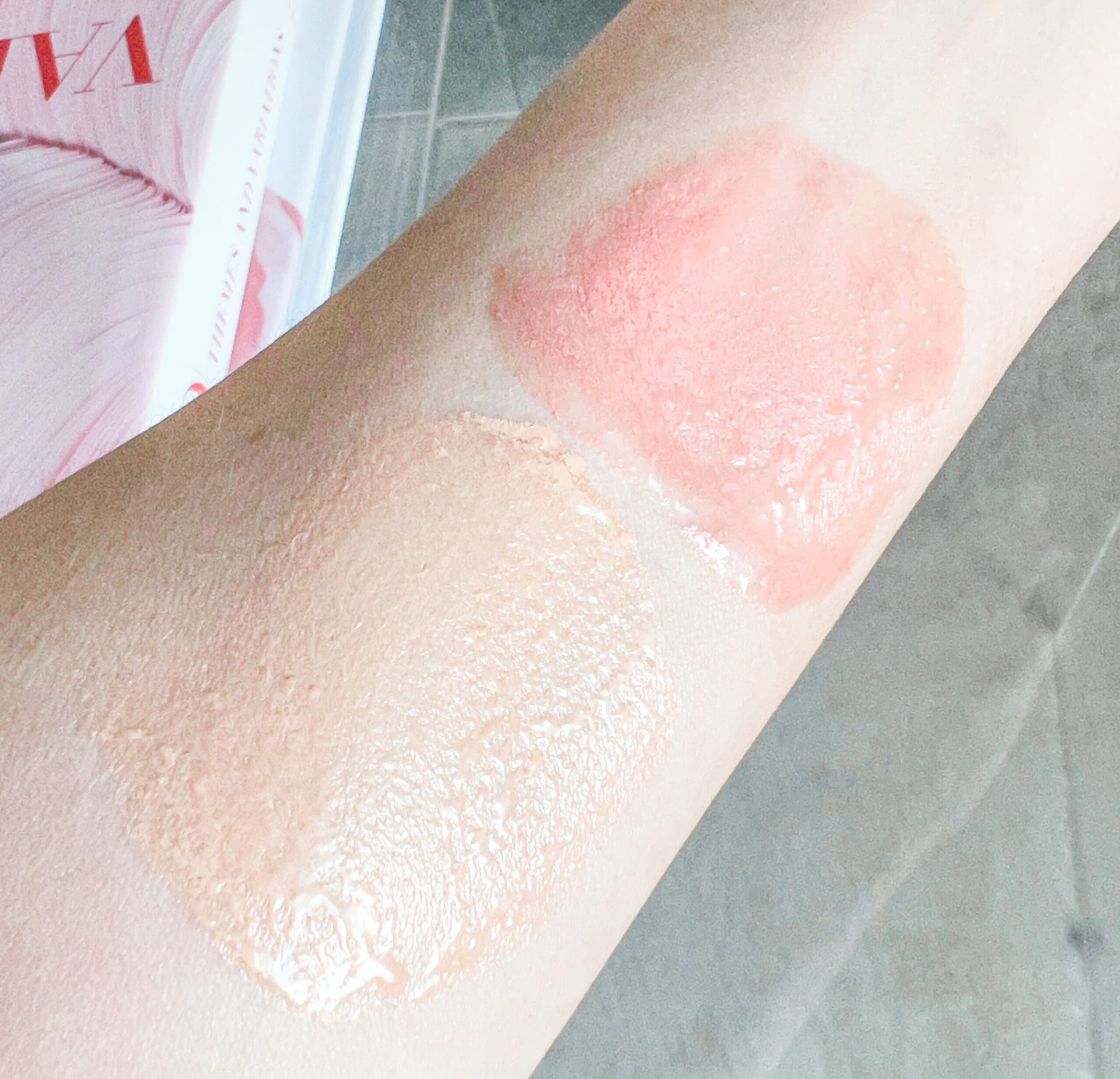 Swatches: Water Fresh Complexion Touch in B10, Water Fresh Blush in Light Pink
The swatches were a bit hard to capture because of the dewy watery nature of the product, but you can slightly tell from the above photo that the blush swatch is slightly patchy. The color didn't distribute evenly compared to the Complexion Touch. I have read quite a few reviews and received feedback from my readers about both products and many seem to agree with me on the Complexion Touch performance. It applies beautifully, gives great coverage, wears well throughout the day and makes the skin look healthy and glowing. Feedback/reviews on the Water Fresh Blush have been mixed with some agreeing with me on it's patchy nature and lack of longevity on the skin, while others have found it to blend seamlessly and not fade throughout the day. I thought it was worth mentioning because it is always amazing to be how many different experiences can be had from one product!
Have you tried the Chanel Les Beiges Water Fresh line? What are your thoughts?