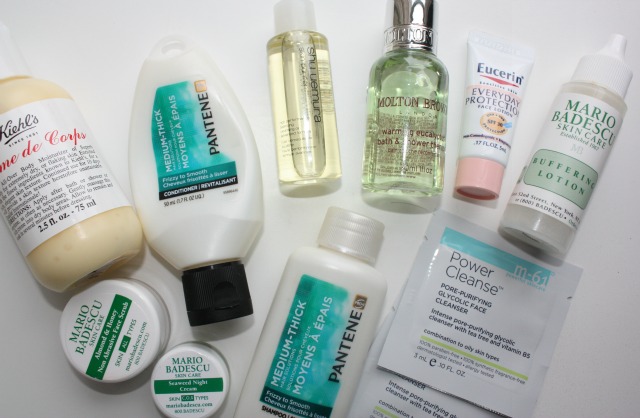 Universal truth: everyone loves to go on vacation but everyone hates to pack.  And in light of some recent travel and an upcoming weekend jaunt, I thought I would share what is currently in my travel beauty bag.  Just because I am off the grid, does not mean that my skin can be – so it is essential I bring products with me that keep it looking its best while I am away.  Naturally my suitcase is overloaded with far too many shoes and clothes so my skincare items must be teeny tiny.  Now these may change depending on what samples I have at the time, but I have a general rule of thumb for what I bring with me.  Shall we?
1.  Cleansing Oil – I simply cannot live any day, whether vacation or not without a cleansing oil.  It is certifiably the best makeup remover/cleanser out there. 
Shu Uemura
offers these samples upon checkout from their website often so I try to hoard as many as possible.  
2.  Clarifying Cleanser –  After this recent
post
, you know that I am serious about cleansing.  Often it is the key to keeping skin clear.  So while I always have my
cleansing oil
, I do also like to bring another cleanser with me to use after.  Here are some m-61 glycolic face cleanser packets I have from a recent purchase at Blue Mercury.
3. 
Molton Brown Shower Gel
– I can barely keep myself together while traveling, so leaving it up to the TSA agents to
delicately
handle my bags is not happening – therefore I like to choose scented shower gels to bring rather than my perfume bottle.  
4.  Pantene Shampoo and Conditioner – I am forever trying out new hair products so my shower runneth over with bottle after bottle of shampoo and conditioner.  However, Pantene is still one of my favorite brands of all times and the last thing I want to deal with on vacation is a bad hair catastrophe.  Therefore I will go with what works – and practically every drug store from here to the moon carries these in travel sizes, so I am never in jeopardy of running out.
5. 
Mario Badescu Buffering Lotion
– Since the actual full size bottle is compliant with travel standards, I just pop this puppy into my makeup bag and off we go.  This stuff is my miracle pimple healer.  The
drying lotion
is good but this stuff is what clear skin dreams are made of – so therefore it makes the cut.  Vacation pimples are no bueno.
6.  Face Exfoliator – I believe in sloughing off those dead skin cells on the regular, so having an exfoliator with me is a must.  Here I have a Mario Badescu sample of their
Almond and Honey scrub
(scent = yum), and simply adore it.  And with the generous sampling that MB provides with their orders and at their spas, I make sure to request these specifically when I restock my basics.  
7.  Night Cream – Since flying dehydrates the you-know-what out of my skin, I like to keep a sample of a moisturizing and hydrating night cream with me to help repair things my first night.  Plus – vacations often involve a lot of time outdoors (sun or snow), so replenishing at night helps my skin stay balanced during the trip.  Here is another MB sample (told you I stock up) of their seaweed night cream which I love.
8.  Body Lotion – I debated whether or not to
just
write body lotion because frankly the ONLY body cream I will entertain on a trip is
Kiehl's Creme de Corps
.  It is the most effective and supreme body lotion in the history of the world.  And
Kiehl's
is known for travel sizes in most of their top sellers, hence why I can always have my favorite with me.  
9.  Face Lotion with SPF – 50 shades of pale is my skin tone (as we all know) – so I never leave the house (let alone my hotel) without a daily face cream with SPF.  I picked these up at a recent dermatologist visit – and they have done the trick, under makeup or worn alone.
Now depending on where I am going (sun or cold), I may add a few more products suitable for the temps of where I am traveling (antartica vs bali – yeah right) – but this is pretty much my fail safe kit that always comes with me.  Bon Voyage! (ok I'm not really going away now but you get my drift…..)